by Cory Visser
Thursday Recap Report-Weekend Possibilities:
For local fishing in the Santa Monica, Long Beach, Catalina and San Clemente Islands.
Many private boaters and local ½ day Sport Boats took advantage of the great weather on Saturday, targeting Calico and Sand Bass with excellent results. The available supply of live squid contributed to the success ratio.
There must be a virtual unlimited supply of Sculpin locally, as ½ day and ¾ day local boats catch limits of these tasty fish repeatedly, when the Bass don't want to play.
Every now and then a Halibut makes an appearance, more so on the private boats, as most Halibut are caught on the drift, which for the most part can't be done very effectively on Sport Boats, as the time invested yields very little in results, creating unhappy anglers anxious to catch a fish.
For Rockfish fishing it is all about Mexico until March 1st, and the multi day trips are doing very well in the great weather we have had recently.
The
Indian
had a 2.5-day trip Charter over the weekend fishing San Martin Island, and Colonet; they scored big on Huge Lingcod, Reds, Assorted Rockfish, Whitefish, Sheephead and one Yellowtail. Some pictures:
Twilight fishing:
The Slammer out of Redondo Sportfishing ran a trip on Tuesday, 1-17-12, with 4 anglers catching 6 Sand Bass, 2 Sculpin, 12 Lobster and 41 Rock Crab.
In Santa Monica Bay
Private boater Jason fished Saturday, 1-14-12 with Vince and Dave out of Santa Monica Bay targeting Halibut, with no success, then had a good shot at the local Bass, and in the evening dropped the Hoops and found some Lobster on the crawl! Some pictures:
Vince with a Dandy Sandy:
Jason with another Sand Bass:
http://i782.photobucket.com/albums/yy103/jscrib_photos/P1142832.jpg

Dave
with a feisty Calico Bass: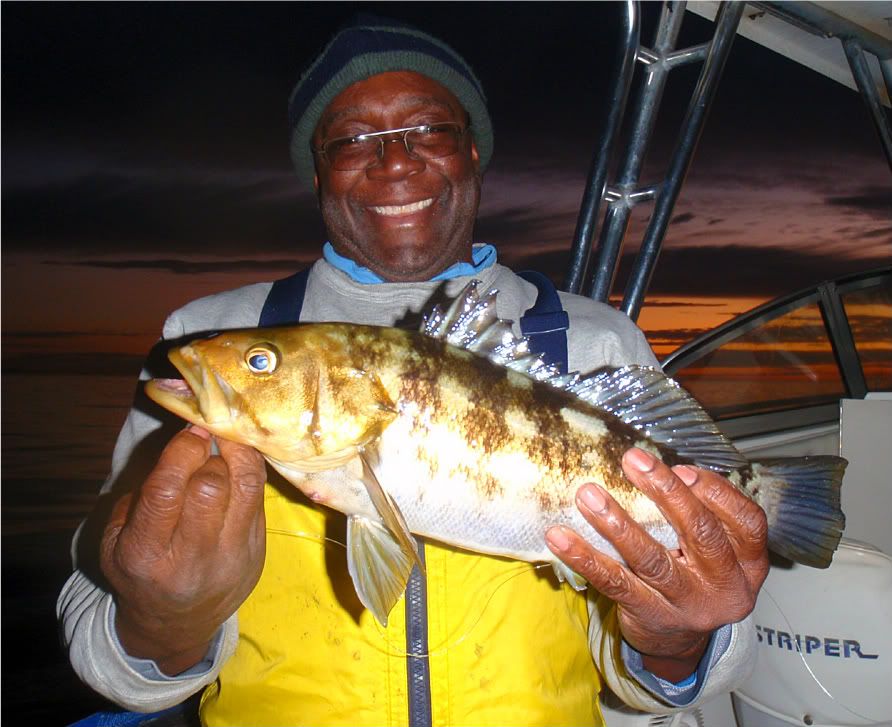 And some Bugs and Crab:
The
Tradition
began running ¾ day trips over the weekend after being down for several months to re-power. They managed to catch limits of Sculpin and 22 Sand Bass on their Saturday, 01-14-12 first trip back on line. Some pictures: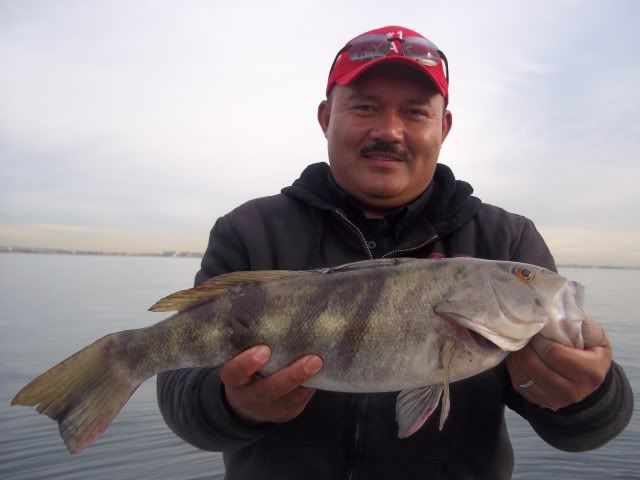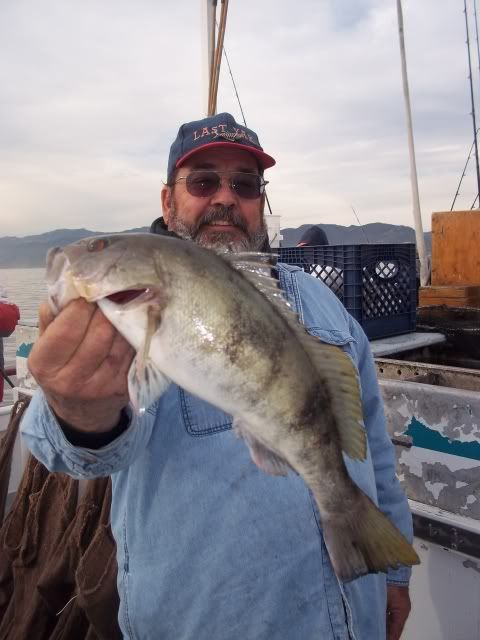 The
New Del Mar
continues to have great success targeting Bass and Sculpin. The New Del Mar had over 300 Sculpin on their Saturday, 01-14-12 trip and another 215 on Sunday's trip.
Newport Beach and Dana Point.
Dave Hansen took out some private boaters over the weekend out of Dana Point and used the live squid to smoke the Sand and Calico Bass. Some pictures:
The ½ day boat
Reel Fun
caught 150 mixed Bass on Friday, 01-13-12 for 15 anglers, with 80% being Sand Bass.
Long Beach and San Pedro
Private boater Ryan fished with friends over the weekend and caught some nice Sand Bass and a good sized Halibut:
Private boater Jim fished the Long Beach area with friend Baja Chris from dawn to Dusk on Saturday, 01-14-12, for lots of mixed Bass and a few released Rockfish, some pictures:
Chris with a big Chocolate Rockfish:
Jim with a nice Calico Bass:
Some pictures of Sand Bass caught on the ½ day boat
City of Long Beach
:
Private boater Leonard fished with friend Gil out of Long Beach over the weekend catching five Halibut.
The rain on Sunday must have been some sort signal for Bass to go on the chew as many boats scored big. For example:
The ½ boat
Southern Cal
out of Pierpoint Landing had over a 100 Sand Bass plus a Halibut and some Sculpin on their Sunday, 01-15-12 trip. The ¾ day boat
Enterprise
also had over a 100 Sand Bass plus limits of Sculpin for their 14 anglers on their Sunday, 01-15-12 trip. The
San Pedro Special
had limits of Sand Bass, 120 for 12 anglers on their Sunday, 01-15-12 trip.
The Islands
Catalina/Santa Barbara Island!
No reports this week.
San Clemente Island!
No reports this week.
Down South-San Diego and good ole Mexico!
I fished on the Indian on Wednesday, 01-18-12, waiting for clarity on the New Mexican Visas, before returning to Las Salinas to fish with private boater Bill? I had the pleasure to fish with Ron, after many years of exchanging lies on the Web. It was a brutal day of fishing as we woke up to whitecaps, and strong currents. We picked away at mostly small Rockfish, with 9 decent sized Reds and one Jackpot Lingcod holding the only bragging rights for 24 anglers. The Jackpot winner also caught four of the nine Reds, it was his day. I managed only one Red, with a few decent sized Starries and Bank Perch. Even 2 pound sinkers could not hold bottom. Some pictures:
Charles with one of the Reds caught:
Mike the hot stick with Jackpot Lingcod:
Weather
The weather forecast for the weekend is not looking good for Saturday nor for Sunday with lots of rain possible. Always check the latest forecast before leaving the dock.
Hook Up,
Cory