by Cory Visser
Thursday Recap Report-Weekend Possibilities:
For local fishing in the Santa Monica, Long Beach, Catalina and San Clemente Islands.
With few reports this week I decided to tell a story of how I began to use Plastics to fish locally for Bass as
The Rainey weather on Saturday and Monday followed by windy forecasts during the week limited the number of anglers fishing, especially private boaters. See the story at the end of this report and let me know if anything further should be added to the list of techniques you have found to work using Plastics.
There were of course some exceptions to staying home during the weekend and the results for those that ventured out found the fish were very hungry after and between the storms.
Private boater Phat Matt started 2012 off in the right direction while targeting Halibut and caught his personal best 46.7 pounder just before the storms moved in over the weekend:
The
Apollo
was one of the few boats to run a 1.5-day trip over the weekend and found the weather to be surprisingly fishable down south at Colonet, with no rain. They caught some big Lingcod and lots of big Reds, plus a few big Bonito. Some pictures provided by angler Don:
For Rockfish fishing it is all about Mexico until March 1st, and the multi day trips are doing very well when there is great weather which is expected for this weekend.
Twilight fishing:
The
Slammer
out of Redondo Sportfishing ran a trip on Saturday, 1-21-12, with 2 anglers catching 1 Calico Bass, 2 Sand Bass, 5 Lobster, 35 Rock Crab and 2 Spider Crab.
In Santa Monica Bay
Private boater Jason fished Saturday, 1-14-12 with Vince and Dave out of Santa Monica Bay targeting Halibut, with no success, then had a good shot at the local Bass, and in the evening dropped the Hoops and found some Lobster on the crawl! Some pictures:
The
Tradition
ran ¾ day trips Monday, Tuesday and Wednesday this week with very light loads, catching a few Bass and Sculpin.
The ½ day boat
New Del Mar
continues to have great success targeting Bass and Sculpin. The New Del Mar caught 2 Calico Bass, 9 Sand Bass, and 321 Sculpin on their Saturday, 01-21-12 trip.
Newport Beach and Dana Point.
The
Thunderbird
ran a 3/4 day trip on Sunday, 01-22-12, catching 27 Sand Bass, 17 Sculpin, 130 Perch and 45 Sand Dab.
Long Beach and San Pedro
Private boater Lal fished with friend Richie on Wednesday, 01-25-12, and both caught some nice Sand Bass as Richie held the jackpot, a 3.5 pound Sandy until late in the day when Lal was hammered by a big Grumpy 7.25 pound Sand Bass. They released over 30 Bass to fight another day.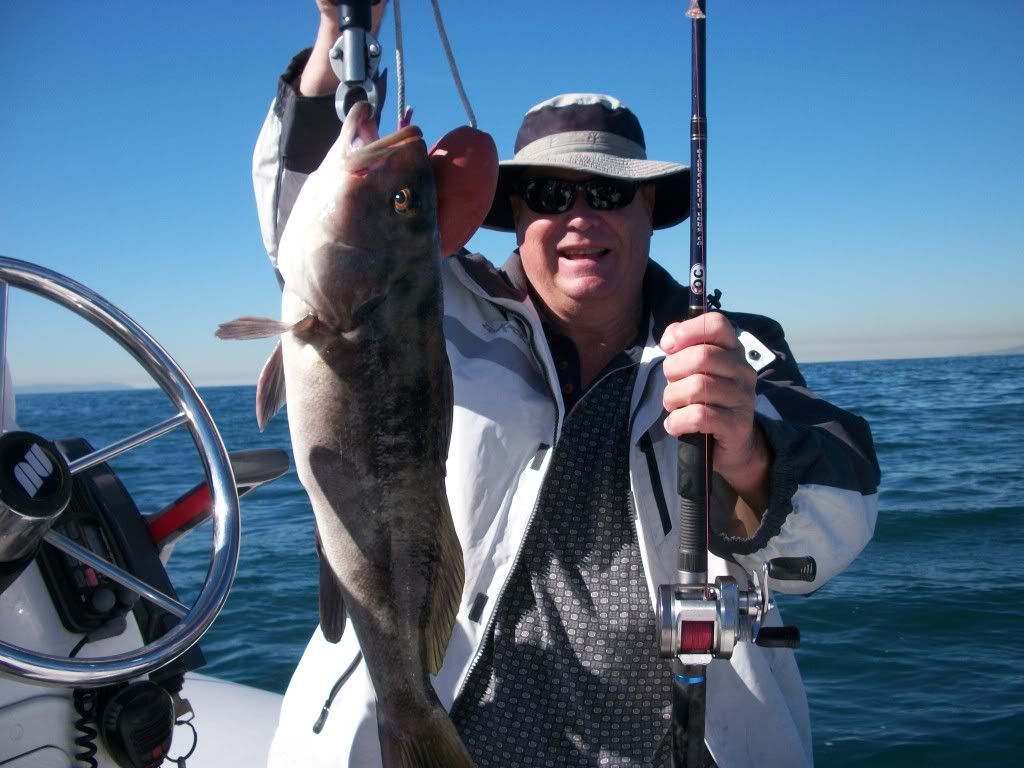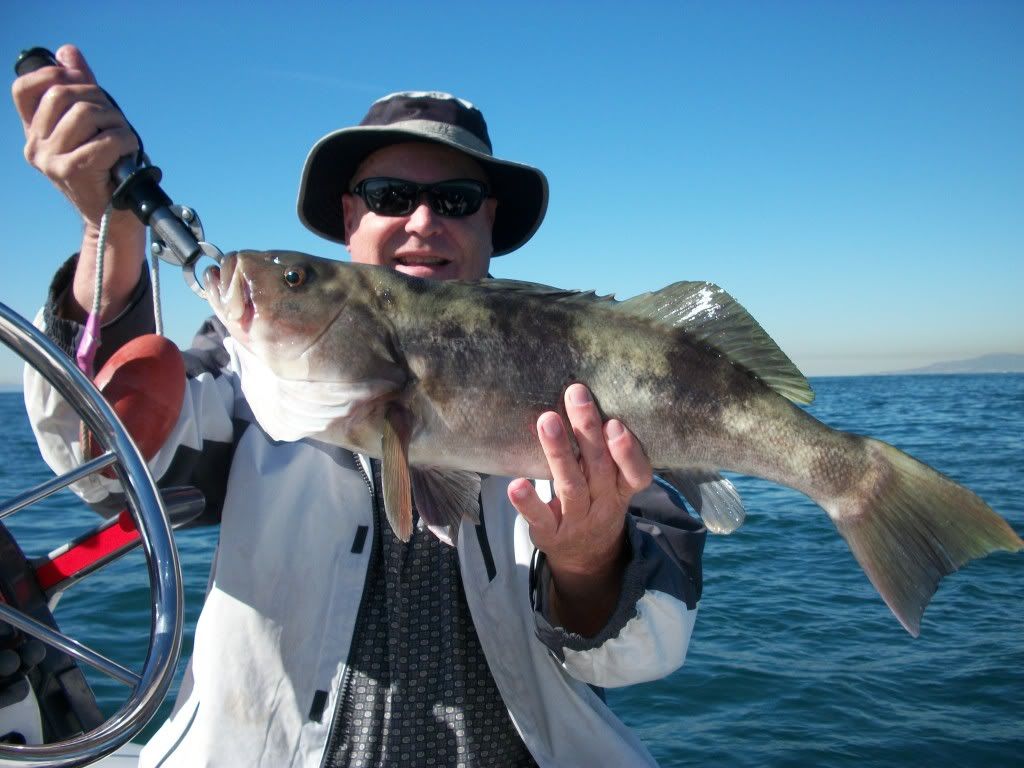 With a short weather window on Sunday, a few anglers took advantage of the hungry Bass on the ½ day boat City of Long Beach, on Sunday, 01-22-12, which caught over 60 Sand Bass and 29 Sculpin. Some pictures of the Sand Bass:
The ¾ day boat
Enterprise
also had nearly a 100 Mixed Bass plus limits of Sculpin for their 15 anglers on their Sunday, 01-22-12 trip.
The ½ day boat
San Pedro Special
caught 2 Halibut with a handful of Sand Bass and Sculpin, on their Sunday, 01-22-12 trip.
The ¾ day boat
Sea Angler
out of 22nd Street Landing ran a trip on Wednesday, 01-25-12 and continues to slam the Sand Dabs, catching over four thousand!
Japan Ron sent me some photos from his 3/4 day trip on the Victory, Wednesday, 1-25-12 with a light load of 8 to 10 anglers catching an assortment of Cabezon, Perch, Sand Dabs and Sculpin. What a beautiful Cabezon:
Lots of healthy Sculpin:
The Islands
Catalina/Santa Barbara Island!
No reports this week.
San Clemente Island!
No reports this week.
Down South-San Diego and good ole Mexico!
No fishing on the Indian on Wednesday, as it blew hard south of the border.
Mark teaching his son how to catch Halibut in San Diego Bay:
My Story on learning how to Fish for Calico and Sand Bass with the Plastics
I never showed much interest in plastics fishing in my first 35 years of fishing, which I started at the very young age of 11. I preferred to bait fish, with the one exception being Yo Yoing the Iron for Yellowtail, my absolute most enjoyable type of fishing. There is nothing like cranking the Iron for all your worth and being stopped dead by a feisty Tail! Gradually I began using Iron also on my Rock Cod trips with great success!
With the growth of the internet, and the introduction of fishing websites, I began to make friends with private boaters through my posting of Sport Boat adventures with blow by blow descriptions of my catches, coupled with pictures. A few private boat owners would post their desire to recruit crew for various trips, both locally and offshore. I volunteered again and again, and met many fantastic and knowledgeable private boaters. In fact I feel extremely privileged to having met so many of the very best Captains in the private boating community. I was soon hooked on private boating and my Sport Boat trips became mostly only a memory.
One day I was introduced to private boater Triggerman Joe, by Vince, his handle "Red Drum", I'm sure most of you have read his incredible fish reports? Can't quite remember how the hookup occurred, yet I believe I replied to one of Vince's fish reports and asked if I could join him on one of his trips. He was busy that weekend and introduced me to Joe, who was going Bass fishing in Santa Monica Bay on Saturday. Joe usually fished alone, however, welcomed the opportunity to take a young'un under his wing. Albeit we are similar in age, his experience using Plastics was extensive! Joe explained the plan for the day and it involved fishing for both Calico and Sand Bass with only plastics. I didn't own very many plastics at the time, so I ran down to the local tackle store and bought a few.
I met Joe at his house in Burbank in the wee hours, perhaps 4am. He towed his 25' Well Craft to the Bay, and we headed out to an area called the BKR, Big Kelp Reef, I think now closed by the MLPA? Joe set us up on a drift over structure and we began to fish with the plastics. I had no clue, as Joe immediately began pulling in Bass after Bass, releasing them all. I might have caught one Bass to his 5 or perhaps much worse? He finally took sympathy on me and gave me my first lesson on how to fish the Bass with a plastic.
1. Use the lightest lead head possible to get to the bottom, start with ¾ oz., and then move up in size as the wind and current increase.
2. Light line gets bit more often than heavier line. I've had great success with 12 pound and 15 pound line test. I use 20 pound and higher only in areas where the structure and fish exceed the strength of the line. For example: there are pinnacles to fish which hold the big guys and using light line is foolish, as the bigger Bass instantly rock you!
3. Joe preferred Big Hammer or AA Christmas Tree, (green-red) 5 inch plastics, brown yellow and grey green colors, not sure of the names back then, will comment later.
4. Joe recommended tipping the hook with a tentacle off a fresh frozen squid, or a very small sliver of the body, ¼ inch wide by 2 inches long.
5. When dropping the plastic as it gets close to the bottom, thumb the spool, you often get bit on the drop.
6. After hitting the bottom, lift the rod in an up and down motion several times, then begin to wind slowly. If you get bit, keep winding until the rod bends and the line tightens, and then set the hook.
7. Sometimes simply bouncing the plastic off the bottom produces many bites, although I prefer to get bit on the wind, although any kind of getting bit is fun!
8. Learn where in the water cycle the fish are holding, most of the time right on the bottom. Hit bottom, wind up five to ten cranks then free spool back to the bottom, often thumbing the reel to produce a wounded bait action that attracts a bite from a nearby Bass. If you get bit half way up, or near the surface, you may want to drop only half way down and work that area. The fish finder should also assist you in defining where the fish are hanging out.
9. Stop and go technique works well when the fish are up in the water column. If the Bass are off the bottom I often get bit when winding, then stop for a second, continue. The Bass will attack the plastic when I stop or when I begin a rewind. On the first stop the Bass thinks' it's an opportunity to eat a sluggish bait, on the rewind; the Bass thinks the bait is getting away.
10. Very your winding speeds to find the preferred speed the Bass reacts to. I find that a slow wind is the most productive, however, sometimes they want more speed?
11. Casting your plastic. I almost always feel winding in a plastic at a 45 degree angle entices more bites, as opposed to straight up and down. However, if the rock is directly underneath you keeping the plastic over the rock often produce the best results.
12. There is no substitution for fishing with someone who has the skills and can give you some quality lessons on how to fish the plastics. In addition no matter how skilled you are, the Captain has to put you on the fish, so learning where to fish is the most important thing to a successful fishing trip!
Fishing with both Joe and Vince increased my knowledge in using plastics to catch Bass exponentially. My appetite for fishing Bass was greatly heightened, as my success in catching them improved. The thrill of getting hit on a plastic on the wind was very close to that of Yo Yoing for Yellowtail, although truly the fight from a big Tail is far more challenging. Both Joe and Vince have unreal knowledge on how to fish the structure for Bass. Their success ratios exceed all expectations. I can't thank them enough for their tutelage!
A year or two later I met one of the premiere Bass fishermen on the Southern California coast, Larry (Calico Hunter), who runs charters exclusively targeting local and Island mixed Bass out of Oxnard and Santa Barbara. Fishing with Larry added to my repertoire of techniques and expanded my choice of plastics for a variety of Bass fishing, some of the plastics being designed by Larry. Once again I felt privileged to fish with a prestigious Captain. Fishing local structure areas requires different color plastics than fishing the Islands. At least that's what I have experienced. Obviously the Islands hold a different bait source than locally and the Bass adjust their feeding trends accordingly.
For the last five years I have been again rewarded with finding a local talent that specializes in plastic fishing for Bass. Meeting Lal and fishing on his private boat the "Rubber Ducky" has been a special treat. Once again the internet allowed me the opportunity to hook up with Lal. We bonded almost immediately and our competitive spirits improve the experience of catching Bass.
Where to fish, how to fish, and what to fish with were added facts acquired from Lal, not that the others I had fished with didn't have these characteristics. I just simply learned that much more from Lal, fishing with him on so many occasions, and in so many different local areas. Lal proved time and time again, you can catch both Calico and Sand Bass with no bait or scent added, although there are many times when the added flavor proved worthwhile and more productive. So always keep a supply of Calico Hot Sauce, Uni Butter, and fresh frozen squid with you.
The other thing Lal introduced me too was the Red Flake 4" plastic with a Red lead head, with eyes. The 4" Red Flake plastic locally out fishes most plastics 3 to 1, sometimes 10 to 1. Lal uses similar techniques to Joe, Vince and Larry in working the plastic. His specialty is knowing the Long Beach area and how to setup on the local structure areas. It's uncanny how he seems to always find the fish .It's true that big fish like big baits, however, if you want to catch quantity, often the 4" plastic out produces the bigger plastic by a large margin. Yes you catch a lot of smaller Bass, yet the big boys also climb on the 4" plastic. For most of us quantity produces a bit more enjoyment than quality. Try them both and hope for the best, however, if your fishing buddy is getting slammed on the smaller plastics. How long are going to stick with the big boy?
Whenever the angler next to you finds the right touch and is getting bit repeatedly, ask what his or her secret is. They just might lead you to a whole new approach of landing fish. It might be color, size, lead head, light line or whatever.
Lal and I have buddy boated with fishermen who prefer to use bait, their fish counts compared to fishing with plastics pale in comparison. So if you have never fished with a plastic, give it a try, it might change your perspective on fishing for local Bass, and increase your catch rate.
Here is my typical recommended selection of plastics to always carry in your tackle box. I have many other shapes and colors, while I will try something different occasionally, returning often to the old reliable choices below: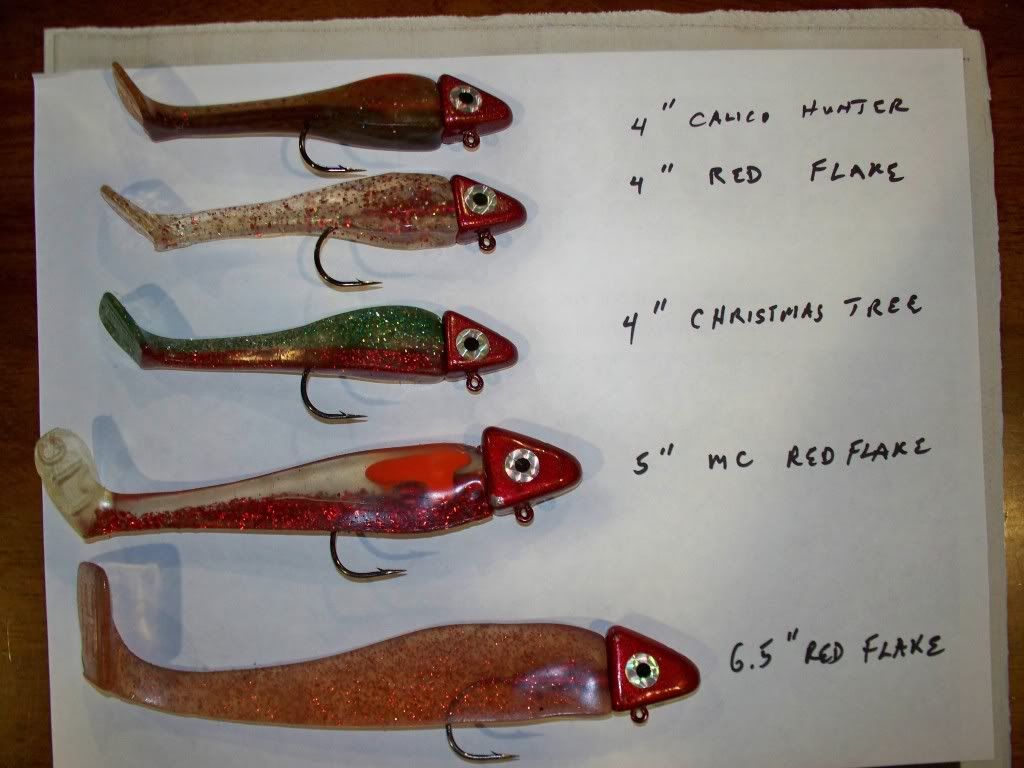 Lal and I call the big 6.5 inch plastic a "Donkey Cong" for big fish like big baits concept! We typically fish with mostly the 4" models on 15 pound test line, with 5" models we use 20 pound line. Equally important is finding a good Bass Rod and Reel for casting, another subject with numerous options. Ask your local tackle shop owner for suggestions. Lal and I both enjoy Shimano Curado Reels, as well as many Daiwa models. We are always looking for a new toy to use?
All comments and suggestions welcomed!
Weather
The weather forecast for the weekend changed in the last two days where it went from exceptional for both Saturday and Sunday, to breezy, darn? I'm crossing my fingers it doesn't make it too far south, as I plan to go on a 1.5-day trip this weekend on the Aztec heading for Colonet. Always check the latest forecast before leaving the dock.
Hook Up,
Cory