by Cory Visser
Thursday Recap Report-Weekend Possibilities:
For local fishing in the Santa Monica, Long Beach, Catalina and San Clemente Islands, with trips out of San Diego and Baja, Mexico.
Although the original weather forecast was decent for the weekend, winds came up with a vengeance Friday evening and stayed around until noon on Saturday then backed off, and it turned beautiful well into Sunday.
A number of boats out of San Diego ran 1.5-day or longer trips down to Colonet and other points south last weekend. I was fortunate enough to fish on the 1.5-day trip on the
Aztec
out of Seaforth Landing in Mission Bay, which left Friday night, 01-27-12 at 6:30 pm. It was a bumpy ride down the coast with the offshore Santa Ana's pounding the surf until a little after midnight. It was smooth sailing the rest of the way to Colonet, although when the wind died the fog moved in. At day break, the fog began to lift and winds began to howl. The winds started at 10 to 12 knots and were over 20 knots by 9am. Our first couple of drifts produced big Reds and the Jackpot Lingcod, about 10 pounds. It was literally unfishable until noon, where 3 pound weights would not hold bottom for more than a few seconds. Afternoon fishing was much better and those that fished hard caught limits of Reds, Whitefish and assorted other Rockfish.
Joining us in the area were the
Indian
, and the
Fortune
, with perhaps a few others. The Voyager cancelled their scheduled 2.5-day trip due to the weather change. Here are some pictures from the
Indian
trip which landed full limits of Reds and 21 Lingcod for all aboard:
The
Fortune
was another one of the boats to run a 1.5-day trip over the weekend and they did well. Some pictures courtesy of Jim:
Jackpot weigh in of Lingcod:
Pulling fish out of the hold for filleting:
For Rockfish fishing it is all about Mexico until March 1st.
Charter Master Louie made a trip out of Ensenada over the weekend a found one school of Yellowtail under the birds. Louie managed to catch a 24 pounder after a great fight. They also caught Lingcod, Reds and other assorted bottom fish. Louie with his Yellowtail and a Lingcod:
The local boats are finding it difficult to get enough passengers to run trips, with many cancellations, and those that are running with very light loads are most likely run at a loss. Sculpin are still the primary targeted fish, with afternoon fishing concentrated on finding Bass on the structure. When the conditions are right the Bass come out to play, mainly using live, or fresh frozen squid. The best setup has been a Lead Head with whole or cut squid. Also a sliding sinker setup has been getting the job done.
Twilight fishing:
The Slammer out of Redondo Sportfishing ran a trip on Monday, 1-30-12, with 4 anglers catching 1 Calico Bass, 22 Sand Bass, 4 Lobster, 38 Rock Crab and 8 Spider Crab.
In Santa Monica Bay
Private boater Robert fished Sunday, 1-29-12 with friend Juan out of Santa Monica Bay targeting Halibut, Some pictures:
The Tradition ran ¾ day trips over the weekend, catching some dandy Bass and Sculpin. Some pictures from Jackpot Jimmy's trip on Saturday, 01-28-12: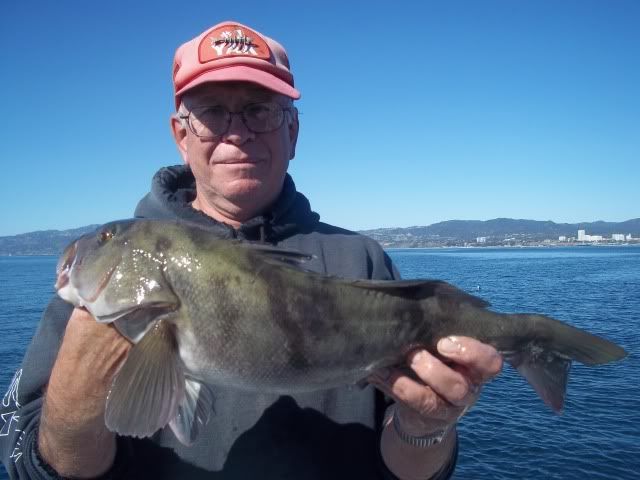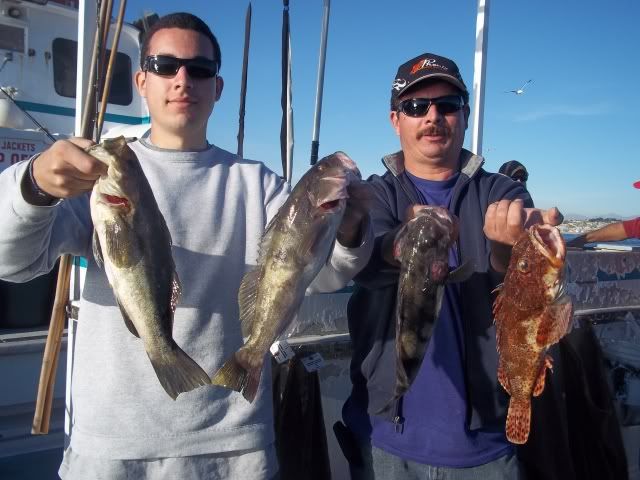 The ½ day boat New Del Mar continues to have great success targeting Bass and Sculpin. The New Del Mar caught 1 Halibut, 22 Calico Bass, 51 Sand Bass and 125 Sculpin on their Thursday, 02-02-12 trip.
Newport Beach and Dana Point.
Greg and friend Mark fished the ½ day boat Clemente out of Dana Point on Monday, 01-30-12 and caught some nice Sculpin, plus Mark caught the Jackpot Halibut a 17 pounder:
The Thunderbird ran a 3/4 day trip on Sunday, 01-29-12, catching 1 Sand Bass, 106 Sculpin, 55 Perch and 100 Sand Dab.
Long Beach and San Pedro
Private boater Lal fished with friend Richie on Tuesday, 01-31-12, and both caught mixed Sand and Calico Bass to 3 pounds, plus a bunch of Sculpin and Rockfish. Some fish were kept for Tacos.
Private boater Gary fished with friends Saturday, 01-28-12 and once again found the Halibut in the chew. They caught three Halibut to 23 pounds. Some pictures:
Justin with the jackpot 23 pounder:
Gary with a dandy Butt:
Private boater Dan fished with friends Sunday, 01-29-12 and caught some nice Sand Bass:
Pam fished on the ½ day boat Westerly Monday, 01-30-12. they caught a bunch of Sand Bass and some Sculpin, plus Manual caught his first ever Halibut an 8 pounder:
The rest of the gang with Sand Bass:
The ¾ day boat
Enterprise
had a good trip for Sand Bass plus lots of Sculpin for their Sunday, 01-29-12 trip, catching 69 Sand Bass, 58 Sculpin, 138 Perch and 1 Sargo.
The ½ day boat
San Pedro Special
caught 41 Sand Bass and 22 Sculpin, on their Monday, 01-30-12 trip.
The ¾ day boat
Sea Angler
out of 22nd Street Landing ran a trip on Monday, 01-30-12 and continues to slam the Sand Dabs, catching over 3300!
The ¾ day boat
Sport King
out of LA Harbor caught 55 Calico Bass, 15 Sand Bass, and 10 Sculpin for only 9 anglers on their Tuesday, 01-31-12 trip.
Japan Ron sent me some photos from his 3/4 day trip on the
Victory
, Wednesday, 02-01-12 with a light load of 9 anglers catching an assortment of Bass and Sculpin.
The Islands
Catalina/Santa Barbara Island!
No reports this week.
San Clemente Island!
No reports this week.
Down South-San Diego and good ole Mexico!
Charter Master Jamie of seasons Sportfishing made a trip out of San Diego over the weekend and found the south of the border Reds were on a serious chew! Some pictures:
Private boater Mike fished with his Dad on Monday, 01-30-12 south of the border at the 9 mile bank and caught limits of Rockfish:
No fishing on the Indian on Wednesday, as they cancelled due to low reservations. I believe the extra cost and hassles with the new Mexican Visas are killing the industry on the shorter trips, especially the ¾ day boats wanting to fish Mexico for Rockfish.
Terry fishing on a Panga out of San Quintin caught this enormous Sheephead:
All comments and suggestions welcomed!
Weather
The weather forecast for the weekend looks good for both Saturday and Sunday. Always check the latest forecast before leaving the dock!
Hook Up,
Cory