by Cory Visser
Thursday Recap Report-Weekend Possibilities:
A Summary of local fishing from Santa Monica to Oceanside, including Catalina and San Clemente Islands, with fishing trips out of San Diego down to Baja, Mexico.
The weekend weather was very nice and consequently there were a variety of fishing reports from along the coast and at the Islands. The Fred Hall Show is over for another year; however, anyone who missed the Long Beach show can join those folks down south by attending the Del Mar Show next week. Overall the show was a bit light in traffic this year, especially on opening day. Sunday's traffic was light at first then peaked at around 2pm, with many isles alive and flowing with fishing enthusiasm.
Rockfishing is still the name of the game right now. Cold dirty water along the coast has put a damper on the Bass fishing, although the Native Sun on a Twilight trip had a great bite on the Sand Bass Sunday. Also a few Halibut are still biting locally.
The Yellowtail bite at Catalina did not maintain any momentum, with no reports this week of fish caught, although I'm sure the front that came in during the week was the primary cause. It is time for White Seabass to show at the Island; yet the cooler water needs to warm up to at least 60 degrees in order to expect any kind of bite. It would help if the Squid also made a showing, as the last few reports from the Island indicated no floats forthcoming.
Twilight fishing
: The
Slammer
out of Redondo Sportfishing ran a trip on Sunday, 3-11-12, with 4 anglers catching 10 Rockfish and 20 Lobster. The
Native Sun
out of Long Beach ran a Twilight trip on Sunday, 03-11-12 catching 79 Sand Bass and 5 Sculpin. The
Freelance
out of Davey's Locker ran a twilight trip on Sunday, 03-11-12 and caught 4 Sand Bass, 10 Rockfish and 80 Sculpin.
In Santa Monica Bay
The ¾ day
Tradition
ran a trip on Saturday, 03-10-12, and caught a bunch of Reds and some huge Lingcod. Some pictures: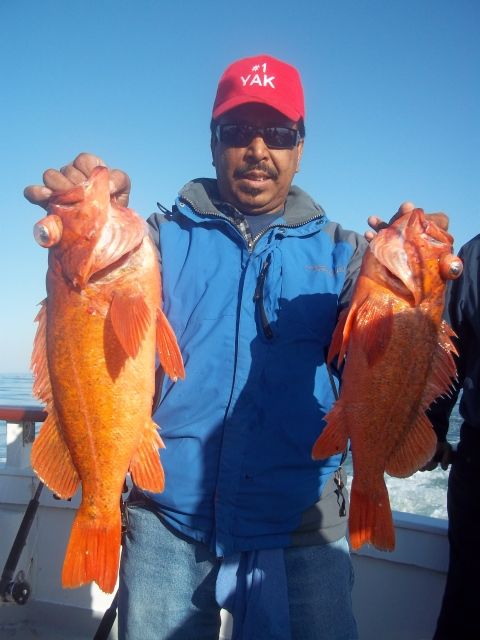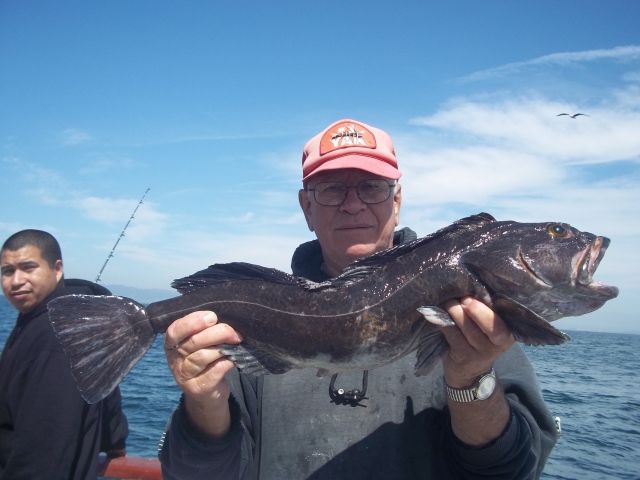 Jimmy with the big'n of the day, a 16.5 pound Lingcod: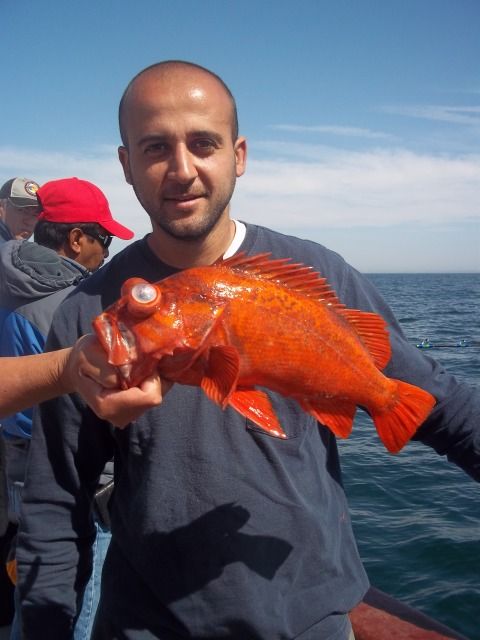 A decent size Johnny Bass: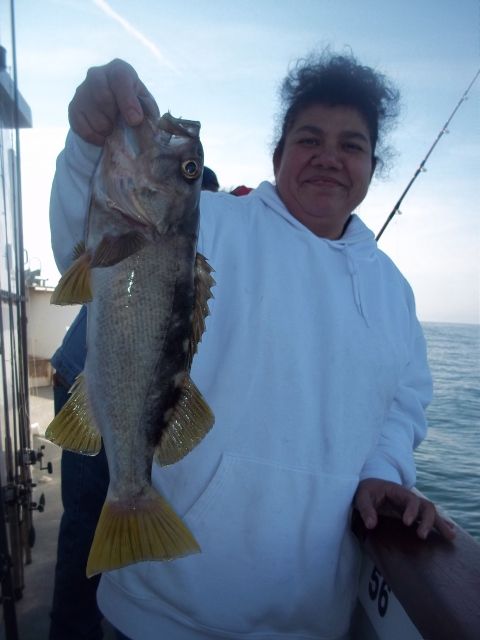 Private boater Jason fished again on private boater Vince's "Red Drum" on Sunday, 03-10-12. Captain Vince targeted the Rockfish, hoping for some Lingcod; however the Copper and the Reds were on the chew: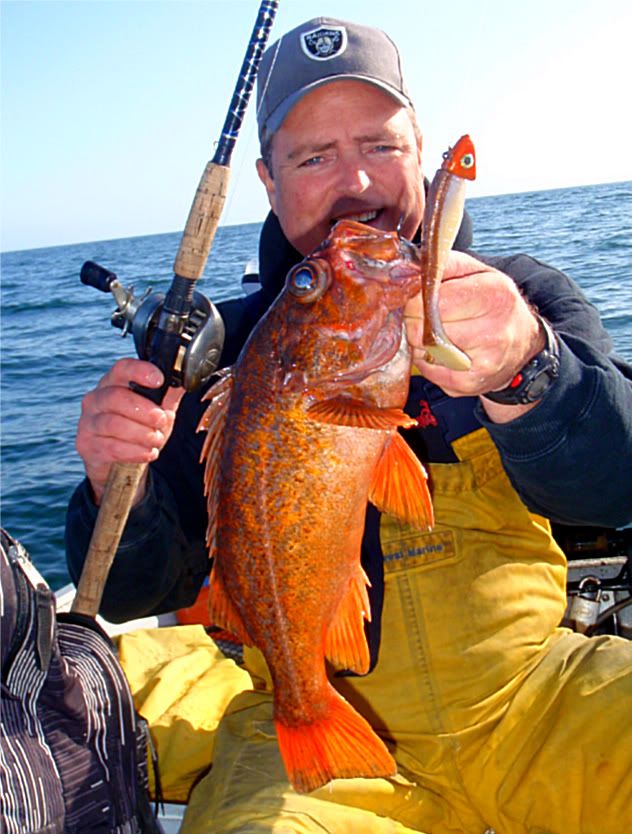 The ½ day boat
New Del Mar
caught 275 Rockfish, 2 Lingcod and 88 Sculpin on their Sunday, 03-11-12 trip.
The ¾ day boat
Spitfire
loads up on the Rockfish on Thursday, 03-15-12. Sergio with a big Red:
Newport Beach and Dana Point.
Private boater (Yakker) Vincent had a wild ride last Friday, 03-09-12, when he hooked and landed a Thresher Shark. This picture is top of the charts, taken by Vincent while holding on for dear life:
The ½ day boat
Patriot
out of Newport Landing ran a trip on Thursday, 03-15-12 and caught 78 Bocaccio, (limits), 99 Rockfish, 100 Sand Dab and 213 Red Snapper.
The ½ day boat
Western Pride
found the Rockfish on the chew on their Tuesday, 03-13-12 trip, catching 4 Bocaccio, 162 Rockfish and 1 Red Snapper:
Some nice Florida's:
Private boater Travis took out some friends, Daniel and Tyler for Rock Fishing out of Dana Point on Monday, 03-12-12. Travis tried a bunch of local spots with little results before finding the Mother Load, straight Reds:
Long Beach and San Pedro
The
Enterprise
fished on Thursday, 03-15-12, and caught 3 Whitefish, 42 Bocaccio, (limits), 113 Rockfish, 62 Sculpin, 2 Perch and 55 Red Snapper
The ¾ day boat
Sport King
out of LA Harbor fished on Thursday, 03-15-12, as 12 anglers caught 24 Bocaccio (limits), 70 Rockfish and 25 Red Snapper.
The ¾ day boat
Sea Angler
out of 22nd Street Landing ran a trip on Monday, 03-12-12 and continues to slam the Sand Dabs, catching over 1540!
The 1/2 day boat
Matt Walsh
out of LA Harbor caught 6 Sheephead, 39 Rockfish, 2 Sculpin and 22 Red Snapper for only 8 anglers on their Thursday, 03-15-12, trip.
The 1/2 day boat
Native Sun
is targeting Halibut for their annual derby, and on their Saturday, 03-10-12 morning trip, they caught 2 Halibut, 2 Sand Bass, 1 Rockfish and 17 Sculpin for 10 anglers.
Japan Ron fished the ¾ day
Victory
out of Pierpoint Landing on Wednesday, 03-14-12 and loaded up on the Rockfish, with limits of Bocaccio and Sculpin. Some pictures:
The Islands
Catalina/Santa Barbara Island!
Jacob fished on the Charter boat
Dreamer
at the Island, Friday, 03-09-12. There was little action and less Squid. This lone White Seabass was caught by a lucky lady angler: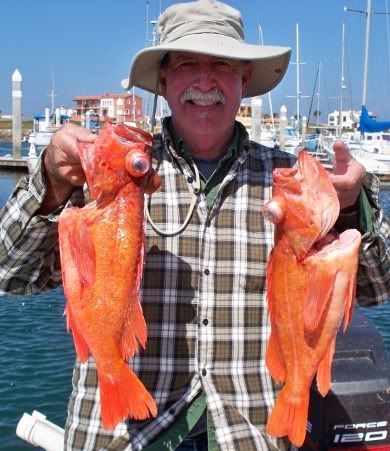 The
Pursuit
out of 22nd St. Landing, ran to the Island on Wednesday, 03-14-12, with 32 anglers catching 3 Calico Bass, 36 Sheephead, 54 Whitefish, 64 Bocaccio, (limits) 112 Rockfish, 7 Sculpin, 270 Perch and 15 Red Snapper.
San Clemente Island!
The
Thunderbird
is running a $99 special to the Island and on their Saturday, 03-10-12 trip they caught 14 Sheephead, 7 Whitefish, 175 Rockfish and 2 Lingcod for 25 anglers.
The
Freedom
out of 22nd St. Landing is running trips during the week and on Saturdays to San Clemente where they have been catching lots of Reds, some Lingcod and assorted Rockfish. Then they head to San Nicolas on an extended day trip on Sunday's.
Private boater Dave on his 28' Farallon, "Hooked" fished on Friday, 03-09-12 with friends on the backside of San Clemente. Dave said the weather was great and the fishing was steady, with near limits of big Reds and limits of Rockfish for the five of them.
Down South-San Diego and good ole Mexico!
The ¾ day boat out of San Diego, The
Point Loma
with Captain Ron Baker is concentrating on putting anglers on Halibut. On Wednesday, 03-14-12 the big one of the day was a whopping 34.5 pound Halibut:
A 35 pound Halibut caught off the Point Loma:
With the
Indian
no longer in business, the Finger Bank has been left alone for a few weeks. That allowed me to take advantage of this fact, as I fished with private boater Bill on Wednesday, 03-14-12. We left Bill's slip in Las Salinas at 7am, stopped to make Mackerel as bait for 20 minutes then headed offshore to the Finger in grease calm seas. The Reds and Bocaccio were on a serious chew and we limited out in less than two hours on both species. It was a good thing we headed in to fish shallow water early as Mother Wind came out of nowhere with a fury at 11am and chased us off the water. Some pictures: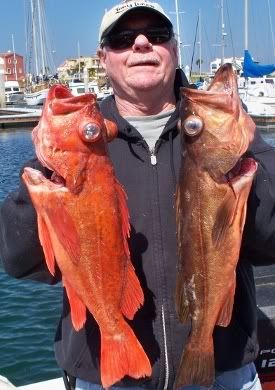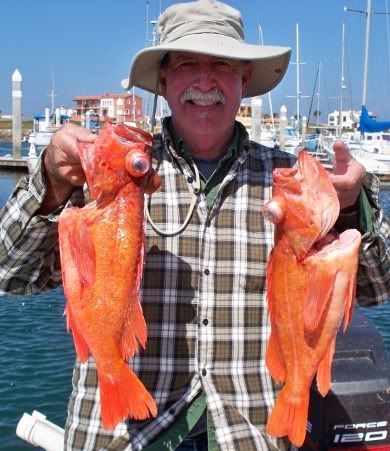 OK, this happened several weeks ago in La Jolla, yet how many of us can drool over catching a 52 pound Yellowtail in local waters?
Charter Master Louie fished on Thursday, 03-15-12 out of Ensenada with his wife Pati and her children. They loaded up on the Rockfish after first catching a Yellowtail and losing a couple of others under the Birds. Some pictures:
All comments and suggestions welcomed!
Weather
The weather forecast for the weekend looks awful for both Saturday and Sunday? Time to find some indoor Honey due's, light the fire in the Fireplace and read a good book. Always check the latest forecast before leaving the dock.
Hook Up,
Cory