by Cory Visser
Thursday Recap Report-Weekend Possibilities:
A Summary of local fishing from Santa Monica to Oceanside, including Catalina and San Clemente Islands, with fishing trips out of San Diego down to Baja, Mexico.
The weekend weather was brutal, and was followed by several days of wind, which led to almost no fishing reports for this week. I will cover those few reports later; however, I decided I would do a special synopsis on fishing for Rockfish with a Lucanus or a similar Knockoff Lure to fill in the blanks.
Rockfishing the Lucanus way!
I have to give Hats off to
Shimano
for introducing the
Lucanus
Lure and their recommended Rod, Reel, Line and method of fishing for this most interesting new type of targeting Rockfish. For those that enjoy fishing plastics, this process is very similar, only you utilize the increased weight to enable you to get down to 200 to 300+ feet in depth where the bigger Rockfish live.
The best part for you sportsmen is using lighter tackle, 20-25 lb. test line top shots, the bigger models of Level Wind Bass Reels, 8' limber rods, and the primary line being Spectra, which provides a lot more action (feeling the bite) on deep water fishing for Rockfish. Instead of heavy Rods, Reels and line, which provide little fight, the lighter gear enables a better touch with the lively fish on the end of your line, even from 300 feet. Level wind reels allow for ease of winding up the long distance, yet you have a bit of a fight from a bigger fish as you reel it up.
If you haven't tried it, add it to your list of must do! You will be incredibly surprised by your success ratio, it works and it is fun! If Rockfishing is not part of your winter/spring agenda, because you found that fishing with heavy gear eliminated most of the fun, try this method for fishing. Now here are a few tips on how to get the best results.
Although I believe Shimano first introduced the product and fishing technique, although the lures they sell are fairly pricey and you don't need the expensive Rod and Reel combo they recommend, there are plenty available from other manufacturers, sorry Shimano, your pricing encourages competition? The following alternative lures are available, at significantly reduced pricing and they all work too!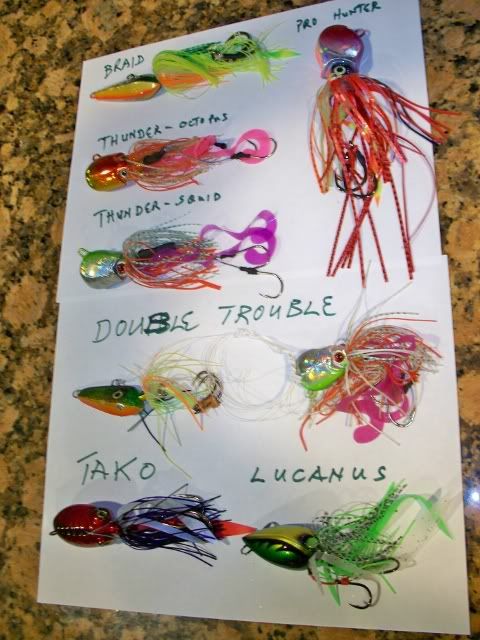 The other things I do not especially like about the Lucanus is the tiny hooks and their skirts do not last long, always needing replacement. Most of the other models have larger hooks which can hold on to a Lingcod better, given their violent head shakes. Also both Reds and Bocaccio have soft portions in their big mouths where the hooks can easily rip out.
I first turned to the
Braid
Knockoff for results, and then added the
Thunder Octopus
and
Thunder Squid
to my repertoire. I found that a
"Double Trouble"
rig produced the best results, given you added small thin strips of squid to each hook and lure. You can use a double Lucanus Lure setup for great results, although, a bottom snag could cost you the loss of what $35, yikes! A Braid and Thunder Combo, as shown in the picture, costs about $12?
Something to consider is that both the
Braid
and
Lucanus
have duel hook metal loops which allow for connections to your main line and to the second lure separately, a much preferred setup. The
Tako
also has that capability. So a good double trouble outfit would be a Lucanus, Braid or Tako on the top, a 2 foot leader and a Thunder or other Knockoff on the bottom.
Since I use 30 pound Spectra for main line, I use approximately 30 feet of 25 pound top shot mono, and a 2 foot 25 pound mono leader, I found the 20 pound breaks more frequently if you have two big Reds hooked up. Of course with no break away, you can lose both lures when snagged on the bottom. A personal choice, I hate losing fish more than lures, and these kind of lures when hung on the bottom are often forgiving, IE; they come loose before the line breaks.
To fish this combo, just pretend it is a plastic. Drop down to the bottom; slowly reel up about ten or more cranks, if not bit, drop back down. While winding up, if you feel a bite, keep winding until the line comes tight, and then set the hook. Sometimes on the wind up you get some little bites, tickles as I call them, you may want to stop until the line loads up, wind tight and set the hook for finicky fish. Most of the time the Big Reds hammer the lure, although sometimes they just nibble, and you need to be patient.
Remember when using this technique be sure you are at least five cranks off the bottom otherwise the nursery fish will attack you.
If you get tired of winding, sometimes just stopping up in the water column results in a good bite. Don't lay the rig on the bottom, its asking for a snag and loss of tackle. Also the little nursery fish live tight to the bottom, so at least reel up five to ten cranks and wait for a bite. When bit, wind down on the fish to set the hook. Given a hook up, wind slowly as a second bite may occur and you may catch a second fish for a
"Double Trouble"
thrill!
I hope this introduces you to a new method of fishing for Rockfish, and increases your enthusiasm for this kind of fishing.
There was decent weather from Tuesday thru Thursday; however, the reports were mostly from the ¾ and ½ day Sport Boats locally. Saturday looks to be a good weather window, and then it gets rainy on Sunday.
Rockfishing is still the name of the game right now. The recent storms have maintained the cold dirty water along the coast, which has put a damper on the Bass fishing, although the Native Sun on a Twilight trip had a great bite on the Sand Bass Sunday. Also a few Halibut are still biting locally.
The
Toronado
and
Freedom
have scheduled trips to San Clemente and San Nicolas Island on most weekends, although their were no trips made this week. The Thunderbird runs daily trips to San Clemente Island at reduced prices, when enough anglers are booked.
All the 1.5 day trips to Colonet were canceled last week. A few are scheduled for this weekend out of San Diego; unfortunately the demand is dwindling for these trips. A snap on the Yellowtail would sure improve the outlook. We simply need warmer water temps.
Twilight fishing:
No reports this week. There are some good opportunities this weekend for twilight trips.
In Santa Monica Bay
The ¾ day
Tradition
was off line this week for Coast Guard Inspection and is now cleared to run trips which will target Reds, Sculpin and Lingcod.
Private boater Dean fished on Friday, 03-16-12, before the storm and caught a nice Lingcod, Rockfish and hooped for 5 Lobster. The Lingcod:
The ½ day boat
New Del Mar
caught 141 Rockfish and 112 Sculpin on their Thursday, 03-22-12trip.
A Lingcod caught on 03-20-12:
The ¾ day boat
Spitfire
loads up on the Rockfish on Thursday, 03-22-12, catching 60 Rockfish, 40 Sculpin, 100 Sand Dab and 65 Red Snapper.
Newport Beach and Dana Point.
The ½ day boat
Patriot
out of Newport Landing ran a trip on Tuesday, 03-20-12 and caught 54 Bocaccio, 232 Rockfish, 150 Sand Dab and 28 Red Snapper.
The 3/4 day boat
Freelance
found the Rockfish on the chew on their Thursday, 03-22-12 trip, catching 3 Whitefish, 35 Bocaccio, 103 Rockfish, 75 Perch and 21 Red Snapper:
Long Beach and San Pedro
Private boater Eugene with Sand Bass to 11 pounds:
Private boater Cliff took his friend out fishing for his birthday, 03-22-12. They caught Sand Bass, Sculpin and Steve's special request a Halibut, 7 pounds:
The
Enterprise
fished on Thursday, 03-22-12, and caught 70 Bocaccio, (limits), 185 Rockfish, 105 Sculpin and 42 Red Snapper.
The ¾ day boat
Sport King
out of LA Harbor fished on Thursday, 03-15-12, as 12 anglers caught 24 Bocaccio (limits), 70 Rockfish and 25 Red Snapper.
The 1/2 day boat
Monte Carlo
out of 22nd Street Landing ran a trip on Thursday, 03-22-12 and caught 49 Rockfish, 1 Lingcod and 124 Red Snapper.
The 1/2 day boat
Matt Walsh
out of LA Harbor caught 11 Sheephead, 5 Whitefish, 4 Rockfish, 1 Lingcod and 26 Red Snapper for only 7 anglers on their Wednesday, 03-21-12, trip.
The 1/2 day boat
Native Sun
on their Wednesday, 03-21-12 morning trip, they caught 22 Bocaccio, (limits), 30 Rockfish, 4 Sculpin and 1 Sole.
Japan Ron fished the ¾ day
Victory
out of Pierpoint Landing on Wednesday, 03-21-12 and loaded up on the Rockfish, a Jackpot Sheephead and 100 Sculpin. Some pictures:
The Islands
Catalina/Santa Barbara Island!
I'm sure the
Dreamer
will be at the Island again shortly to target the White Seabass which are yet in spawning mode due to the cold water, and lack of Squid at the Island.
The
Pursuit
out of 22nd St. Landing, ran to the Island on Thursday, 03-22-12, with 23 anglers catching 3 Calico Bass, 30 Sheephead, 18 Whitefish, 44 Bocaccio, 100 Rockfish, 1 Sculpin, 123 Perch, 1 Sargo and 15 Red Snapper.
San Clemente Island!
The
Thunderbird
is running a $99 special to the Island and on their last run caught plenty of rockfish, Whitefish and Sheephead.
The
Freedom
out of 22nd St. Landing is running trips during the week and on Saturdays to San Clemente where they have been catching lots of Reds, some Lingcod and assorted Rockfish. Then they head to San Nicolas on an extended day trip on Sunday's.
Down South-San Diego and good ole Mexico!
The ¾ day boat out of San Diego,
The Point Loma
with Captain Ron Baker is concentrating on putting anglers on Halibut. On Friday, 03-16-12 trip they caught 3 Halibut, 2 Calico Bass, 3 Sand Bass, 1 Sheephead, 27 Rockfish, 7 Sculpin 1 Perch and 16 Red Snapper.
Private boater Bill out of Las Salinas found the Bocaccio on the chew on his Wednesday, 03-21-12 trip, catching easy limits, with one big Red and a few assorted other Rockfish in only two hours of fishing.
All comments and suggestions welcomed!
Weather
The weather forecast for the weekend is very calm for Saturday and rain forecasted for Sunday? Always check the latest forecast before leaving the dock.
Hook Up,
Cory