by Cory Visser
Thursday Recap Report-Weekend Possibilities:
A Summary of local fishing from Santa Monica to Oceanside, including Catalina and San Clemente Islands, with fishing trips out of San Diego down to Baja, Mexico.
I think we can begin saying this has been the year of the Bluefin Tuna? I sure can't remember having such a consistent bite on these fish for so long. Despite the warm 70+ degree water they are still biting. Everyone is now hoping for the Yellowfin Tuna to join in the fun. There have been a few good scores, however, no signs yet of the Yellowfin moving into US waters? Some Yellowfin have been found under the Porpoise, but these instances are so far, few and far between.
Meanwhile the
Offshore
action continues at full speed ahead on all four exotics-Yellowfin Tuna, Bluefin Tuna, Do Dos and Tails. The one day boats have been able to catch three of the four species and in good numbers too. Most of the Yellowfin have been caught on the 1.5 to multi day trips further south.
The Yellowtail and Dorado (Mahi Mahi) fishing on the Kelp Paddies continue to be off the charts in many areas below 50 miles south of the border to over 150 miles. The ¾ day boats out of San Diego have been slaying them on many occasions.
Locally there are not many kelp paddies that are holding fish, and that is if you can find one? Yet occasionally the Mother Load Kelp Paddy is found. So far this week most of the private boater reports contain few fish being caught. Lal and I took the Ducky on a 105 mile boat ride on Wednesday, 08-29-12 and located only three small Kelp Paddies off the 277. One of the three held six Dorado and Lal coaxed one 10 pounder into biting. The rest had lockjaw? We listened to many boaters on the water with similar results.
On some days the ¾ day boats out of Newport Beach and Long Beach some found the right kelp paddy. For example the
Freelance
on Wednesday, 08-29-12 caught 3 Yellowtail, 73 Dorado and 35 Rockfish. Out of the same landing as the Freelance the
Bongo's III
on Thursday, 08-30-12, caught 30 Yellowtail and 30 Dorado, that's full limits for the 3 anglers aboard, wow!
The
Toronado
out of Pierpoint Landing ran a trip on Thursday, 08-30-12 and caught 5 Bluefin Tuna, 52 Yellowtail and 41 Dorado.
The
Freedom
out of 22nd St. Landing caught 102 Yellowtail and 18 Dorado on Tuesday, 08-28-12.
The ½ day boat
Monte Carlo
had 7 Dorado and a Yellowtail on their trip Wednesday, 08-29-12.
Here is a big Halibut off the
Monte Carlo
:
Private boater Captain Ron went fishing on the luxurious yacht ''Salt Fever" with friends over the weekend. They caught 14 Bluefin Tuna on Sunday at the Pens, while their Saturday results included some smaller Yellowfin Tuna to 15 pounds and a smattering of Yellowtail and Dorado.
Last weekend was the annual
Make a Wish Tournament
and it was again very successful in raising funds of well over $200,000 for the unfortunate kids with terminal diseases. Private boater Jerry and friend caught 33 and 34 pound Bluefin Tuna at the pens to win big fish honors in the small boat division, 1st and 2nd, plus the outboard division.
Private boater Ron on the boat "Reel Hard" and friends won 1st place on the overall small boat division, with 3rd and 5th place finish on big fish honors. Congrats guys, quite an accomplishment.
According to angler Spence and his friend their trip on the
Pride
Tuesday, 08-28-12 was wide open on the Bluefin Tuna, with a few Dorado and an Albacore mixed in. Some pictures:
An Albacore, must have been lost?
The
Aztec
, from a 2.5 day trip that returned Wednesday, 08-29-12 with 77 Bluefin Tuna to 45 pounds, 2 Albacore Tuna, 34 Yellowtail and 48 Dorado.
Locally the targeted fishing is mostly Sculpin and Rockfish, and when limits are reached early they go look for some Bass on the chew. According to Japan Ron the ¾ day
Victory
had a good day of fishing on Wednesday, 08-29-12, catching Lingcod, Big Reds, Sculpin, nine Barracuda and a White Seabass. Some pictures from Japan Ron:
Twilight fishing:
The
Enterprise
fished on Thursday, 08-30-12, and caught 1 Calico Bass, 74 Sand Bass and 33 Sculpin for only 12 anglers. The
Freelance
fished Tuesday evening, 08-29-12 and caught 121 Sculpin and 100 Sand Dab. The
Monte Carlo
fished on Sunday evening, 08-26-12 and caught 2 Halibut, 81 Sand Bass, 2 Barracuda and 16 Sculpin.
The Islands
Catalina/Santa Barbara Island!
The
Sport King
had a good day at the Island on Monday, 08-27-12 catching 2 Yellowtail, 63 Calico Bass, 2 Barracuda, 5 Sheephead, 5 Rockfish and 60 Perch.
The
Pursuit
out of 22nd St. Landing, ran to the Island on Thursday, 08-30-12, with 29 anglers catching 102 Calico Bass, 12 Barracuda, 19 Sheephead, 22 Rockfish and 192 Perch.
San Clemente Island!
The
Fury
out of Dana Wharf fished a 2-day trip over the weekend returning Sunday, 08-26-12 with 25 anglers catching 6 Bluefin Tuna, 35 Yellowtail and 8 Dorado.
The
Freedom
caught 8 Yellowtail 32 Dorado 22 Sheephead 120 Whitefish on their Sunday, 08-26-12 trip.
Down South-San Diego and good ole Mexico!
The Yellowtail fishing at the Coronado Islands has been very good for private boaters. The ¾ day boats are running offshore to catch Tuna and Tails as the Visa mess is still up in the air? The last few days the ¾ day boats have found limit style fishing on the Dorado also with lots of Yellowtail being caught offshore on the kelp Paddies.
The ¾ day boat
San Diego
out of Seaforth Landing caught 82 Yellowtail and 7 Dorado on their Wednesday, 08-29-12 trip.
The
Mission Belle
headed out on Sunday, 08-26-12, and caught 82 Yellowtail and 28 Dorado.
The ¾ day boat
Malahini
caught 1 Bluefin Tuna, 69 Yellowtail and 32 Dorado on their trip on Monday, 08-27-12.
Charter Master Jamie, of
Seasons Sportfishing
fished offshore during the week on several trips and caught plenty of Yellowtail and Dorado. Some pictures: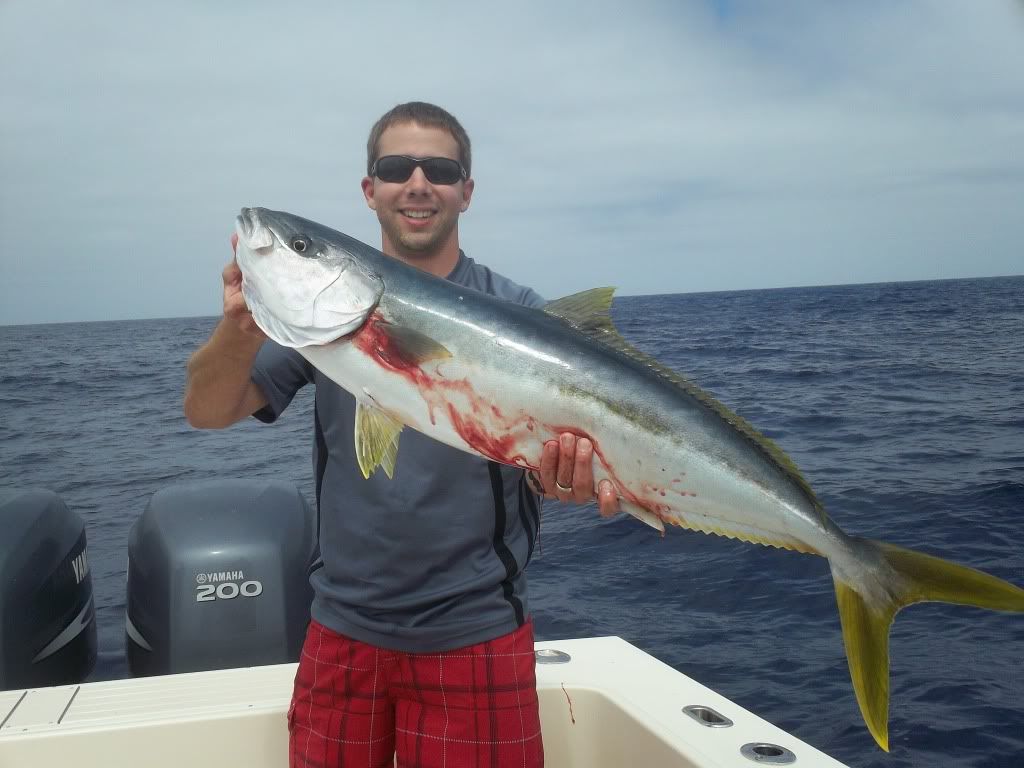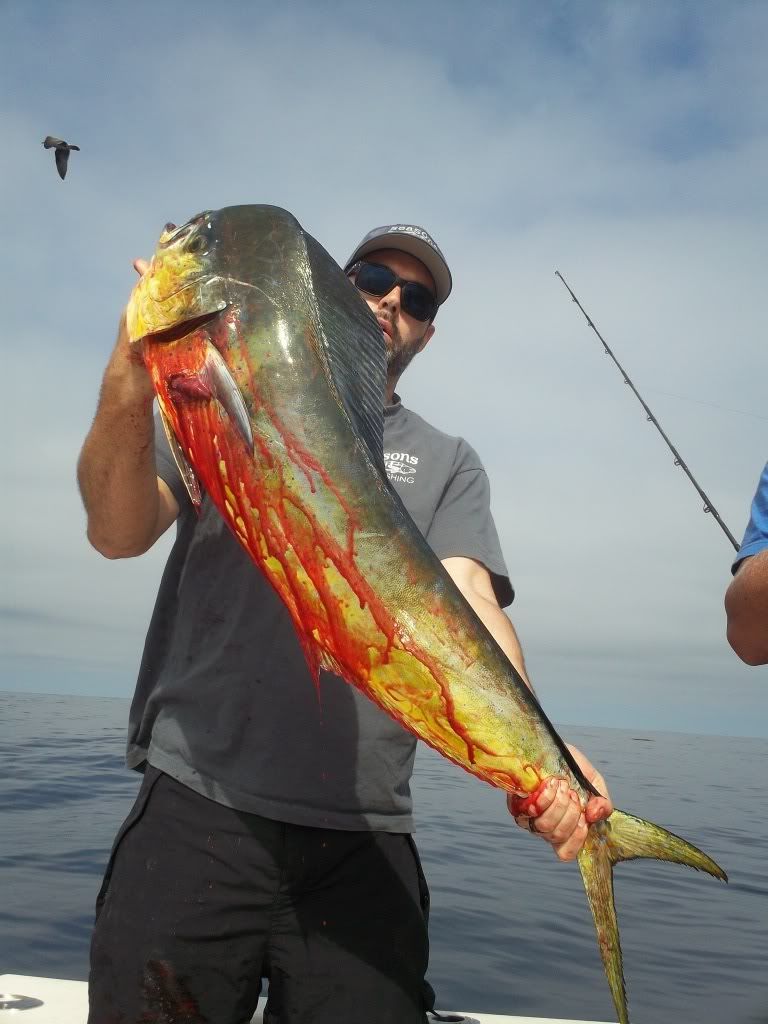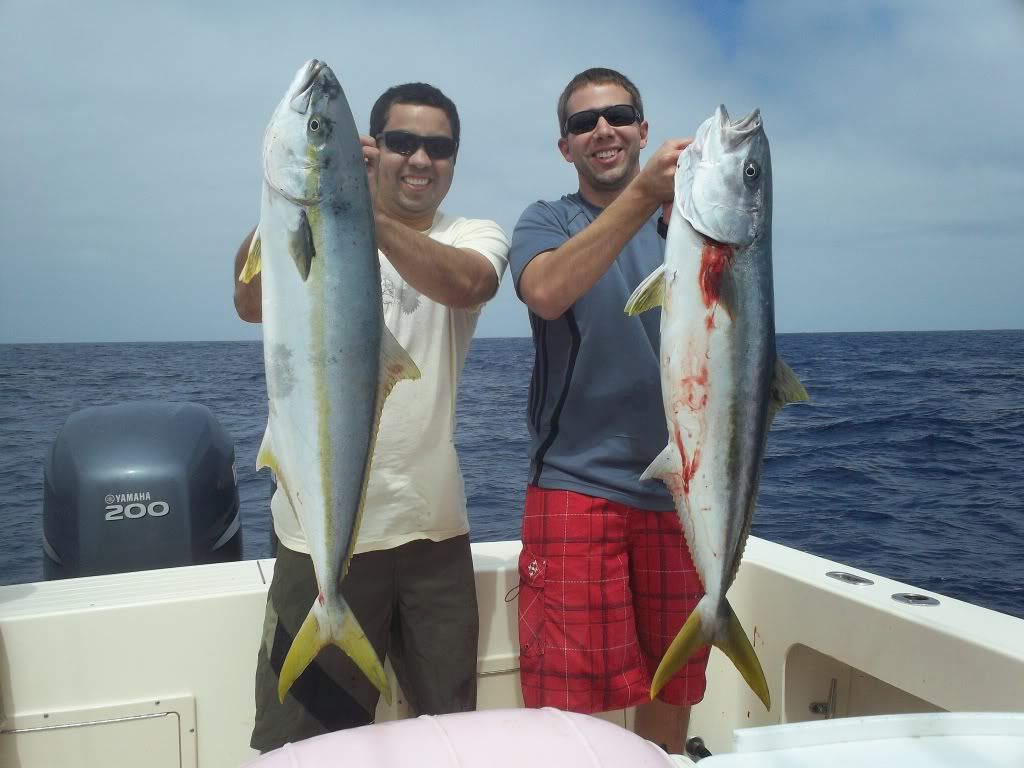 All comments and suggestions welcomed!
Weather
The weather forecast for both Saturday and Sunday looks to be quite breezy for the offshore runs. Always check the latest forecast before leaving the dock.
Hook Up,
Cory