by Cory Visser
Thursday Recap Report-Weekend Possibilities:
A Summary of local fishing from Santa Monica to Oceanside, including Catalina and San Clemente Islands, with fishing trips out of San Diego down to Baja, Mexico.
Despite another weekend of breezy conditions, the
Offshore
fishing was again very good. The one day Sport Boats did not get into the wide open Tuna bites they became accustomed to, yet filled the boat with lots of Yellowtail, some Dorado and Tuna. The 1.5 day trips did far better than single day trips, while 2 day and 3 day trips usually ended up with limits of
Yellowfin Tuna
, and a good variety of
Dorado
,
Yellowtail,
Bluefin Tuna
and the occasional
Albacore.
As the week progressed and our first storm of the year came through the Tuna counts were fading. Would like to get out one more time myself, however, once again on the weekend and forecasted through early next week is breezy offshore conditions. As the water cools the fish head south, bummer. However, it has a been a banner season for most. Far better fishing this year than the last two years.
An area of concern:
I know the Sport Boats need to make a decent living, considering the last few years have been poor at best. I just can't get a good handle on why so many Rat Yellowtail are being caught and killed. The same goes for private boaters, although they do not account that much for the thousand a day that are being caught by the Sporties. These small Yellowtail are next year's crop of 10 to 12 pounders and the following year of 20 to 25 pounders. At least this week a number of boats found the bigger models biting, for example:
Off the
Searcher
10-08-12, lots of big Yellowtail:
Off the Ocean Odyssey 10-08-12, all the Yellowtail you wanted:
Angler Pam off the
Pacific Dawn
2-day trip over the weekend, with big Bull Dorado:
Angler Kevin fished a 1.5 day trip on the
Condor
over the weekend and caught limits of Yellowfin Tuna and a few Bluefin Tuna. Some pictures: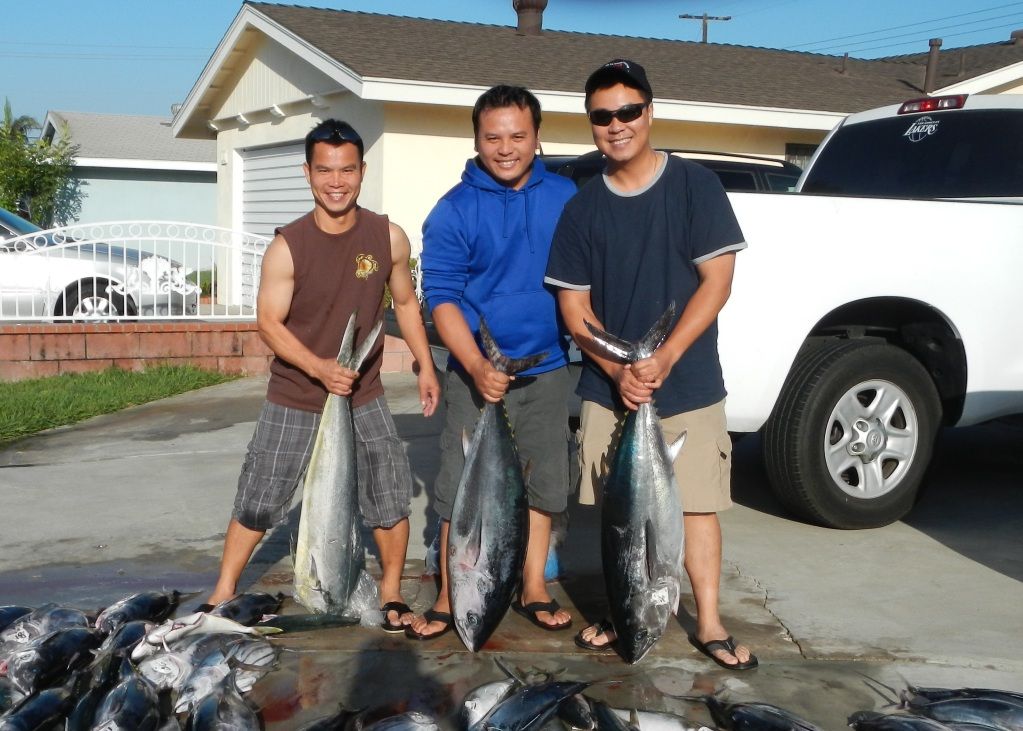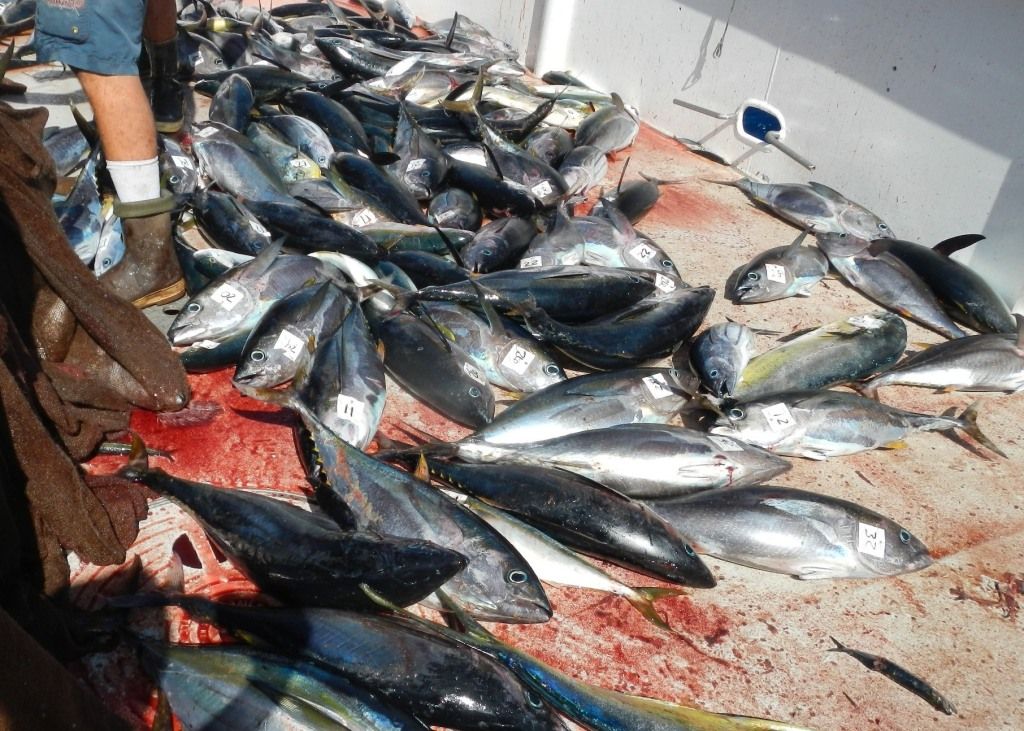 There were few private boater boats this week with the best fishing down at the 1010 Trench, some 65 miles south of Point Loma. Mostly the bigger boats ventured as far south as the D220 and west to the 213 Banks, with 80 miles a beginning destination for the 1.5 and longer trips. The inshore banks, Hidden, 302, 371 and 425 are still yielding mostly Rat Yellowtail and a few Dorado, yet not much in the way of any Tuna, although the ¾ day boats found a good school of Bluefin Tuna mixed in with the incredible amount of small Yellowtail remaining in the area near the Hidden Bank.
Here is a picture of Eric with a Bluefin Tuna off the San Diego on Tuesday, 10-09-12:
Private boater Jerry hired Dave Hansen to fish Thursday, 10-11-12, leaving Wednesday evening to go long out of Newport Beach, ending up 100 miles south. They found wide open Yellowtail fishing with a good mix of Yellowfin Tuna and Dorado. Here is Scott's son Rocky with a great mix of fish:
The
Ranger 85
returned Friday, 10-12-12 from a 2.5 day trip with 30 anglers catching 22 Bluefin Tuna, 93 Yellowfin Tuna, 128 Yellowtail and18 Dorado.
The
Pacific Voyager
, returned from a successful 2.5 day trip Monday, 10-08-12 with a great mix of fish: 120 Bluefin Tuna, 118 Yellowfin Tuna and 2 Albacore Tuna.
There has been a small snap on the Yellowtail at
Catalina Island
this week. The ¾ day boat Enterprise made the run to Catalina on Saturday, 10-06-12 and caught 2 Yellowtail, 38 Sheephead, 137 Whitefish, 154 Rockfish, 1 Bonito, 4 Sculpin, 210 Perch and 1 Cabazon.
There was also a short window of opportunity at
San Clemente Island
on the Yellowtail, where they bit well most of last week until the weather turned on the weekend. Private boater Glen fished the weekend with friends at the Island and they caught 8 Yellowtail on Saturday and 9 on Sunday. The
Fury
returned from a 2-day trip, Friday/Saturday, caught 131 Yellowtail and lots of Calico Bass on their trip.
In
Santa Monica
the 3/4 day boat
Tradition
had a decent day on their Saturday, 10-06-12 trip catching 10 Calico Bass, 6 Sand Bass, 142 Rockfish, 2 Lingcod, 75 Sculpin, 30 Perch and 2 Cabazon. The
New Del Mar
had a decent day of Bass fishing on Tuesday, 10-09-12, catching 32 Calico Bass, 21 Sand Bass, 1 Sheephead, 85 Rockfish, 1 Lingcod, 30 Sculpin and 2 Cabazon.
Out of
San Pedro
, the ½ day boat
Monte Carlo
had a decent trip Monday, 10-08-12 catching 28 Calico Bass, 4 Sand Bass, 16 Sheephead, 7 Whitefish, 16 Rockfish, 1 Lingcod, 3 Sculpin, 3 Sargo and 46 Red Snapper.
Out of
Newport Beach
, the
Thunderbird
ended a 2-day trip on Sunday, 10-08-12 catching 1 Bluefin Tuna, 14 Yellowfin Tuna, 10 Skipjack Tuna, 59 Yellowtail and 17 Dorado for 17 anglers. The
Freelance
fished Tuesday, 10-09-12 and caught 1 Yellowtail, 58 Calico Bass, 1 Barracuda, 4 Sheephead, 8 Rockfish and 40 Perch.
Out of
Long Beach
, Japan Ron fished on the 3/4 day boat
Victory
, Wednesday, 10-10-12 and they caught a good mix of Red Snapper, Lingcod and other assorted Rockfish. Some pictures:
Twilight fishing:
The
Freelance
fished Sunday evening, 10-08-12 and caught 1 Halibut, 3 Calico Bass, 4 Sand Bass, 18 Rockfish, 81 Sculpin, 12 Yellowfin Croaker and 3 Sargo. Most boats have discontinued twilight trips as the demand has dwindled? The
Nautilus
fished on Saturday, 10-06-12 in the evening catching 7 Calico Bass, 12 Rockfish, 60 Sculpin (limits) and 4 Sargo.
The Islands
Catalina/Santa Barbara Island!
The Sport King had a good day at the Island on Friday, 10-05-12 catching 2 Yellowtail, 69 Calico Bass, 1 Barracuda, 8 Whitefish, 5 Rockfish and 137 Perch
The Pursuit out of 22nd St. Landing, ran to the Island on Saturday, 10-06-12, with 20 anglers catching 30 Calico Bass, 35 Sheephead, 45 Whitefish, 40 Bocaccio, 150 Rockfish, 1 Lingcod, 200 Perch and 19 Red Snapper.
San Clemente Island!
The
Fury
out of
Dana Wharf
returned from a 2-day trip on Saturday, 10-06-12 with 20 anglers catching 131 Yellowtail, 89 Calico Bass, 5 Barracuda and 3 Bonito. Some pictures courtesy of angler Jimmy: Mike with the jackpot Yellowtail:
The F
reedom
caught 15 Yellowtail, 26 Calico Bass, 6 Barracuda, 3 Sheephead, 7 Whitefish and 73 Perch on their Saturday, 10-06-12 trip.
Down South-San Diego and good ole Mexico!
The ¾ day boats are running offshore to catch mostly Yellowtail and Dorado; however they got a taste of Bluefin Tuna this week to go with the amazing Yellowtail fishing.
The ¾ day boat
San Diego
out of Seaforth Landing caught 22 Bluefin Tuna, 195 Yellowtail and 11 Dorado on their Tuesday, 10-09-12 trip.
The
Mission Belle
headed out on Sunday, 10-07-12, and caught 1 Bluefin Tuna, 135 Yellowtail and 12 Dorado.
The ¾ day boat
Malihini
caught 2 Bluefin Tuna, 140 Yellowtail and 2 Dorado on their trip on Monday, 10-08-12.
Some pictures off the
Pacific Star
multi day trip:
All comments and suggestions welcomed!
Weather
The weather forecast for both Saturday and Sunday looks to be quite breezyfor the offshore runs. Always check the latest forecast before leaving the dock.
Hook Up,
Cory