by Cory Visser
Thursday Recap Report-Weekend Possibilities:
A Summary of local fishing from Santa Monica to Oceanside, including Catalina and San Clemente Islands, with fishing trips out of San Diego down to Baja, Mexico.
As the beat goes on, with another round of breezy conditions over the weekend, which still resulted in the Offshore fishing being decent. One day trips for some Sport Boats did not yield many
Yellowfin Tuna
, however
Dorado
fishing was good, and a lot of kelp Paddies were again loaded with the small
Yellowtail
with some bigger models mixed in. An occasional school of
Bluefin Tuna
were located, with a scattered
Albacore
. Once again the 1.5 day trips generally did better than single day trips, while 2 day and 3 day trips usually found the Tuna.
Most private boaters have apparently hung it up for the year? Many discouraged by windy seas; however few are fishing on even good weather days? The better fishing is being found from 80 to 100 miles southwest of San Diego, way too far for private boaters. Since the ¾ day boats are still doing well, there are fish being caught between 30 and 50 miles south. According to private boater Ali the
1010 Trench
and
1067 Knuckle
are still holding Yellowfin Tuna to 45 pounds, some 65 to 70 miles south of Point Loma. The inshore banks,
Hidden, 302, 371 and 425
are still yielding mostly Rat Yellowtail and a few Dorado, with an occasional Tuna.
The
Ranger 85
returned Wednesday, 10-17-12 from a 2.5 day trip catching 160 Yellowfin Tuna, 5 Skipjack Tuna, 140 Yellowtail and 60 Dorado.
The
Pacific Queen
returned Thursday, 10-18-12 from a 1.5 day trip catching 65 Yellowfin Tuna, 24 Skipjack Tuna, 155 Yellowtail and 27 Dorado. Nice Yellowtail off the Pacific Queen:
Nice Yellowtail off the
Searcher
on Monday, 10-15-12:
The
Pacific Star
returned Monday, 10-15-12 from a 1.5 day trip with 19 anglers catching 76 Yellowfin Tuna, 114 Yellowtail and 76 Dorado.
Angler Steve fished 2.5 day trip on the
Eclipse
over the weekend and had a decent trip. Some pictures: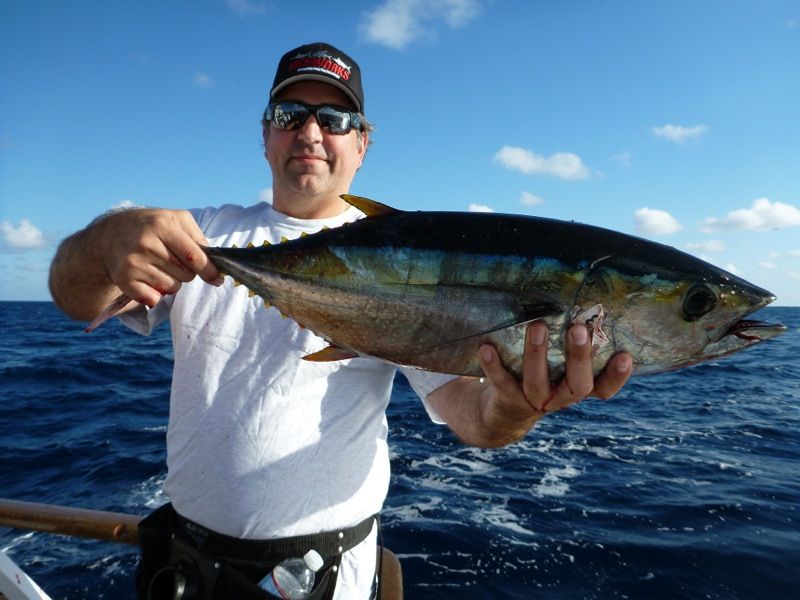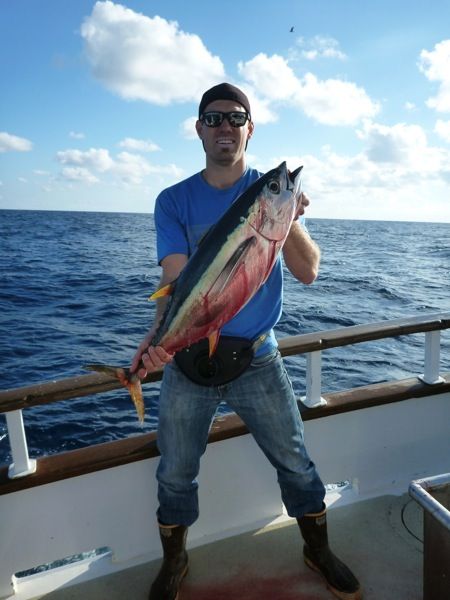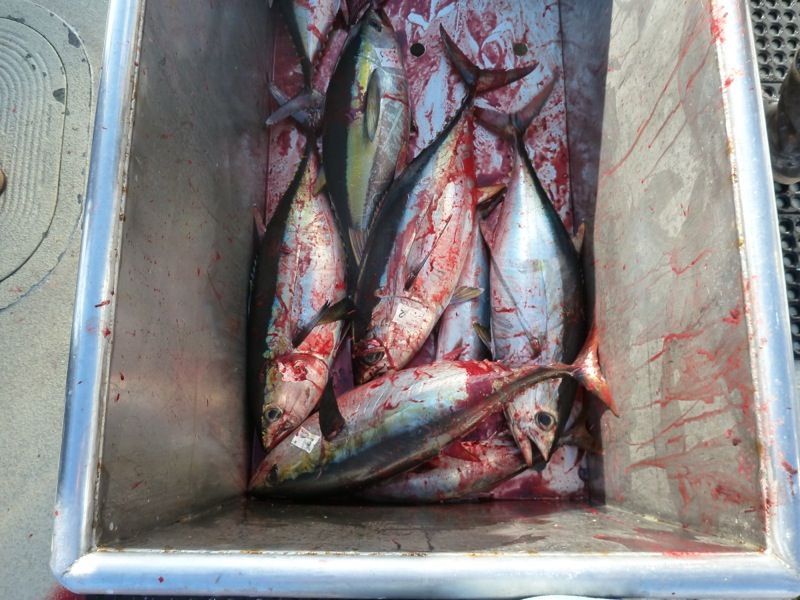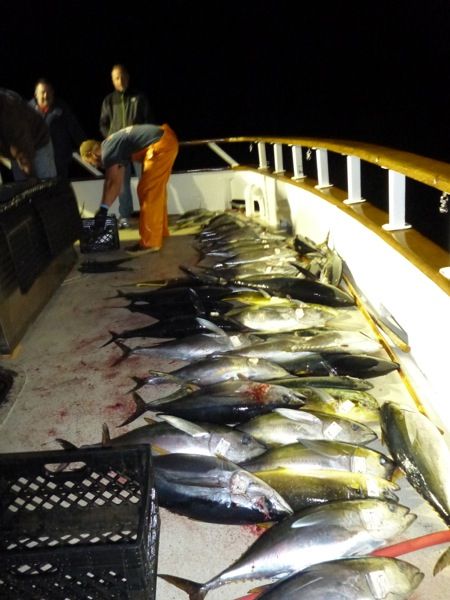 Moving on to some fishing humor! This is one fisherman's opinion of the evolution of man:
Some folks picture this as a Red Neck Yacht, maybe what I'll end up retiring in, not!
Then again I might settle for this retirement setup:
Angler Hakaveli fished a 1.5 day trip on his birthday with friends last week on the
Aztec
and had a mighty good time: A couple of pictures:
A really good haul by lucky 13 birthday boy:
Sushi chef at work, Yum Yum!:
According to angler Nicolai his 1.5 day trip on the
Condor
was a blast, not wide open on the Yellowfin Tuna, yet with a bunch of Dorado and Yellowtail mixed in. A couple of pictures:
Also on the Condor, Ron had a great trip that returned yesterday with over 250 mixed fish:
Talk about local fishing out of
Mission Bay
, how's this? Kind of like a Half day trip you could expect in the good old days when I was growing up, and that's a long time ago. A killer trip on the
New Seaforth
½ day trip Monday, October 15, 2012. Loaded with a tank of live Squid they caught a 60 pound White Seabass, 10 big Yellowtail, lost a bunch more, and some big Halibut:
In
Santa Monica
the 3/4 day boat
Tradition
had a decent day on their Saturday, 10-13-12 trip catching 9 Calico Bass, 11 Sand Bass, 1 Whitefish, 54 Rockfish, 42 Sculpin and 46 Red Snapper, for only 10 anglers. The
New Del Mar
had a decent day of Bass fishing on Monday, 10-15-12, catching 4 Calico Bass, 33 Sand Bass, 7 Sheephead, 6 Whitefish, 25 Rockfish, 110 Sculpin and 12 Cabazon.
Out of
San Pedro
, the ½ day boat Monte Carlo had a decent trip Monday, 10-15-12 catching 9 Calico Bass, 1 Sand Bass, 11 Sheephead, 1 Bocaccio, 27 Rockfish, 2 Lingcod, 1 Sculpin, 31 Perch and 62 Red Snapper.
Private boater Japan Ron fished on Lal's Rubber Ducky on Tuesday, 10-16-12 and had an excllent day on Sand Bass and criiter fishing all on plastics and all released. Some pictures:
I fished with Lal on Sunday, for one of our slowest days ever on Bass fishing, considering the weather was excellent, there were good tides, etc. I did manage to catch this 4+ pound Sand Bass early in the morning:
Out of
Newport Beach
, the Freelance ran a 3/4 day trip on Tuesday, 10-16-12 catching 1 Yellowtail, 17 Calico Bass, 3 Sheephead, 1 Whitefish, 21 Rockfish, 40 Perch, 3 Sargo and 9 Red Snapper.
Speaking some more about local fishing, you have got to love the scenery on a warm summer day from time to time? Pictures courtesy of Phil Friedman:
Twilight fishing:
The Freelance fished Sunday evening, 10-14-12 and caught 6 Calico Bass, 2 Sand Bass, 15 Rockfish, 125 Sculpin, 1 Triggerfish and 1 Sargo . Most boats have discontinued twilight trips as the demand has dwindled? The Nautilus fished on Friday, 10-12-12 in the evening catching 27 Calico Bass, 1 Sheephead and 1 Sculpin for only 4 anglers.
The Islands
Catalina/Santa Barbara Island!
There has been a small snap on the Yellowtail at Catalina Island this week. The ¾ day boat
Enterprise
made the run to Catalina on Thursday, 10-18-12 and caught 27 Sheephead, 74 Whitefish, 115 Rockfish, 6 Sculpin, 45 Perch, 2 Spanish Jack and 83 Red Snapper.
The
Sport King
had a good day at the Island on Saturday, 10-13-12 catching 1 Yellowtail, 65 Calico Bass, 22 Sheephead, 10 Rockfish and 157 Perch.
The
Pursuit
out of 22nd St. Landing, ran to the Island on Tuesday, 10-16-12, catching 1 Yellowtail, 34 Calico Bass, 3 Sheephead, 6 Whitefish, 14 Rockfish, 2 Sculpin, 112 Perch and 8 Sargo.
Catalina Rockfish off the full day boat
Liberty
:
San Clemente Island!
There was also a short window of opportunity at San Clemente Island on the Yellowtail.
The
Fury
out of Dana Wharf fished on Saturday, 10-13-12 with 24 anglers catching 40 Calico Bass, 3 Barracuda, 4 Sheephead, 2 Whitefish, 1 Rockfish, 81 Perch and 1 Sargo .
The
Freedom
caught 7 Yellowtail, 47 Calico Bass, 8 Sheephead, 17 Whitefish, 16 Bocaccio, 1 Bonito, 1 Lingcod, 2 Sculpin, 51 Perch and 5 Sand Dab on their Sunday, 10-14-12 trip.
Down South-San Diego and good ole Mexico!
The ¾ day boats are running offshore where they have had sensational Yellowtail and Dorado fishing, as well as a few Tuna being caught.
The ¾ day boat
San Diego
out of Seaforth Landing caught 2 Bluefin Tuna, 1 Yellowfin Tuna, 229 Yellowtail and 8 Dorado on their Sunday, 10-14-12 trip.
The ¾ day boat
Mission Belle
headed out on Sunday, 10-14-12, and caught 170 Yellowtail and 3 Dorado.
The ¾ day boat
Malahini
caught 11 Yellowfin Tuna, 205 Yellowtail and 3 Dorado on their trip on Saturday, 10-13-12.
Nice Dorado out of
Ensenada
at the
Banda Bank
:
All comments and suggestions welcomed!
Weather
The weather forecast for both Saturday and Sunday looks to be very fishable for the offshore runs. Always check the latest forecast before leaving the dock.
Hook Up,
Cory