by Cory Visser
Thursday Recap Report-Weekend Possibilities:
A Summary of local fishing from Santa Monica to Oceanside, including Catalina and San Clemente Islands, with fishing trips out of San Diego down to Baja, Mexico.
It was a good season
Offshore
! So the
Party
is not over, yeah it is, yes the
Ocean Odyssey
ran a 3 day trip on Monday, after the storm. Yep they caught 175
Yellowtail
and
225 Yellowfin Tuna
, (3 day limits), with ten
Dorado
. However, the warm water is below 160 miles, way over 1.5 day range or even 2 day range unless you run at 5pm. Then there would have to be a hell of a fuel sur-charge. The Ocean Odyssey is running another three day trip this Friday evening. Good for them, I hope they catch a bunch. Basically the Offshore Season is over. There are almost no anglers willing to spend big bucks for little chance to catch Tuna. Well in November, what else would you expect? The winds and the rain came and the water temps dropped severely, consequently the Tuna headed south for the winter.
Listen it was a very good year for a lot of boats fishing offshore this summer. As has been the case for a number of years, there was virtually no spring fishing, and the
Albacore
pulled another no show. However, the season of catching Bluefin, Yellowfin Tuna, Dorado and baby Yellowtail, lasting into November, provided a lot of boats with enough revenue to survive, far better than last year. Still a few Sport Boats could not make a go of it, so sad! The
Bluefin Tuna
fishing this year was as good as I can remember. Still amazing to me how great it could be while fishing the
Tuna Pens
? This gave both private boaters and 1 day Sport Boats an opportunity to make a good day out of it. It also provided a 2 day trip with an option closer to shore on their second day after running over 100 miles on the first day. Sometimes the second day of fishing was better than the first?
Once again the average private boater was shut out of good fishing offshore, either too far to run or too expensive with $4.00+ a gallon fuel. The local banks, like the
302, 390, 425 and 371
generally didn't yield the desired results, plenty of baby Yellowtail, but few Tuna. The 1010, D220 and Knuckle produced well for about six weeks, yet for most private boaters that was out of their range at 60+ miles. US waters were almost an entire shut out. A few Magic Kelp Paddies yielded Dorado and Yellowtail for select few boats, while the50 to 100 boats that ran each day caught little to nothing?
The Island fishing for 2012 was a total bust in my opinion.
Catalina
and
San Clemente Islands
were horrible for the most part, with virtually no Yellowtail caught most days. The
Coronado Islands
were plagued by the Mexican Government and the few greedy politicians trying to make the big bucks with a false regulation of Visas that turned out to be mostly bogus and still is an unknown dilemma? Unfortunately the fish were there, yet most boats wanted nothing to do with the bogus Visas requirement.
It looks like a very difficult period ahead. I can only hope things improve.
This week, Sergio says:
Another Seal gone, unable to steal bait and fish, yeah!
Another pretty lady that fishes:
And Doug says:
I knew there was a reason?
Locally the target is Rockfish, Lingcod, Sculpin, White Fish and Sheephead, with a few Calico and Sand Bass mixed in. This is at best a very slow time of year. I could sure use as many pictures as you can provide to help me write a report that is entertaining.
John with a nice Halibut:
Out of
Dana Wharf Sportfishing
the ½ day boat
Clemente
had a decent day of Bass fishing on Wednesday, 11-14-12 catching 1 Whitefish, 24 Bocaccio, 55 Rockfish, 2 Sculpin, 20 Sand Dab and 18 Red Snapper.
Private boater Dave had a great trip on Veteran's day with friends, catching some nice Calico and Sand Bass.
In
Santa Monica
the 3/4 day boat Redondo Special had a great day on their Sunday, 11-11-12 trip catching 216 Rockfish and 2 Lingcod. The New Del Mar had a decent day of Critter fishing on Monday, 11-12-12, catching 9 Sheephead, 225 Rockfish, 6 Lingcod, 225 Sculpin.
Out of
San Pedro
, the ½ day boat
Monte Carlo
had a fantastic trip Saturday, 11-10-12 catching 2 Sand Bass, 7 Sheephead, 140 Whitefish (limits), 16 Rockfish, 9 Sculpin and 32 Red Snapper. Some pictures:
Charter Master Eric Groff with a decent day of Halibut fishing last weekend:
Out of
Newport Beach
, the
Freelance
fished Monday, 11-12-12 and caught 1 Sand Bass, 5 Sheephead, 20 Bocaccio, 140 Rockfish, 32 Sculpin, 250 Perch and 1 Triggerfish.
Out of
Long Beach
, the
Victory
fished Monday, 11-12-12 and caught 48 Sheephead, 22 Whitefish, 171 Rockfish, 3 Sculpin and 10 Perch.
Private boater Japan Ron fished with Lal on the Ducky locally out of Long Beach on Tuesday, 11-13-12 and had a super day on the Calico and Sand Bass to 4 pounds, with some Sculpin, Lingcod and Reds mixed in. They caught and released over 30 Bass and 10 other species to fight another day. Some pictures:
Twilight fishing
: No trips, all over?
The Islands
Catalina/Santa Barbara Island!
The
Fury
had a slow day at the Island on Monday, 11-12-12 catching 1 Calico Bass, 3 Whitefish, 8 Bocaccio, 20 Perch, 1 Sargo, 15 Sand Dab and 31 Red Snapper
The
Sport King
had a good day at the Island on Tuesday, 11-13-12 catching 10 Sheephead, 10 Rockfish, 11 Lingcod and 43 Red Snapper.
The
Pursuit
out of 22nd St. Landing, ran to the Island on Sunday, 11-11-12, with 24 anglers catching 7 Sheephead, 4 Whitefish, 46 Rockfish, 2 Lingcod, 6 Sculpin and 148 Red Snapper.
Rockfishing on the
Outer Limits
:
Private boater Oishi had a great trip on Veteran's day with friends, catching some nice Calico Bass.
San Clemente Island!
No reports this week.
Down South-San Diego and good ole Mexico!
It's all about Rockfishing from this point forward.
The sensational 3/4 day boat fishing Offshore for Tuna, Yellowtail and Dorado kept the boats busy for several months.
Well if we are mostly left with Bass fishing and Bottom Critters, so be it. I fished on Wednesday with private boater Bill Fisher and we slammed the Lingcod, Reds and Copper Rockfish down in Salsapuedes. The deep water yielded three Lingcod in the 8 to 10 pound range, with several more that size released. We also released over 50 fish in the shallow water, which were mostly caught on plastics. Some pictures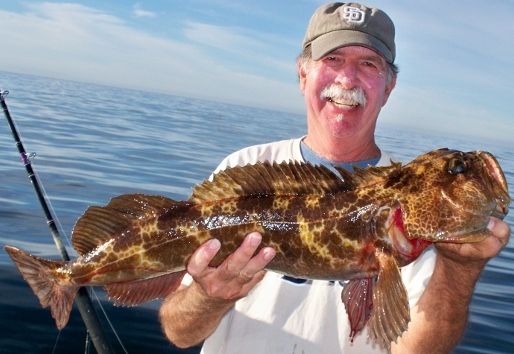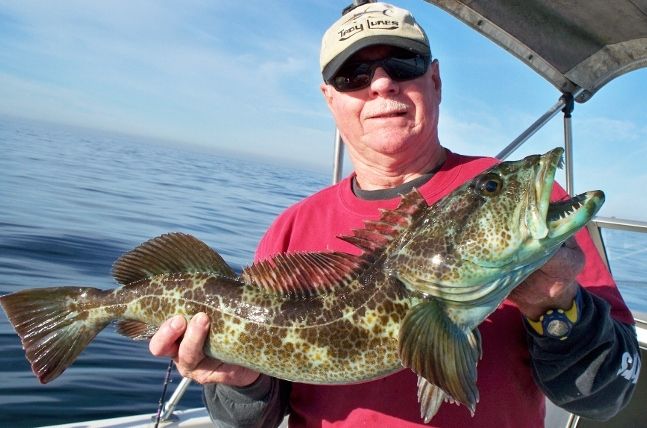 My second Lingcod: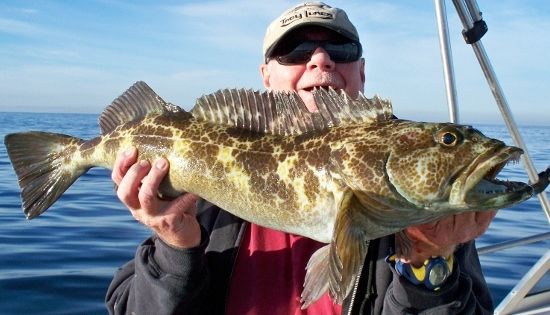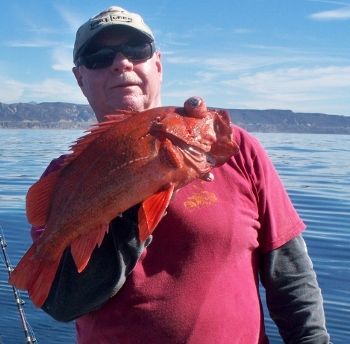 The day's catch: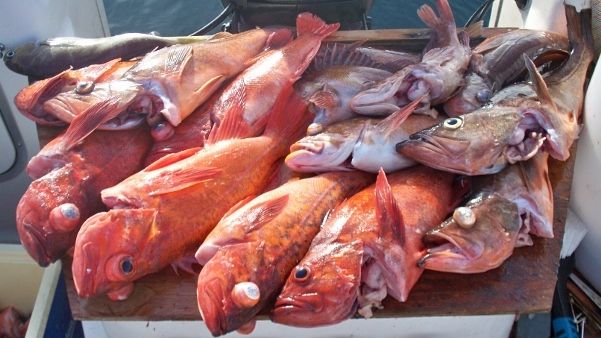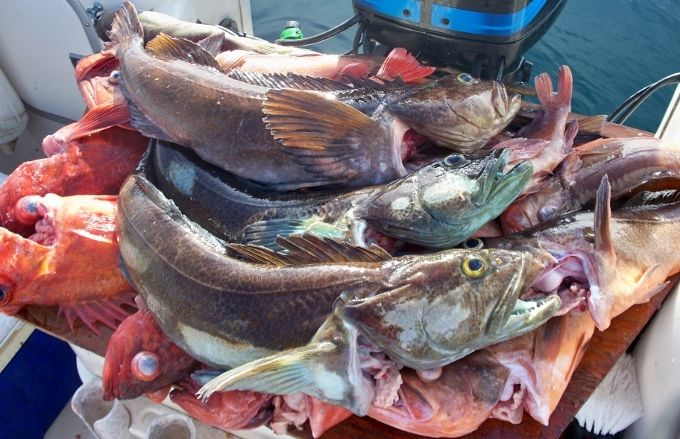 Down in San Quitin Captain Kelly and staff are catching a few Big Yellowtail, Halibut and plenty of huge Reds.
All comments and suggestions welcomed!
Weather
The weather forecast for both Saturday and Sunday looks to be quite calm, although you might incur some rain. Always check the latest forecast before leaving the dock.
Hook Up,
Cory