by Cory Visser
Thursday Recap Report-Weekend Possibilities:
A Summary of local fishing from Santa Monica to Oceanside, including Catalina and San Clemente Islands, with fishing trips out of San Diego down to Baja, Mexico.
The
Fred Hall show in Long Beach
seemed to keep most anglers on shore. The weekend weather didn't help, as it was breezy on Saturday, then a bit better on Sunday. Considering it rained very hard Thursday and Friday, the majority sat this weekend out.
Scattered
Yellowtail
reports turned into a good buzz on Tuesday when both the ¾ day boats, San Diego and the Malihini caught decent counts of Yellowtail from 15 to 33 pounds. In fact the San Diego had only 13 anglers catch 33 Tails on Tuesday, that's nearly three a piece, followed by 25 on Wednesday with 40 anglers. Yep, that's great fishing. The Malihini had 15 on Tuesday and 16 Wednesday. Counts were much lower on Thursday. This is typical Yellowtail fishing for this time of year, run and gun style. It's kind of like you having to drop everything and go, or the bite is over and you missed it.
Lal and I did just that. It was my Wednesday to work; however, I just couldn't bare the thought of missing an opportunity for early season Yellowtail. Up at 2:30 am Wednesday, I met Lal at 3:30 am and we were on the water by 5:50 am. Although we did not know it at the time, we didn't need bait, so we picked up half a scoop of Sardines. The fog played havoc with our day, yet we managed to scratch out three Yellowtail from 22.5 to 23.5 pounds. All three were caught on 6X Jr lures, Yo Yo style. The fish spent the majority of their time near the bottom, so surface bait fishing was not an option. It was drift fishing, with a quick stop on the rapidly moving fish, and then run and gun to find more. Some pictures:
My first of the day:
Lal's first of the day: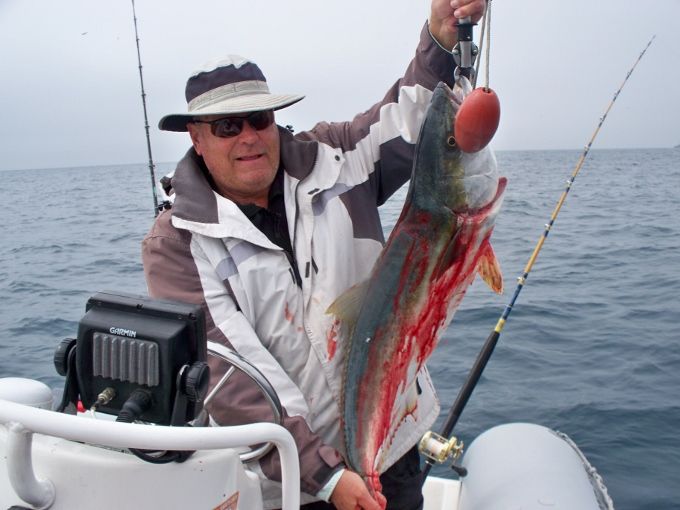 My second and our last of the day: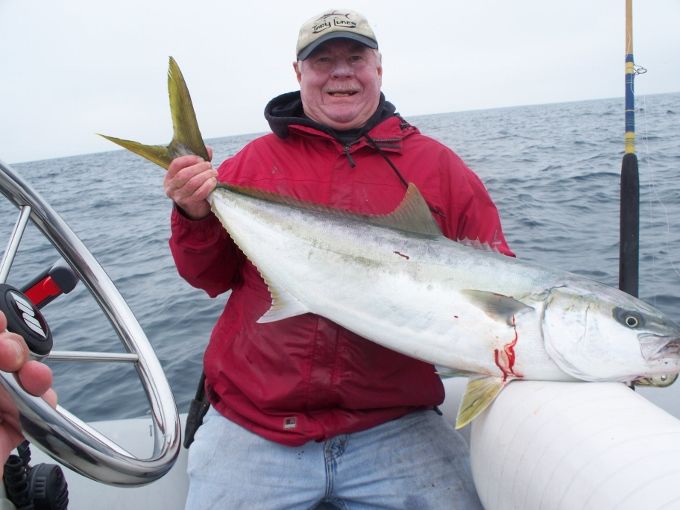 The three Yellowtail getting ready to go under the knife: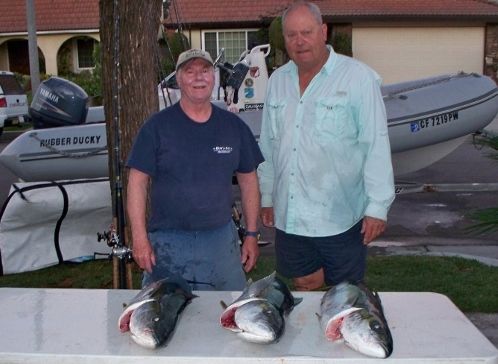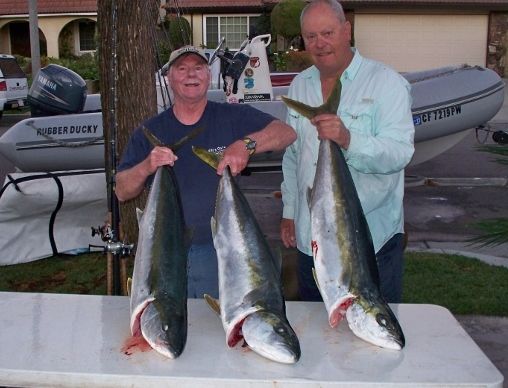 The Long Beach Halibut Tournament ends on Wednesday 03-13-13. Only a few more days left to bump someone off the leader board and fish for the grand prize. If you qualify the fish off is Sunday, 03-17-13.
Another contender off the Native Sun on Sunday, 03-10-13:
Anglers with Halibut off the Native Sun, out of Long Beach, caught:
Tuesday, 03-12-13:
Most local fishing is based on targeting Rockfish, and with good weather the fishing has been excellent all up and down the coast.
Just more pretty ladies that fish or not:
Sergio says:
Julie humor:
For local fishing out of
Dana Wharf Sportfishing
the ½ day boat,
Sum Fun
had 35 anglers catch 8 Sheephead, 3 Whitefish, 85 Bocaccio, 80 Rockfish, 1 Lingcod, 9 Sculpin, 56 Sand Dab and 56 Red Snapper on their Saturday, 03-09-13 trip.
Angler Jeanne with a monster Sheephead caught on Saturday, 03-09-13 on the boat Sum Fun:
The Jackpot Sheephead on the Sum Fun:
A 37 pound Halibut caught off the Sum Fun, Sunday, 03-10-13:
Angler Sergio went fishing Wednesday, 03-13-13, on the
Patriot
with friends and they had a great day of fishing:
Out of
Pierpoint Landing
the 3/4 day boat Victory has been doing well on the Rockfish and a few Lingcod, catching 1 Sheephead, 2 Whitefish, 180 Rockfish, 4 Lingcod and 12 Sculpin on their trip Wednesday, 03-13-13. Japan Ron provided some pictures from the trip:
In
Santa Monica
the
New Del Mar
had a decent day of mixed Bass and Sculpin fishing on Sunday, 03-10-13, catching 625 Rockfish and 1 Lingcod. The ¾ day
Spitfire
had a good day on Saturday, 03-09-13 with 34 anglers catching 340 Rockfish, (limits), 1 Lingcod and 150 Sand Dab. The
Redondo Special
had a good trip on Sunday, 03-10-13 catching 219 Rockfish and 35 Sculpin.
Out of
San Pedro
, the ½ day boat
Monte Carlo
had a decent trip Sunday, 03-10-13, catching 2 Whitefish, 19 Bocaccio, 32 Rockfish, 2 Sculpin, 42 Sand Dab and 159 Red Snapper. The ¾ day boat
Sea Angler
continues to spank the Sand Dabs, catching 1095 on their Saturday, 03-09-13 trip.
Private boater fished on Wednesday, 03-13-13 locally out of Long Beach and caught this six pound dandy Sand Bass:
A two for one Hitch Hiker, as a big Lingcod eats a Red off the
Pacific Dawn
:
The Islands
Catalina/Santa Barbara Island!
The
Pursuit
out of
22nd Street Landing
had a good day at the Island Wednesday, 03-13-13, catching 2 Calico Bass, 14 Sheephead, 10 Whitefish, 21 Bocaccio, 109 Rockfish, 3 Sculpin, 55 Perch and 46 Red Snapper.
The
Pacific Star
ran a 1.5 day trip over the weekend returning late Sunday evening from
Santa Barbara Island
, 03-10-13. They caught lots of Rockfish, a few Sheephead and Whitefish, with some big Lingcod to 22 pounds:
San Clemente Island!
The
Thunderbird
out of
Davey's Locker in Newport Beach
fished Thursday, 03-14-13 and caught limits of Rockfish, 200 Whitefish, a nice Lingcod and 10 Sheephead.
The
Toronado
out of
Pierpoint Landing
scored big on a variety of fish at the Island on Saturday, 03-09-13, catching 38 Sheephead, 129 Whitefish, 290 Rockfish(limits) and 10 Lingcod.
Down South-San Diego and good ole Mexico!
Captain Juan out of San Quintin ran a charter over the weekend, with a great group of anglers. They caught mostly quality Lingcod. Some pictures:
Captain Kelly took a charter out fishing on Wednesday out of
San Quintin
, and found the Yellowtail, Lingcod and Reds on the chew: Some pictures:
Angler Shon fishing Tuesday, 03-12-13 off the ¾ day boat
San Diego
which found a school of Yellowtail and caught 33 to 30 pounds:
Angler Harry reported a good day on the San Diego, Wednesday, 03-13-13 with 25 Yellowtail to over 30 pounds caught:
Harry had a couple come unbutton on him; however, his friend caught two:
Private boater Carl with his personal best 33 pound Yellowtail:
Humor:
Some final thoughts:
All comments and suggestions welcomed!
Weather
The weather forecast for Saturday is for light winds in the morning, and then a bit breezier in the afternoon, while Sunday looks to be similar, with more wind in the afternoon. Always check the latest forecast before leaving the dock.
Hook Up,
Cory