by Cory Visser
Thursday Recap Report-Weekend Possibilities:
A Summary of local fishing from Santa Monica to Oceanside, including Catalina and San Clemente Islands, with fishing trips out of San Diego down to Baja, Mexico.
The offshore scene was once again hindered by the winds, as the Yellowfin Tuna all but disappeared in the counts, while the good counts on the Bluefin Tuna were all over the map, some good scores in one day range, while most of the better counts came on 2+ day trips.. The Yellowtail being caught on kelp paddies still range from 6 to 12 pounds, with more 15 to 25 pound fish being caught. The excitement of Dorado being caught so early in the year faded somewhat, with a few caught here and there, with mostly small fish.
Private boater Beau fished with friends over the weekend out of Mission Bay offshore in US waters and found the Yellowtail and small Dorado on the chew:
Private boater Garrison fished with friends on Wed. 07-25-12 out of Shelter Island, past the 238 and found the Bluefin Tuna on the chew: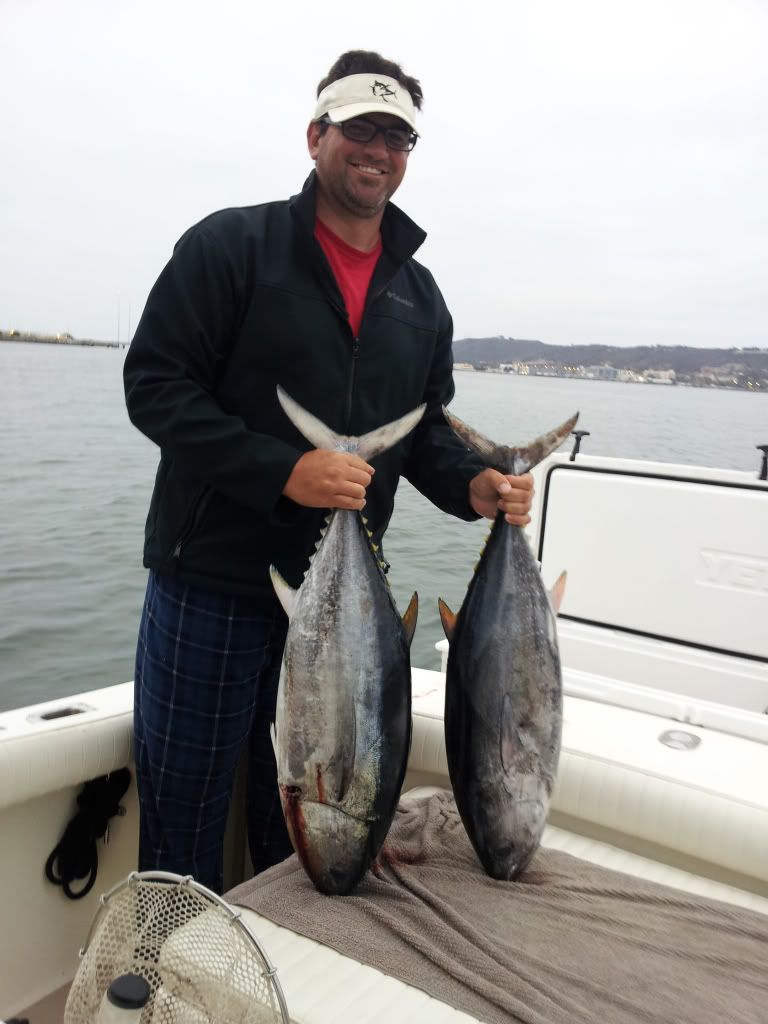 The San Clemente Island Yellowtail bite has fizzled with a only a few fish being caught on most trips to the Island. Although, these Yellowtail remain big, and are tackle busters, so bring heavier gear.
The local Sand Bass fishing has been awesome at times, with some Calico Bass mixed in, with a good mix of Barracuda being caught, both in Santa Monica, and out of Long Beach.
The Yellowtail fishing at the Coronado Islands is very consistent, and the savvy private boaters are putting the wood to the big Tails, which are averaging 20 to 30 pounds, so use at least 30 pound line.
Private boater Lal fished with friend Richie on Wed., 07-25-12 at the Coronado's and they managed to catch 5 Yellowtail out of 11 hookups. Seals and getting smoked on the rocks accounted for the casualties.
The Sand Bass fishing has been very good on the Twilight runs, with decent schools of Barracuda mixed in.
Twilight fishing:
The
Enterprise
fished on Thursday, 07-26-12, and caught 77 Barracuda and 53 Sand Bass. The
Nautilus
out of fished on Wednesday, 07-25-12, and caught 84 Sand Bass and 6 Barracuda. The
Freelance
out of Davey's Locker ran a trip last night Thursday, 07-26-12, and they caught 220 Sand Bass.
In Santa Monica Bay
The ¾ day boat
Tradition
found the Barracuda on a serious chew on Sunday, as they caught 290, plus some other Halibut and Bass during the day and again had a great Twilight run. Pictures courtesy of Jackpot Jimmy: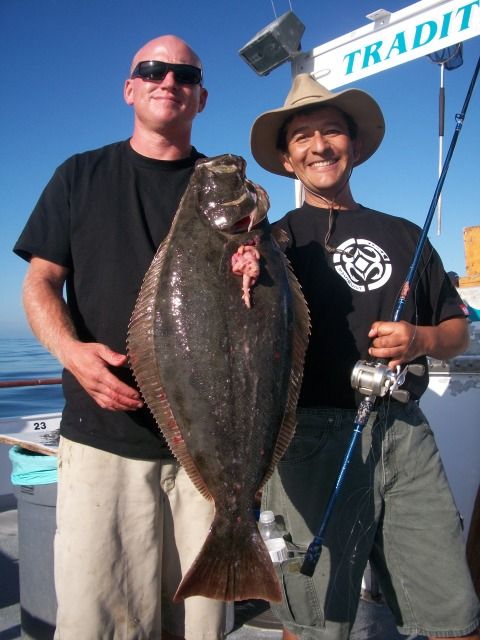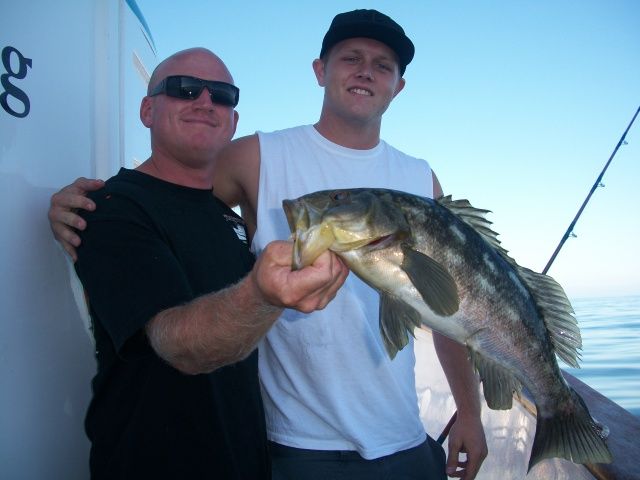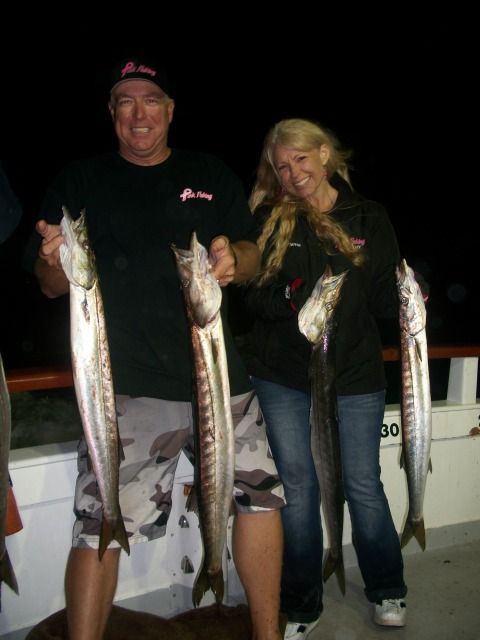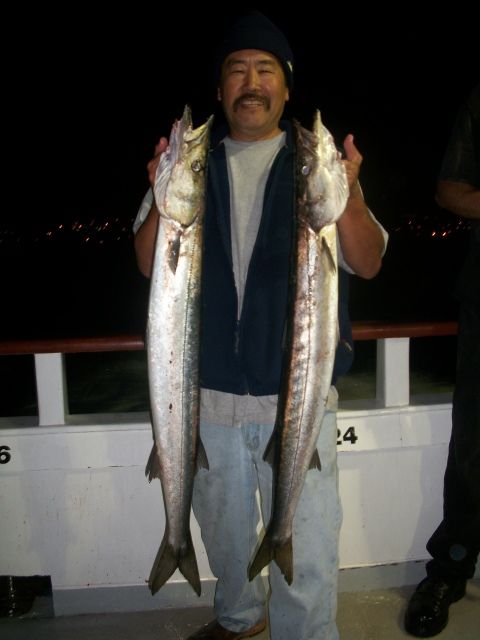 The 1/2 day boat
Redondo
caught 212 Barracuda fishing on Sunday, 07-22-12. The ¾ day
Spitfire
caught 155 Barracuda fishing on Sunday, while the ½ day boat
New Del Mar
caught
600
Barracuda.
Newport Beach and Dana Point.
Private boater Joe fished with his friend out of Dana Point, Wed.-7-25-12 and found the offshore Kelp Paddies empty despite great looking blue water and 70 degree temps. They moved inshore and caught a few of these: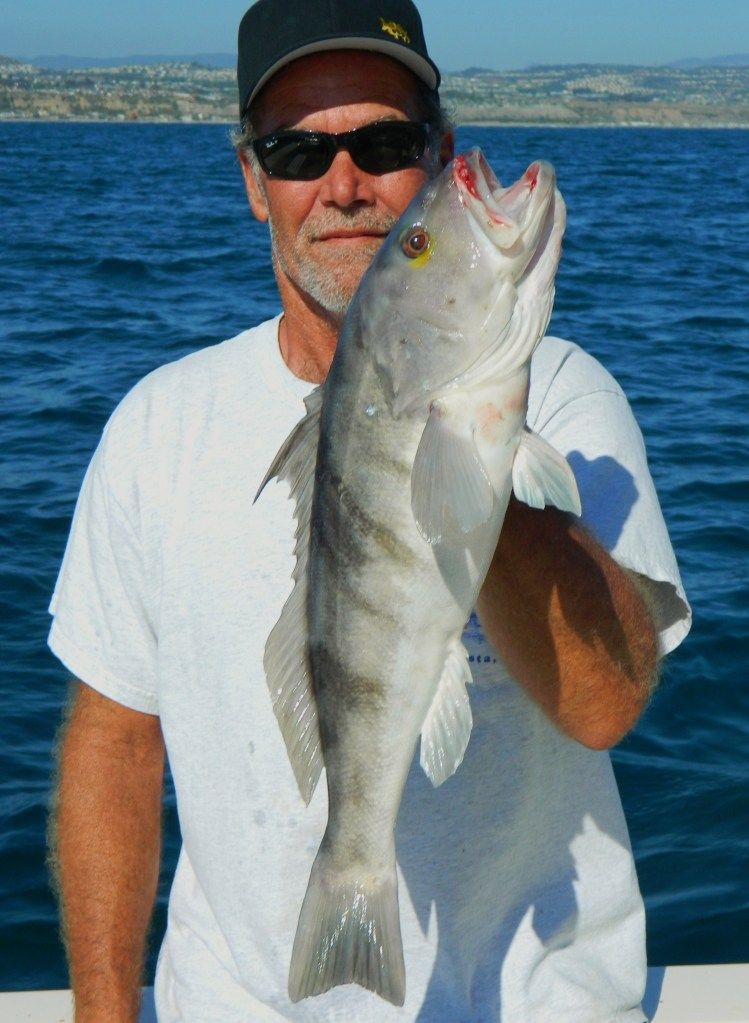 Long Beach and San Pedro
The Barracuda fishing comes and goes, and there were good scores on both the daytime and Twilight runs for Sand Bass. A number of Sport boats had counts over 200 on the Sand Bass during the week and over last weekend.
Angler Michael fished on the ½ day boat
Matt Walsh
on Sunday, 07-22-12. They caught a great variety of fish.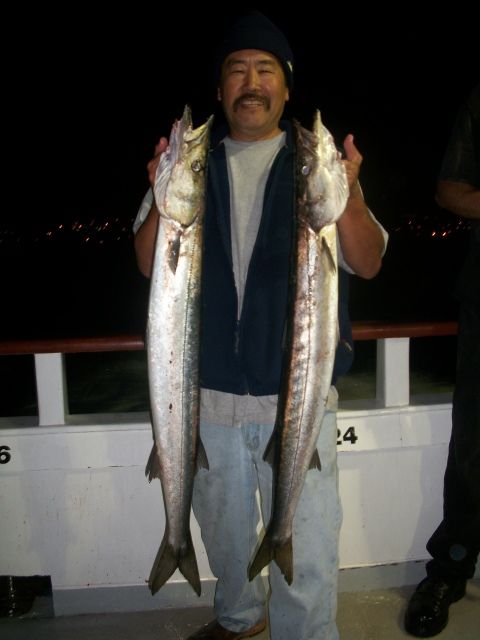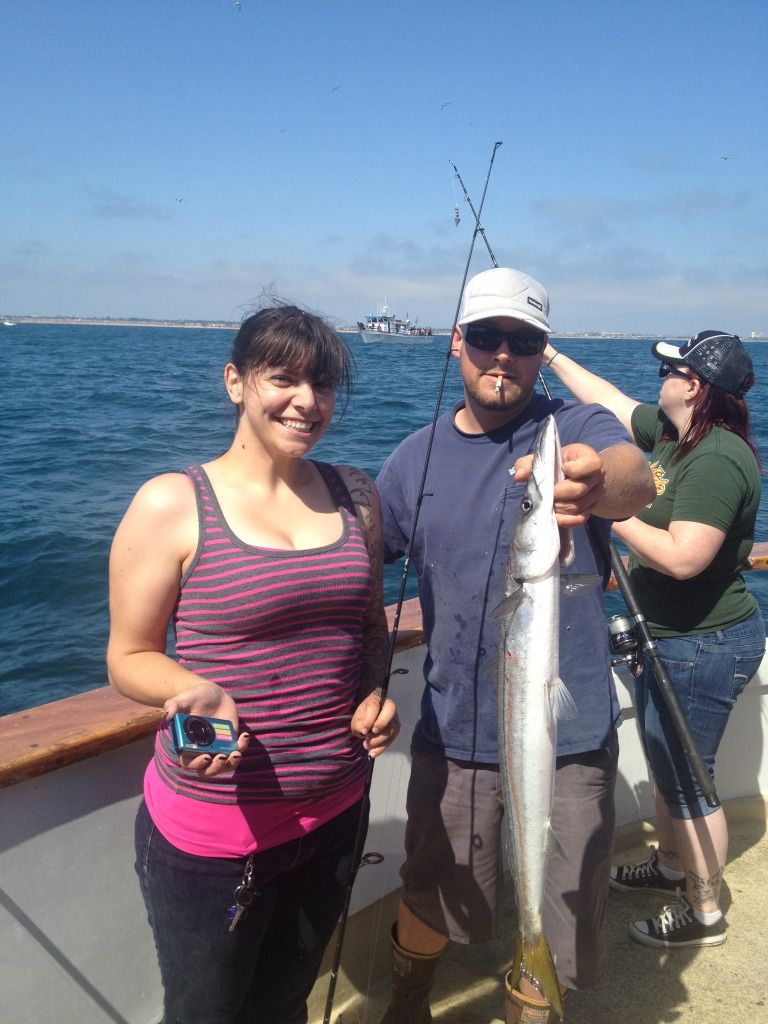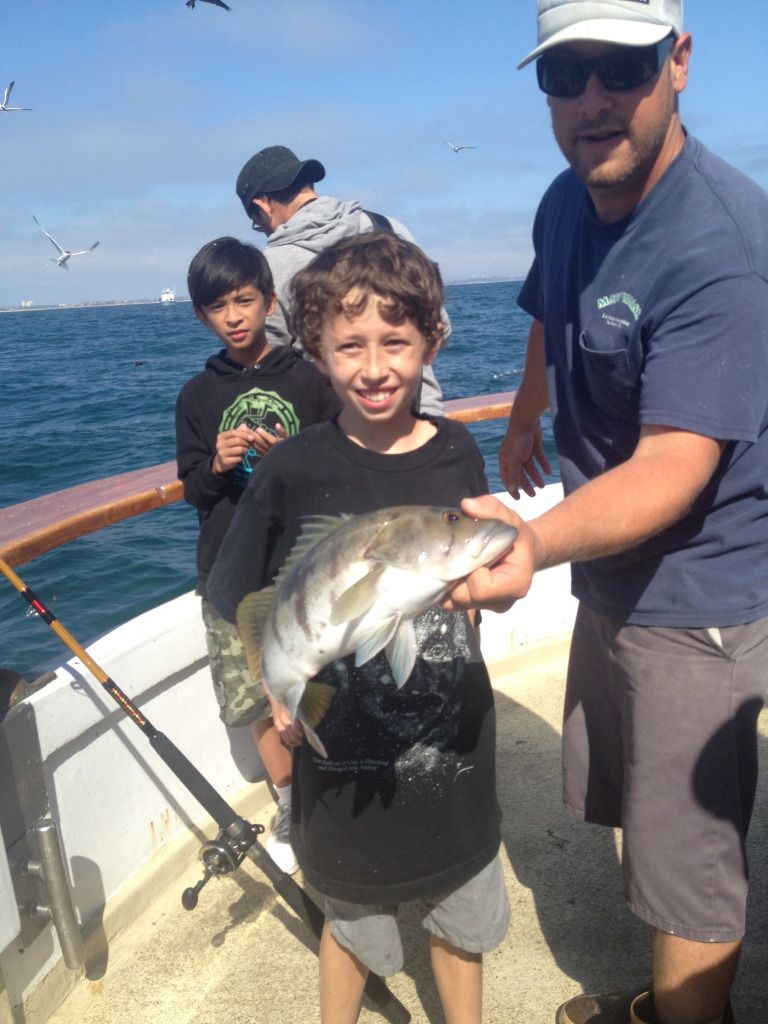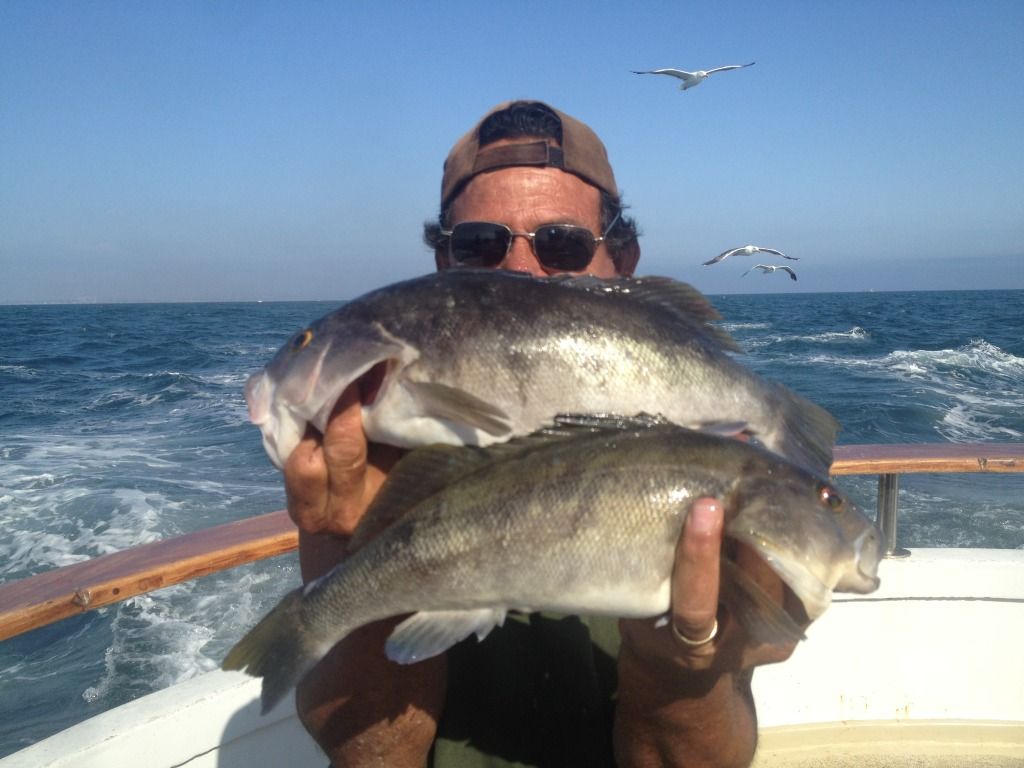 The Islands
Catalina/Santa Barbara Island!
Calico Bass fishing at the Island is excellent and a few Bonito and Barracuda have shown up in the counts lately. For example the
Sport King
on a ¾ day trip caught 1 Halibut, 112 Calico Bass, 3 Barracuda, 2 Whitefish, 5 Rockfish, 180 Perch and 6 Sargo on their Tuesday, 07-24-12 trip to the Island.
The
Pursuit
out of 22nd St. Landing, ran to the Island on Wednesday, 07-25-12, with 38 anglers catching 89 Calico Bass, 22 Sheephead, 35 Whitefish, 90 Bocaccio (limits), 110 Rockfish, 3 Sculpin, 210 Perch and 15 Red Snapper.
San Clemente Island!
The San Clemente Island Yellowtail bite continues to produce huge Yellowtail to 50 pounds, and many fish are being lost, as these fish are tackle busters, so bring heavier gear. The Calico Bass fishing is heating up and there are some nice schools of Barracuda running around the Island. Also a few White Seabass are being landed daily.
Private boater Daniel caught this Yellowtail at the Island Saturday, 07-21-12, on his friend's boat:
https://sphotos-a.xx.fbcdn.net/hphotos-ash4/s720x720/487980_854162839019_2101137551_n.jpg
They
also caught a White Seabass, Halibut and lots of critters:
The
Fury
out of Dana Wharf fished on Saturday, 07-21-12 with 30 anglers catching 1 Yellowtail, 1 White Seabass, 138 Calico Bass, 21 Sheephead, 17 Whitefish, 3 Rockfish, 90 Perch and 1 Triggerfish.
The
Freedom
fished on Sunday, 07-22-12 and caught 2 Yellowtail, 1 White Seabass, 1 Halibut, 74 Calico Bass, 23 Barracuda, 3 Whitefish, 35 Mackerel, 1 Lingcod and 46 Perch.
The
Toronado
out of Pierpoint Landing fished on Sunday, 07-22-12 catching 1 White Seabass, 75 Calico Bass, 1 Barracuda, 52 Sheephead and 150 Perch.
Down South-San Diego and good ole Mexico!
Private boater Jesse fished with his Dad at the Coronado Islands and caught 8 Yellowtail, Wednesday, 07-25-12, with this 30 pounder caught by Dad:
Private boater Gary fished with friends at the Coronado Islands Wed., 07-25-12 and caught this Yellowtail:
Private boater Drew fished with Dad, Sister and friends at the Coronado Islands Sun, 07-22-12 and caught these Yellowtail:
The ¾ day boat
San Diego
out of Seaforth Landing caught 18 Yellowtail, 2 Calico Bass, 13 Barracuda, and 18 Rockfish on their Friday, 07-27-12 trip.
The
Mission Belle
headed out on Wednesday, 07-25-12, and caught 20 Yellowtail, 4 Calico Bass, 12 Barracuda, 3 Rockfish and 6 Sculpin. Angler Derek caught a couple of big Yellowtail and so did his dad in the middle:
The ¾ day boat
Malahini
caught 14 Yellowtail, 13 Calico Bass, 23 Barracuda, and 25 Rockfish on their trip on Thursday, 07-26-12.
All comments and suggestions welcomed!
Weather
The weather forecast for Saturday and Sunday locally looks to be decent, the offshore scene looks very breezy for Saturday and a bit better for Sunday. Always check the latest forecast before leaving the dock.
Hook Up,
Cory