by Cory Visser
Thursday Recap Report-Weekend Possibilities:
A Summary of local fishing from Santa Monica to Oceanside, including Catalina and San Clemente Islands, with fishing trips out of San Diego down to Baja, Mexico.
Once again it was breezy over the weekend; however the
Offshore
action did not skip a beat, as most 1.5 and 2-day or more trips enjoyed excellent fishing. There were a lot more open water jig strikes, allowing good scores on the
Yellowfin Tuna
. Then find the right Kelp Paddy and you could soon realize the Bonanza of all four species, where
Bluefin Tuna
joined the party, along with
Yellowtail
and
Dorado
.
Adding to the thrill on a few trips was finding a small school of big
Albacore
to 40 pounds. What they are doing in this warm water beats me? Then on an occasional trip a boat would run across the big boys, Bluefin to 100 pounds. With the Albacore joining in all the fun a ¾ Tuna Grand Slam has been more common this week. There have not been any signs of
Bigeye Tuna
that I am aware of, so wouldn't that be exciting if you add a full
Tuna Grand Slam
to your
Bucket List
? I accomplished that task in 1995 aboard the Prowler on only a one day trip in late August.
The
Big Game 90
had a great 2.5 day trip over the weekend and loaded up on all the exotics with a 50 pound Dorado the iceing on the cake. Some pictures:
Captain Mike showing off the 50 pound Dorado:
Charter Master Jamie, of
Seasons Sportfishing
fished offshore during the week on several trips and caught some big Albacore and Bluefin Tuna, with plenty of Yellowtail and Dorado. Some pictures: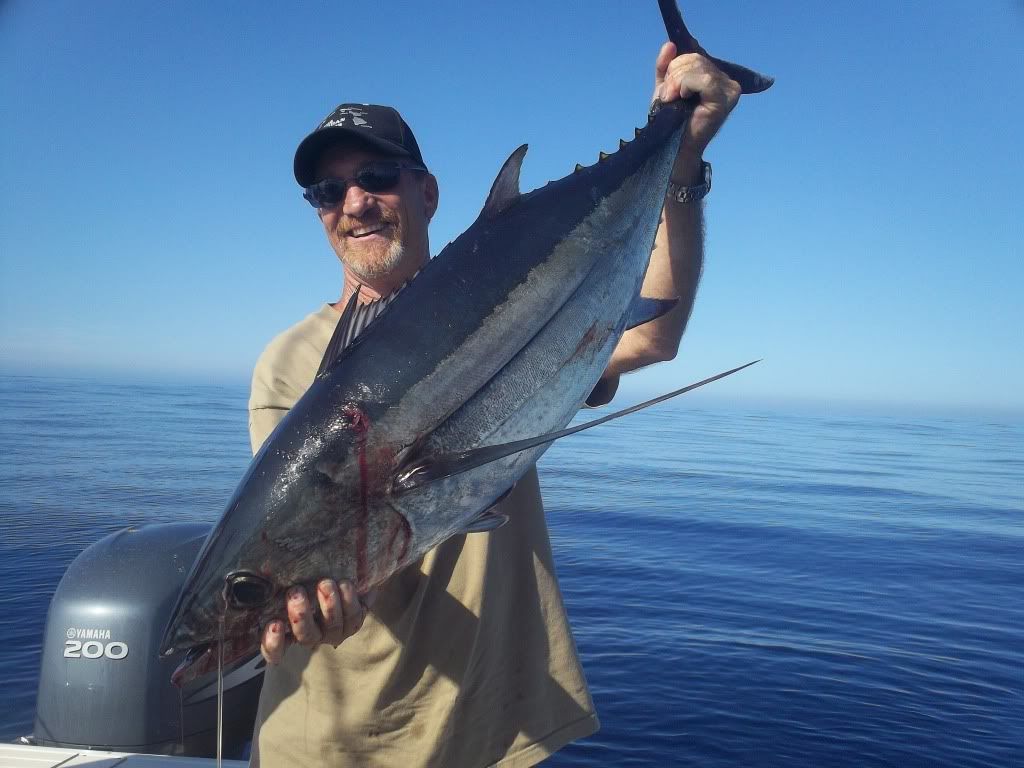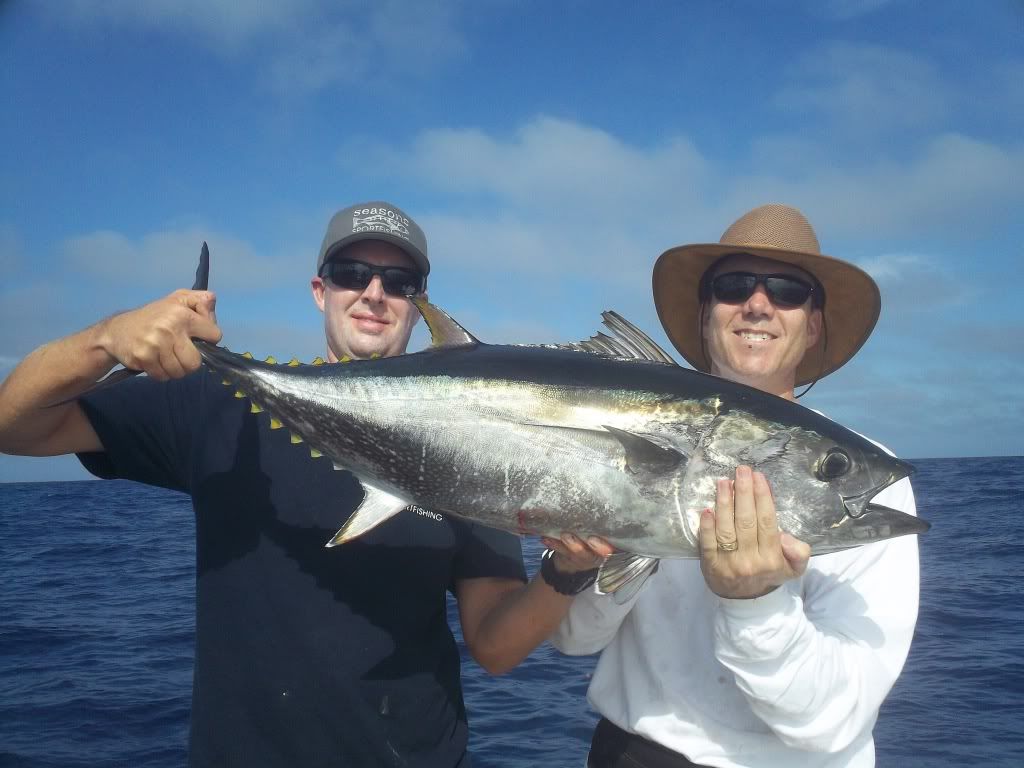 Private boater Jay and friends fished out near the 213 and were called into a school of Albacore, they caught six all at or over 30 pounds.
Private boater Steven and friends fished out near the lower 500 Sunday, 09-09-12, and limited out on Yellowfin Tuna and Dorado. They caught several Albacore to 50 pounds and released all the rat Yellowtail you wanted.
Private boater Julio fished offshore and loaded up on the Dorado, some pictures:
Locally there are still few and far between days where kelp paddies are found holding fish, and that is if you can find one? Yet occasionally the Mother Load Kelp Paddy is found. Do Dos and Tails remain the primary target of the ¾ day and one day boats locally, who head offshore rather than settle for Sculpin and Rockfishing.
Private boater Tim and friends have ventured out a number of days in the last month trying to catch some Dorado and didn't find any, then finally found the right Kelp Paddy out of Dana Point, Monday, 09-10-12, catching 6 Dorado to 15 pounds. Some pictures:
The
Toronado
out of Pierpoint Landing ran a trip on Monday, 09-10-12 and caught 1 Bluefin Tuna, 91 Yellowtail and 2 Dorado.
Locally the targeted fishing is mostly Sculpin and Rockfish, and when limits are reached early they go look for some Bass on the chew.
In
Santa Monica
According to Jackpot Jimmy, now a college student, the
Tradition
had a slow day on Saturday, 09-08-12 until they found the local Kelp yielding a decent amount of Calico Bass, some huge Cabezon and Jimmy catching a solo 7 pound Yellowtail. Some pictures: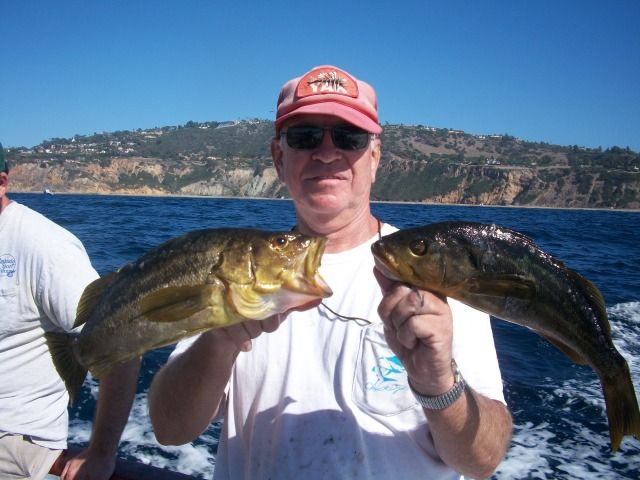 A 5.2 pound Cabezon:
A big Sand Bass by Jimmy: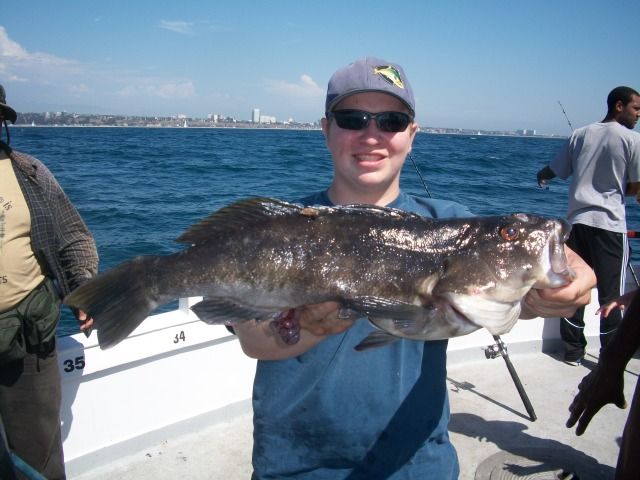 An 8.2 pound Cabezon: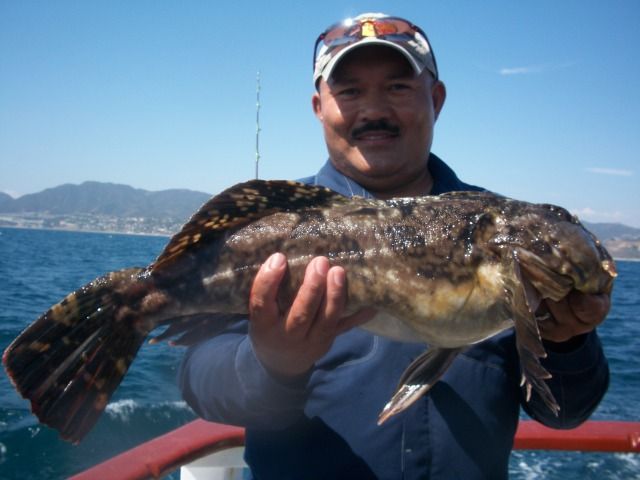 A 11.9 pound Cabezon, wow!
Twilight fishing:
The
Freelance
fished Sunday evening, 09-09-12 and caught 5 Calico Bass, 11 Rockfish, 91 Sculpin, 5 Sand Dab and 1 Cabazon.
The Islands
Catalina/Santa Barbara Island!
The
Sport King
had a good day at the Island on Saturday, 09-08-12 catching 4 Yellowtail, 81 Calico Bass, 25 Rockfish and 110 Perch.
The
Pursuit
out of 22nd St. Landing, ran to the Island on Wednesday, 09-12-12, with 29 anglers catching 3 Yellowtail, 32 Calico Bass, 29 Sheephead, 16 Whitefish, 18 Rockfish and 201 Perch .
San Clemente Island!
The Fury out of Dana Wharf fished a 2-day trip over the weekend returning Wednesay, 09-12-12 with 27 anglers catching 43 Bluefin Tuna, 23 Yellowfin Tuna, 3 Albacore Tuna, 1 Skipjack_Tuna, 58 Yellowtail and 53 Dorado.
Down South-San Diego and good ole Mexico!
The Yellowtail fishing at the Coronado Islands remains virtually untouched by private boaters. However angler Steve found them biting:
The ¾ day boat
San Diego
out of Seaforth Landing caught 49 Yellowtail and 4 Dorado on their Tuesday, 09-11-12 trip.
The
Mission Belle
headed out on Sunday, 09-09-12, and caught 57 Yellowtail and 1 Dorado.
The ¾ day boat
Malahini
caught 59 Yellowtail and 4 Dorado on their trip on Tuesday, 09-11-12.
All comments and suggestions welcomed!
Weather
The weather forecast for both Saturday and Sunday looks to be quite fishable locally and for the offshore runs. Always check the latest forecast before leaving the dock.
Hook Up,
Cory