Tunaslam


Moderator
Main Discussion Board
Public Boat Reports
Private Boat Reports

Joined: 04/24/2007
Posts: 8206

---
Rpt-1.5 day Aztec trip to Colonet- 01-27-2-12

Fishing for the first time in over 10 years, on the Aztec, out of Seaforth Landing on a 1.5-Day trip: that left Friday night on 01-27-12. The last time I fished the Aztec; Donny Ashley owned and operated the boat.

The trip was scheduled to leave at 5:30 pm, and we were told to be down at the landing at 4:30 pm. I scrambled to leave work early in San Bernardino to arrive a bit late at 4:40 pm. Not to worry, as there were still five other anglers who had not yet arrived. The hosts of the trip were the Outcasts, a San Diego Fishing Club, with 14 of their members on this trip, which opened up the trip for other anglers to join them.

I unloaded my gear and met up with the Charter Master Mike, who introduced me to another Mike and then another Mike. Then I met Joe, Mark, Roy, Bob, Santee, and others. The Aztec was off loading up bait. Mike said welcome and help yourself to a table filled with Sushi, Pizza, Fried Chicken and other goodies! Wow, this is too cool?

I was told we had to wait for all anglers to arrive and the Captain to return before we could go up to the landing office and purchase our Visas? This was an unfortunate waste of time, yet this Visa situation is still a mystery for all of us. We finally cleared the Harbor at 7pm, with our ETA to arrive in Colonet at 6:45 am.

The ride down the coast became quite bumpy, as we reached Descanzo, with severe offshore winds, and big swells! After midnight the winds subsided, as did the swells, and the ride down was a lot smoother. At 4am, I woke up to the engines powering down? Turns out we entered a Fog Bank and a group of Commercial Boats fishing for Humboldt Squid. A little bit of skillful maneuvering and we were back on track at full cruise speed.

Besides a 3:30 am call from Mother Nature, I woke up at 5:30 am with the smell of fresh Coffee and Bacon on the grill. Venturing outside I was hit with a blast of wind and we were still entrenched in a fog bank. Helped myself to some hot coffee, and placed a Breakfast order with cook Johno! Our other crew members were Justin and Jamie, all class act guys! It wasn't long before my Bacon, Eggs, Home Fried Potatoes and toast was ready, yum yum! I also heard from others that the Breakfast Burritos were killer!

Finishing my meal, I wandered outside and looking ahead, as the fog was lifting, however the wind was multiplying? Captain Mikey pronounced Mike "E" came on the intercom and announced we would be arriving at the high spots within 30 to 40 minutes. A few other boats that had arrived earlier saw little signs of Yellowtail, and one area that looked promising was loaded with Giant Squid. So the plan was to start a drift in the shallows and drift off into deeper structure.

As the Captain set us up on the desired drift the wind was not backing off. I think Mother Wind follows me like a bad penny? The Captain said let them go and I tossed out my trusty 8oz Jax Jig and Shrimp fly setup. It was now blowing 10 to 12 knots with plenty of white caps. I hit bottom with about a 110 foot scope out. I wound up and dropped back down, Yo yoed and wham, I'm on! Wow this fish is putting on a performance, head shakes galore! Up comes a very nice 6.5 pound Red!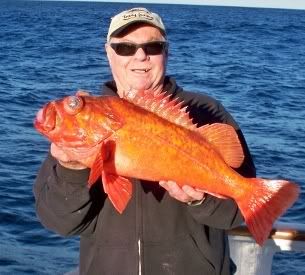 I immediately drop back down and get hammered again for a decent sized Grumpy, Salmon Grouper, or more commonly known as a Bocaccio!

Yikes things are getting worse, as we make a move and this time even casting up swell with my Jig outfit, I finally touch bottom with at least a 200' scope out! No Buenos!

It's getting ugly out here, now blowing in excess of 20 knots. Most folks reverted to at least a 2 pound sinker, with a 3 pounder a better option. Being that I preferred fishing Iron to bait fishing, I was not prepared to fish a Gangion. I jury rigged an outfit with 40 pound test line and four hooks. Whoa is me, as I use a 28 oz. sinker and get bit well. Reeling up I lose the sinker and half my Gangion. The 40 pound is too light?

Those that were rigged up properly found the big Reds on the chew.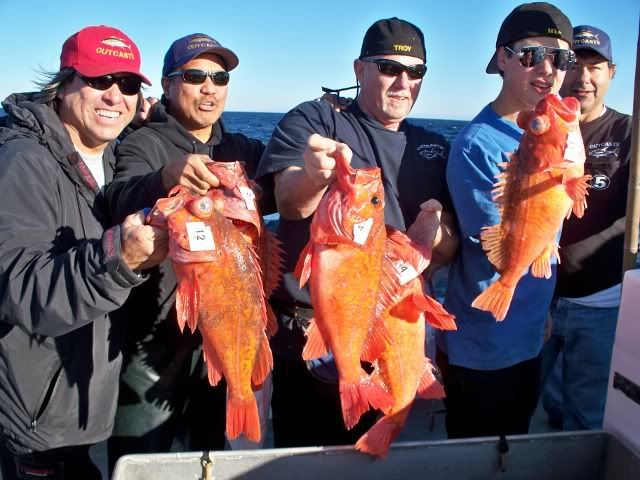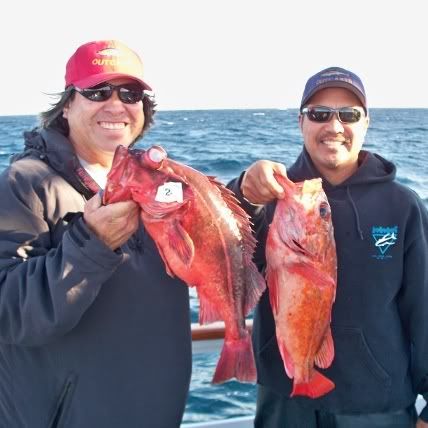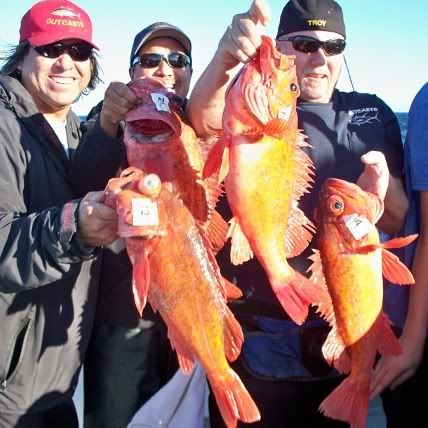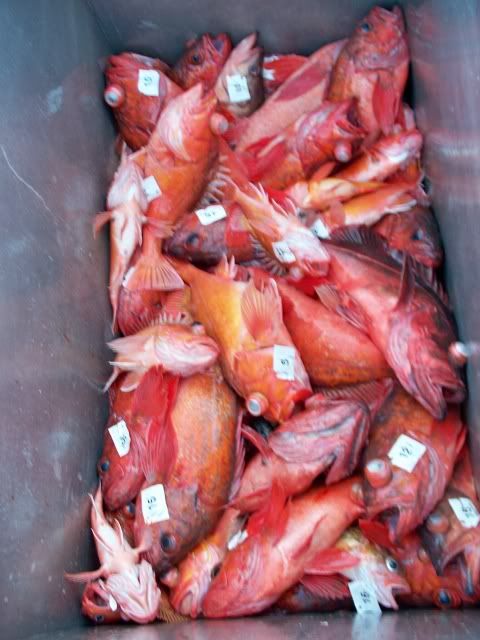 Not bad for a first drift in ugly conditions?


I emptied my tackle box and came up with a four hook Gangion on 60 pound line, using a 3 pound sinker. On our next drift I never hit bottom, as my line was stopped dead cold and jumping with fish on. I reeled up and landed four Grouper. The next four or five drifts most of us caught only a few bait fish, as 25 knot winds ruined our efforts. All of a sudden the wind began to back off.

It then became a chance of feast or famine. The Captain set us up on some great pinnacles and some of them went off and others yielded almost nothing? My fellow anglers claimed that the Reds are eating the sardines; others claimed the squid were getting bit best. Well let me give you an example: I dropped down with a four hook setup, with my bottom hook containing stripped bait (small Starry filet), a sardine, and a sardine combined with a squid strip and a hook with only a squid strip. Well I got absolutely hammered upon reaching the bottom and came up with four Big Reds. Guess what, they all catch fish, it just depends on the conditions and if the fish are hungry?

Here is a picture of a couple of the big Reds I caught: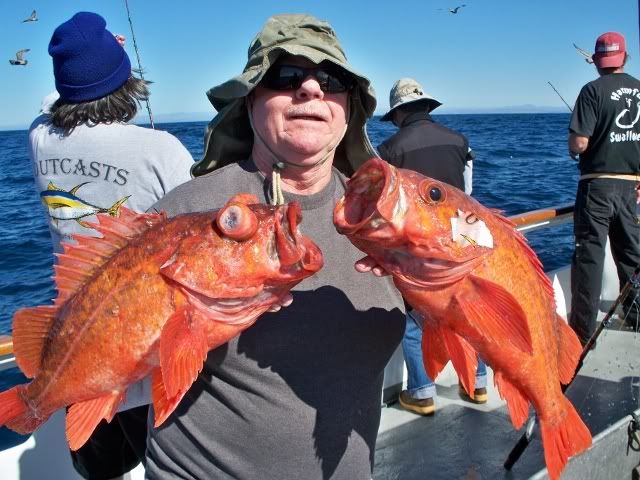 The announcement was made for lunch: enjoy a Hamburger, Cheeseburger, or double Cheeseburger or a sandwich of your choice, plus a beverage of your choice, including any beer available. Wow, Johno can sure cook up a mean Double Cheeseburger!

The weather had a made a turn for the best and we all enjoyed a pleasant afternoon. Those that worked at it caught their limit of fish. Unfortunately many were caught off guard by the weather and spent more time in the bunks than fishing. I returned to Jig fishing and this big Red climbed on my jig: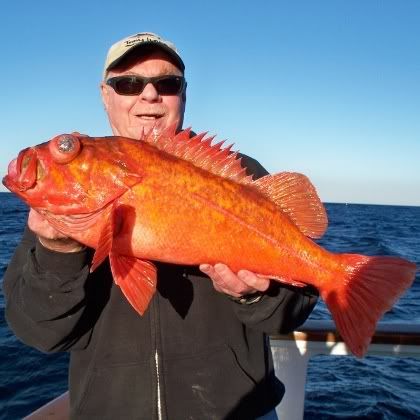 A member of the Outcast Club, Santee, caught a 10 pound Lingcod to settle the Jackpot, congrats guy, you fished hard throughout the day to earn it!

At 3pm, the Captain anchored up on a high spot and targeted Whitefish for a change of pace. Those that were feeling poorly arose from their bunks and began catching quality Whitefish to round out their day. It was a blast of an afternoon, and despite the early winds we all had a great time.

I was fortunate enough to spend some quality time chatting with Captain Mikey. We shared some past adventures on various aspects of fishing Rockfish, Yellowtail, White Sea Bass, Tuna and Albacore. Mickey's gift for expression was unreal! I have to tell you, Mikey represents a refreshing young talent similar to when I met a youthful incredible all-time favorite Captain Buzz, 25 years ago, (Prowler), soft spoken, yet savvy beyond his years! Also similar to another of my favorite Captains of all time, Bradley (First String), a Captain with a burning desire to think outside the box, and do anything possible to find and catch the targeted species of fish! I can only wish him all the best to find a path to succeed in this complicated fishing environment.

For dinner Johno served up a spectacular tasty Meatloaf, Garlic mashed potatoes, steamed Carrots, Corn and Salad.

The crew of Justin and Jamie worked their tails off to provide excellent service to all, kudos guys, you did a great job! The ride home was a pleasant surprise, as smooth as silk, and we arrived in Mission Bay at 7:45 am. I slept like a baby for some 10 hours, wow, 7 hours is usually my max!


Hook up!
Cory


---
Thanks for the report. Hook Up! Cory

This post edited by Tunaslam 01/29/2012