by Cory Visser
Thursday Recap Report-Weekend Possibilities:
For local fishing in the Santa Monica, Long Beach, Catalina and San Clemente Islands. Through:
01-05-12
Last Chance
trips for Rockfish and Sheephead in great weather conditions proved very fruitful for a number of anglers Friday and Saturday. See below by area for selected reports: Meanwhile local fishing is now consisting primarily of Sculpin and mixed Bass fishing, with Santa Monica Bay showing the best results for mixed Bass.
My 2012 fishing wish list!
I'm not sure how everyone else feels about 2011 fishing (catching) results; however my opinion as primarily a private boater is that the year was an extreme disappointment on many fronts, although in a select few species fishing was quite good. So I have put together a wish list for 2012, which I hope we can all look forward to in following our mutual passion for fishing this year. Your thoughts are welcomed.
1. Another year of good coastal and island White Seabass fishing, one of the few bright spots in 2011.
2. The return of Yellowtail to the islands of Catalina and San Clemente, which were almost non-existent in 2011.
3. The return of Yellowtail to offshore kelp paddies, mostly MIA for several years now.
4. The return of Yellowtail to the Coronado Islands and Rock Pile south of the border.
5. Some common sense on the part of the Mexican Government for fishing visas, a serious reduction in drug cartel crimes, and elimination of dishonest Mexican policemen. I know I'm dreaming?
6. Another great Bluefin Tuna run with fewer Bluefin Tuna seiners targeting under 30 pound fish.
7. A normal run of Albacore to popular offshore high spots (390, 302, 371, 425, 1010, etc.) within a distance of under sixty miles, where most private boaters and one day Sport Boats can target them.
8. After a good run of Bluefin Tuna and Albacore from late June to mid August, the arrival of Dorado and Yellowfin Tuna in big numbers such as they did in 2009, as far north as Catalina.
9. A reduction in Calico and Sand Bass limits to five, raising the size limit to 13 inches with all fish 17 inches or larger released. More catch and release emphasis on Sport and private boats.
10. The return of Halibut to the Santa Monica Bay.
11. Another great Barracuda run during the summer months.
12. The return of Bonito everywhere during the summer months!
13. More calm days out at sea, with Mother Wind taking longer vacations! Last year's winds were relentless and constantly created changing conditions with declines in water temps, disrupting what little offshore fishing there was.
14. An MLPA program that makes sense, includes a rotation system when proven fisheries are again healthy in a closed area and can re-opened to the public, which also includes catch and release only areas.
15. The financial stability and health that allows me one more Long Range fishing trip!
16. Wishing every angler a safe and healthy 2012 fishing season, while reaching a new personal best in at least one of your targeted species of fish!
No more news on the winter runs of Yellowtail south of the border.
Twilight fishing:
The Slammer out of Redondo Sportfishing ran a trip on Thursday, 1-05-12, with 4 anglers catching 1 Sculpin, 59 Sand Dab, 8 Lobster, 30 Rock Crab and 2 Spider Crab.
In Santa Monica Bay
Private boater Jason fished Friday, 12-30-11 with Vince out of Santa Monica Bay targeting local Reds, they limited out in short order on the Reds, then dropped the Hoops and limited out on Lobster, a stellar trip for sure! Some pictures:
Jason with a big Red: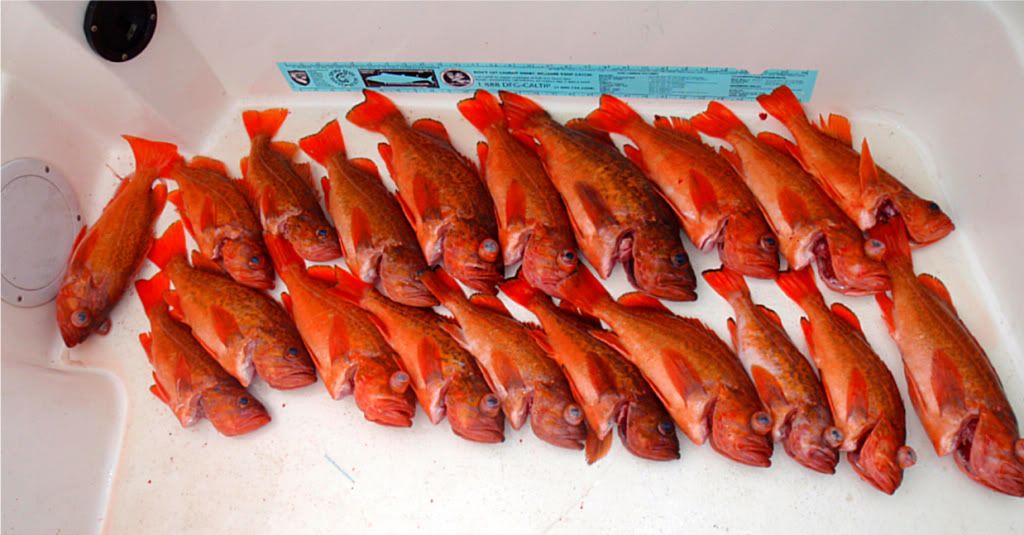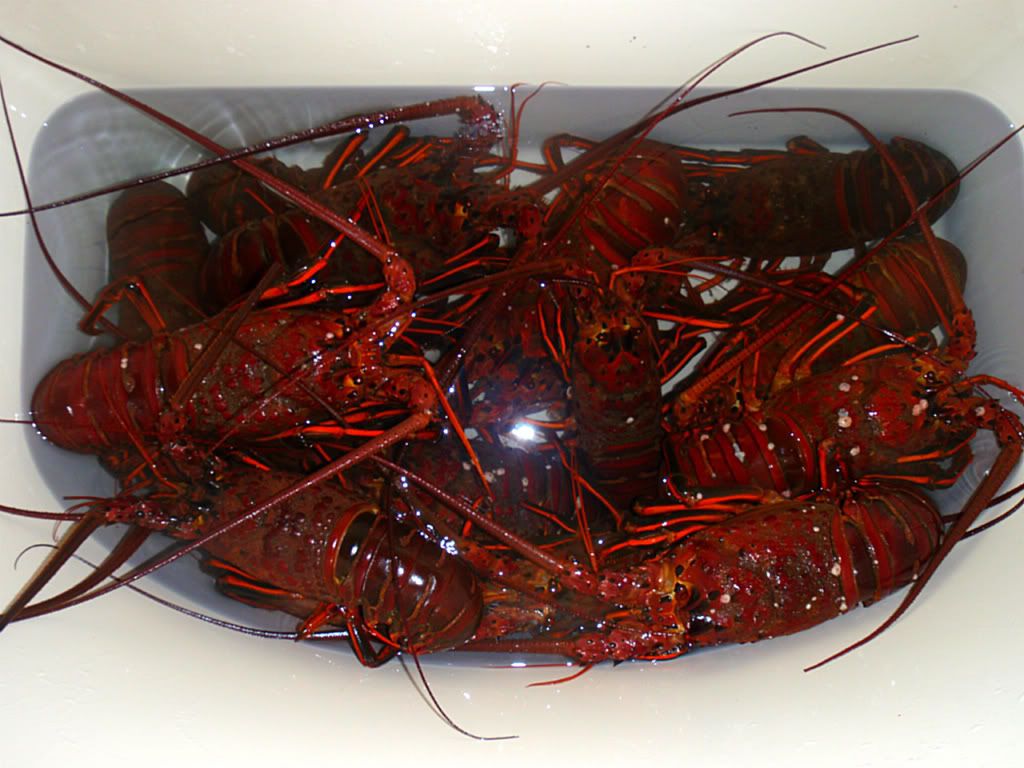 The New Del Mar and Spitfire are now concentrating on Bass and Sculpin fishing. The New Del Mar on their Tuesday, 1-05-12 trip, caught over 100 Sand Bass and 18 Calico Bass with a decent count of 45 on the Sculpin.
Newport Beach and Dana Point.
Some mixed Bass being caught with limit style Sculpin fishing, plus a couple of Halibut has been the theme this week
Long Beach and San Pedro
Private boater Grant fished with friends over the weekend and caught some nice local Sheephead:
Private boater Gary and friends fished the Long Beach area for some outstanding Halibut, 28 pounds, 14 pounds and 24" on New Years Day:
Private boater Erik fished with friends out of the Long Beach area for some outstanding end of the year Rockfishing: Some pictures:
Private boater Dean fished with friend Martin and their sons, out of the Long Beach area for some last chance Rock fishing, and they slammed them: Some pictures:
Japan Ron sent me some photos from his 3/4 day trip on the Victory, Wednesday, 1-04-12:
The Islands


Catalina/Santa Barbara Island!
Private boater Jonathan with wife Jenn slams the big Sheephead at Catalina. They spent a mini 4-day vacation at the Island before New Years, both fishing and touring. The targeted species was White Seabass; with a backup plan for Sheephead and end of the season Reds. The backup plan worked great, as the targeted species remained the Ghosts they are generally known as. Some pictures of huge Sheephead, with enormous Females to go with the big Males, as well as catching a limit of Reds.
Jonathan with the Biggest Female Sheephead I have ever seen:
Jenn with a big Red:
Nice Johnny Bass:
San Clemente Island!
No reports this week.
Down South-San Diego and good ole Mexico!
Captain Louie ran an Ensenada charter on his private boat on Friday, finding the winter Yellowtail on the chew out from 20 to 27 pounds. Some pictures: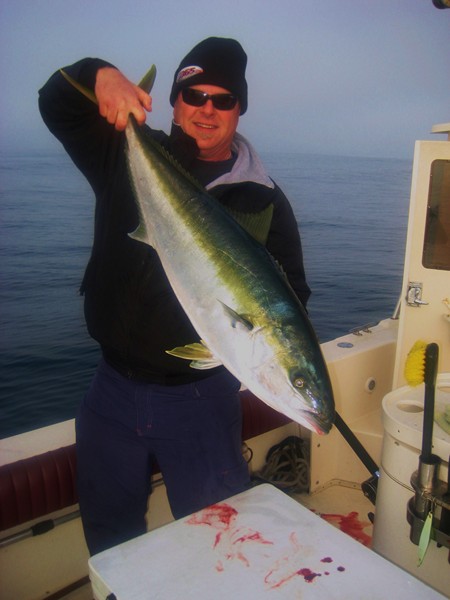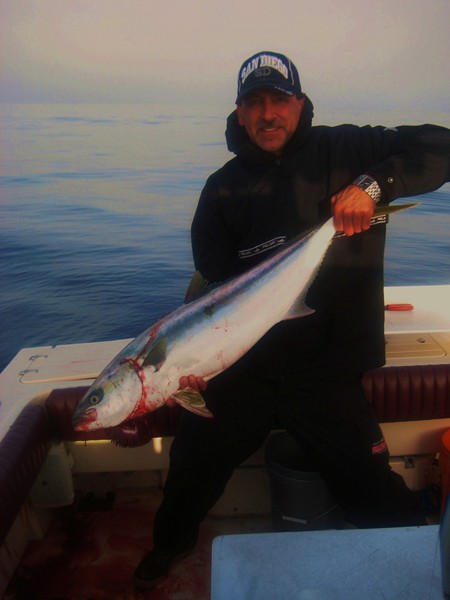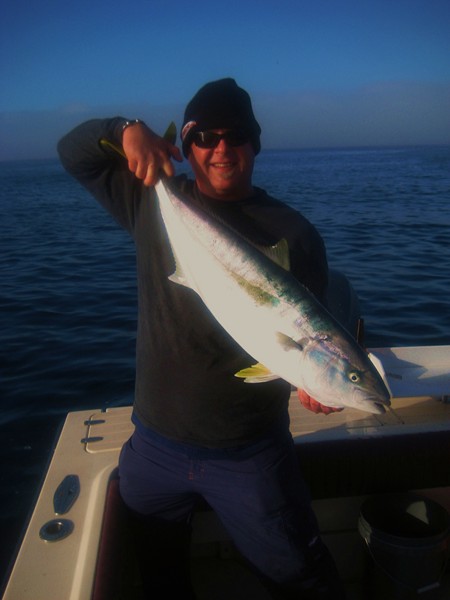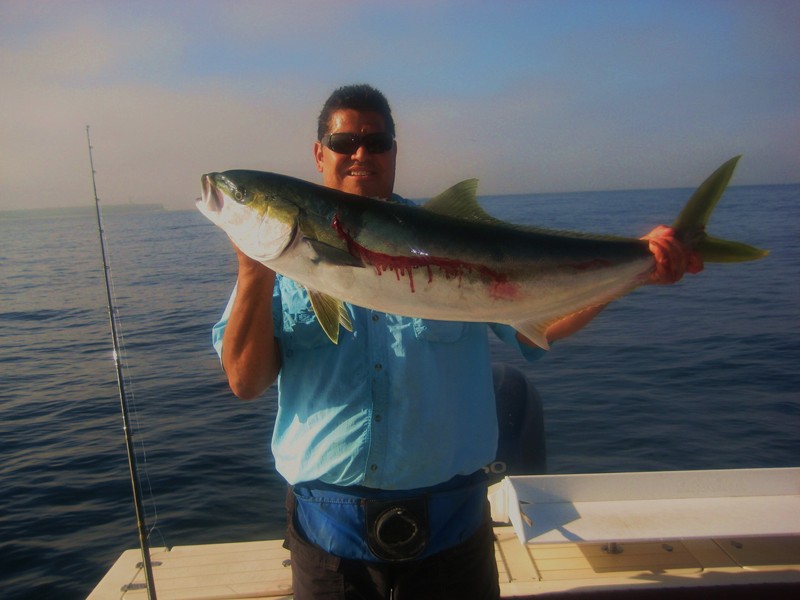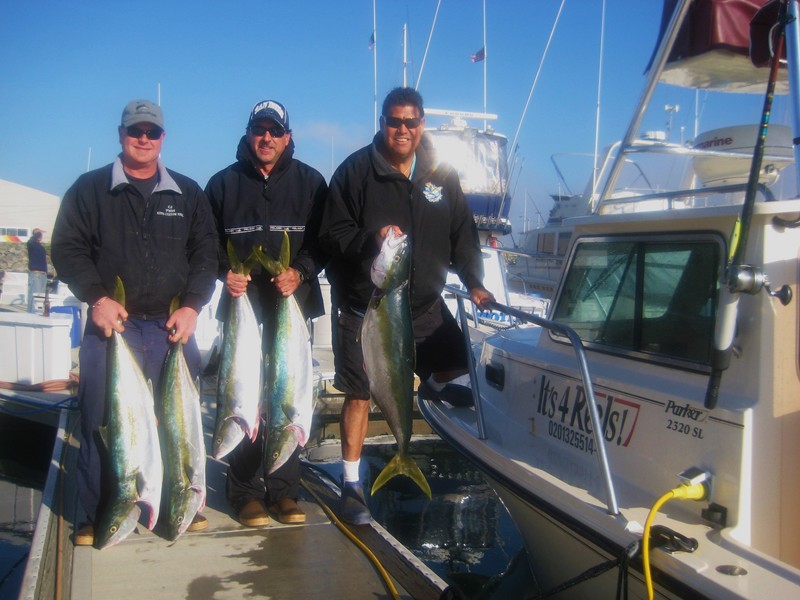 The Indian is running full day Rockcod trips to the Finger Bank and Points south of the border. They had near limits around on Wednesday, 01-04-12, for 22 anglers, with a lot of quality Reds and some Lingcod. It was their first trip requiring the new Mexican Visas, which went off with out a hitch, albeit the pocket book was stung by all for an extra $28. Some pictures:
Weather
The weather forecast for the weekend is decent for Saturday and Sunday, with some wind in afternoon, and offshore. Always check the latest forecast before leaving the dock.
Hook Up,
Cory