by Cory Visser
Thursday Recap Report-Weekend Possibilities:
For local fishing in the Santa Monica, Long Beach, Catalina and San Clemente Islands, with trips out of San Diego and Baja, Mexico.
Hot news!
Local White Seabass on the prowl. Private boater Dan shows off his personal best and BAC Club record 68 pound White Seabass caught Sunday, 02-05-12 out of Newport Beach:
The rumors have been silently passed around that the Sea Biscuits have shown up chasing the local live squid schools, and it appears the rumors are now confirmed!
Halibut continue to put on a great show this winter, as more private boaters have scored on the big Butts! For example private boater Rick fished out of Oceanside with friends Friday, 02-03-12, and his best buddy caught a 41 pound Halibut, and later in the day they added a 12 pound Halibut:
Private boater Dean, fished out of Long Beach with friend John and they had a successful day catching several keeper Halibut to 10 pounds, and releasing a few shorts. John with his 10 pounder:
Yellowtail go off at La Jolla, as the ½ day boat New Seaforth catches 2 Yellowtail on Saturday and 4 on Sunday. Here is a picture of Saturday's catch with a big Halibut to boot:
With great weather forecasted over the weekend, a number of boats out of San Diego ran 1.5-day or longer trips down to Colonet and other points south last weekend.
The
Indian
was again on the fish in flat calm seas, limiting out early on big Reds. So they moved into the shallows and targeted Lingcod, Whitefish and Sheephead. A few pictures of the trip:
There are a bunch of boats scheduling 2 to 3 day trips next weekend which is a Holiday weekend with Monday, 02-20-12 being President's day. I'm scheduled on the 2.5 day
Aztec
trip leaving Friday evening, 02-17-12 out of Seaforth Landing in Mission Bay at 5pm, returning Monday morning. Come join me!
We will be fishing Sat and Sun 2/18-19th returning mid morning 2/20-President's Day. This is a Limited Load 2.5 Day San Martin/Mexican Coast Freelance trip with an early departure of 5PM Friday 2/17. A great way to take advantage of the holiday weekend this trip will fish the Mexican Coast targeting early season Yellowtail, as well as mixed bag fishing from shallow water Sheephead and bass, to deep water Rockfish and Lingcod to fill up the freezer. Feel free to call with any questions regarding trip or tackle info. Captain Mikey 619-818-5664. This Trip Is A GO with 5 Spots Open and Limited to Only 22.
For Rockfish fishing it is all about Mexico until March 1st.
Charter Master Louie made a trip out of Ensenada on Friday, 02-03-12, with several friends, finding a big school of Yellowtail under the birds. Jose managed to catch a Yellowtail using the Yo Yo Iron. The Yellowtail were constantly on the move and quickly sunk out. So they targeted assorted Rockfish and did well, yet the bigger Reds and Lingcod were not on the chew.
Jose with his 26 pound Yellowtail:
The local boats are doing well on catching Sculpin in the morning, with afternoon fishing concentrated on finding Bass on the structure. The Bass fishing has picked up lately, with some excellent catches being made during ideal conditions.
Twilight fishing:
The
Slammer
out of Redondo Sportfishing ran a trip on Sunday, 2-05-12, with 4 anglers catching 40 Sand Bass, (limits), 1 Lobster, 51 Rock Crab and 3 Spider Crab.
In Santa Monica Bay
Private boater Robert fished Sunday, 1-29-12 with friend Juan out of Santa Monica Bay targeting Halibut, Some pictures:
The
Tradition
ran ¾ day trips over the weekend, catching some dandy mixed Calico and Sand Bass, with limits of Sculpin caught in the morning. Some pictures from Jackpot Jimmy's trip on Saturday, 02-04-12:
Ray with a combo on the Bass: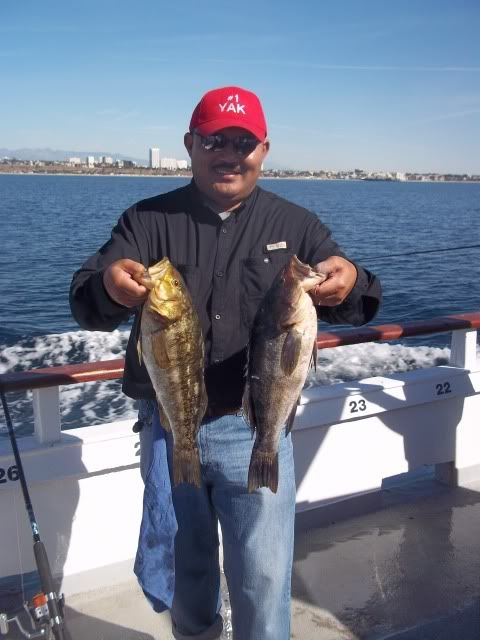 Carlos with the Jackpot Sand Bass and his younger brother: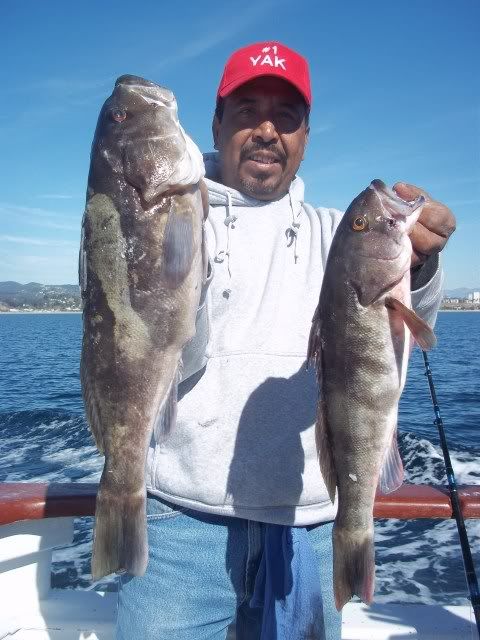 Jackpot Jimmy with some decent Sand Bass:
Others with good Bass'n!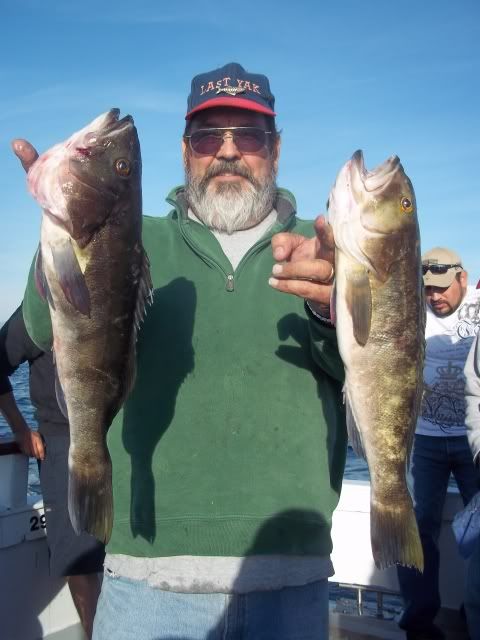 The ½ day boat
New Del Mar
continues to have great success targeting Bass and Sculpin. The New Del Mar caught 15 Calico Bass, 19 Sand Bass and 275 Sculpin (limits) on their Sunday, 02-05-12 trip.
The
New Del Mar
carried a light load of anglers on Wednesday, 02-08-12 and caught 78 mixed Bass and 93 Sculpin.
Newport Beach and Dana Point.
Private boater Travis fished with friends on Monday, 02-06-12, and caught several Halibut:
Private boater Makowish, also fished on Monday, 02-06-12, and caught a very nice sized Halibut:
The ½ day boat
Clemente
out of Dana Point on Sunday, 02-05-12 and caught 4 Halibut, 22 Sand Bass and 11 Sculpin.
Long Beach and San Pedro
The 1/2day boat
City of Long Beach
had a good trip for Sand Bass on their Wednesday, 02-08-12 trip, catching 66 Sand Bass and 3 Sculpin for only ten anglers.
The ½ day boat
San Pedro Special
caught 2 Halibut, 63 Calico Bass, 16 Sand Bass and 36 Perch, on their Sunday, 02-05-12 trip.
The ¾ day boat
Sea Angler
out of 22nd Street Landing ran a trip on Saturday, 02-04-12 and continues to slam the Sand Dabs, catching over 4200!
The 1/2 day boat
Matt Walsh
out of LA Harbor caught 56 Calico Bass, 4 Sand Bass and 4 Sculpin for only 8 anglers on their Thursday, 02-09-12 trip, that's 7.5 Bass average per angler.
The Islands
Catalina/Santa Barbara Island!
The
Pursuit
out of 22nd Street Landing ran a full day trip on Saturday, 02-04-12 and caught 1 Calico Bass, 1 Sculpin and 225 Perch.
San Clemente Island!
No reports this week.
Down South-San Diego and good ole Mexico!
Other than the trips to Colonet and the few Yellowtail being caught, it is very quiet.
No fishing on the
Indian
on Wednesday, as they cancelled due to low reservations and poor weather.
All comments and suggestions welcomed!
Weather
The weather forecast for the weekend looks breezy in many areas for both Saturday and Sunday, darn? Always check the latest forecast before leaving the dock.
Hook Up,
Cory