by Cory Visser
Thursday Recap Report-Weekend Possibilities:
For local fishing in the Santa Monica, Long Beach, Catalina and San Clemente Islands, with trips out of San Diego and Baja, Mexico.
Decent weather on Saturday and Sunday resulted in quite a decent week of fishing for both Sport boats and private boaters. Opening day for Rockfish yesterday was a big success with lighter loads than usual as the forecast called for windy seas.
The
Fred Hall Show
opens this coming Wednesday, 03-07-12, and runs through Sunday. I will be working the
AllCoast
booth with
Japan Ron
and
Tailman Lal
on Wednesday; I also will be in the booth Sunday. Hope to see you all at the show, stop by and introduce yourself, as I am looking forward to meeting all those anglers frequenting the message boards that I have not met and of course getting reacquainted with all my good fishing friends.
Yutaka jumped on board the ¾ day
Victory
out of Pierpoint Landing on opening day and caught the Jackpot Lingcod between 15 and 18 pounds. He also caught a jumbo 8 pound Bocaccio and another legal Lingcod, the 2nd of only three caught on the boat. His Jackpot Lingcod:
The ¾ day
Enterprise
out of Long Beach did well on opening day catching lots of Reds and limits of Bocaccio:
The San Diego boats had a great weekend of fishing and will continue to run their 1.5 to longer freezer specials down to Colonet or further south, until the Yellowtail begin to show up at the Islands or offshore.
The
Indian
had another successful 1.5-day trip on Saturday, 02-24-12. The weather on Saturday started out great, but rapidly deteriorated by the afternoon. They still caught plenty of big Reds and Lingcod. Some pictures, courtesy of Chris:
I understand this was Chris Randall's (Captain) last trip on the Indian, as he is moving on to pursue other interests out of state,as the economic climate in California is just too harsh right now.
The
Apollo
also had a successful 1.5-day trip on Saturday, 02-24-12. They caught the usual assortment of big Reds and Lingcod, also a few Cow Cod and a bunch of large Bonito. Some pictures courtesy of Don:
Bonito on the chew:
http://www.bdoutdoors.com/forums/attachments/offshore-reports-southern-california/335410d1330283037t-slaughter-apollo-2-24-rockfish-huge-boneheads-bonito.jpg

A
Cow Cod and Reds:
The
Constitution
also ran 1.5-day trips over the weekend, and did real well on Big Reds, Lingcod, Sheephead, Whitefish and Bonito. Some pictures:
The Halibut fishing this winter continues to exceed expectations and has drawn a lot more interest from private boaters. The
Native Sun
has been smoking the Halibut as part of it's
Pot of Gold Derby
. Some recent pictures: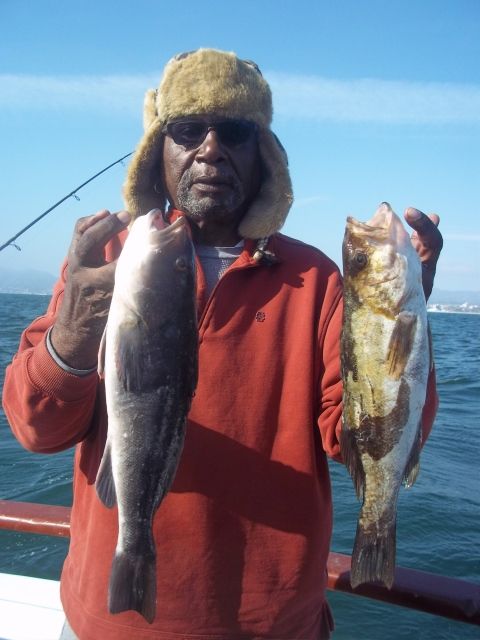 Tom with the jackpot Sand Bass:
Kim with a dandy Sandy: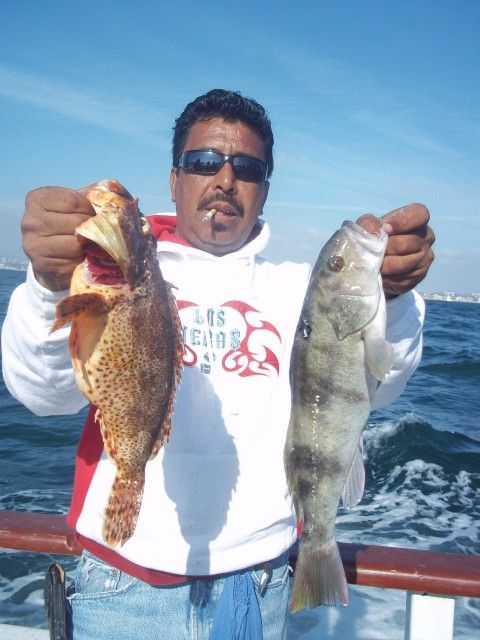 The ½ day boat
New Del Mar
continues to have great success targeting Bass and Sculpin. The
New Del Mar
caught 4 Sand Bass and 295 Sculpin almost (limits) on their Saturday, 02-24-12 trip.
Newport Beach and Dana Point.
Private boater Dave fished on Saturday, 02-25-12, and again on Sunday, finding the fishing very slow, losing a big Halibut to tangled lines, and caught a dinner sized Halibut out of Dana Point. Dave said there was abundant bait in the area and good signs of Thresher Shark around the area they were fishing. Dave with his Halibut:
The ½ day boat
Patriot
out of Newport Landing ran a trip on Thursday, 03-01-12 and caught 38 Bocaccio, (limits), 36 Rockfish 58 Red Snapper 2 Cabazon for 19 anglers.
Long Beach and San Pedro
The ¾ day boat
Sport King
out of LA Harbor fished on Thursday, 03-01-12, as 15 anglers caught 30 Bocaccio, (limits), 3 Lingcod, 1 Sculpin and 90 Red Snapper.
The ¾ day boat
Sea Angler
out of 22nd Street Landing ran a trip on Sunday, 02-25-12 and continues to slam the Sand Dabs, catching over 2900!
The 1/2 day boat
Matt Walsh
out of LA Harbor caught 62 Calico Bass, 17 Sand Bass, 12 Sculpin and 3 Perch for only 13 anglers on their Friday, 02-10-12 trip. Nice Halibut on the Sunday, 02-26-12 trip:
The 1/2 day boat
Native Sun
is targeting Halibut for their annual Pot of Gold Halibut Derby, and had their best day on Sunday, 02-25-12, catching 14 Halibut. Then on their Wednesday, 02-29-12 morning trip, they started the day off right with this 35 pound Halibut, and added four more Halibut from 10-17 pounds:
Private boater Tony hopped aboard his friend's boat on Saturday, 02-25-12, and caught this nice Halibut:
The Islands
Catalina/Santa Barbara Island!
Private boater Steve made a trip to the Island on Saturday, 02-24-12. They could not get the Squid to float, and did not find anything of value using the frozen squid they brought along.
San Clemente Island!
The
Freedom
out of 22nd St Landing ran a full day trip to the Island on opening day and caught 35 Reds and a great assortment of other Rockfish, Sheephead and Whitefish.
Down South-San Diego and good ole Mexico!
Charter Master Louie ran a trip out of Ensenada on Friday, 02-24-12, with several clients, finding the Yellowtail under the birds in the morning proved fruitless; however, the Birds and Tails went on a rampage in the afternoon.
Louie managed to catch a Yellowtail using the Yo Yo Iron.
Another Yellowtail was hooked on a Mackerel by Chris, while a third jig fish spit the hook.
They also targeted an assorted of Rockfish and did well, with some Reds and Lingcod on the chew.
Hats off to
Captain Ron Baker
inviting
Wounded War Veteran JJ
along on his ¾ day trip, where JJ caught his first Halibut of the year:
Harry also found fishing Halibut with Captain Ron a success, landing this beauty:
[img]
http://www.bdoutdoors.com/forums/attachments/inshore-islands-fishing-reports-southern-california/335178d1330151404t-fishin-butts-capt-ron-point-loma-2-24-2012-dsc_9655.jpg
border=0>[/embed]
All comments and suggestions welcomed!
Weather
The weather forecast for the weekend looks breezy in many areas for both Saturday and a bit better on Sunday? Always check the latest forecast before leaving the dock.
Hook Up,
Cory