by Cory Visser
Thursday Recap Report-Weekend Possibilities:
A Summary of local fishing from Santa Monica to Oceanside, including Catalina and San Clemente Islands, with fishing trips out of San Diego down to Baja, Mexico.
Despite very calm seas both Saturday and Sunday the weather was very odd. A deep marine layer kept Father Sun, mostly in hiding, however, water temps did rise considerably, providing increased optimism for improved fishing. We hope soon to arrive, those feisty toothy critters known as Barracuda and maybe those fun to catch Bonito. Rising water temps point to better Bass fishing, a White Seabass bite along the coast and at the Islands, as well as more hard fighting Yellowtail arriving locally.
The Yellowtail bite slowed down over the weekend with a lot of boat pressure in La Jolla. The ¾ day boat
San Diego
had their best day of fishing for the week on Monday with five Yellowtail. These fish are running big, almost all over 20 pounds up to 40 pounds. Some pictures from trips over the weekend during the week:
Angler Greg on his Saturday, 04-21-12 trip on the San Diego trip, a 22 pound Yellowtail: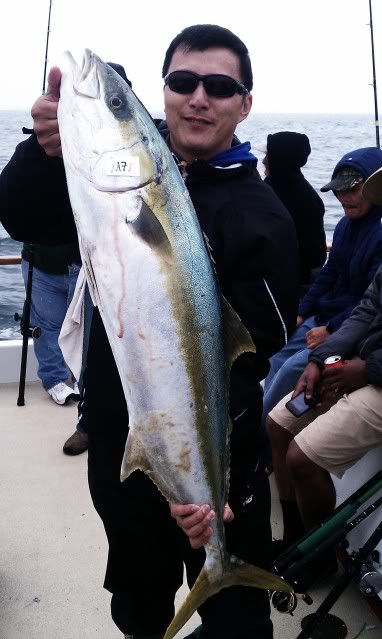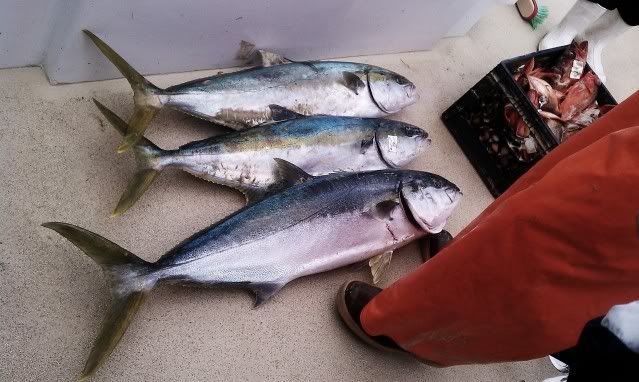 Ian with a 25+ pound Yellowtail caught on their Wednesday, 04-25-12 trip:
The
Constitution
ran a 1.5 day trip over the weekend. They had excellent weather, however, it was not easy style limits per usual, they had to work for their fish. Some pictures courtesy of Harry'O:
Not often a Red takes the Jackpot over a Lingcod:
The
Freedom
fished San Nicolas Island on Sunday, 04-22-12 and slammed the Lingcod, catching 67:
Local fishing remains excellent on Rockfishing, with more nice Lingcod being caught. The only decent fishing for Bass is in the evenings on the Twilight runs.
Twilight fishing:
The
Native Sun
fished on Saturday, April 21, 2012, and caught 89 Sand Bass and 13 Sculpin. The
Freelance
out of Davey's Locker ran a twilight trip on Monday, 04-23-12, catching1 Calico Bass, 10 Sand Bass, 5 Rockfish and 72 Sculpin.
In Santa Monica Bay
The ¾ day Tradition has been running trips all week, with very light loads and are regularly catching limits on both Rockfish and Sculpin. On their trip on Sunday, 04-22-12 the fishing was excellent, they caught limits of both Rockfish and Sculpin with lots of Big Reds. Some pictures courtesy of Jackpot Jimmy: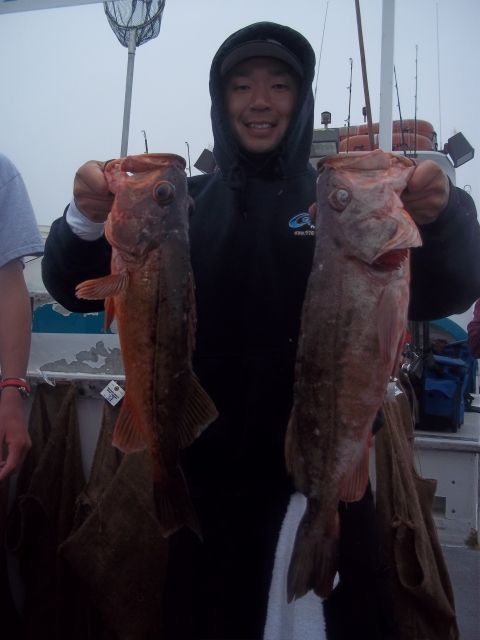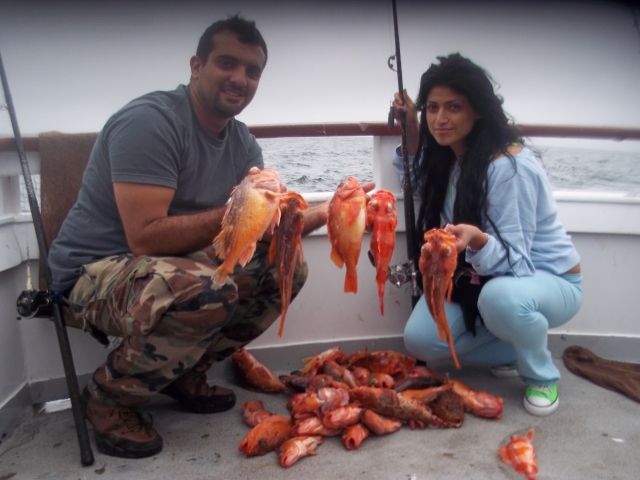 Newport Beach and Dana Point.
The ¾ day boat Clemente ran a trip on Tuesday, 04-24-12 and caught 16 Bocaccio, 39 Rockfish, 6 Sculpin and 3 Red Snapper.
The ½ day boat Patriot out of Newport Landing ran a trip on Monday, 04-23-12 and caught 90 Bocaccio (limits), 112 Rockfish and 4 Sculpin.
The 3/4 day boat Freelance out of Davey's Locker found the Rockfish on the chew on their Sunday, 04-22-12 trip, catching 118 Bocaccio, (limits), 311 Rockfish, 16 Sculpin, 45 Sand Dab and 6 Red Snapper.
Long Beach and San Pedro
Private boater Lal fished with Japan Ron on Wednesday, 04-25-12 out of Long Beach. The Bass fishing remains very slow, however, they did catch a couple of Dandy Sandies. Some pictures:
The Islands
Catalina/Santa Barbara Island!
The
Pursuit
out of 22nd St. Landing, ran to the Island on Sunday, 04-22-12 with 54 anglers catching 39 Sheephead, 60 Whitefish, 110 Bocaccio (limits), 125 Rockfish, 93 Perch and 27 Red Snapper.
The
Fury
out of Dana Wharf fished on Monday, 04-23-12 with 24 anglers catching 4 Calico Bass, 1 Sand Bass, 11 Sheephead, 17 Bocaccio, 17 Rockfish and 31 Red Snapper.
San Clemente Island!
A 25 pound Halibut caught at the Island on a Black Pearl 2-day Kayak trip over the weekend.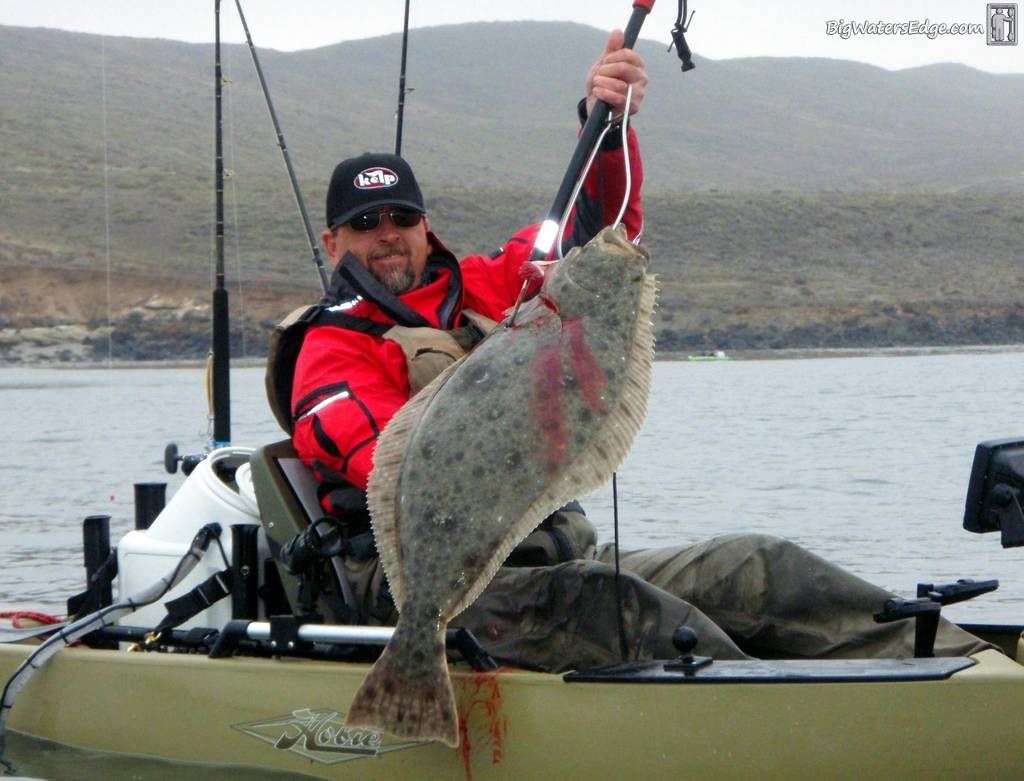 I fished with Dave on the private boat "Hooked" on Saturday at the Island with friends Kevin, Bob and Jeff. We loved the calm seas; however, the deep marine layer made it a chilly experience. Fishing was good, yet we had to work for our limits. We did catch a number of big Reds, a Lingcod, and lots of those extinct Bocaccio, and some really nice size Santa Marias and Green Spots. A couple of pictures:
Dave also fished on Tuesday, 04-24-12 and caught four Lingcod to 18 pounds, with a bunch of big Reds:
The
Thunderbird
ran to the Island on Saturday, 04-21-12 and caught 11 Sheephead, 39 Whitefish, 38 Bocaccio, 70 Rockfish, 13 Sculpin and 82 Red Snapper.
Down South-San Diego and good ole Mexico!
Charter Master Captain Rod on his boat the Sweet Teresa ran a Halibut charter on Monday, 04-23-12 and the bite was on early, the three amigos all caught Halibut:
Captain Ron Baker running the ¾ day boat
Point Loma
found the Halibut on the chew on Monday, 04-23-12, catching six Halibut from 13 to 29 pounds.
All comments and suggestions welcomed!
Weather
The weather forecast for the weekend is looking good for both Saturday and Sunday. So get out and catch a Big'n. Always check the latest forecast before leaving the dock.
Hook Up,
Cory