by Cory Visser
Thursday Recap Report-Weekend Possibilities:
A Summary of local fishing from Santa Monica to Oceanside, including Catalina and San Clemente Islands, with fishing trips out of San Diego down to Baja, Mexico.
In recent weeks the Private Boater has enjoyed some of the best fishing in three years. The Offshore action has provided opportunities to catch-Yellowfin Tuna, Bluefin Tuna, Do Dos and Tails. The weather has been exceptional for most of the last two weeks, leading to water temps as high as 75 degrees, yikes, Cabo eat your heart out!
An enormous amount of Dorado (Mahi Mahi), are being seen and caught from 150 miles south of the border to 75 miles north of the border. In fact the ½ day boat
Patriot
caught some Dorado off of Newport Beach recently. The Yellowtail fishing on the Kelp Paddies have been off the charts in many areas.
The secret of successful fishing is finding the Mother Load Kelp Paddy. You find it, and they bite and everyone goes home happy. Locally there are many kelp paddies that are not holding fish, yet there are a bunch of paddies that yield huge results. So don't give up, keep on looking, you may just find that Mother Load Kelp Paddy.
Where ever it was caught, it's a keeper?
Now that's a big Tail:
Speaking of private boater trips, my good friend Lal went fishing on the luxurious yacht
''Salt Fever"
with his son and friends. The seven anglers caught 34 Bluefin Tuna over the weekend to 41 pounds, with most of the tuna over 30 pounds. Some pictures:
Well not to be denied, I went fishing with Captain Chris on his luxurious yacht a 50' Viking,
"Bad To The Bone"
on Sunday 08-19-12. The six of us found the Bluefin Tuna on a serious chew. Some pictures: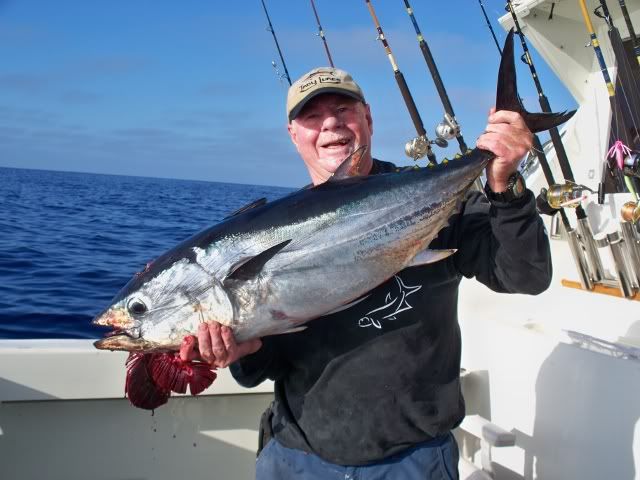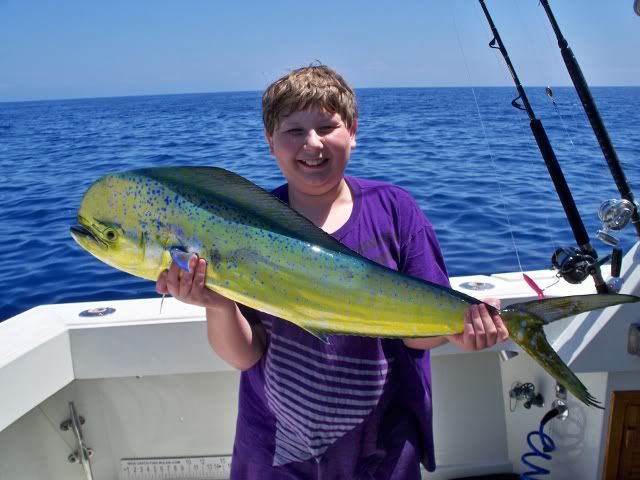 Private boaters have been combing the seas from 50 miles south of the border and all the way up to making runs northwest out of Newport Beach. We are all hoping the fish put on a show similar to four years ago, when a run of 10 miles out of either Long Beach or Santa Monica Bay yielded Kelp Paddies loaded with Dorado and Yellowtail. Then the Yellowfin Tuna moved in under the porpoise and it was game on for 30 to 40 pound Tuna.
Angler Tunahead Ron fished the
Condor
on a 1.5 day trip Wed.-08-22-12 and slammed the fish again. His buddy was hot, catching an offshore slam, Bluefin and Yellowfin Tuna, Dorado and Yellowtail. Some pictures:
My good friend Rick fished a 2 day trip on the
Pride
, and loaded the boat with some Bluefin Tuna, yellowtail and Dorado over the weekend. Some pictures:
The
Aztec
, on its latest 1.5 day trip, which will return Friday morning, 08-24-12, caught 36 Yellowtail, 43 Bluefin Tuna, 38 Dorado and 2 Yellowfin Tuna to 45 pounds.
Angler Raul fished with friends on the
Sea Adventure II
on Wed.-08-22-12 and caught Dorado, Yellowtail and Bluefin Tuna. Friend Maria caught her first ever Dorado:
Locally:
Private boater Bill fished out of Long Beach over the weekend and found a huge Halibut on the chew: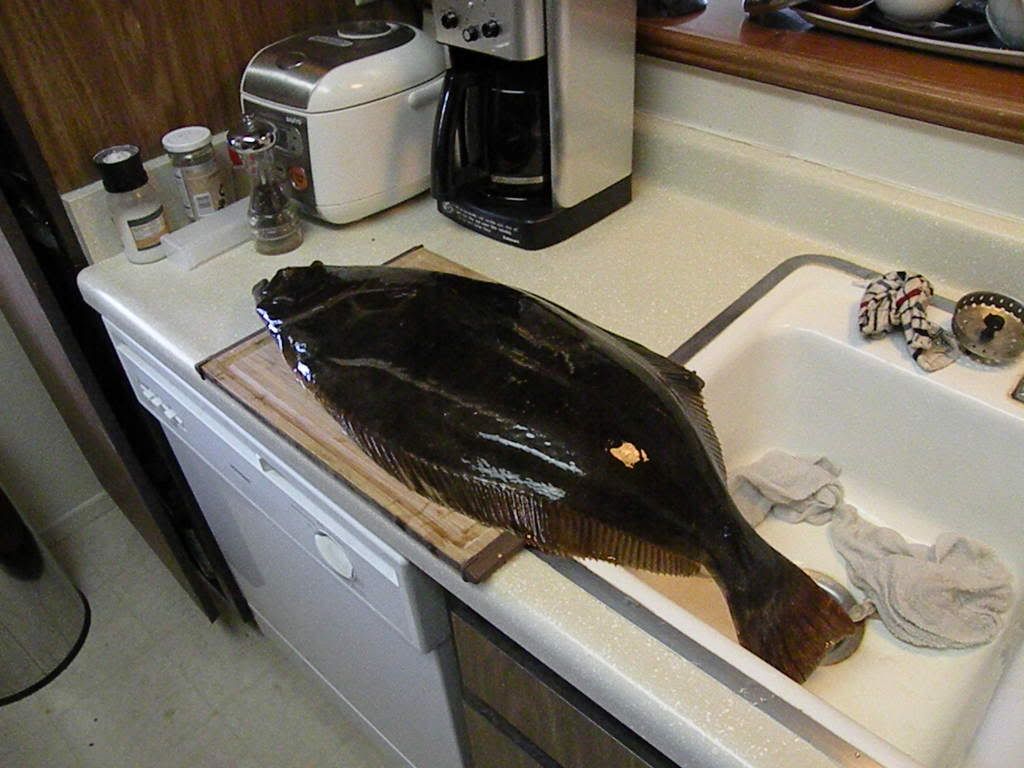 The
Toronado
out of Pierpoint Landing ran a 1.5 day trip and caught 72 Bluefin Tuna 28 Yellowtail 70 Dorado.
The
Freedom
out of 22nd St. Landing caught 21 Bluefin Tuna, 62 Yellowtail and 132 Dorado on a 2-day trip.
The Barracuda fishing is all but over for now, with Rockfish, Sculpin, Sand Bass and Calico Bass the targeted species. The ½ day boat Southern Cal had a great day of Sand Bass and Barracuda fishing on Wednesday, 08-15-12 with 46 Sand Bass and 53 Barracuda caught. While the ¾ day Victory managed 69 Sand Bass, 28 Barracuda and 150 Sculpin. Some pictures from Japan Ron:
Twilight fishing:
The
Enterprise
fished on Thursday, 08-23-12, and caught 1 White Seabass, 1 Calico Bass, 122 Sand Bass and 4 Sculpin for only 22 anglers. The
Freelance
fished Sunday evening, 08-19-12 and caught 220 Sculpin and 30 Sand Dab. The
Southern Cal
fished an evening run on Monday, 08-20-12 for 35 Sand Bass and 11 Sculpin for only 11 anglers.
In Santa Monica Bay
Jackpot Jimmy got out on the ¾ day boat
Tradition
on Saturday, 08-18-12 and they caught some huge Salmon Grouper, Sheephead, Sand Bass and Jimmy caught a 13 pound Halibut: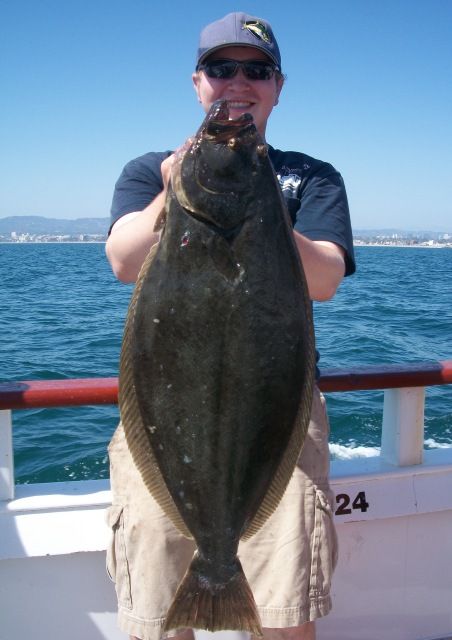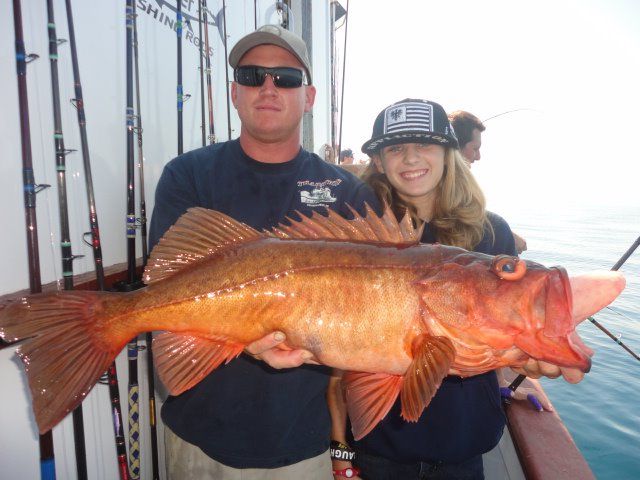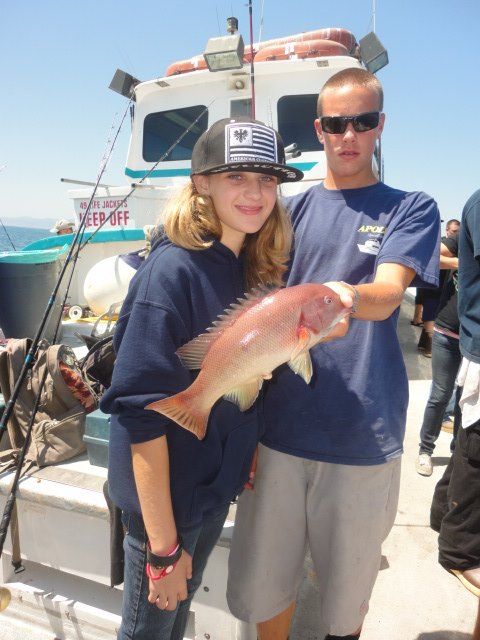 Newport Beach and Dana Point.
There has been some excellent Sculpin fishing with some good scores on the Bass. For example the Freelance caught 290 Sculpin and 100 Sand Dab on their ¾ day trip, Sunday, 08-19-12.
A couple of White Seabass have also shown up in the counts.
Long Beach and San Pedro
There was some great Sculpin and Sand Bass fishing during the week, when not targeting the Barracuda which have been MIA most of the week. The Victory according to Ron caught easy limits of Sculpin and half limits of Sand Bass on their Wed-08-22-12 trip.
The Islands
Catalina/Santa Barbara Island!
The
Freedom
is fishing offshore on multi day trips.
The
Sport King
had a great day at the Island on Thursday, 08-23-12 catching 105 Calico Bass, 4 Barracuda, 10 Sheephead and 22 Perch.
The
Pursuit
out of 22nd St. Landing, ran to the Island on Tuesday, 08-21-12, with 30 anglers catching 103 Calico Bass, 4 Barracuda, 10 Sheephead and 55 Perch.
San Clemente Island!
The
Fury
out of Dana Wharf fished on Tuesday, 08-21-12 with 47 anglers catching 4 Yellowtail, 61 Calico Bass, 2 Sand Bass and 1 Sheephead.
Down South-San Diego and good ole Mexico!
The Yellowtail fishing at the Coronado Islands has been very good for private boaters. The ¾ day boats are running offshore to catch Tuna and Tails as the Visa mess is still up in the air? The last few days the ¾ day boats have found limit style fishing on the Dorado with some Yellowtail being caught offshore on the kelp Paddies.
The ¾ day boat San Diego out of Seaforth Landing caught 11 Bluefin Tuna, 3 Yellowtail and 9 Dorado on their Wednesday, 08-22-12 trip.
The
Mission Belle
headed out on Wednesday, 08-22-12, and caught 6 Bluefin Tuna, 8 Yellowtail and 12 Dorado.
The ¾ day boat
Malahini
caught 2 Bluefin Tuna, 4 Yellowtail and 31 Dorado on their trip on Wednesday, 08-22-12.
Charter Master Jamie, of Seasons Sportfishing fished offshore on Wednesday 08-22-12 and caught some lots Yellowtail and Dorado:
Private boater Frank fished with friends at the Tuna Pens, and caught four Bluefin Tuna to 38 pounds:
Private boater Bill fished with friends at the Tuna Pens, and caught 7 Bluefin Tuna to 40 pounds. Some pictures:
Private boater Jesse fished with his dad at the Coronado Islands, Sunday, 08-19-12 and Jesse got skunked, losing one to the rocks, while dad caught four Yellowtail to 27 pounds:
Private boater Devin fished with his son offshore and his son caught this 37 pound Bull Dorado:
All comments and suggestions welcomed!
Weather
The weather forecast for both Saturday and Sunday looks fantastic for both the offshore and local. Always check the latest forecast before leaving the dock.
Hook Up,
Cory