by Cory Visser
Thursday Recap Report-Weekend Possibilities:
A Summary of local fishing from Santa Monica to Oceanside, including Catalina and San Clemente Islands, with fishing trips out of San Diego down to Baja, Mexico.
Fishing has been just short of sensational
Offshore
with most boats, private and Sport Boats catching limits of
Yellowfin Tuna
, then add some
Bluefin Tuna
, along with lots of
Yellowtail and Dorado
. if you run the distance of 60 to 75 miles. If you find the right Kelp Paddy, you could soon realize the Bonanza of all four species. Adding to the thrill on a few trips is finding big
Albacore
to 40 pounds.
The Sport Boat industry has needed this late season run, after several very lean years, where many boats exchanged hands, and some excellent captains left the area. Private boaters have also feasted this year on shorter runs locally for Yellowtail and Dorado, while longer runs have provided a great mix of Tuna and Tails. On Friday, 09-28-12 most boats called in with full limits of Yellowfin Tuna for the day, plus a nice complement of Yellowtail and Dorado.
I know everyone is hopeful the fishing season will extend into November, I sure do? Considering Hurricane Miriam is pushing more warm water up from the Baja Coast, that wish might be granted. Meanwhile this storm is going to put the kabash on this weekend's fishing with high surf and winds, negating my planned repeat to last Sunday's wide open bite on a private boat. The open water fishing will still be accomplished, however, with the winds and heavier swells, finding Kelp Paddies will be a challenge.
I had the privilege to be invited on the luxury Yacht
"Bad to the Bone"
fishing on Sunday, 09-23-12. We started the day just south of the
D220
at 74 miles from Point Loma. After a couple of stops on the troll for Yellowfin Tuna we found the Magic Kelp Paddy and proceeded to catch fish off it for nearly three hours. All four species were caught off this Kelp Paddy, some pictures of first Yellowfin Tuna, then Bluefin Tuna: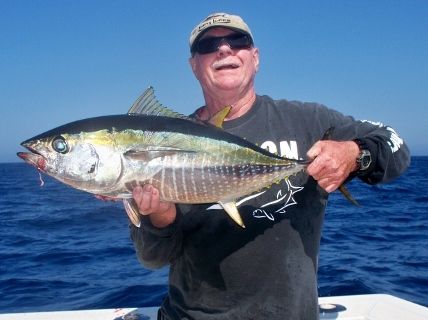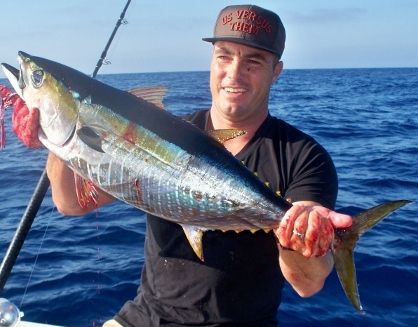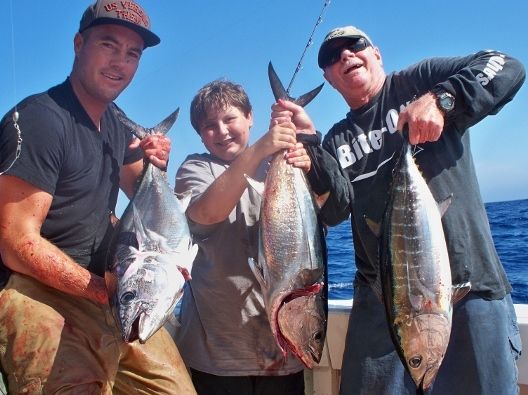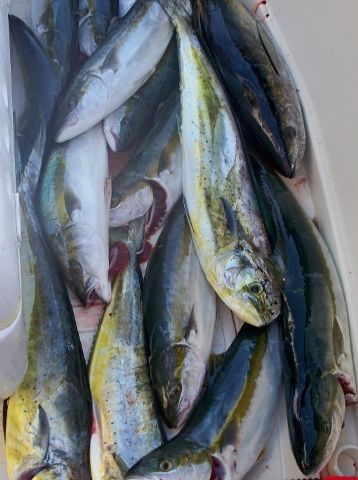 According to angler Erick their trip on the
Pride
Wednesday, 09-26-12 was wide open on the Yellowfin Tuna, with 48 Yellowtail, a few Dorado and a couple of Albacore mixed in. Some pictures:
The
Aztec
, on a 1.5 day trip that returned Thursday, 09-27-12 with 58 Bluefin Tuna, 130 Yellowfin Tuna (limits), 40 Yellowtail and 24 Dorado. Pictures courtesy of Ray:
Angler Mark fished with friends on the
Pacific Queen
on Sunday and caught some Yellowfin and Bluefin Tuna, with plenty of Yellowtail and Dorado. Some pictures:
Locally there are still few and far between days where kelp paddies are found holding fish, and that is if you can find one? Yet occasionally the Mother Load Kelp Paddy is found. Do Dos and Tails remain the primary target of the ¾ day and one day boats locally, who head offshore rather than settle for Sculpin and Rockfishing.
On some days the ¾ day boats out of
Newport Beach and Long Beach
found the right kelp paddy. For example the
Freelance
on Monday, 09-24-12 caught 33 Yellowtail and 2 Dorado. Out of the same landing as the Freelance the Bongo's III on Wednesday, 09-26-12, caught 45 Yellowtail and 3 Dorado.
The
Cortez Bank
has been yielding solid counts of Bluefin Tuna and the following boats have been having great success on their 1.5 day trips.
The
Toronado
out of Pierpoint Landing ran a 1.5 day trip returning on Monday, 09-24-12, and caught 44 Bluefin Tuna, 8 Yellowfin Tuna, 1 Calico Bass, 45 Sheephead, 60 Whitefish, 100 Rockfish and 100 Bonito.
The
Freedom
out of 22nd St. Landing ran a 1.5 day trip and caught 115 Bluefin Tuna, 31 Sheephead, 65 Whitefish, 25 Rockfish and 10 Sculpin returning on Monday, 09-24-12.
Locally the targeted fishing remains Sculpin and Rockfish, with a few Bass mixed in.
In
Santa Monica
the ½ day boat
Redondo Special
had a good day on their Thursday, 09-27-12 pm trip catching 3 White Seabass, 21 Calico Bass, 3 Sand Bass, 8 Sheephead, 11 Rockfish, 2 Sculpin, 15 Perch and 1 Cabazon. Also on their Monday trip they caught limits of Calico Bass (70) for 7 anglers.
Out of
Long Beach
, according to Japan Ron, the ¾ day
Victory
had a good day of fishing on Wednesday, 09-26-12, catching Big Reds, lots of Sculpin, and a few Sheephead. Ron also fished Tuesday with Lal on the private boat
"Rubber Ducky"
and they caught Rockfish and Bass along with this Dandy 7 pound Halibut: Some pictures from Japan Ron:
Angler Hakeli fished on the
City of Long Beach
½ day boat on Sunday, 09-23-12. They caught easy limits of quality Sculpin and some Reds and Sheephead. Some pictures: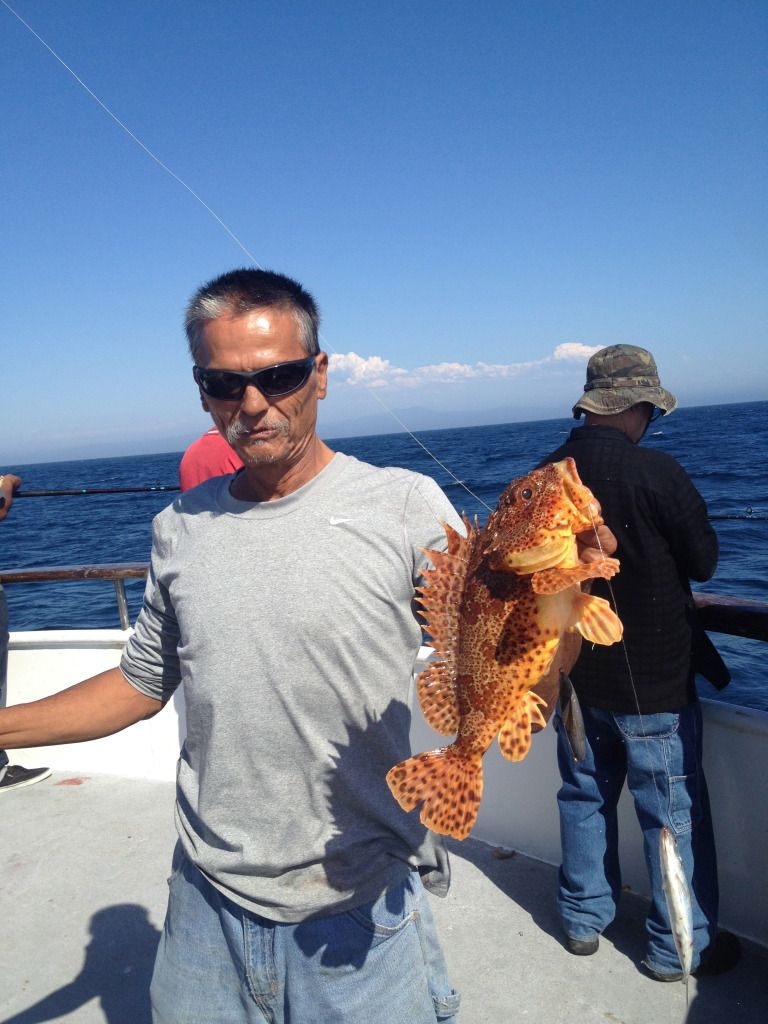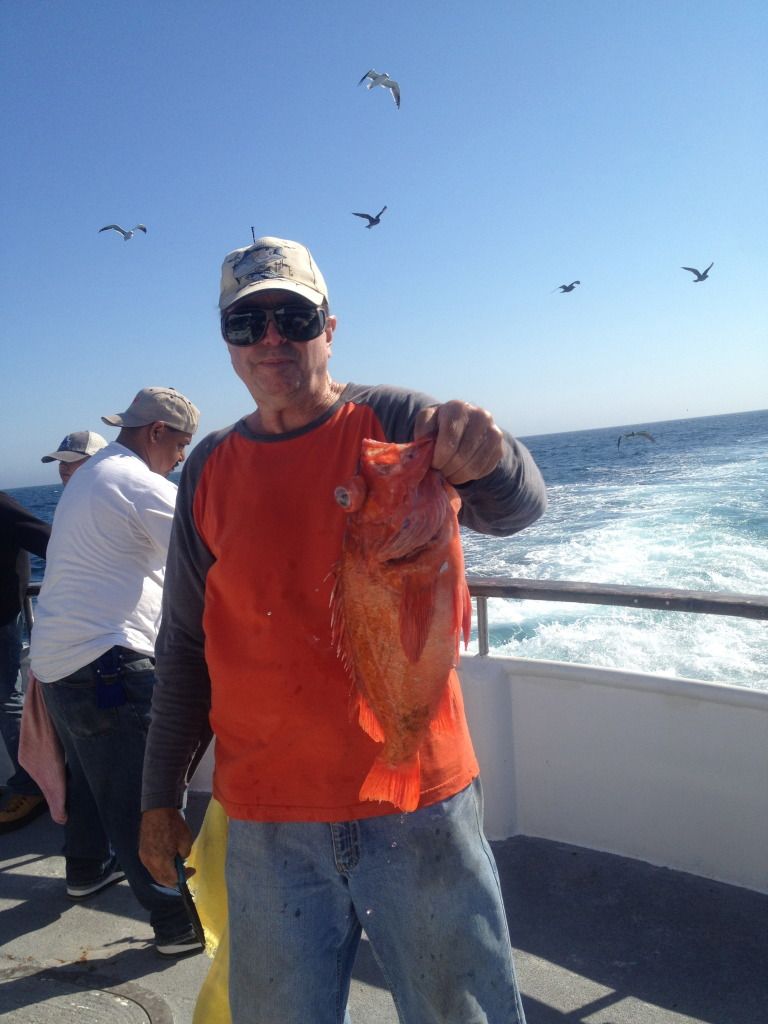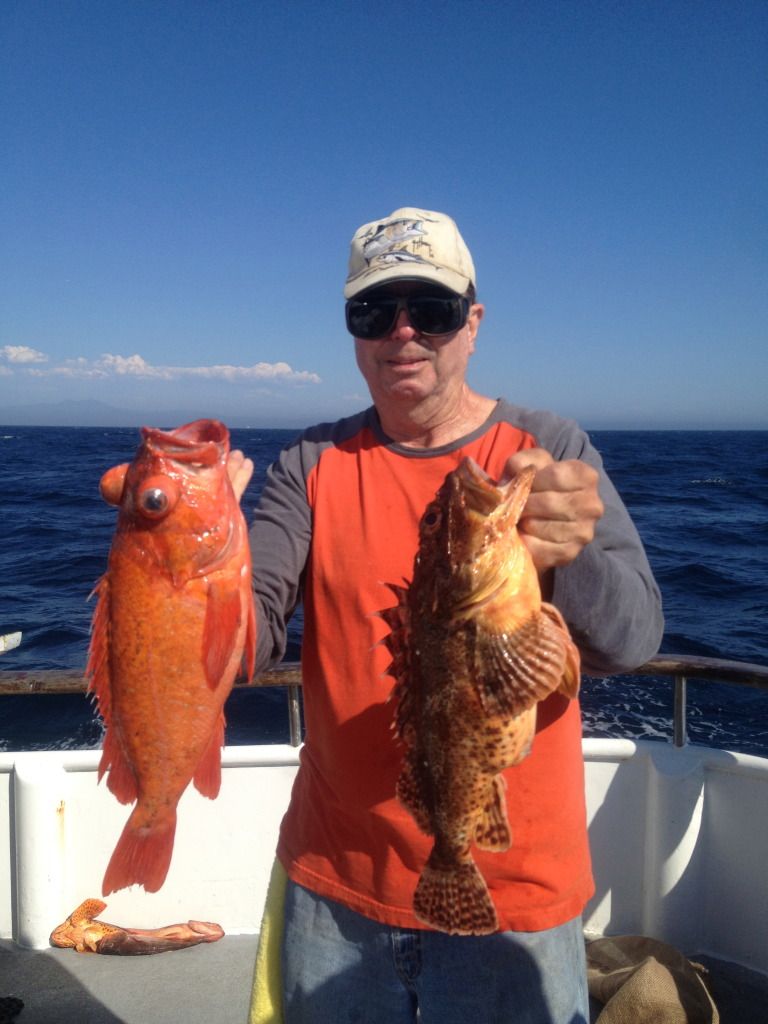 Out of
Newport Beach
, the
Amigo
ended a 2-day trip on Sunday, 09-23-12 catching 2 Bluefin Tuna, 1 Yellowfin Tuna, 5 Albacore Tuna, 58 Yellowtail and 3 Dorado.
Twilight fishing:
The
Freelance
fished Sunday evening, 09-23-12 and caught 5 Calico Bass, 2 Sand Bass, 24 Rockfish and 175 Sculpin.
The Islands
Catalina/Santa Barbara Island!
The
Sport King
had a good day at the Island on Tuesday, 09-25-12 catching 115 Calico Bass, 13 Sheephead, 10 Rockfish and 40 Perch.
The
Pursuit
out of 22nd St. Landing, ran to the Island on Sunday, 09-23-12, with 29 anglers catching 1 Yellowtail, 54 Calico Bass, 33 Sheephead, 30 Whitefish, 50 Bocaccio, 103 Rockfish, 158 Perch and 10 Red Snapper.
San Clemente Island!
The
Fury
out of Dana Wharf fished on Tuesday, 09-25-12 with 21 anglers catching 150 Calico Bass, 13 Barracuda and 2 Sheephead.
Down South-San Diego and good ole Mexico!
The fishing at the Coronado Islands has been very quiet as of late. The ¾ day boats are running offshore to catch Tuna and Tails as the Visa mess is still up in the air? The last few days the ¾ day boats have found limit style fishing on the Dorado also with lots of Yellowtail being caught offshore on the kelp Paddies.
The ¾ day boat
San Diego
out of Seaforth Landing caught 5 Bluefin Tuna, 8 Yellowfin Tuna, 41 Yellowtail and 7 Dorado on their Tuesday, 09-25-12 trip.
The
Mission Belle
headed out on Tuesday, 09-25-12, and caught 67 Yellowtail and 20 Dorado.
The ¾ day boat
Malahini
caught 1 Bluefin Tuna, 59 Yellowtail and 5 Dorado on their trip on Thursday, 09-27-12.
All comments and suggestions welcomed!
Weather
The weather forecast for both Saturday and Sunday looks to be quite breezy for the offshore runs. Always check the latest forecast before leaving the dock.
Hook Up,
Cory