by Cory Visser
Thursday Recap Report-Weekend Possibilities:
A Summary of local fishing from Santa Monica to Oceanside, including Catalina and San Clemente Islands, with fishing trips out of San Diego down to Baja, Mexico.
Well it is fall and most fishermen have hung it up until spring. Most private boaters let their boats sit, collect dust and rust over the winter, and then incur major repair bills when they want to fire the engine up, and run the boat! My challenge is to keep the large volume of readers entertained until the "exciting" fishing begins? I'm here to tell you there is a lot to do during the fall, winter and early spring. For example:
Rockfishing at its finest: Ok you don't like to use big gear, a heavy weight or lure and pull up dead weight. Guess what, switch to a light tackle rig and fish shallow water. Plastics fishing or using a Mega Bait lure in the shallows can bring excitement to your catch and the dinner value of fresh Rockfish filets is ideal.
Same things go for targeting Sand and Calico Bass. It's a blast on plastics. Fish the baits if you wish, however, most of the time the plastics catch a ratio of 3 or more to 1.
The shallow water fishing at the Channel Islands are the most productive areas and along the coastline.
Then there is always some Halibut lurking around off the sandy beaches and in the harbor. So get out and go fishing.
Private boater Matt found some Homeguard Yellowtail on the chew using live squid. Some pictures:
This week, Sergio says:
Just another pretty lady that enjoys fishing:
The Laker girls, but can they fish?
I agree with the old Farmer:
• An elderly man in Louisiana had owned a large farm for several years. He had a large pond in the back. It was properly shaped for swimming, so he fixed it up nice with picnic tables, horseshoe courts, and some apple and peach trees.
• One evening the old farmer decided to go down to the pond, as he hadn't been there for a while, and look it over. He grabbed a five-gallon bucket to bring back some fruit. As he neared the pond, he heard voices shouting and laughing with glee. As he came closer, he saw it was a bunch of young women skinny-dipping in his pond.
• He made the women aware of his presence and they all went to the deep end. One of the women shouted to him, 'we're not coming out until you leave!'
• The old man frowned, 'I didn't come down here to watch you ladies swim naked or make you get out of the pond naked.' Holding the bucket up he said,
• 'I'm here to feed the alligator...' Some old men can still think fast.
Yep, you're doing it wrong! Launch Ramp Follies at its finest:
I agree ten thousand times:
I guess he was pissed off with the Divorse settlement that she got the house and his truck. He delivered the truck this morning:
This is what I call teamwork:
A few good thoughts (PIQ):
Yes it is getting that bad: Honk if you agree?
Until December 31, 2012 the Local the fishing target is Rockfish, Lingcod, Sculpin, White Fish and Sheephead, with a few Calico and Sand Bass mixed in. Come January 1st, 2013 Rockfish season closes until March 1st. Then the target will be only Sculpin, Bass, Halibut and any exotic that may show up, however, unlikely at this time of year.
Some local reports:
Out of
Dana Wharf Sportfishing
the ½ day boat
Clemente
had a decent day of fishing on Tuesday, 11-20-12 catching 12 Calico Bass, 3 Sand Bass, 4 Sheephead, 16 Bocaccio, 36 Rockfish, 2 Sculpin and 4 Red Snapper.
A 31 pound Halibut caught off the
Reel Fun
Wednesday:
Some nice Reds caught off the
Sum Fun
Thursday:
Captain Dave Hansen says go Bass fishing:
Private boater Dave with a nice load of Reds and a surprise Thresher Shark:
Private boater
In
Santa Monica
the 3/4 day boat
Redondo Special
had a great day on their Tuesday, 11-27-12 trip catching 110 Rockfish (limits)and 2 Lingcod for 11 anglers. The
New Del Mar
had a great day of Lingcod and Rockfishing on Saturday, 11-24-12, catching 15 Sheephead, 315 Rockfish and 18 Lingcod. The ¾ day
Spitfire
also had some good Lingcod fishing on Friday, 11-23-12, catching 40 Rockfish, 1 Lingcod, 1 Thresher Shark and 160 Red Snapper . A picture of a Thresher caught off the Spitfire:
Private boater Scott fished Saturday out of MDR, catching and releasing some short Halibut until friend Lenny caught this legal:
Out of
San Pedro
, the ½ day boat
Monte Carlo
had a decent trip Tuesday, 11-27-12 catching 6 Calico Bass, 5 Sand Bass, 23 Sheephead, 16 Whitefish, 26 Rockfish, 5 Lingcod, 3 Sculpin and 93 Red Snapper . The ¾ day
Sea Angler
is targeting Sand Dabs and catching them by the thousand.
Out of
Newport Beach
, the
Freelance
fished Saturday, 11-24-12 and caught 10 Sheephead, 45 Bocaccio, 150 Rockfish, 30 Sculpin, 357 Sand Dab and 5 Red Snapper.
Private boater Japan Ron fished with Lal on the Ducky locally on Tuesday, 11-27-12 and had a 20 fish day on the Calico and Sand Bass with some Sculpin and other critters caught. Some pictures:
I also fished with Lal on Sunday and the Calico and Sand Bass were hungry early:
Private boater ED with a nice Calico Bass:
Cool picture of a Lingcod ready to strike:
The Islands
Catalina/Santa Barbara Island!
Nice Lingcod off the
Liberty
:
The
Pursuit
out of 22nd St. Landing, ran to the Island on Saturday, 11-24-12, catching 24 Calico Bass, 52 Sheephead, 21 Whitefish, 96 Rockfish, 7 Sculpin, 361 Perch, 8 Sargo and 2 Red Snapper .
San Clemente Island!
No reports this week. The
Freedom
caught eight Yellowtail on their Saturday trip.
Down South-San Diego and good ole Mexico!
Charter Master Jamie of
Seasons Sportfishing
took out Andre and friends for some good bottom fishing. Pictures courtesy of Andre: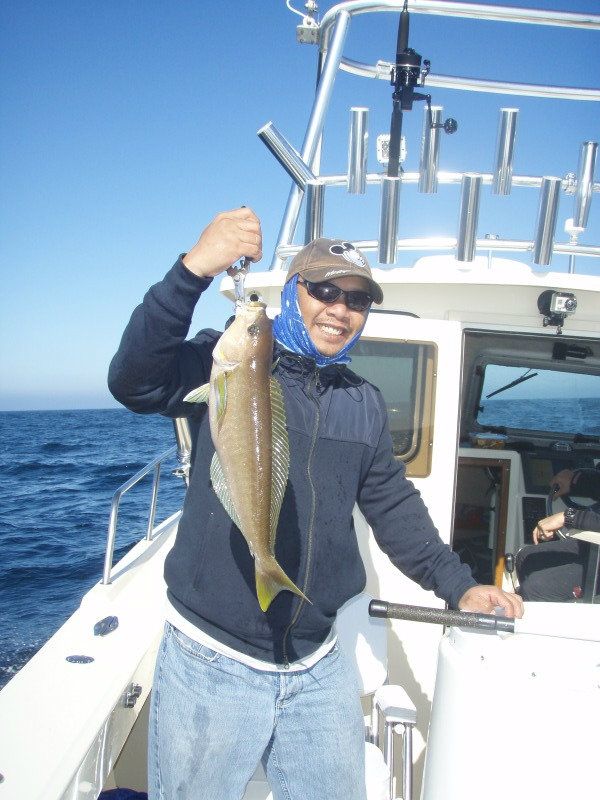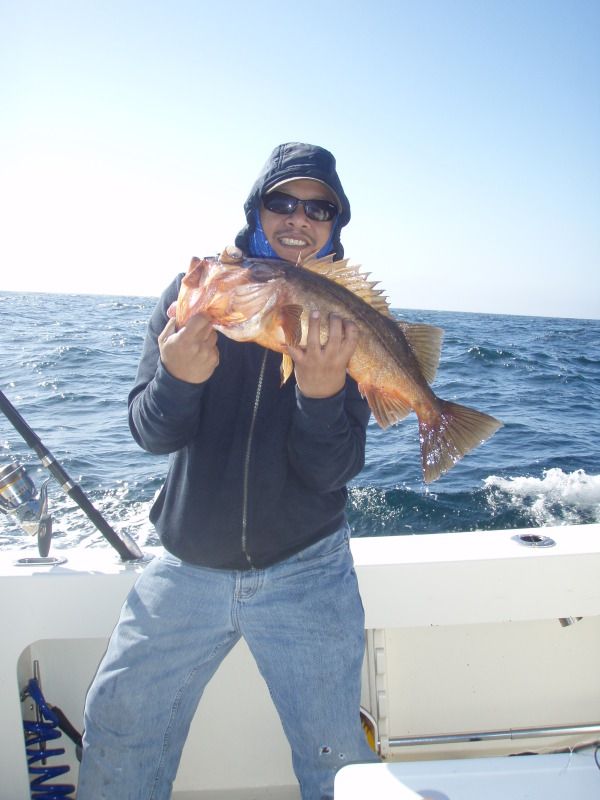 Private boater Jeff went fishing with his wife Lisa and caught several 23-24 inch fish and then a 10 and 20 pound Halibut. Here is the big one:
A nice Sheephead caught on the
El Gato
and released:
I went fishing with Bill out of Las Salinas on Wednesday, 11-28-12. Some pictures:
Myself with our biggest Red of the day:
My first big Lingcod: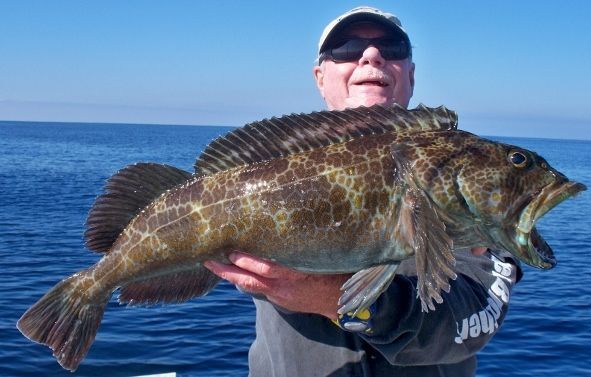 A monster Bocaccio: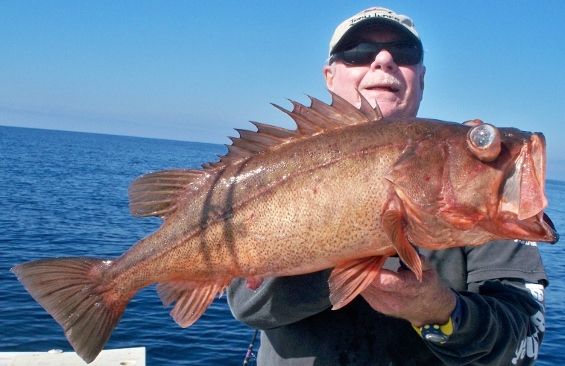 My second Big Lingcod: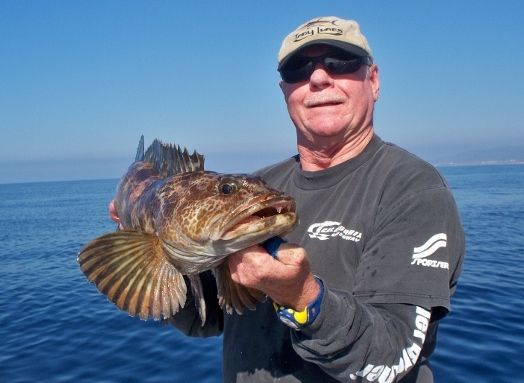 A combo picture, can you believe the size of the mouth on that bucket mouth?:
Another Lingcod picture:
Bill sees some birds working off in the distance and we go to check it out. Bill soon hollers I'm bit! Sure enough his line starts pealing out. The Yellowtail puts up a good fight, as Bill follows the fish from side to side. Finally the fish is at color and Bill guides it into range as I stick it with the gaff.
Now getting Bill to let me take a picture of any of the fish he has caught is often a challenge, but not this time:
The big Tuna are biting Long Range. A wishing I was Long Range fishing on the
Excel
:
All comments and suggestions welcomed!
Weather
Small Craft Warnings are out for most of the weekend!
Although the weather forecast for both Saturday and Sunday looks to be fairly calm, the seas are considered to be very Hazardous with huge swells to over 15 feet, so be safe, stay off the water. It will be a good weekend to catch up on Honey Dues, Christmas Shopping and watching football. Always check the latest forecast before leaving the dock.
Hook Up,
Cory