by Cory Visser
Thursday Recap Report-Weekend Possibilities:
A Summary of local fishing from Santa Monica to Oceanside, including Catalina and San Clemente Islands, with fishing trips out of San Diego down to Baja, Mexico.
The weather over the weekend was extremely nice, and provided good opportunities for all to go fishing. There were a number of private boaters that ventured out for a variety of species. Some targeted Thresher Sharks, some targeted Rockfish, both shallow water and Deep, as well as Sheephead and Whitefish, and a few found the mixed Calico and Sand Bass on the chew. In addition there were some private boaters that drifted for and caught Halibut. All in all a nice variety of fish were caught this week.
As far as Sport Boats go, there were few reports to the local Islands, Catalina and San Clemente. The Channel Islands are yielding great counts on the Big Reds and Lingcod. The ½ day and ¾ day boats mostly concentrated on Rockfish, Sculpin and on occasion some had a few decent days catching mixed Bass and a Halibut or two. I see that more boats out of San Diego are scheduling 1.5 day trips to San Clemente Island or San Nicolas Island. Not happy to see this, as these boats would generally be targeting Rockfish along the Mexican coast. However, Mexico remains confused with their policy on Visas, and have not provided an economical way to comply with their new law to allow Sport Boats to fish the Mexican coastline.
The rain came on Thursday, and is expected to continue throughout the weekend, as well as into early next week. Looks like another week where most of us will be land locked. Darn, finding enough material to write about is difficult enough with good weather, virtually impossible with lousy weather.
Private boater Tim went out seeking a Thresher Shark and his mission was accomplished:
This week Sergio says:
Just more pretty ladies that fish:
A bit of humor according to Julie:
Getting old is hell:
Locally the target is Rockfish, Lingcod, Sculpin, White Fish and Sheephead, with a few Calico and Sand Bass mixed in. Occasional a nice Halibut is added to the counts.
Private boater Sergio fished with friend Dennis in
Newport Bay
on Wednesday, 12-12-12 and caught and released a bunch of Spotted Bay Bass, Sand and Calico Bass. Some pictures:
Angler Andy with a nice Halibut:
There was some great fishing for Bass, out of
Dana Wharf Sportfishing
. On Wednesday, 12-12-12 the ½ day boat, Sum Fun had 14 lucky anglers catch 32 Calico Bass and 46 Sand Bass.
Out of
Newport
the ½ day boat
Patriot
slammed the Sand Bass with 13 anglers catching 87 Sand Bass, 6 Sheephead and 10 Sargo.
In
Santa Monica
the 3/4 day boat
Redondo Special
had a great day on their Wednesday, 12-12-12 trip catching 1 Sheephead, 80 Rockfish (limits) and 1 Lingcod for only 8 anglers. The
New Del Mar
had a decent day of Lingcod and Rockfish fishing on Saturday, 12-08-12, catching 11 Sheephead, 390 Rockfish, 15 Lingcod and 11 Sculpin.
Private boater Jonathan fished with his Dad on Sunday, 12-09-12 and found the Rockfish on the chew. The wife Jenny requested a trio of fish for dinner, a Red, a Lingcod and a Barber Pole, mission accomplished:
Out of
San Pedro
, the ½ day boat
Monte Carlo
had a decent trip Sunday, 12-09-12 catching 24 Sand Bass, 47 Sheephead, 28 Whitefish, 36 Rockfish, 2 Lingcod, 13 Sculpin and 67 Red Snapper. The ¾ day boat
Sea Angler
continues to spank the Sand Dabs, catching Thousands on most trips.
The
Channel Islands
Rockfishing is hot!
Cute picture of a young angler holding a Big Lingcod caught off the Mirage:
Angler Don had a great trip on the
Mirage
, Sunday, 12-09-12. Some pictures:
Captain Dave Hansen out of
Long Beach
found the Rockfish on the chew Wednesday, along with these big Cabazon:
Angler Japan Ron fished locally on the ¾ boat
Victory
on Wednesday, 12-13-12 and had a decent day on the Rockfish and Sculpin and a few other critter. Some pictures:
A Mantis Shrimp, never fool with these critters they can really cut you bad:
And the Jackpot winner is a Red:
I fished with private boater Lal on the Rubber Ducky on Sunday, 12-09-12. Both the Calico Bass and Sand Bass were on the chew, along with a huge variety of critters, such as Lingcod, Reds, Johnny Bass, Sculpin, Starries, Cabazon and Copper Rockfish. All but one of the 40+ Bass caught were released and most of the Rockfish. A few Pictures: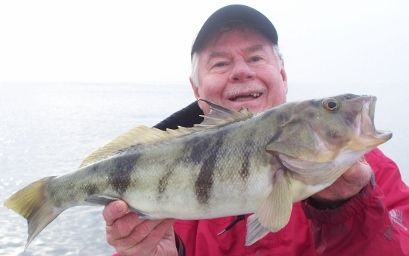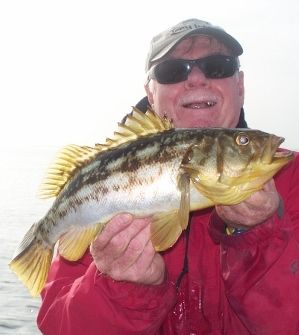 Something to think about:
Oops! Got a little too close to the boilers, you think?
Pam says:
Private boater Simon had a decent day out of Long Beach over the weekend:
The Islands
Catalina/Santa Barbara Island!
The
Sport King
had a good day at the Island on Saturday, 12-08-12 catching 22 Bocaccio, 20 Rockfish, 2 Lingcod and 65 Red Snapper.
The
Pursuit
out of 22nd St. Landing, ran to the Island on Sunday, 12-09-12, with 26 anglers catching 3 Calico Bass, 11 Sheephead, 7 Whitefish, 31 Bocaccio, 144 Rockfish, 1 Sculpin, 217 Perch and 17 Red Snapper.
Private boater Mark hired Captain Dave Hansen to guide him to the Island on Tuesday, 12-11-12. They found a variety of fish on the chew, with some great Sheephead action. Some pictures:
A cool picture of a resident Bald Eagle on Catalina that was looking for a quick meal:
San Clemente Island!
Private boater Dave fished with friends Tuesday, 12-11-12 and found the Rockfish on the chew, catching four Lingcod from 10 to 12 pounds, some big Reds and Coppers and way too many extinct Bocaccios.
The
Ocean Odyssey
fished a 1.5 day trip at the Island over the weekend, and slammed the big Reds and other Rockfish with a few Lingcod, plus some big fat Sheephead:
Down South-San Diego and good ole Mexico!
Not much to report, I hear the 1.5 day trips to
Colonet
are not being scheduled this year due to the stupid Visa regulations?
Only in
Cabo
, would you find a Marlin swimming in the harbor, I wonder how long it took before someone tossed him a bait?
Wow, now that's a monster Dorado, caught in
Panama
:
A final thought:
One last attempt at humor:
A picture of Seattle, Washington the morning after they legalized Marijuana:
All comments and suggestions welcomed!
Weather
The weather forecast for Saturday is just ok, early morning drizzles, while Sunday looks to contain some rainy conditions, with calm seas near shore and a bit breezy offshore. There is a small window of opportunity of decent weather on Monday and early Tuesday before another fierce storm arrives late and into Wednesday. Always check the latest forecast before leaving the dock.
Hook Up,
Cory