by Cory Visser
Thursday Recap Report-Weekend Possibilities:
A Summary of local fishing from Santa Monica to Oceanside, including Catalina and San Clemente Islands, with fishing trips out of San Diego down to Baja, Mexico.
The good weather window over the weekend was extremely short lived, yet many private boaters wanted to get a last trip in before the holidays. Most targeted Rockfish, both shallow water and Deep, as well as Sheephead and Whitefish, and a few found the mixed Calico and Sand Bass on the chew.
As far as Sport Boats go, most ran either ½ day or ¾ day trips, mostly concentrating on Rockfish, Sculpin with a few decent days catching mixed Bass and a Halibut or two.
The rain came on Monday, and again on Wednesday, with wind on Thursday, not providing much in the way of any reports or even opportunities to go fishing. The boats that fished on Thursday had good counts of Rockfish, Sculpin and some big fat Lingcod. The season for Rockfish, Sheephead, Lingcod and Whitefish closes at midnight 12-31-12 until 03-01-13. So this weekend and Monday are your last opportunities to load of the freezer with Taco meat.
The
Voyager
and
Old Glory
have 1 and 1.5 days scheduled out of
San Diego
for tonight to run to San Clemente Island for freezer specials. Out of
San Pedro
the
Freedom
is also scheduled to run to San Clemente Island.
This week Sergio says:
Just more pretty ladies that fish:
Private boater Sergio fished with friend Benny out of
Long Beach
on Saturday, 12-22-12 and caught and released Sand and Calico Bass. Some pictures:
Sergio also fished Thursday evening on the Gail Force for Lobsters and some fun wall fishing. He caught this big Chocolate Rockfish:
And Julie says:
Private boater Chuck had another great day fishing the Squid for bottom grabbers out of
Ocenaside
on Sunday, 12-23-12. The big Reds and Sheephead were definitely on the chew: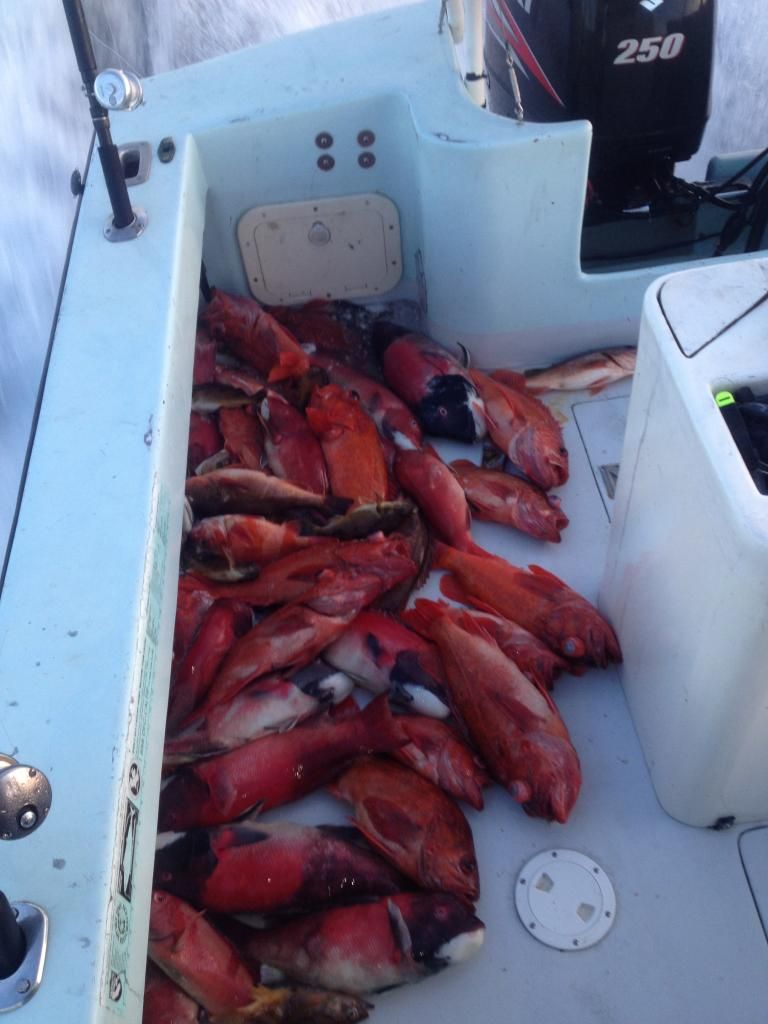 Some of best local fishing for Bass is out of
Dana Wharf Sportfishing
. On Saturday, 12-22-12 the ½ day boat,
Sum Fun
had 21 anglers catch 17 Calico Bass, 7 Sand Bass, 8 Rockfish and 1 Cabazon.
Private boater Alex with a nice catch of Reds out of
Dana Point
Saturday, 12-22-12:
In
Santa Monica
the 3/4 day boat
Redondo Special
had a great day on their Saturday, 12-22-12 trip catching 215 Rockfish and 2 Lingcod for 27 anglers. The
New Del Mar
had a decent day of Sculpin and Rockcod fishing on Sunday, 12-23-12, catching 4 Sheephead, 27 Whitefish, 425 Rockfish, 1 Lingcod and 156 Sculpin.
Angler Jimmy Bass fished Saturday,12-22-12 aboard the ¾ day boat
Spitfire
, and caught some nice Reds:
Jackpot:
Jimmy's catch:
Fishing again, Angler Jimmy Bass with a limit of Rockfish and Sculpin, caught aboard the ¾ day boat
Spitfire
, on a Rainey, windy Wednesday, 12-26-12.
Out of
San Pedro
, the ½ day boat
Monte Carlo
had a decent trip Saturday, 12-22-12 catching 1 Sheephead, 18 Whitefish, 27 Rockfish, 4 Sculpin, 94 Perch and 71 Red Snapper. The ¾ day boat
Sea Angler
continues to spank the Sand Dabs, catching 3 Bocaccio, 24 Rockfish, 4 Sculpin, 1480 Sand Dab and 53 Red Rockcod on their Saturday, 12-22-12 trip.
The
Channel Islands
Rockfishing is hot!
Private boater Brian needed to get one last trip in before the Rockfish closure on Jan. 1st so they ran to San Miguel Island and slayed the Lingcod, Reds and other assorted bottom critters on Saturday, 12-22-12. Some pictures:
Big Reds off the
Mirage
:
Always an Adventure Charters
caught the big Reds, Sunday, 12-23-12. Some pictures:
Nice Sheephead on the
Speed Twin
:
Nice Lings off the
Stardust
:
Private boater Julio fished with friends out of
Huntington Beach
and found the Lingcod on the chew Saturday, 12-22-12:
I fished with private boater Lal on the Rubber Ducky on Saturday, 12-22-12. The recent great bite on the Calico Bass slowed way down, while we caught more Sand Bass on this trip, it was a very slow chew, yet we caught a huge variety of critters, such as Lingcod, Reds, Johnny Bass, and Copper Rockfish. All but three of the 20+ Bass caught were released and 28 of the 30 Rockfish caught were released. A few Pictures: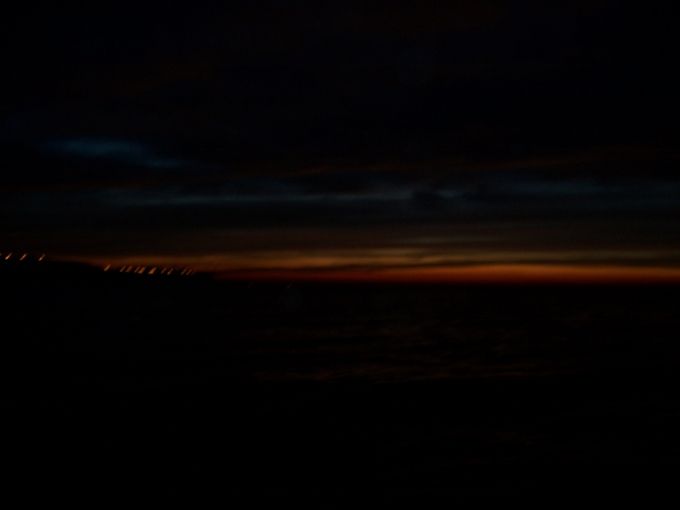 A bit later the sunrise reminds us how super living in Southern California is: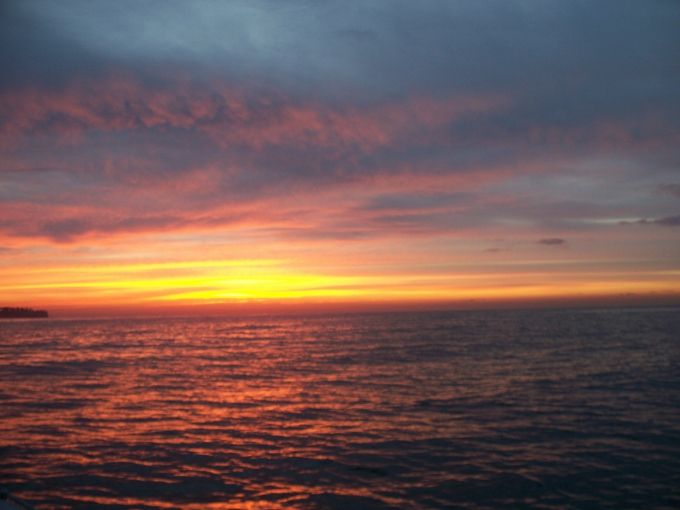 The fishing was just a slow pick on the Sand Bass with only one Calico Bass out of ten. A big change from the last few fishing trips where the Calico Bass dominated the counts.
However, the Rockfish had moved in and were on the chew, including a bunch of small 1 to 2 pound Reds and three legal sized Lingcod:
Lal with a nice Lingcod: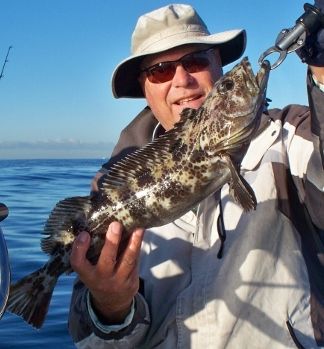 Myself with a nice Red: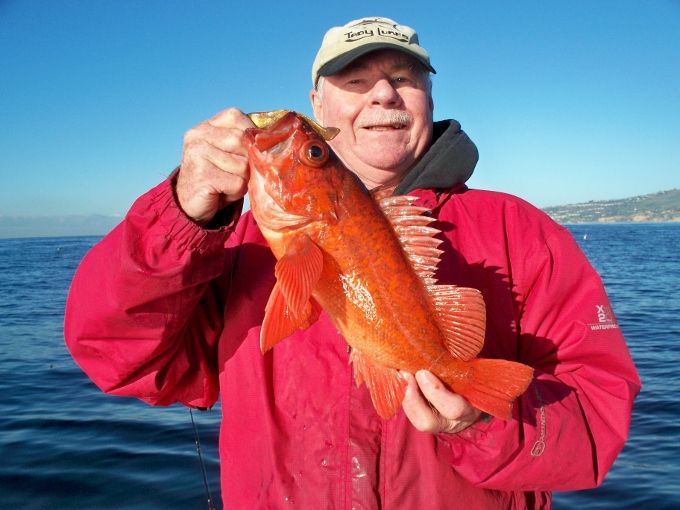 A 26 inch Lingcod released: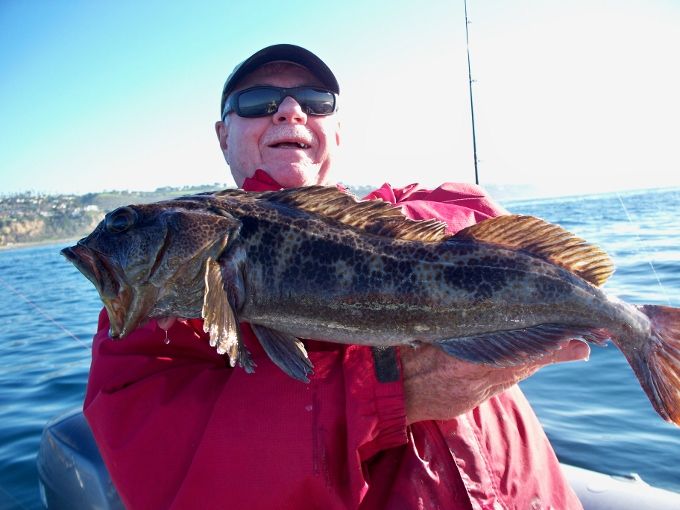 Lal with a Red:
My second Lingcod: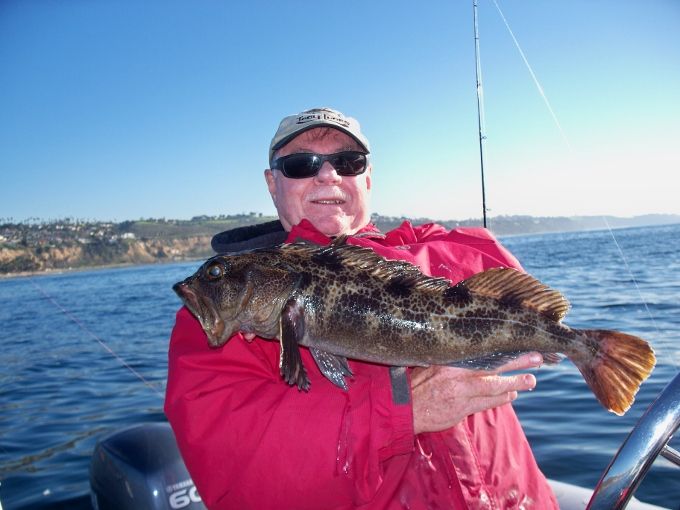 A bigger Calico Bass: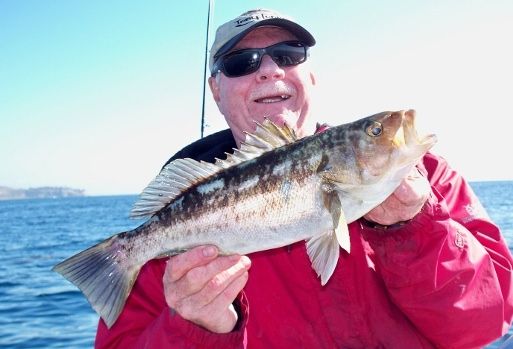 Private boater Travis with some nice Rockfish out of
Long Beach
:
The Islands
Catalina/Santa Barbara Island!
The
Sport King
had a good day at the Island on Thursday, 12-20-12 catching 36 Bocaccio, 30 Rockfish, 3 Lingcod and 80 Red Snapper.
The
Pursuit
out of 22nd St. Landing, ran to the Island on Friday, 12-21-12, with 15 anglers catching 1 Sheephead, 6 Whitefish, 22 Bocaccio, 163 Rockfish, 2 Lingcod, 4 Sculpin, 10 Perch and 35 Red Snapper.
San Clemente Island!
Angler Brian with several nice Calico Bass out of sixty released:
Down South-San Diego and good ole Mexico!
Captain Jaime of
Seasons Sportfishing
ran a winter Cod trip on Saturday, 12-22-12 and slayed the bottom critters. Some pictures: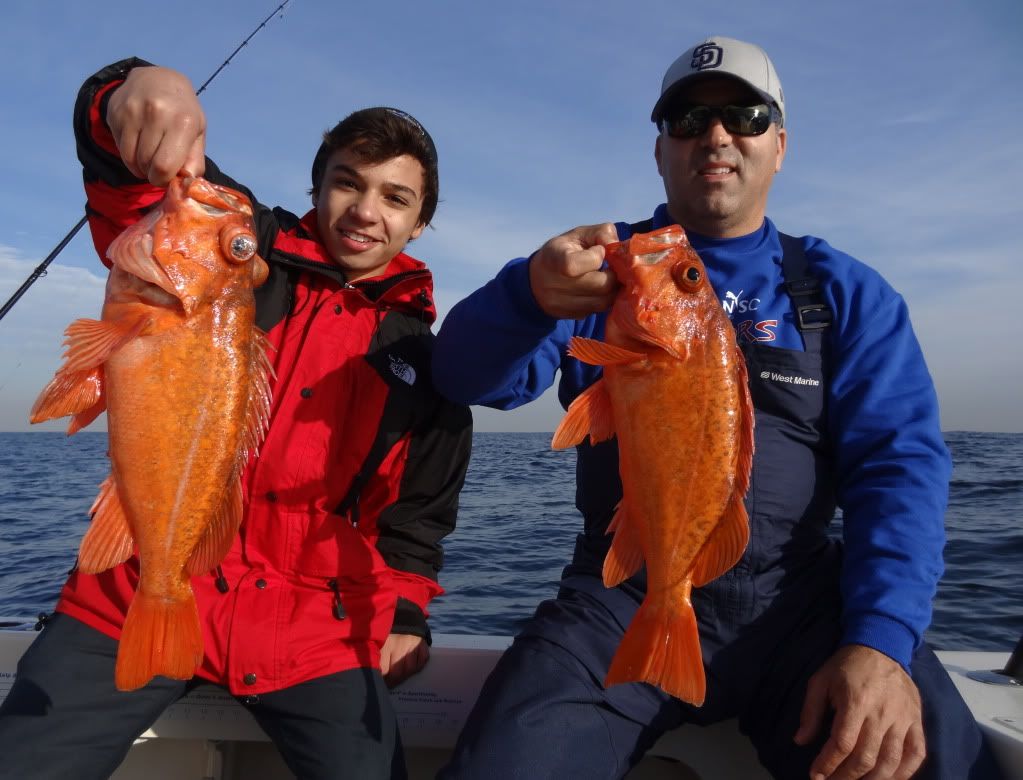 A final thought:
One last attempt at humor:
All comments and suggestions welcomed!
Weather
The weather forecast for Saturday is calm, with possible drizzles in the late morning, while Sunday looks to contain some rainy conditions, with calm seas near shore and a bit breezy offshore. Always check the latest forecast before leaving the dock.
Hook Up,
Cory