by Cory Visser
Thursday Recap Report-Weekend Possibilities:
A Summary of local fishing from Santa Monica to Oceanside, including Catalina and San Clemente Islands, with fishing trips out of San Diego down to Baja, Mexico.
A good weather window on Saturday allowed a lot of dedicated Bass fishermen to get out and catch a few, both private boaters and selected Sport Boats. However, most of the Sport Boats concentrated on catching Sculpin during the day, with a few mixed Bass and Humboldt Squid at night. The big Squid have invaded the coast from San Diego up to Long Beach. Given the sad state of the economy and the strict fishing regulations right now, the Squid are a welcome sight to the local fishing community and will hopefully provide some much needed income to survive the slow winter months.
This week Sergio says:
Just more pretty ladies that fish or not:
Wrong Sport, however, I just had to share:
And Julie says:
Some of best local fishing for Bass is out of
Dana Wharf Sportfishing
. On Wednesday, 01-09-13, the
Sum Fun
fishing Twilight caught 557 Giant Squid.
Angler Sergio fished out of
Newport Beach
off the ½ day boat
Patriot
Tuesday, 01-08-13 and caught some big Sand Bass to five pounds:
Angler Sergio fished again on the
Patriot
01-09-13 and caught limits of Sand Bass and the Jackpot winning 5 pound Sand Bass:
In
Santa Monica
the 1/2 day boat
Redondo Special
had a great day of Bass fishing on their Saturday, 1-05-13 trip catching 4 Calico Bass and 48 Sand Bass for only 12 anglers. The
New Del Mar
had a decent day of Sculpin fishing on Saturday, 1-05-13, catching 5 Calico Bass, 5 Sand Bass, 255 Sculpin and 41 Perch.
Twilight fishing
out of
Redondo
the
Slammer
caught 8 Sand Bass, 20 Sculpin, 3 Lobster, 39 Rock Crab and 1 Spider Crab for 4 anglers, Sunday, 01-06-13.
Private boater Jonathan fished with his Dad Saturday, 01-05-13 out of Santa Monica Bay and found the big Bass on the chew. Some pictures:
Jonathan fishing with the wife on Friday, 01-04-13:
Angler Jimmy Bass caught a limit of Sand Bass aboard the ¾ day boat
Spitfire
, on Saturday, 1-05-13. Here is angler Carlos with the 5.4 pound Jackpot Sand Bass on the right:
Out of
San Pedro
, the ½ day boat
San Pedro Special
ran a trip Wednesday, 1-09-13 catching 38 Sculpin and 85 Sand Dab. The ¾ day boat
Sea Angler
continues to spank the Sand Dabs, catching 2 Giant Squid and 1450 Sand Dab on their Tuesday, 1-07-13 trip.
Private boater Captain Dave Hansen took his girlfriend Kelly out Bass fishing off
Dana Point
Saturday, 01-05-13 and found them on the chew most of the day. Some pictures:
Private boater Brett fishing with his friend Joe also went Bass fishing off Dana Point Saturday, 01-05-13 and slammed them all day long. Some pictures:
Out of
Long Beach
, angler Japan Ron fished on the ¾ day boat
Victory
and they caught 35 Sculpin (limits) 15 Perch and 70 Sand Dab. Some pictures:
The ½ day boat
Southern Cal
had a real good day of Bass Fishing on Saturday, 01-05-13 catching 81 Sand Bass and 43 Sculpin.
Angler Sergio and friend with a couple of dandy Calico Bass caught on a private boat Saturday, 01-05-13:
I fished with private boater Lal on the Rubber Ducky on Saturday, 1-05-12. It was a very slow chew, with Calico Bass out numbering the Sand Bass two to one. We ended the day with 23 mixed Bass to three pounds and half a dozen Rockfish, all fish released to fight another day. A few Pictures:
The Islands
Catalina/Santa Barbara Island!
Nothing to report.
San Clemente Island!
Team
Killer Instinct
standing with their Calico Bass caught at the Island Saturday, 01-05-13. They took 13th place in the 2 day Catalina Challenge Bass Tournament, with 19.7 pounds, and the biggest weighing 5.04 pounds:
Private boater Nathanial also in the Tournament with some Dandy Calico Bass:
Down South-San Diego and good ole Mexico!
It's wide open fishing for the Humboldt Squid, as the New Seaforth caught 1100 Squid for their 89 anglers out of Mission Bay, Thursday night, 01-10-13. A few private boaters' ventured down south to catch some Lingcod, Reds and other Rockfish in the flat calm weather on Saturday.
Captain Jaime of
Seasons Sportfishing
ran a winter Cod trip on Saturday, 1-05-12 and found a good bite on the big Reds until the big squid moved in and shut down the bite. Some pictures: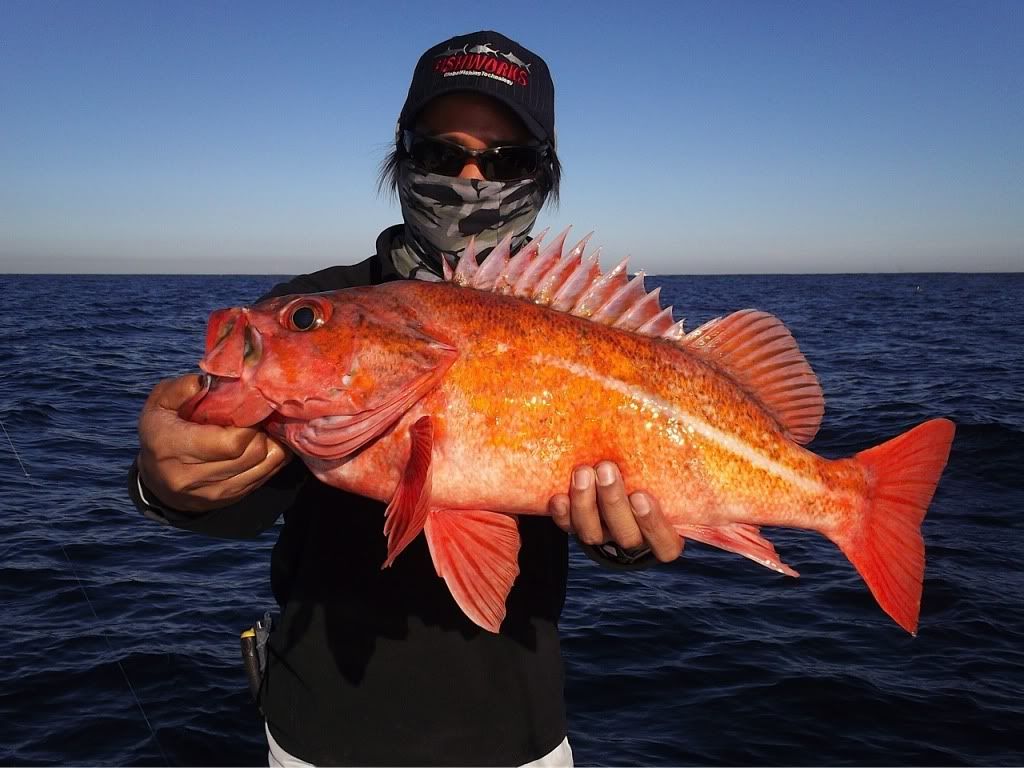 Out of Ensenada
Charter Master Louie took a group out both Friday and Saturday, 01-04 and 01-05-13. They caught Bonito to 14 pounds, saw but didn't hook any Yellowtail and finished up with some nice Rockfish. Some pictures:
One last attempt at humor:
Ever had that feeling on the water, I have, where did all the fish go?
All comments and suggestions welcomed!
Weather
The weather forecast for Saturday is looking iffy and breezy, while Sunday looks to contain better conditions in the morning and afternoon winds. Always check the latest forecast before leaving the dock.
Hook Up,
Cory