by Cory Visser
Thursday Recap Report-Weekend Possibilities:
A Summary of local fishing from Santa Monica to Oceanside, including Catalina and San Clemente Islands, with fishing trips out of San Diego down to Baja, Mexico.
Well hopefully, we all recovered from the deep freeze. Being a native Californian, it felt like I was visiting the Antarctic on a research mission? My good buddy Lal and I decided that with morning temperatures in the 20's we would pass on a Sunday fishing trip for Bass. By The Way, congrats to Lal for shooting a hole in one in his golf tournament on Saturday, wow! Now for this week's report, I'm open for suggestions, as few ventured out, leaving me with little material to write about. At least the forecast for this weekend is for temperatures in the 70's and 80's, hurrah! I'm confident that there will a renewed interest in fishing this weekend and I will certainly be part of that scenario.
OK, so here goes nothing for this week. The Bass went into virtual shock or hibernation, and you probably had to hit them on the head to encourage a bite. The
Long Beach Halibut Tournament
began on the
Native Sun
, and a few nice Butts are already on the leader board. If you like Sculpin and Perch fishing, locally, it was all you wanted on some trips. Then the Humboldt Squid produced a frenzy at night, all up and down the coast. I got an invite to fish at night for Squid and politely declined, it is cold enough during the day, let alone in the dark, Brrrrrrrrrrrrrr! Kudos to those that bundled up and made a go of it for some tasty Calamari. South of the border the itch to catch a few fish tacos was scratched by myself and a few others.
And of course I have provided a few non fishing pictures and quotes for your entertainment, courtesy of my good friends on Facebook.
This week Sergio says:
Sergio humor;
A Trifecta on Wednesday, when three is not a crowd?
Just more pretty ladies that fish or not:
And Julie says:
Some of best local fishing for Bass is out of Dana Wharf Sportfishing. On Tuesday, 01-15-13 the ¾ day boat, Reel Fun had 8 anglers catch 5 Calico Bass, 1 Sand Bass and 35 Sand Dab. The Dana Pride caught 999 Giant Squid on their Twilight trip, Tuesday, 01-15-13.
Charter Captain Dave Hansen ran a Bass special over the weekend for his client, and they caught limits of both Calico and Sand Bass.
In
Santa Monica
the 3/4 day boat
Redondo Special
had a great day on their Sunday, 01-13-13 trip catching 8 Sand Bass and 53 Sculpin for 12 anglers. The
New Del Mar
had a decent day of Sculpin fishing on Saturday, 01-12-13, catching 1 Sand Bass, 202 Sculpin and 41 Perch. The ¾ day
Spitfire
can still find some decent Bass fishing on their trips, as they caught 7 Calico Bass, 22 Sand Bass and 90 Sculpin (limits) on Saturday, 01-12-13.
Out of
San Pedro
, the ½ day boat
San Pedro Special
had a decent trip Sunday, 01-13-12 catching 73 Sculpin and 125 Sand Dab. The ¾ day boat
Sea Angler
continues to spank the Sand Dabs, catching over three thousand on their Sunday, 01-13-12 trip.
Angler Rudy with a nice Halibut caught off the ½ day boat
City of Long Beach
.
The
Native Sun
out of
Long Beach
with a great start to their Halibut Derby that started Wednesday, 01-16-13, which was caught by Angler John Harris, 28.3 pounds:
That Halibut didn't last long on the leader board as a 35 pounder was landed on Thursday, 01-17-13 by angler Angel Garcia:
Out of Long Beach, angler Japan Ron fished on the ¾ day boat
Victory
, Wednesday, 01-16-13, and they caught 50 Sculpin (limits) 6 Sand Bass and 20 Perch. Some pictures:
Jackpot Sand Bass? No not in the Pot:
The Islands
Catalina/Santa Barbara Island!
No reports.
San Clemente Island!
No reports.
Down South-San Diego and good ole Mexico!
I fished Wednesday, 01-16-13 with good friend Bill out of Las Salinas. We overcame some fierce winds to catch limits of Lingcod to 12 pounds and a dozen other assorted Rockfish. Some pictures: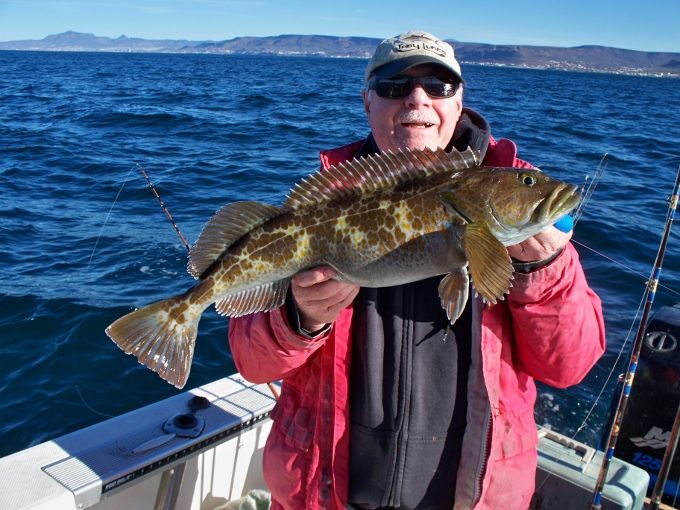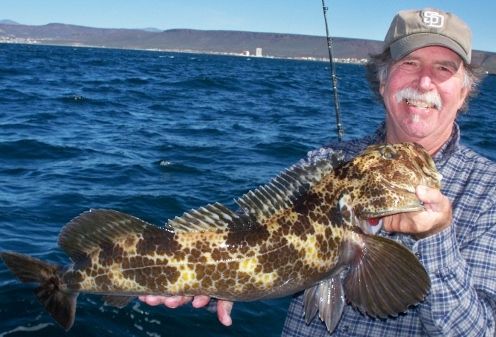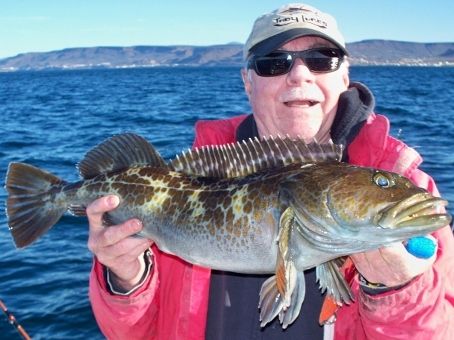 We caught 15 lingcod, 10 of which were over 24 inches, keeping four. We only caught six Bocaccio, the first time in forever, we didn't limit out. We didn't return with a limit of 20 fish, however, we were very close to limits, only because we released so many Lingcod. Considering the late start and crappy conditions, it was a surprising day of decent fishing. At 1:30 pm we called it a day. The winds were now at 25+ knots with gusts over 30, time to bail.
The day's catch of the four Lingcod kept: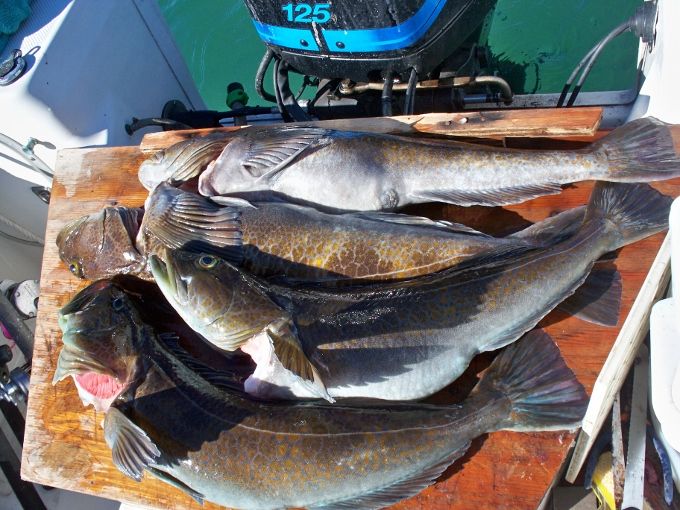 Private boater Harry fished with friend Clay on Monday, 01-14-13 and they both caught a bunch of Reds:
Have you ever seen one of these a
South African Cob
? Looks like one huge White Seabass or Corvina, 146 pounds:
One last attempt at humor:
More launch ramp follies, back her up just a wee bit more, you need to get deeper, oops, stop, stop, too far!
All comments and suggestions welcomed!
Weather
The weather forecast for Saturday and Sunday looks to be sensational, so get out and catch some. Always check the latest forecast before leaving the dock.
Hook Up,
Cory