by Cory Visser
Thursday Recap Report-Weekend Possibilities:
A Summary of local fishing from Santa Monica to Oceanside, including Catalina and San Clemente Islands, with fishing trips out of San Diego down to Baja, Mexico.
Last week's weather sure put a damper on the fishing results. It was slim Pickens on the reports. There were very few reports from private boaters and most of the Sport Boat counts were less than stellar. Consequently today's fish summary is on the short side. Nevertheless, winter
Yellowtail
fever was caught by yours truly and I managed to cure the fever with a hot bite on the Yellowtail on Thursday fishing out of Las Salinas with my good friend Bill. The two of us caught five Yellowtail to 25+ pounds, all on the Yo Yo Iron. The Yellowtail are biting at
San Miguel Reef
inside of the Northern part of Todo Santos Island outside of
Ensenada
. The Yellowtail are also biting at the
240 Reef out of San Quintin
.
Locally it's all about the Sculpin, a few Calico and Sand Bass and occasionally a decent Halibut is landed. The
Native Sun
out of
Long Beach
has been catching Halibut to over 30 pounds in recent weeks and added some dandy 20 to 28 pound fish to their leader board this week.
Down south of the border, those that have the itch to catch big Reds and Lingcod for fish tacos have had great success when conditions permit.
The good news is that the weather has improved immensely and it's time to dust off the Rods and Reels and get out and go fishing. Enjoy the Super Bowl everyone, for our in home party we are going to be enjoying Smoked Ahi Tuna with cream cheese and crackers, Buffalo Wings and fresh Hamachi Sashimi, oh yeah!
This week Sergio says:
Sergio humor;
Hey look, there's a big rock ahead of us, oops!
More Launch Ramp Follies:
Just more pretty ladies that fish or not:
And Julie says:
Private boater Josh took his Nieces out of
Oceanside
for their first ever fishing trip and they caught a nice mixture of Bass and Perch. Some pictures:
Some decent fishing for Sculpin out of
Dana Wharf Sportfishing
. On Thursday, 01-31-13 the ½ day boat,
Sum Fun
had 19 anglers catch 90 Sculpin (limits) and 48 Sand Dab.
Out of
Newport Beach
angler Sergio fished with friends on the
Patriot
on their Tuesday, 01-29-13 trip and caught some nice mixed Calico and Sand Bass, 4 Calico Bass, 31 Sand Bass and 1 Sculpin.
In
Santa Monica
the
New Del Mar
had a decent day of Sculpin and mixed Bass fishing on Thursday, 1-31-13, catching 13 Calico Bass, 14 Sand Bass, 149 Sculpin and 58 Perch.
Jackpot Jimmy decided the rain didn't matter and so did enough other anglers to get out on the 3/4 day boat
Spitfire
. They caught both Sand Bass and Sculpin in the rain:
Private boater Mark with his first Halibut:
Out of
San Pedro
, the ½ day boat
Monte Carlo
had a decent trip Wednesday, 1-30-13 catching 1 Calico Bass, 2 Sand Bass, 65 Sculpin and 25 Sand Dab. The ¾ day boat
Sea Angler
continues to spank the Sand Dabs, catching 2495 Sand Dab on their Wednesday, 1-30-13 trip.
The
Native Sun
out of
Long Beach
with a great second week start to their Halibut Derby as they fished Wednesday, 01-30-13, and caught five Halibut from 6 to 24 pounds:
Native Sun getting the job done on the Halibut, 24, 20, 16 and 6 pound butts:
Angler Spiro with a nice Halibut off the Native Sun:
The Islands
Catalina/Santa Barbara Island!
No reports!
San Clemente Island!
No reports!
Down South-San Diego and good ole Mexico!
I fished with my good friend Bill on Thursday, 01-31-13 out of Las Salinas at San Miguel Reef. We caught five Yellowtail to 25+ pounds on the Yo Yo Iron. Some pictures:
Bill with his large Yellowtail: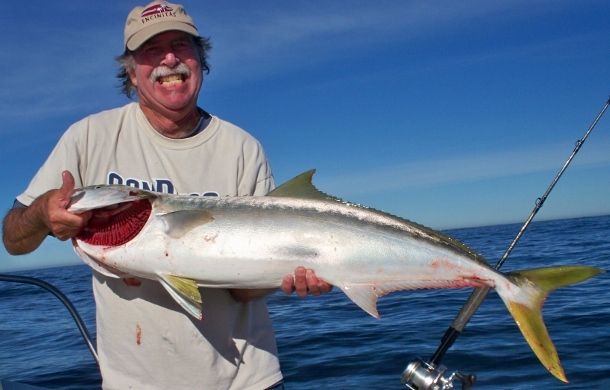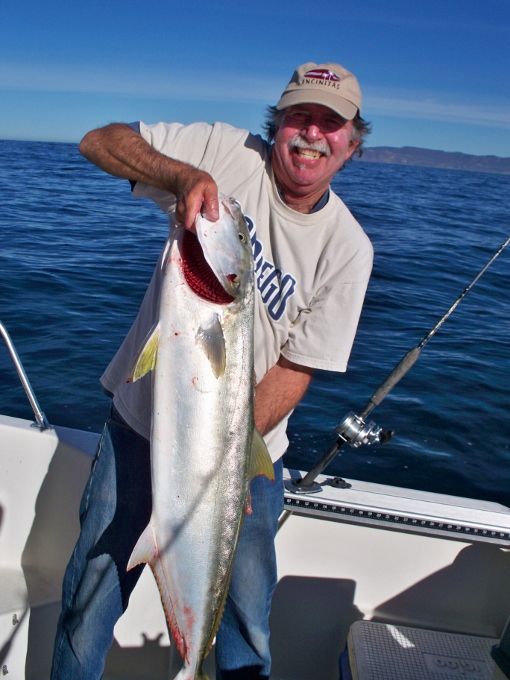 My big Yellowtail: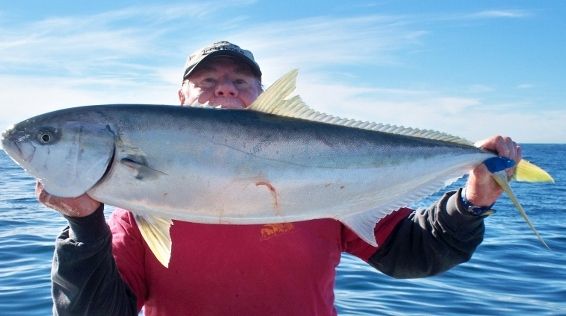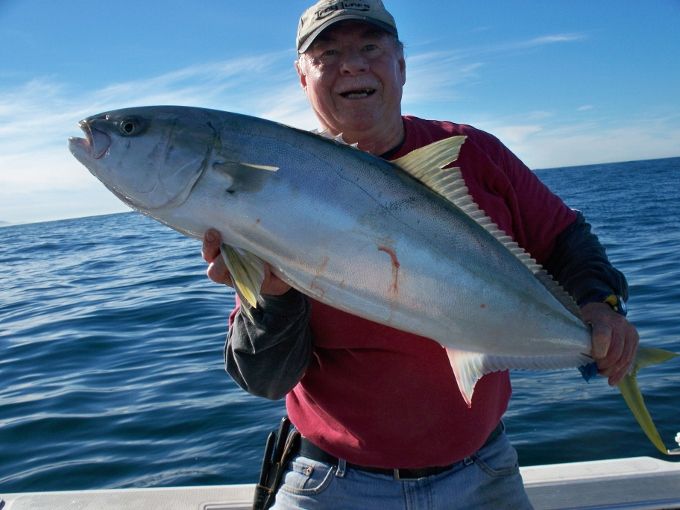 Love the big Tails sticking out of the bait tank: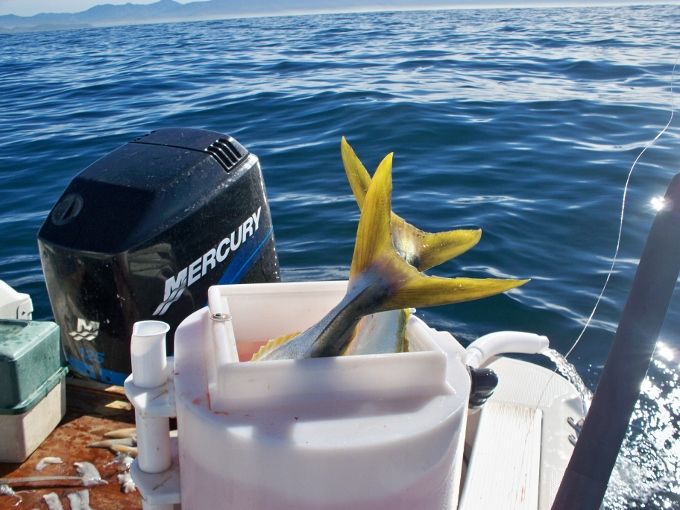 My third Yellowtail: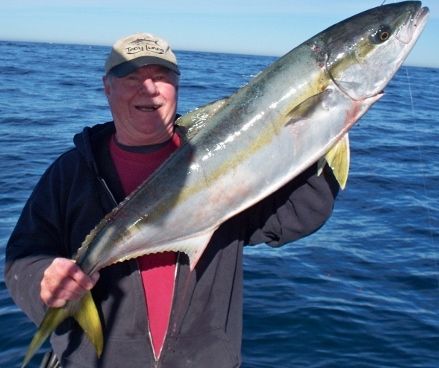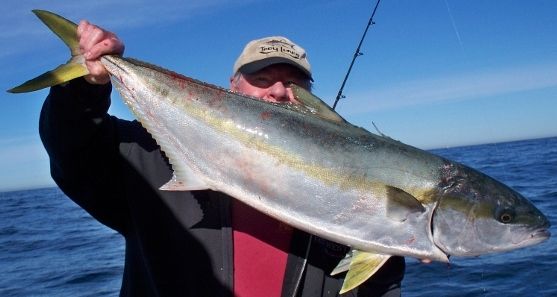 The bait tank getting full: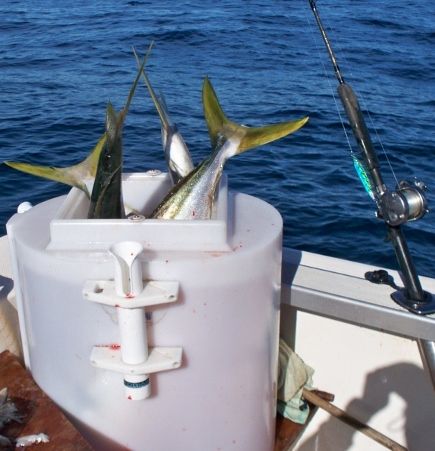 The day's catch: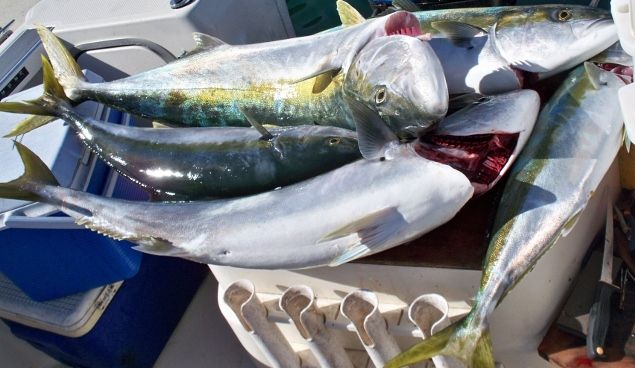 Captain Duane of Seasons Sportfishing ran a winter Cod trip on Saturday, 1-26-13. Rain or shine they were going fishing; of course little wind certainly helped their cause? It was a slow pick, but they still found some quality on the big Reds and assorted other bottom critters. Some pictures: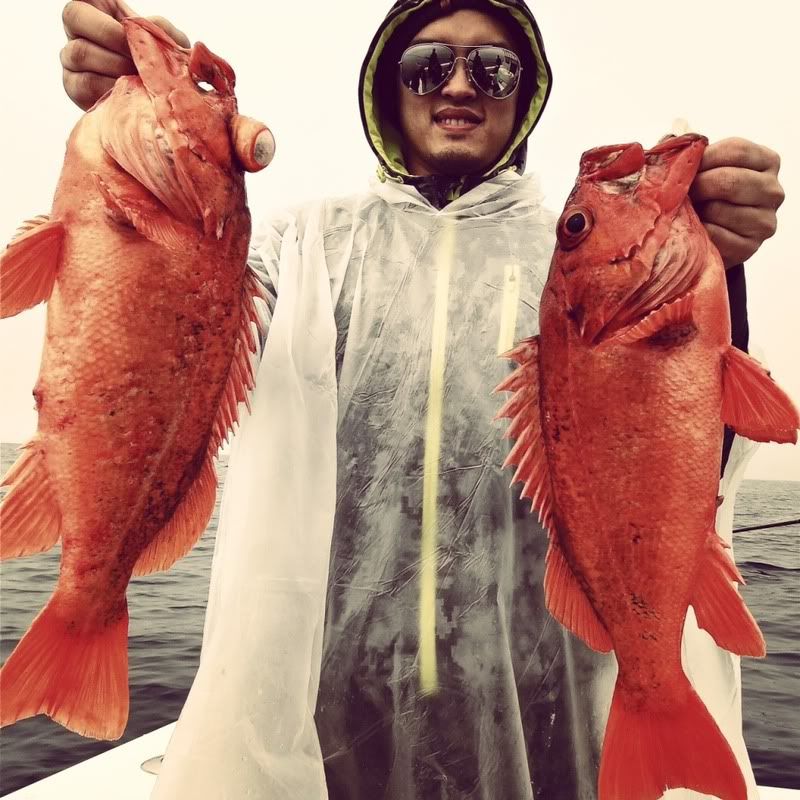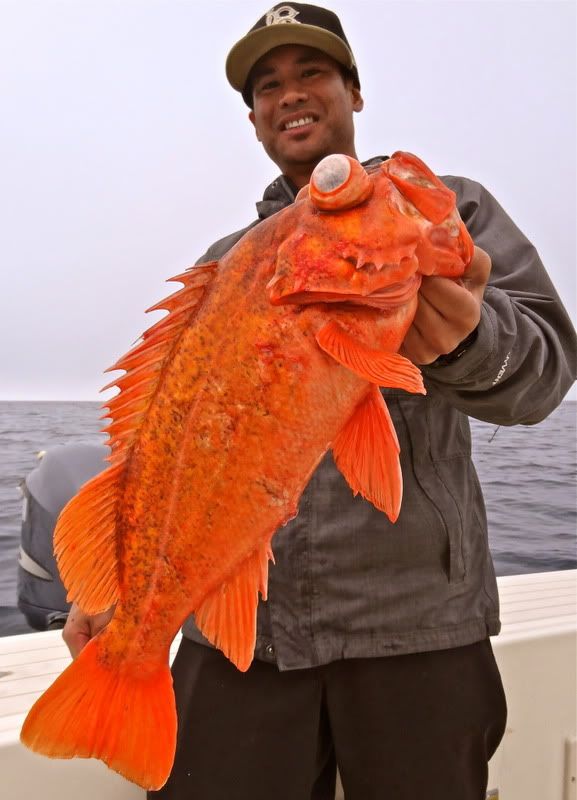 Private boater Robert fished with a friend on Sunday, 01-20-13 and they both caught some nice Halibut:
With a sensational catch of Winter Yellowtail the previous week, Captain Louie again ran his boat "Its for Reel" out of Ensenada with guests, Friday, 01-24-13 and they started the day with no signs of yellowtail and proceeded catch Calico Bass, Lingcod, and Rockfish. Then the birds began to dive and it was game on, as the big Yellowtail were chasing bait. They caught 11 Yellowtail to 30 pounds, all on the iron. Some pictures:
A final thought:
One last attempt at humor according to Kirk:
All comments and suggestions welcomed!
Weather
The weather forecast for Saturday and Sunday looks to be very nice, with calm seas and plenty of sunshine. Always check the latest forecast before leaving the dock.
Hook Up,
Cory