by Cory Visser
Thursday Recap Report-Weekend Possibilities:
A Summary of local fishing from Santa Monica to Oceanside, including Catalina and San Clemente Islands, with fishing trips out of San Diego down to Baja, Mexico.
Opening day for Rockfish, Whitefish, Sheephead and Lingcod was a fantastic success. Captains of Sport boats and private boats alike dusted off their gear and scheduled trips after a long period of doing maintenance and waiting it out. The weather for both Friday, opening day, and the weekend contributed to the overall success. There was some wind that came up in the late morning on Sunday, however most of the week it was fishable. And fish everybody did.
The
Fred Hall Show
was quite popular on their opening day, Wednesday, 03-06-13. I worked the
AllCoast
booth with Captain Dav, Marli and Japan Ron. The turnout was much larger than last year. I wll return to the booth on closing day, Sunday, 03-10-13. Hope to see you there, and with rain the last few days and forecasts of winds on Saturday, it makes sense to plan a day at the show this weekend.
The new fishing regulations for the three species of Bass kicked in on 03-01-13. Calico, Sand and Bay Bass are now a combined total limit of five, and each Bass must be at least 14 inches in size. Theoretically Bass begin to spawn at around 12 inches, and this gives them an added two years to breed. Also who really needs to take home a 12 inch Bass for dinner, not much meat there?
The last three years of fishing the annual spawning run that occurs all up and down the coast, yet primarily on the Huntington Flats regions has shown a significant decline in the catch ratio. Since I fish Bass year round and practice catch and release, I am thrilled about the new rules.
The
Long Beach Halibut Tournament
which ends 03-10-13 is still going strong with plenty of 20 to 30 pound Butts being added to the leader board. Halibut fishing in general has been darn good for this time of year all up and down the coast.
Other than Rockfish, the Islands remained very quiet this week. There was a lot of coverage; however the chilly 55 to 56 degree water kept the exotics at bay. The full moon made the squid hunt more difficult as well. At least it was great to finally see some reports from these areas.
The
Yellowtail
are teasing everyone down south of the border, as the
Rockpile and the Coronado Islands
yielded Yellowtail on several occasions over the weekend and throughout the week on the ¾ day boat,
San Diego
. There were also several 25-30 pound Yellowtail caught out of
San Quintin
over the weekend. I did not hear of any Yellowtail caught in
Ensenada
, nor did they bite on the multi day trips to Colonet.
A number of boats ran 1.5 day trips down south of the border to
Colonet
and other destinations. They all had great trips, with limits of Reds and assorted rockfish, with some great Lingcod fishing adding spice to the cake. Some pictures off the
Voyager 2.5
day trip returning Thursday, 03-07-13:
This week Sergio Says:
We need more of these events:
Sergio humor:
More humor:
Just more pretty ladies that fish or not:
Julie humor:
Angler Aimee with a nice Chuckle Head Rockfish on the Speed Twin:
The ever present Bocaccio:
For local fishing out of
Dana Wharf Sportfishing
the ½ day boat,
Sum Fun
had 15 anglers catch 2 Sand Bass, 4 Sheephead, 9 Whitefish, 2 Bocaccio, 47 Rockfish, 3 Sculpin, 36 Sand Dab and 2 Red Snapper on their Monday, 03-04-13 trip.
Angler Sergio went fishing Friday, 03-01-13, on the
Freelance
with friends and they had a great day of fishing on the Rock fish opener:
Angler Paul fished on the
Western Pride out of Davey's Locker
had a great Rockcod trip Monday, 03-04-13:
Out of
Pierpoint Landing
the ½ day boat
Southern Cal
has been doing well on the Rockfish catching 30 Bocaccio, (limits), 25 Rockfish, 120 Sand Dab and 35 Red Snapper on their trip Saturday, 03-02-13.
Angler Japan Ron fished the ¾ day boat
Victory
on Friday, 03-01-13 for opening day for Rockfish. The fishing was good, and they caught 18 Sheephead, 35 Whitefish, 90 Bocaccio (limits), 80 Rockfish and 80 Red Snapper. Some pictures from Ron:
Private boater Steven with a big Calico Bass out of
Long Beach at PV
on Monday, 03-04-13:
In
Santa Monica
the
New Del Mar
had a decent day of fishing on Saturday, 03-02-13, catching 400 Rockfish and one Lingcod. The ¾ day
Spitfire
had a good day on Saturday, 03-02-13 with 29 anglers catching 290 Rockfish (limits), 1 Lingcod and 45 Sculpin.
Nice Reds on his Saturday, 03-02-13 trip on the
Spitfire
by Jimmy Bass:
Out of
San Pedro
, the ½ day boat
Monte Carlo
had a decent trip Monday, 03-04-13, catching 37 Rockfish, 1 Sole and 68 Red Snapper. The ¾ day boat
Sea Angler
continues to spank the Sand Dabs, catching 2975 on their Saturday, 03-02-13 trip.
Anglers with Halibut off the
Native Sun
, out of
Long Beach
, caught:
Saturday, 03-02-13:
Wednesday, 03-06-13:
Private boater Conner fished on Wednesday, 03-05-13 locally out of Long Beach and caught these dandy Sand Bass:
The Islands
Catalina/Santa Barbara Island!
The
Pursuit out 22nd St Landing
had a great day at the Island Sunday, 03-03-13, catching 2 Sheephead, 80 Whitefish, 180 Rockfish, 38 Lingcod and 55 Red Snapper.
Captain Jaime of
Seasons Sportfishing
took their new 34' Parker out for a shakedown run to Catalina, Saturday, 03-02-13, with reliable anglers Bill and Roxy. The fishing was slow, but the afternoon produced some good counts on the Reds.
I went fishing with private boater John on Friday evening, fishing Saturday, 03-02-13 and Sunday, 03-03-13. We left out of San Pedro. The weather was sensational on Saturday, yet the fishing was very slow! We caught nearly a limit of Rockfish at the West end on Saturday. Friday night making squid was a lot of effort, but we managed over 150 pieces. The entire close in kelp areas yielded nothing, up and down the Island. We were hoping for a bite on the home guard Yellowtail, yet none developed. We woke up to a stiff breeze on Sunday at the Isthmus. Tried to return to the west end to catch a few more fish tacos, and found only white caps in our way. Settled for 7 Calico Bass and a dozen Rockfish fishing plastics along the Palo Verdes coast, all fish released to fight another day.
San Clemente Island!
The
Freedom out of 22nd St. Landing
had a super day of fishing on Monday, 03-04-13, catching 86 Sheephead, 131 Whitefish, 12 Bocaccio, 162 Rockfish, 3 Lingcod, 6 Sculpin and 102 Red Snapper.
Captain Dave Hansen put some private boaters on the big Calico Bass over the weekend, here is an 8.75 pound Calico Bass:
They also caught plenty of Rockcod each day.
A big Lingcod off the
Thunderbird
at the Island Saturday, 03-02-13:
Down South-San Diego and good ole Mexico!
The ½ day boat
Dolphin out of Seaforth Landing
with a good day of Rockfishing on Thursday, 03-07-13:
Captain Juan out of
San Quintin
fished on back to back charters with a great group of anglers over the weekend. They caught several 25 to 30 pound
Yellowtail
on the cod rigs, and finished off each day with a good score on Reds, Whitefish, Sheephead and Lingcod. They also fished the bay and caught some early spring Halibut. Some pictures:
Captain Duane was back at it on
Seasons Sportfishing
as he ran a Lingcod opener crew trip on Sunday, 3-03-13. In less than three hours they managed five keeper Lingcod. Some pictures: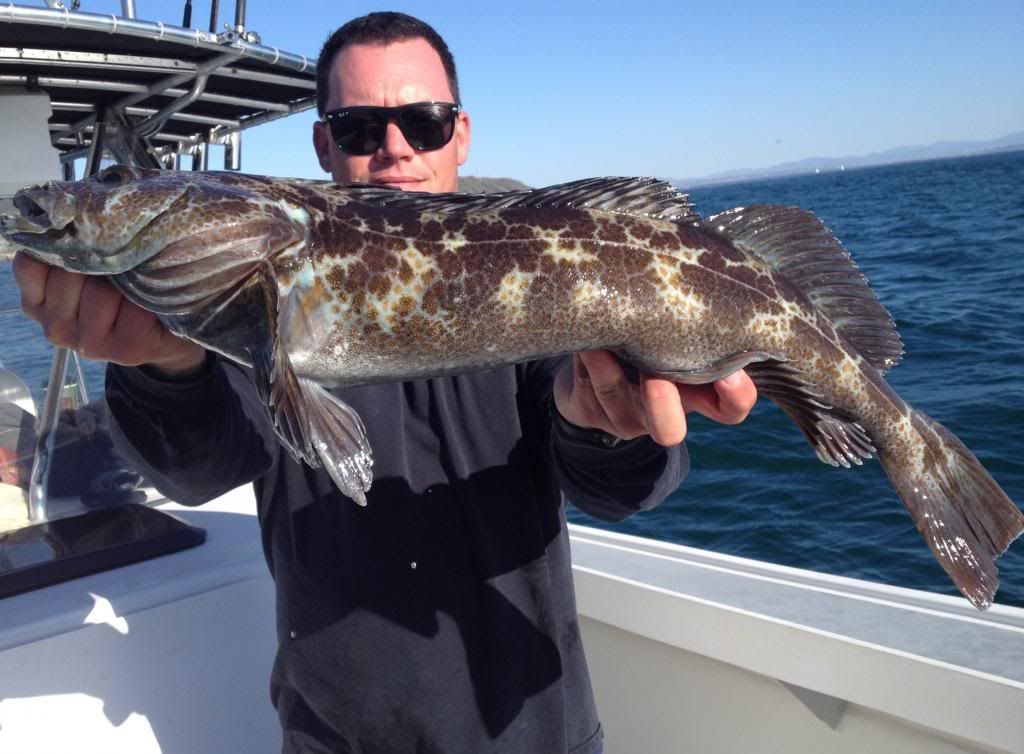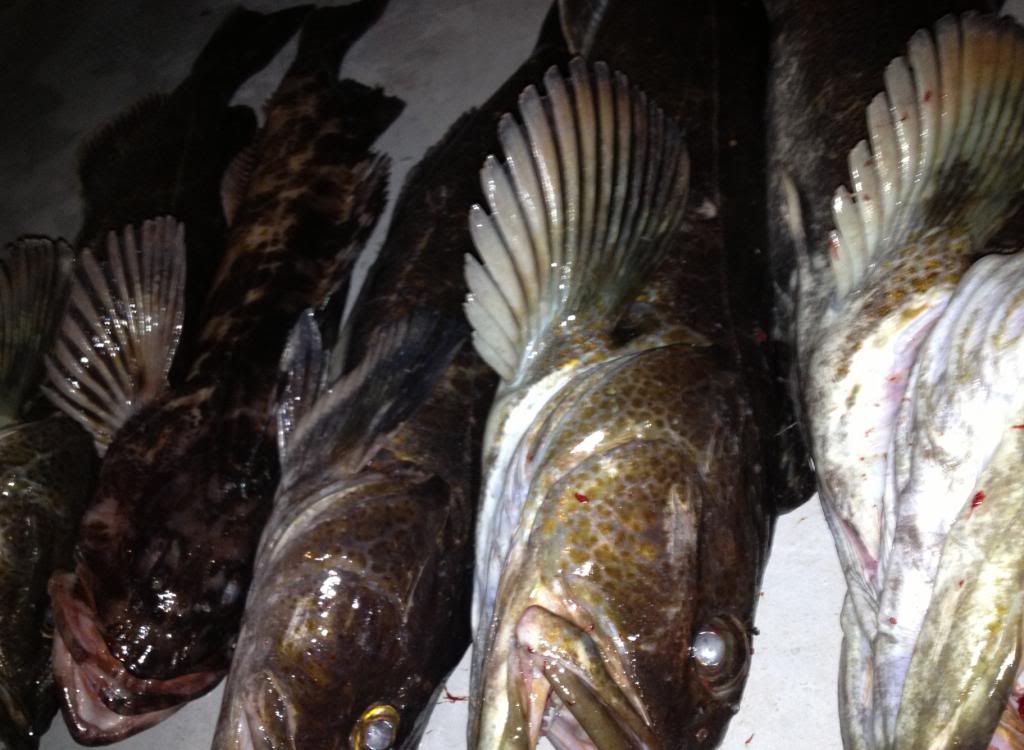 Anglers fishing Saturday, 03-02-13 off the ¾ day boat
San Diego
which found a school of Yellowtail and caught these four:
Another good trip for the Rockfish for these private boaters:
The San Diego with another two Yellowtail caught on Thursday:
Fun fishing off the
Pride
out of
Mission Bay
for Rockfish on Saturday, 03-02-13, pictures by angler Spike:
Humor:
The Terminal Tackle guys love these opportunities. I've found spots like this, how about you?
Some final thoughts:
All comments and suggestions welcomed!
Weather
The weather forecast for Saturday is for limits of wind, while Sunday looks to settle down later in the day with better conditions early in the week. Always check the latest forecast before leaving the dock.
Hook Up,
Cory