by Cory Visser
Thursday Recap Report-Weekend Possibilities:
A Summary of local fishing from Santa Monica to Oceanside, including Catalina and San Clemente Islands, with fishing trips out of San Diego down to Baja, Mexico.
We experienced hot weekend weather and mostly steady conditions during the week. The wind sort of came and went depending on the day. Locally we continue to hope for the
Barracuda
to arrive in mass, so far just a scattered showing. The
Bass
can't seem to figure things out yet, with water temps rising to attractive levels and then being driven down by winds and big swells.
A few more reports of
Coastal Tanker White Seabass
keep us encouraged, yet most are being caught with Mackerel. An influx of Squid along the coast has just not happened so far this year, which of course attracts the big White Seabass. The Islands remain remarkably quiet for this time of year. The bite up north at the Channel Islands has not resumed. Of course if you are an old pro like Matt, the right conditions in the right area can make your day. Here is Matt with a 45 pound White Seabass which he kept after releasing several others in the same size range:
Matt called in his friends and they caught a big White Seabass:
The
Halibut
bite continues at an even pace for those that fish them. Still, most of the Sport Boats primarily are concentrating on catching Rockfish, Reds and big Lingcod. Very few Twilight trips have been scheduled lately; however, when they can get out, they have found a decent bite on the Bass.
South of the border the
Yellowtail
bite had its best showing over the weekend and continuing throughout the week. Both the Sport Boats and private boaters got in on the action at the Coronado Islands. Ensenada has remained relatively quiet the last couple of weeks, although reports of good Barracuda fishing has prevailed.
Speaking of Yellowtail, the ¾ day boat
San Diego
caught 72 on Wednesday, 05-15-13 and another 70 on Thursday.
Angler Scott got in on the hot Yellowtail bite at the Coronado Islands on the ¾ day boat San Diego, Wednesday, 05-15-13, when they caught 72 Yellowtail to 30 pounds:
Angler Alex also caught Yellowtail on the San Diego:
And Angler Mark:
Angler Joey with big local Halibut caught Tuesday, 05-14-13:
Angler Sergio and friends fishing the Newport Bay, 05-11-13:
Just more pretty ladies that fish or not:
Nice Halibut off the
Fury
from Saturday's trip, 05-11-13:
A White Seabass caught off the half day boat
Monte Carlo
, Monday, 05-13-13:
Angler Sergio and Dennis fished on Thursday on the
Monte Carlo
:
Sergio with the Jackpot Sheephead:
Japan Ron fished with private boater Lal out at the Newport Pipe, Monday, 05-13-13. They found the fishing slow despite ideal weather. A couple of pictures:
I fished with good friend John's boat on Wednesday along the Palos Verdes coast. We also found the Bass fishing to be slow. We did catch a nice variety of Rockfish and Sculpin to complement our five Sand Bass and six Calico Bass. Some pictures: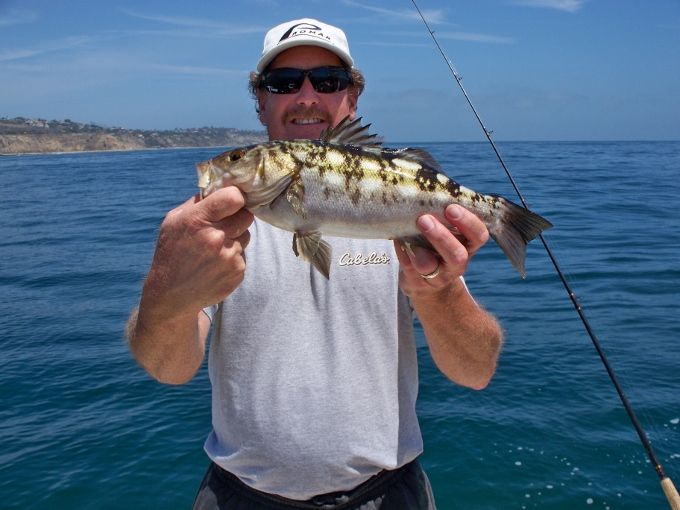 Angler Dave with a 48 pound Tanker off Malibu last weekend:
Big Lings, Reds and Chuckles off the
Stardust
, Monday, 05-13-13:
A few Barracuda caught on the Stardust, Thursday, 05-16-13:
55 pound Halibut off the
Mirage
Sunday, 05-12-13:
The Islands
Catalina/Santa Barbara Island!
The
Gail Force
fished the Island Tuesday, 05-14-13 and found the Calico Bass on the chew with a White Seabass and a Lingcod:
Nice Sheephead at the Island Saturday, 05-11-13:
Private boater Joey with a nice White Seabass:
The
Pursuit
out of 22nd Street Landing in San Pedro found Catalina to yield a good count on a variety of Rockfish and other species on their weekend trips.
San Clemente Island!
I fished with private boater Dave with three friends on Sat-05-11-13. We had a decent bite on the Reds to 6 pounds, catching 25. The big Green Spots and Santa Maris were also on the chew, they are so delicious. Bocaccios were everywhere and we released easy limits, keeping other Assorted Rockfish. We also added a couple of Lingcod to 7 pounds. We moved into shallow water and caught some Whitefish, Sheephead and a few Calico Bass. Some pictures: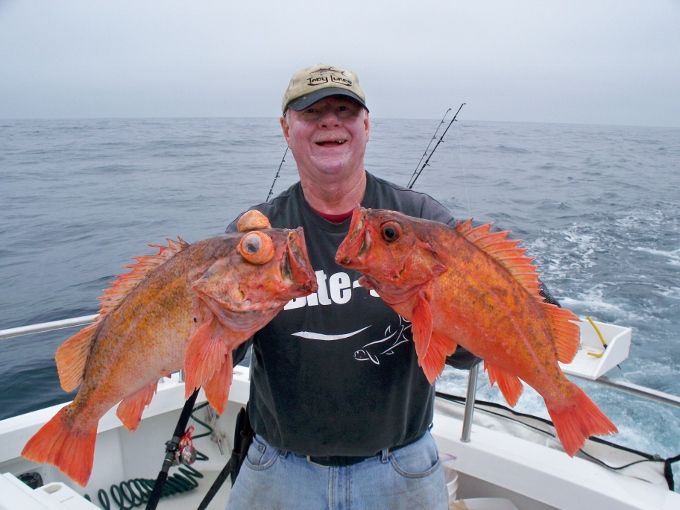 Most of the gang with Reds: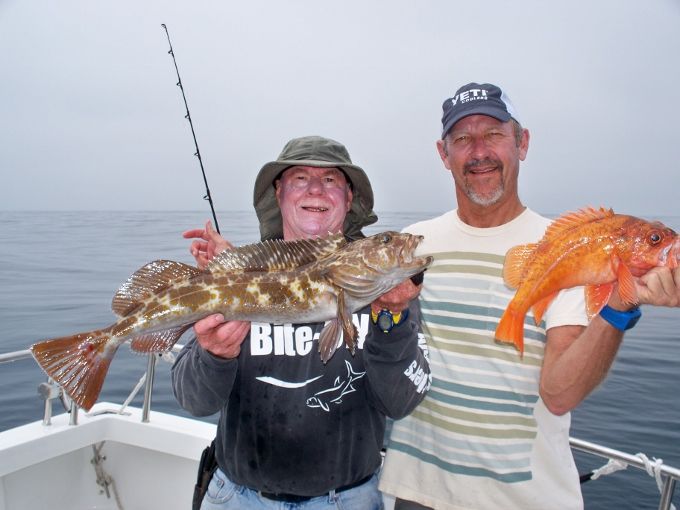 Will with another nice Red:
Here is Bob with a nice Johnny Bass: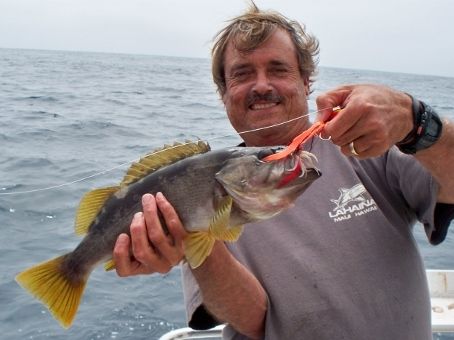 The
Voyager
fished the Island on Sat.-05-11-13 and limited out on big Reds and assorted Rockfish. Here is angler Chris with a nice Lingcod:
No Yellowtail were reported caught on the
Freedom
this week, and water temps rising have not yet woken up the Calico Bass.
The
Thunderbird
out of Davey's Locker has been running to the Island frequently and slamming the Rockfish, Reds and Lingcod.
Down South-San Diego and good ole Mexico!
A nice Halibut caught off the
Fortune
, Friday, 05-10-13:
Charter Master Jamie of
Seasons Sportfishing
found the Yellowtail and big Reds on the chew Saturday, 05-11-13. They fished the Coronado Islands and other south of the border areas. Some pictures: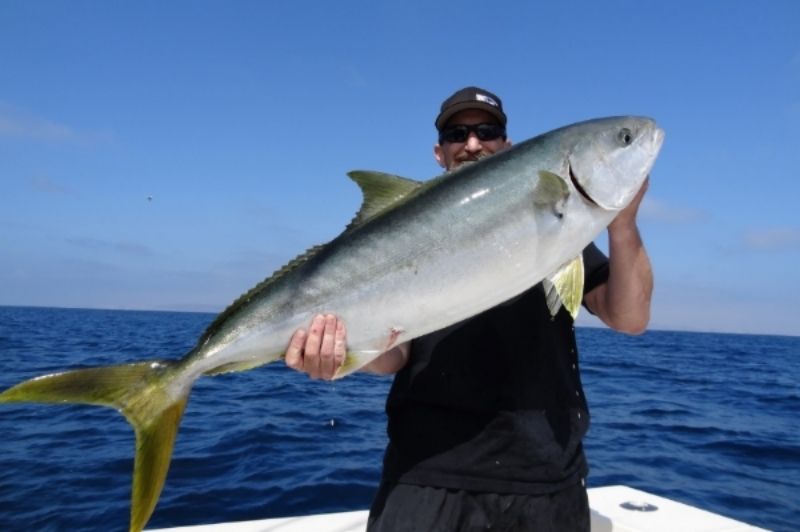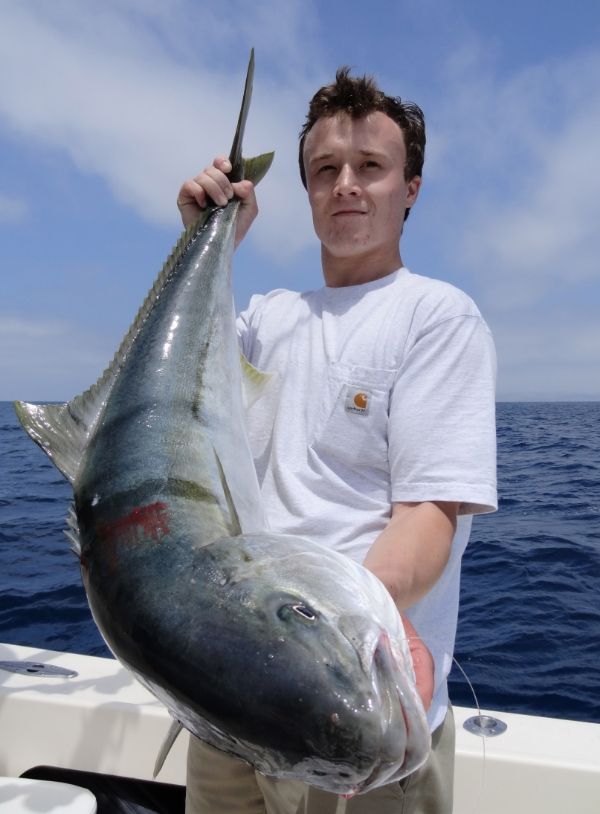 Private boater Brandon fishing with mom on Mother's day, nice catch:
Private boater Gabe fished with friends at the Coronado Islands on Sunday, 05-12-13 and caught several Yellowtail to 30 pounds.
Barracuda off the
Dolphin
:
A cool picture of swimming Pacific Barracuda:
How about a school of Alaskan Halibut:
A little Humor:
All comments and suggestions welcomed!
Weather
The weather forecast for Saturday looks to be a little breezy offshore, looks to be very fishable locally, with Sunday slightly calmer. Always check the latest forecast before leaving the dock.
Hook Up,
Cory