by Cory Visser
Thursday Recap Report-Weekend Possibilities:
A Summary of local fishing from Santa Monica to Oceanside, including Catalina and San Clemente Islands, with fishing trips out of San Diego down to Baja, Mexico.
The weekend Holiday did not disappoint. Limits of
White Seabass
at Catalina and the Channel Islands were the rule. Offshore the
Yellowtail
were biting if you found the Magic Kelp, as some did. Locally the
Barracuda
finally have arrived, with counts well over 100 for some ½ day and ¾ day boats. Yellowtail bit at Catalina over the weekend and then succumbed to the boat traffic, same for the Coronado Islands with only scattered counts to report.
The prospects for near shore Kelp Paddy Yellowtail faded after every Kelp was hit hard by both party boats and private boaters alike. Coastal Tanker White Seabass keep us encouraged, with a few still being caught, mostly with Mackerel. An influx of Squid along the coast has just not happened so far this year, which of course attracts the big White Seabass.
The Halibut bite remains impressive for those few that fish for them, especially in San Diego. The Sport Boats have found a more frequent healthy bite on both Calico and Sand Bass, although most spend their mornings catching Rockfish, Reds and big Lingcod.
A few more Twilight trips are being scheduled across the board, and when they can get out, they have found a decent bite on the Bass. For example:
Twilight fishing awesome off the Native Sun from:
5/26 - 170 sand bass, 6 Barracuda, 87 Sculpin.
5/25 - 148 Sand Bass, 6 Barracuda, 87 Sculpin and 1 Rockfish.
5/24 - 100 Sand Bass, 1 Barracuda, 67 Sculpin and 4 Rockfish.
Ensenada
has been hit and miss, yet if you hit, the fishing for Yellowtail is excellent, including reports of good Barracuda fishing.
I took advantage of the long Holiday weekend to fish on the
Aztec
for a 2.5 day trip. The promise of offshore Yellowtail on the kelp paddies combined with a wish for early season Bluefin Tuna and Albacore was on all our minds. We woke up to beautiful conditions near the 213 and Airplane banks. Water temps were 64.2 degrees with clean deep blue color. We found enough large and medium sized Kelp Paddies to make a day, albeit they were not easy to find once the wind picked up in late morning. Most of the Paddies we found were empty. Trolling we picked up a half dozen Bonito to six pounds, and two open water Yellowtail. At a little after 2 pm we found a Kelp Paddy holding and it was wide open for about 10 minutes. We put 14 Yellowtail on the boat and losing at least 10. That was it for the Yellowtail, no other Paddies were holding. On our second day we fished for Reds and Lings in tough conditions, vicious current combined with a stiff breeze. We did well despite the weather. It was a fun trip. Some pictures: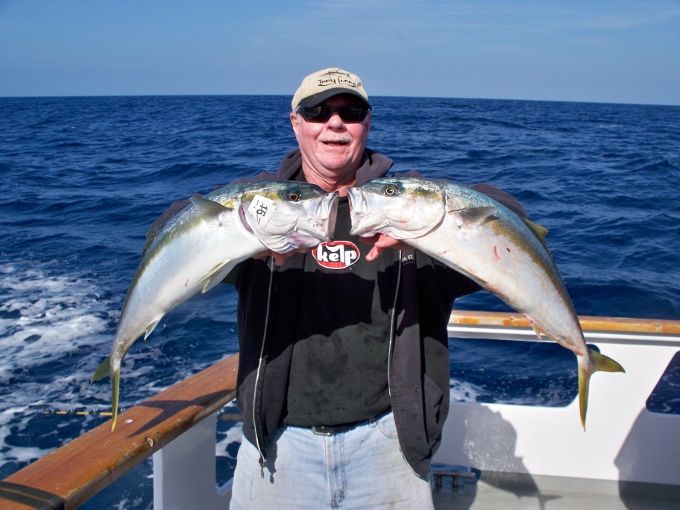 Some of the gang with their Yellowtail:
Here are a couple of happy anglers with some big Reds, up to nine pounds: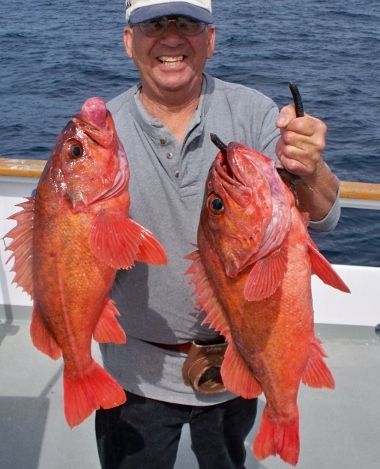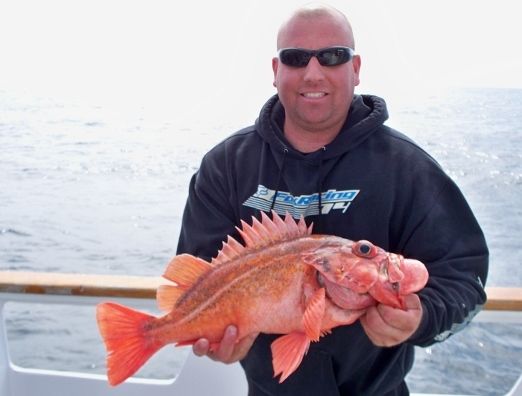 Reds, Lings and other Rockfish kept biting, despite the poor fishing conditions.
Junior was king of the Lingcod, catching five: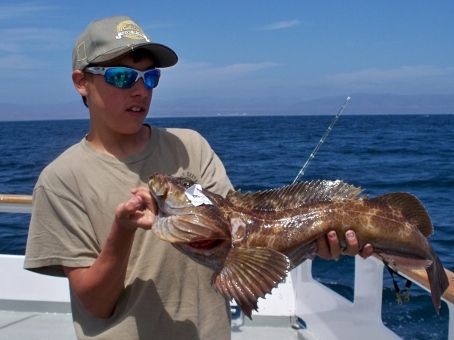 More Lings and Reds: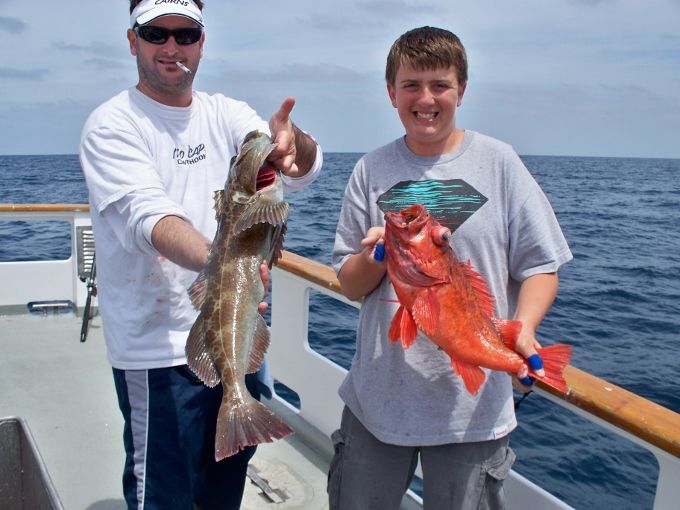 Quite a few quality Johnny Bass were caught: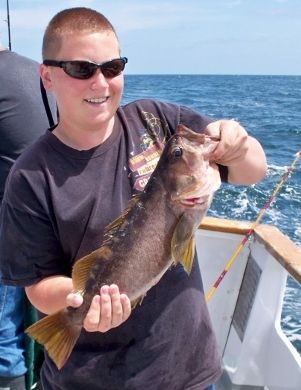 A Yellowtail off the
Native Sun
, Monday, 05-27-13:
Just more pretty ladies that fish or not:
Barracuda off the
Enterprise
by angler Steven, Sunday, 05-26-13:
Nice day of fishing off the
Monte Carlo, out of San Pedro
, Saturday, 05-18-13:
Private boater Jon and friend went offshore to check out the kelp paddy Yellowtail bite with no luck on Sat.-05-25-13. So he came back to shore and set up for the local Tanker bite. They went 1 for 2 on the C-Bass. Then they hit a local Red hole and limited out on Reds:
Private boater Dave with a 44+ pound Halibut:
Private boater Brandon with a huge Spotted Bay Bass caught, Wed.-05-29-13:
How about a
Broomtail Grouper
being caught off the
Long Beach wall
:
Then the opposite occurs, how about Salmon off the ½ day boat
New Del Mar out of Marina Del Rey
:
The Barracuda bite is on:
Nice Lingcod on the
Spitfire
, Jimmy and friend, Saturday, 05-25-13:
Angler Ericka catches a nice White Seabass Monday, 05-27-13:
The
Mirage
scores on the White Seabass, Wednesday, 05-29-13:
Nice trip on the
Stardust
, Sunday, 05-26-13:
The Islands
Catalina/Santa Barbara Island!
Private boaters Dave, Dave and Mike catch White Seabass at the Island over the weekend:
Some big Calico Bass at the Island for this private boater:
The six pack charter boat
Options
had a sensational day on Sat.-05-25-13 catching limits of White Seabass and 27 Yellowtail.
White Seabass off the
Ultra
Saturday, 05-25-13:
Angler Norman and friends with a great day on the water Sunday, 05-26-13:
Limits of White Seabass, Calico Bass and a Yellowtail, Sunday, 05-26-13 on the
Fortune:
Yellowtail and a big Halibut off the
Freelance
, Monday, 05-26-13:
The
Mardiosa
fished the Island Sunday, 05-26-13 as Chad and Mel caught these big White Seabass:
The
Pursuit out of 22nd Street Landing
in San Pedro found Catalina Yellowtail on the chew catching 51 late last week.
Private boater Aly fished with his wife and friends Wed.-05-29-13 at the Island. The found some good marks on the meter and got instant bites on Yellowtail. Then the White Seabass moved in and they quickly limited out:
San Clemente Island!
91 White Seabass and 12 Yellowtail were caught on the
Freedom
on a 2.5 day trip that returned Monday, 05-27-13, however, most of the fish were caught at Catalina:
The
Thunderbird
out of Davey's Locker has been running to the Island frequently and slamming the Rockfish, Reds and Lingcod.
Down South-San Diego and good ole Mexico!
Private boater Steve fished with his son and a friend out of Point Loma and found the big Halibut on the chew, catching six to 31 pounds, then added a 25 pound White Seabass. What a trip:
Private boater Corey with a big Bay Halibut:
Charter Master Jamie of
Seasons Sportfishing
found the Yellowtail on the chew over Memorial Day weekend. They fished the
Coronado Islands
and other south of the border areas. Some pictures: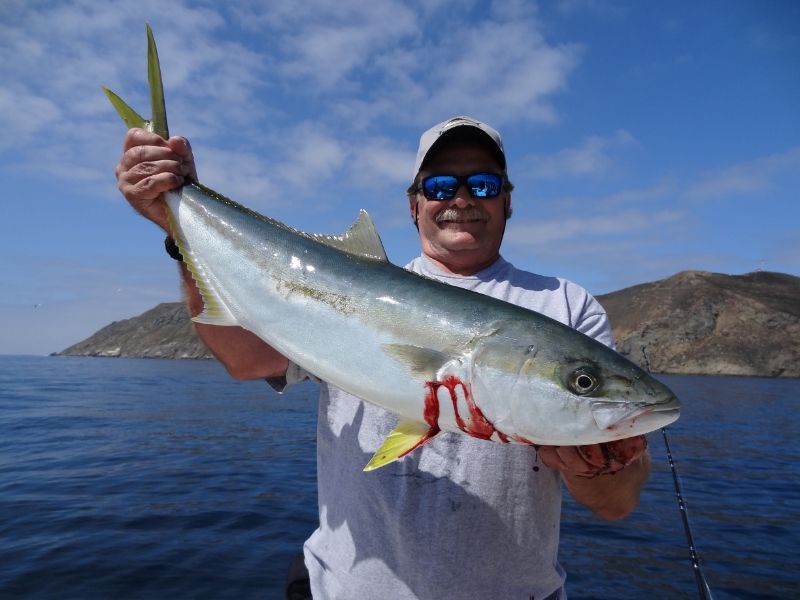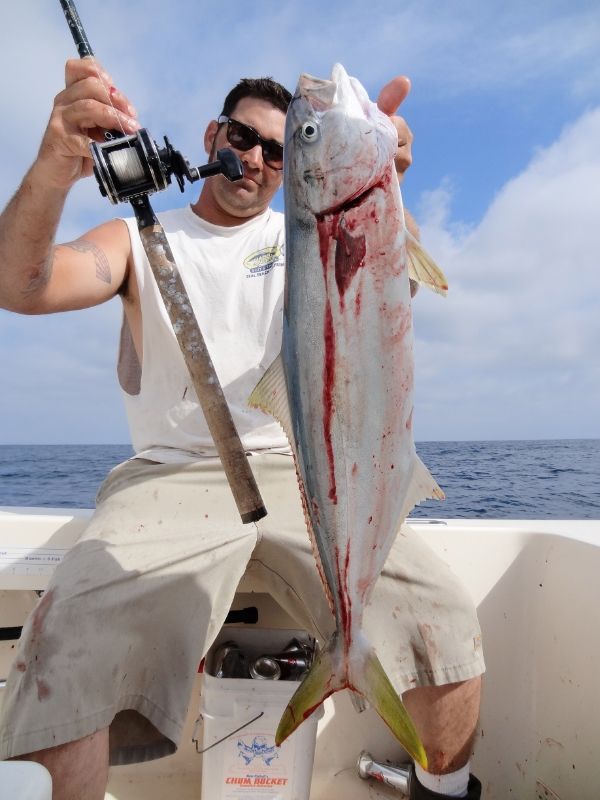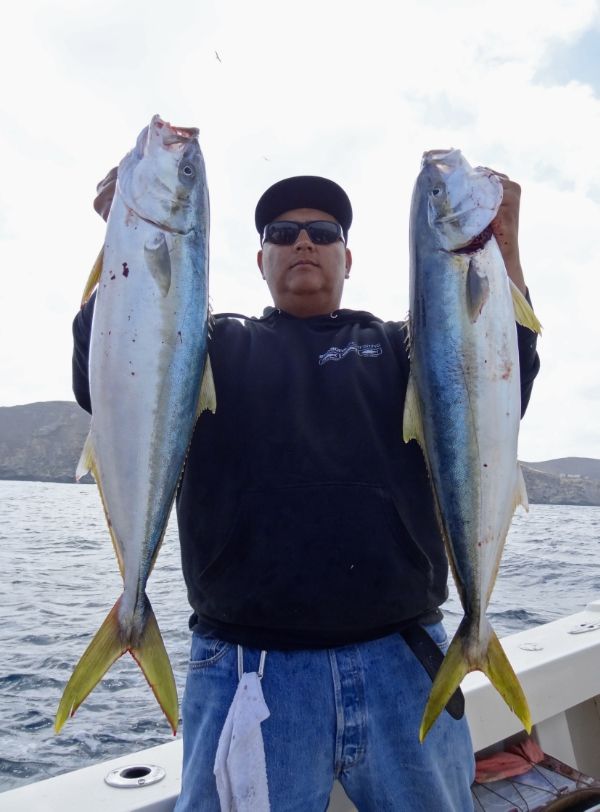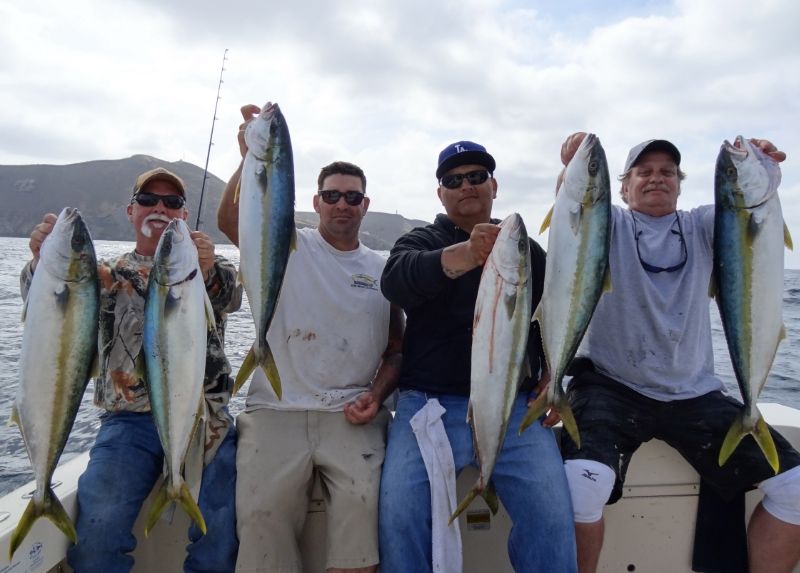 There were 142 Yellowtail caught to 20 pounds on the
Pacific Voyager
that returned from an offshore 2.5 day trip Monday, 05-27-13:
Angler Denis and family charter the
Selena
over the weekend in Ensenada and catch Yellowtail and lots of other critters:
RAD:
Quote of the day:
My thought for the day:
All comments and suggestions welcomed!
Weather
The weather forecast for Saturday and Sunday looks to be very fishable, calm seas and smaller swells. Always check the latest forecast before leaving the dock.
Hook Up,
Cory