by Cory Visser
Thursday Recap Report-Weekend Possibilities:
A Summary of local fishing from Santa Monica to Oceanside, including Catalina and San Clemente Islands, with fishing trips out of San Diego down to Baja, Mexico.
Weekend fishing for
Offshore Yellowtail
continued with limits being the rule on most 1.5 day trips or longer. A hand full of
Bluefin Tuna
added to the spice of each trip, with Tuna over 100 pounds.
White Seabass
and huge
Halibut
are being caught at the
Channel Islands
on a regular basis.
On any given day there have been excellent counts of
Yellowtail
being caught at
Catalina
, primarily on the front side of the Island. Private boaters, six pack charters and a few full day boats have found a school of White Seabass willing to bite on occasion. The Calico Bass fishing is outstanding at the Island, and a good mix of Barracuda is being found as well.
San Clemente
has at times yielded counts exceeding those at Catalina for both White Seabass and Yellowtail to over 40 pounds, except the Yellowtail are the bigger brutes in smaller quantities than the school size 10 to 12 pounders being caught at Catalina.
Locally the Barracuda
have played hide and seek for the ½ day and ¾ day boats. A few local Yellowtail are still being caught in the Horseshoe Kelp area.
Sand Bass Junction
has been very plentiful of late, with many limits being taken, and many more Sand Bass being released less than 14 inches in size.
Most of the better counts on Bluefin Tuna to over 100 pounds remain some 175 miles south of Point Loma, although Tuna have been caught as close as 60 miles, the 20 to 30 pounders which bite better on light tackle!
Here is a nice Bluefin off the
Condor
over the weekend; they also caught limits of Yellowtail to 28 pounds:
The
Enterprise
did catch 29 Barracuda on yesterday's ¾ day run, Wednesday, 06-19-13. They had fun fishing for Calico Bass, releasing over 130 and 24 Sand Bass, keeping only a few due to size limits.
The Yellowtail fishing at the
Coronado Islands
has improved lately, as on Wednesday the Malihini caught 37 with 21 Barracuda. The San Diego added 23 Tails and the Mission Belle 17 Tails.
Coastal Tanker White Seabass
fishing picked up some this week, also the schoolies keep us encouraged for better action to come. An occasional large Yellowtail have been caught mixed in with the WSB. The prime reason the WSB bite improved is the arrival of live squid in key areas.
Private boater Tim fished with friend Barry and caught this 52 pound Coastal Tanker, Tuesday, 06-18-13:
Tim also added a Yellowtail:
Angler Vick, who owns the world record for White Seabass of 66 pounds caught on eight pound test line, catches a 50 pounder Tuesday, 06-18-13 on the same test line:
The Halibut bite remains impressive for those few that fish for them. The Sport Boats have found a more frequent healthy bite on both Calico and Sand Bass. Twilight trips are being scheduled more frequently, with some night time fishing for Barracuda to go with both Sand and Calico Bass.
Dana Point
local White Seabass:
Twilight fishing
awesome off the
Enterprise
, Saturday, 06-15-13 with host Phil Friedman:
Another great Twilight trip on the
Freelance
out of Newport Beach, Monday, 06-17-13:
Angler Sergio and friends with limits of Bass on the Freelance, Tuesday, 06-18-13:
Reports out of
Ensenada
have been few and far between lately.
Just more pretty ladies that fish or not:
Private boaters Mike and Dave find the fish on the chew on Saturday, 06-15-13 just off the beach:
Angler Ryan scores aboard the
Mirage
on the White Seabass, Sunday, 06-16-13:
Photos from Monday's trip on the Mirage, 06-17-13:
Nice trip on the
Stardust
, Saturday, 06-15-13:
Big Channel Island Yellowtail caught by angler Rick aboard the
Seajay
:
The Islands
Catalina/Santa Barbara Island!
I fished Catalina on Sat.-06-15-13 with private boater Jeff. We arrived at the Island just after dark and soon found an enormous school of squid and got them to float. We stuffed boat bait tanks and a cooler for chum. We both got a decent night of sleep, and I awoke at 4am and checked our outfits to find them in total disarray. We re-rigged and began fishing. At 6am Jeff caught a 30 pound White Seabass and I hooked one, only to lose it to a huge seal. Conditions were definitely not favorable and four hours later had nothing further to show for our efforts. Made a number of moves before Jeff added a nice 35 pound White Seabass to the count. Both the Calico Bass and Barracuda were off the chew today, releasing a half dozen of each. Some pictures: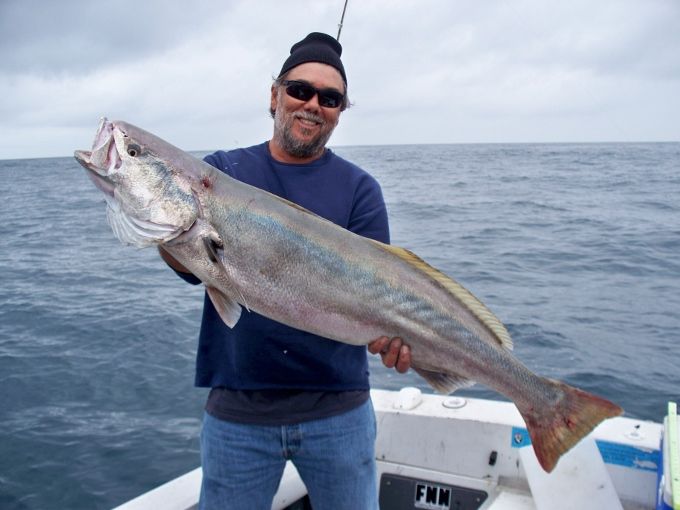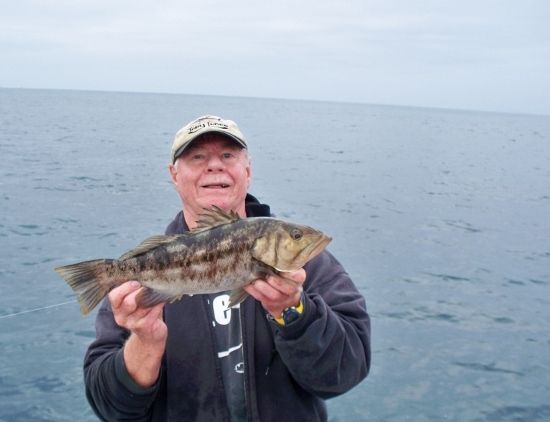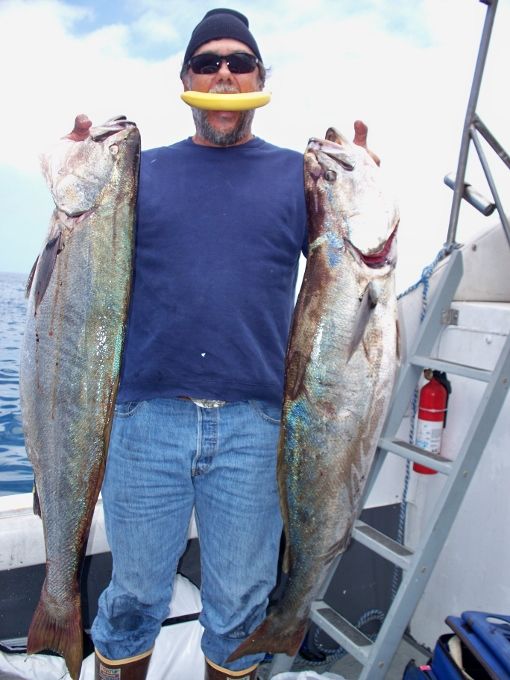 Nice Tails off the
Fortune
on Tuesdays trip, 06-18-13:
And a big Halibut:
Angler Pam with Yellows off the
Gail Force
on Saturday's trip, 06-15-13:
Nice 25 pound Halibut on the
Fury
, Monday, 06-17-13 caught by lady angler Cher:
Private boater Jimmy with a big Catalina Halibut:
The
Pursuit
out of 22nd Street Landing in San Pedro found 41 Yellowtail and 20 Barracuda on the chew a Catalina on their Tuesday, 06-18-13 trip. Angler Sergio with one of his many Calico Bass caught and released:
San Clemente Island!
The
Freedom
caught 8 Yellowtail, 43 Calico Bass, 6 Barracuda and 210 Rockfish on their Wednesday trip that returned 06-19-13.
Great Calico Bass fishing off the
Fury
, Saturday, 06-15-13:
A huge Yellowtail caught by Dennis off the
Options
, Monday 06-17-13:
Angler Joe with a nice White Seabass off the
Ultra
, Monday 06-17-13:
Pictures from the Ultra's Tuesday, 06-18-13 trip:
Angler Toshio with a nice Calico Bass:
Fortune
gets on the White Seabass, Yellowtail and big Halibut Saturday, 06-15-13:
A 41 pounder:
Down South-San Diego and good ole Mexico!
Another big Yellowtail on the
Pacific Queen
, Monday 06-17-13!
Sergio says:
Must be catching, I have OFCD too?
Quote of the day:
Fisher Lady Julie, said she loves fins, and these, a Classic:
Have you ever seen an Amberjack over 200 pounds:
All comments and suggestions welcomed!
Weather
The weather forecast for Saturday and Sunday looks to be very fishable both inshore and offshore, with some afternoon wind. Always check the latest forecast before leaving the dock.
Hook Up,
Cory