by Cory Visser
Thursday Recap Report-Weekend Possibilities:
A Summary of local fishing from Santa Monica to Oceanside, including Catalina and San Clemente Islands, with fishing trips out of San Diego down to Baja, Mexico.
The last report of a
Yellowtail
being caught at
Catalina
, was on the
Pursuit
, which caught a single on Sunday, nothing since? So as we wrap up 2013 with only two weekends remaining to fish, it appears we will have to be satisfied with bottom fish for the duration. Then we face a two month closure for all Bottom fish, Whitefish and Sheephead in Southern California. That leaves Bass, Halibut, Perch, Sculpin and any stray Exotic you can find. The fleet will concentrate on Sculpin in the morning then target the Bass later in the day. Of course there is always Mexico to satisfy your craving for a fish taco.
The
Pacific Voyager
out of Seaforth Landing and the
Chief
have been running 1.5 day or longer trips south of the border. I'm guessing other boats will join the mix during the closure time period as passenger demand increases.
Some of the very best fishing for big Lingcod, Reds, Whitefish and large Sheephead has been at San Nicolas Island or up north at the
Channel Islands
.
There were huge Lingcod and other bottom critters caught off the
El Dorado
fishing the shallow water at
San Nicolas Island
over the weekend and early in the week:
The
Toronado
has scheduled trips out of
Pierpoint Landing
where they also fish San Nicolas or other Islands for the last two weeks of the year.
Scattered reports of breezing Yellowtail out of
Ensenada
this week, with plenty of Rockfish being caught by the very few anglers fishing the area?
San Quintin
did not report any Yellowtail caught this week. There is always an incredible assortment of Lingcod, Reds and Rockfish in both deep and shallow water available.
Pretty ladies who fish or maybe not:
Private boater Lal fished on his boat the Rubber Ducky with friend Mark Tuesday, 12-17-13. They caught a mix of 26 Sand Bass and Calico Bass with some Sculpin and Rockfish, all of the Bass and Rockfish were released to fight another day.
Private boater John with friend Danny slaying the local Long Beach Reds Saturday, 12-14-13:
Angler with an eleven pound Lingcod caught on the ½ day boat
Clemente
out of
Dana Wharf Landing
, Monday, 12-16-13:
Kayaker Rudy with a dandy Calico Bass caught local, Monday, 12-16-13:
Nice local Sand Bass caught Sunday, 12-15-13:
Angler Sergio and friends with a good catch off the
Enterprise
, Sunday, 12-15-13:
Angler Larry with a nice Red:
Angler Sergio with a nice Boccaccio off the
Western Pride
, Tuesday, 12-17-13:
Angler Kelly with a big Lingcod off the
Aloha Spirit
:
Huge Lingcod on the
Stardust
up north, caught Saturday, 12-14-13:
And some Reds:
And a Sheephead:
The IslandsCatalina/Santa Barbara Island!

Private boater Norman with a 30 pound class Yellowtail caught Saturday, 12-15-13:
Private boater Cesar fishing the Island. They missed on the Yellowtail, but caught these nice fish:
Private boater Jonathan fished with his wife and new born daughter on Saturday, 12-14-13. They caught easy limits of Reds. Some pictures:
Both the ¾ day boat Freelance and the Pursuit are doing well on the Rockfish, along with a few Calico Bass, Whitefish, and Sheephead.
Private boaters enjoying some fun Calico Bass fishing at the Island:
San Clemente Island!
I fished with private boater Dave at the Island on Sunday, 12-15-13 and we whacked the Big Reds, Coppers and Santa Marias. Some pictures:
Here is Kevin with a nice Copper and a Red: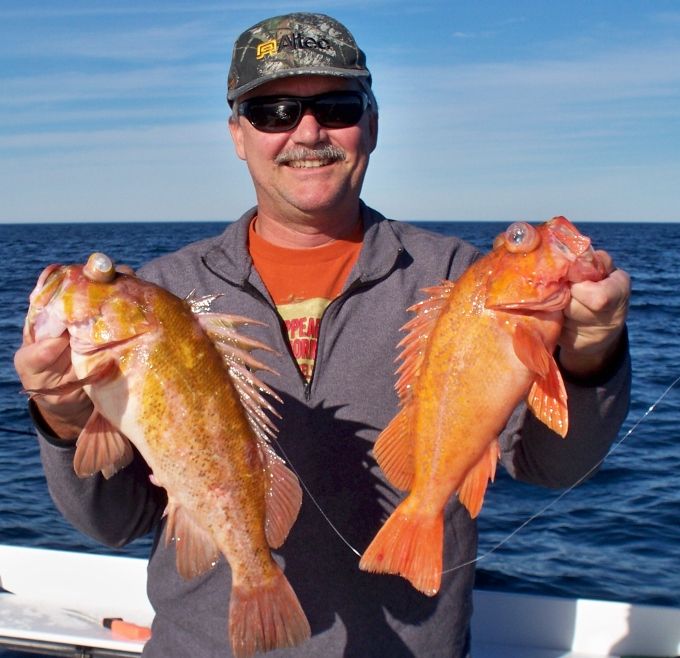 Captain Dave with a Gargantuan Red: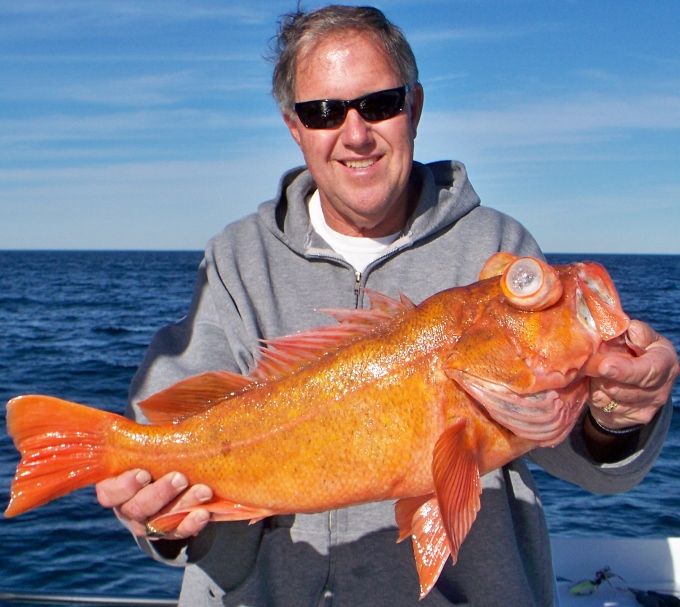 Danny with a nice Red and Jim hooked up in the back ground: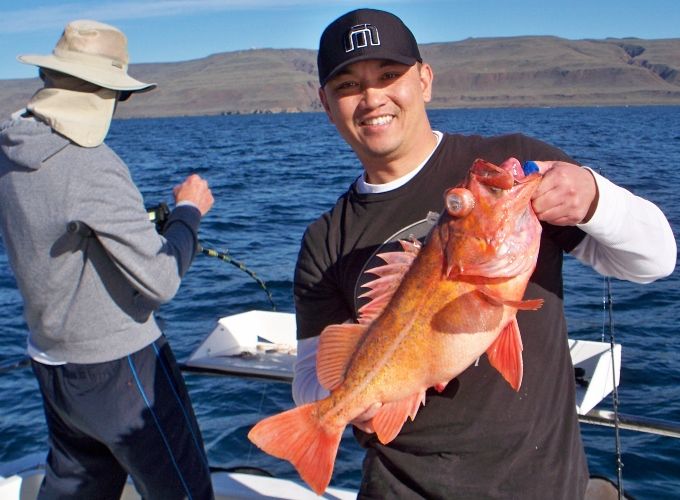 Dave continued to find some good spots working our way along the backside of the island. We caught a steady stream of Reds, Coppers and Santa Marias, with a few Boccaccio and other critters mixed in.
Here is Danny with a 3 spot Rockfish: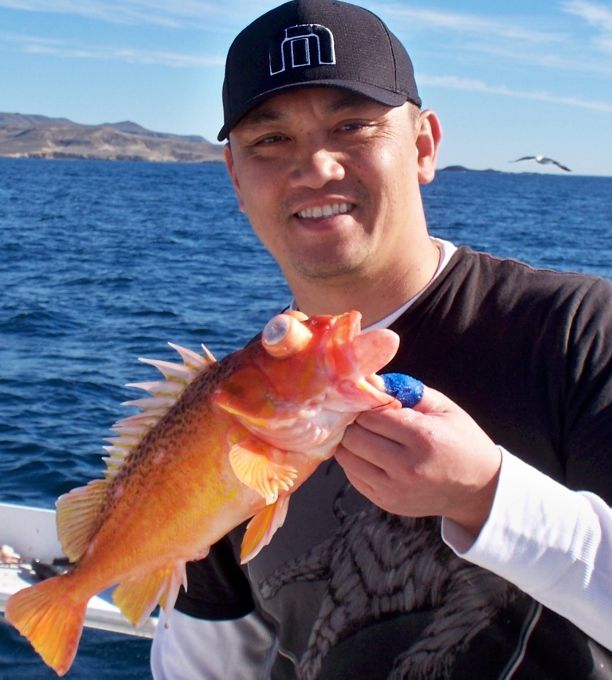 I came up with a nice double, a Santa Maria and a decent sized Red:
We caught some real nice Copper Rockfish, here is one of mine: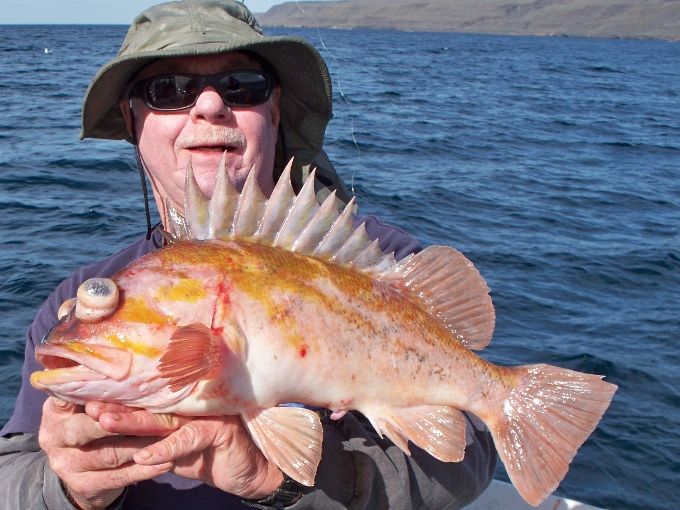 Here I am with another Copper and Danny with a Red: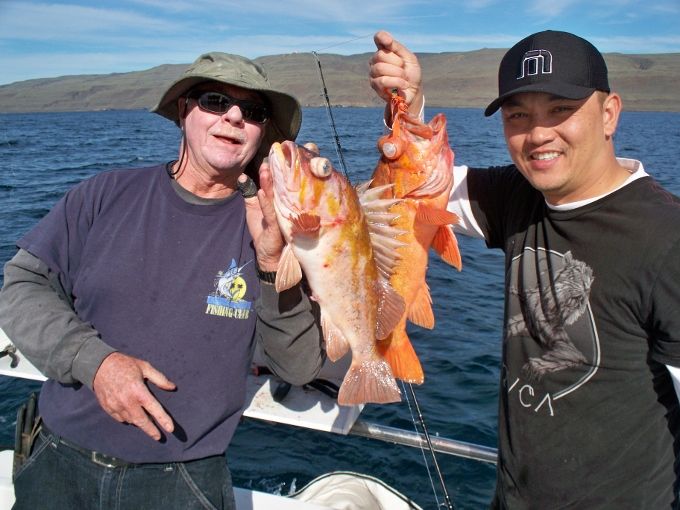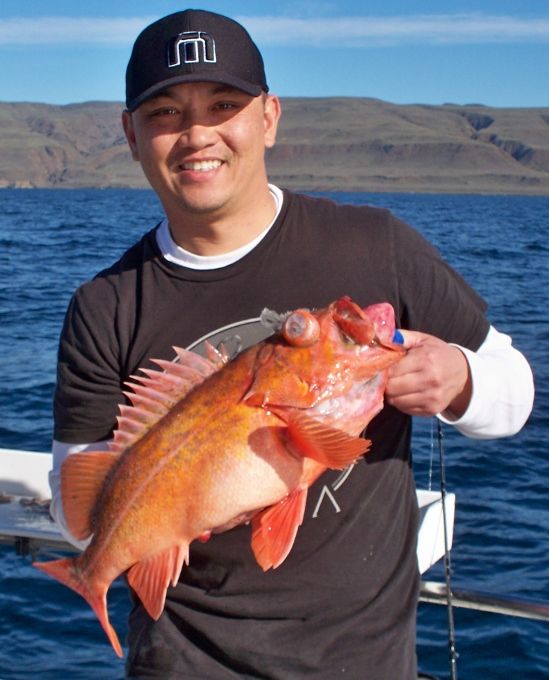 According to private boater Big Pancho, the Calico Bass were on the chew at the Island on Saturday in great weather. A few pictures:
Down South-San Diego and good ole Mexico!

Captain Duane of
Seasons Sportfishing
says the big Lingcod, Vermillion Rockfish, and an occasional Cow Cod are on the chew.
Quote:
Humor:
A final picture to think about: An Alaskan sunset Monday, 12-16-13 provided by Julie:
All comments and suggestions welcomed!
Weather

The weather forecast for Saturday and Sunday looks to be very calm providing a great opportunity to get out and go fishing. Always check the latest forecast before leaving the dock.
Hook Up,
Cory