by Cory Visser
Thursday Recap Report-Weekend Possibilities:
A Summary of local fishing from Santa Monica to Oceanside, including Catalina and San Clemente Islands, with fishing trips out of San Diego down to Baja, Mexico.
The water temps are rising quickly, 64+ at the islands and locally. Consequently both the local and Island Bass bite has improved, with some good sized
Halibut
being caught. Excellent fishing for both local and Island Rockfish, Lingcod, big Reds, Whitefish and Sheephead.
The
Coronado Islands Yellowtail
bite remained steady over the weekend and peaked on Wednesday. All the ¾ day boats getting in on the action with counts as high as 64 on the
Mission Belle
, 49 on the
Malihini
and 74 on the
San Diego
for 27 anglers on Wednesday,03-19-14! Some pictures:
Malihini, 03-17-14:
The San Diego caught 12 Yellowtail out of 37 hook up's on their Sunday trip, 03-16-14:
Tuesday, the 18th: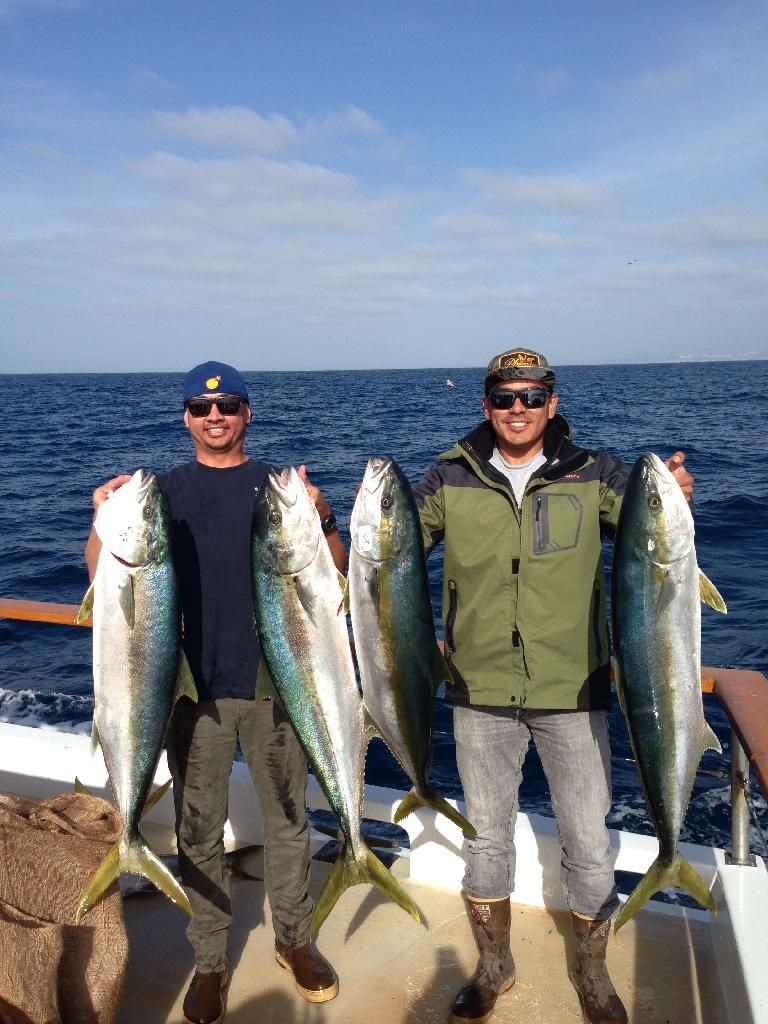 They caught 74 on their Wed. trip, here is a picture of angler John and friend with their catch:
Another happy angler on the San Diego:
The Yellowtail bite slowed in
Ensenada
, as water temps were said to very between 59 and 61, dropping from earlier levels of 62 to 64. Yet there is still good fishing as far south as
San Quintin
, with the Yellowtail mostly being caught on the Yo Yo iron style of fishing or by trolling Rapalas.
The majority of the local boats continue targeting Rockfish and Lingcod, with good results, then looking for local action on both Calico and Sand Bass, while Halibut fishing also remained upbeat.
Most private boaters found improved fishing on both species of Bass, with some great size on the local and Island Calico Bass fishery.
Pretty ladies who fish or maybe not:
Nice St. Patty's day outfit:
The Bass fishing is getting better, here is the Jackpot Sand Bass caught off the Twilight trip on the Native Sun, Saturday, 03-08-14:
Nice Lingcod on the
Spitfire
, Monday, 03-17-14:
Private boater Danny with a local Halibut:
Private boater Kenrick with a local Halibut:
Private boater Tyrone with his dad and friend catching Cabazon to 15lbs on the iron stripped with Mackerel locally, wow:
Private boater Captain Larry Heron found the Lingcod and other bottom critters on the chew Sunday, 03-16-14 at the
Channel Islands
:
Angler Jeff with a 17.5 pound Halibut caught out of
Dana Point Sportfishing:
This Halibut was caught on Monday's trip:
Nice catch off the Stardust on Sat.-03-15-14:
The
Pacific Dawn
with nice Halibut caught over the weekend:
The Islands
Catalina/Santa Barbara Island!
No recent reports of post storm Bonito being caught, although the ¾ day boats are mainly concentrating on Rockfish, Bass, Sheephead and Whitefish.
Private boater Justin with an 11 pound monster Calico Bass:
Private boaters Bobby, Chris and Nick get in on a hot Calico Bass bite at the island, Wed.-03-19-14:
San Clemente Island!
I fished Saturday and again Wednesday with private boater Dave and friends. We slammed the Reds on Saturday, catching over 35, with one 10-12 pound Lingcod and plenty of other assorted Rockfish. A little slower on the Reds Wednesday, 03-19-14, with 21 Reds, a dozen Coppers, a dozen Whitefish and more Bocaccio than you can count, most released.
Some pictures of the trip:
The
El Dorad
o visits
San Nicolas Island
Sunday, 03-16-14:
Down South-San Diego and good ole Mexico!
Angler Ray with a 30 pound jackpot Yellowtail caught Sat.-03-15-14:
Private boater Pete, Carl and Doug fished the Coronado Islands on Wednesday, 03-19-14 and found some hungry Yellowtail:
Angler Samuel and John with Boccaccio and Lingcod caught off the Dolphin, Sunday, 03-16-14:
Big Reds and Lingcod on the
Pride
over the weekend:
Big Sheephead for a lucky lady, caught on Thursday, 03-20-14 off the
Dolphin
:
Another big Sheephead:
And another, 3 big ones caught for the day:
Captain Kelly of
K&M Sportfishing Charters
found some excellent Yellowtail fishing out of San Quintin:
A nice sized Halibut held by Captain Kelly:
The big Reds are always biting:
Quotes:
So true?
Humor:
Oops!
[img]
https://scontent-a.xx.fbcdn.net/hphotos-frc3/t1.0-9/10003991_10152320848859310_1964428004_n.jpg
border=0>[/embed]
All comments and suggestions welcomed!
Weather
The weather forecast for Saturday looks to be outstanding, same for Sunday. Always check the latest forecast before leaving the dock.
Hook Up,Cory