by Cory Visser
Having just returned from a 12 day cruise from Tahiti to Hawaii, I can only do a quick recap of what I missed in the fishing world while I was gone. Not all that much?
Locally it is still all about Rockfish,Lingcod, Whitefish and Sheephead, with some decent Halibut and Bass fishing. Both Catalina and San Clemente are showing signs of life, with sightings of Yellowtail and scattered White Seabass. The Thunderbird was the first Sport Boat to limit out on the White Seabass, although I heard conflicting reports whether it was at Catalina or San Clemente Island? In either case the fish did not return the next day! Typical for this time of year.
Some short Barracuda have moved into the area. With some warm weather ahead,we should be seeing the bigger log Barracuda show up in the counts and hopefully better Bass fishing as well.
Down south of the border, the Yellowtail bite at the Coronado Islands and further south of the islands has been fairly consistent with most boats catching from 10 to 40 Yellowtail to over 20 pounds. Neither Ensenada nor San Quintin have recovered completely from the rapid drop in water temperatures in early April.
For those of you who would like to see what you might be missing by visiting Tahiti I have attached Part I of our adventure, which includes arrival to Papeete, boarding the cruise ship in Papeete, tours in Moorea and Bora Bora. After seeing the pictures you just might want to add this destination to your bucket list? Part II would come later this week,detailing our five days at sea and tours in the Big Island of Hawaii, Hilo, Kona, Maui, Kauai and finally reaching Honolulu, Oahu where we flew home.
Enjoy!
Part I-Tahiti
Our 2014 Tahiti and Hawaii Cruise adventure!
Day 1-Travel day, a very long day.
The alarm was set for 3:45 Am., as we were both taxed to get to work and process our key tasks before leaving on our 14 day adventure, our first 2 week vacation in the last 25 years. With both of us being Financial Controllers, being gone from work that long always has issues? Given we are both approaching retirement age, well I am already there at age 66, next month 67, we felt waiting until we both reached retirement age is risky? So we bit the bullet and booked the 12 day cruise. All is good!
At 11am we both headed home from work, accomplishing our goals to limit the issues that could occur during our absence. Our daughter, JoDel was waiting to take us to the airport,
(LAX)
for a flight that left at 3:30 pm., on
Air Tahiti Nui
. We arrived at LAX at 1:30 pm. We boarded the plane at 2:45 pm and felt relaxed, having already spent some serious time on today's events. We left on time and it wasn't long before the crew came through with drink requests! Prepared to pay whatever the rate for a cocktail or wine to unwind, all drinks were included! So I started with their Merlot wine, and the wife Sheryl ordered the Chardonnay.
Dinner was served and it was a tasty Beef Stroganoff or a choice of a chicken dish. A second glass of wine with dinner and all is well.
This was an 8.5 hour flight, so it was nice to settle in. They showed a movie in flight and lots of other short films.I was content to read a book and soon fell asleep.
Around six hours into the flight they served a light breakfast with some much needed hot coffee!
We arrived on time at 9:30 pm Tahiti time, 12:30 pm our time! Our luggage was there, always a concern on a long trip? We cleared customs with no issues, and found a cab to take us to our hotel. It was about a 20 minute ride to our hotel, and as we reached our destination, low and behold, there was our cruise ship directly across the street! Checked in and it was only 1:30 am our time, what a long day, yet we were feeling good, having arrived safely to our destination, in a foreign country at night?
Day 2 in Papeete, Tahiti!
We woke up at 8am Tahiti time and proceeded to breakfast in the hotel. Here is a picture from our room: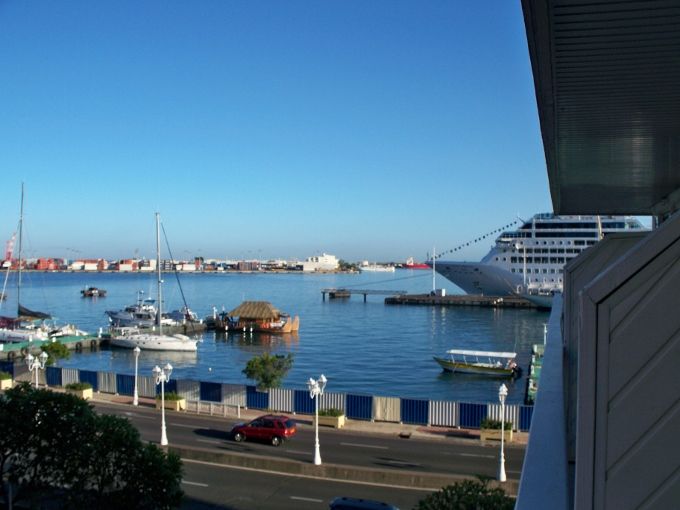 Our hotel: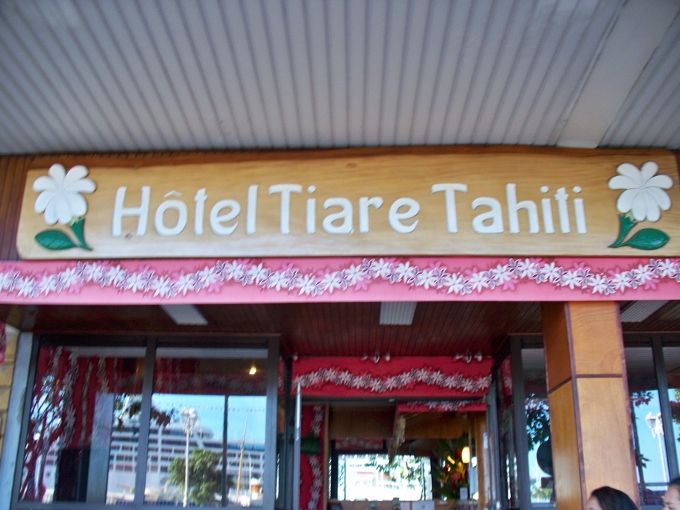 We enjoyed an expensive breakfast in the hotel, $20 each. It did include coffee, croissants, juice, yogurt, ham, eggs, hash browns, and pancakes. We looked into a city tour; however, it was too late, as all tours had already left.
So we walked towards the market center, me with my peg legged, torn Meniscus condition? After viewing the Farmer's Market for no values, we wanted to catch a bus to the local beaches. We waited for a bus and when it arrived they would not take US dollars, only French Francs.
So we headed to a local Bank. I asked for some local currency and was informed that to buy only $10 in francs it would cost a $16 service fee? We said what the heck, we want to go. All of a sudden the bank manager, who apparently over heard the conversation, then came up to us and said that her daughter would gladly take us to the beaches. We said wow, how considerate of you? Ten minutes later her daughter arrived and off to the local beaches we went. This black sand beach was very nice: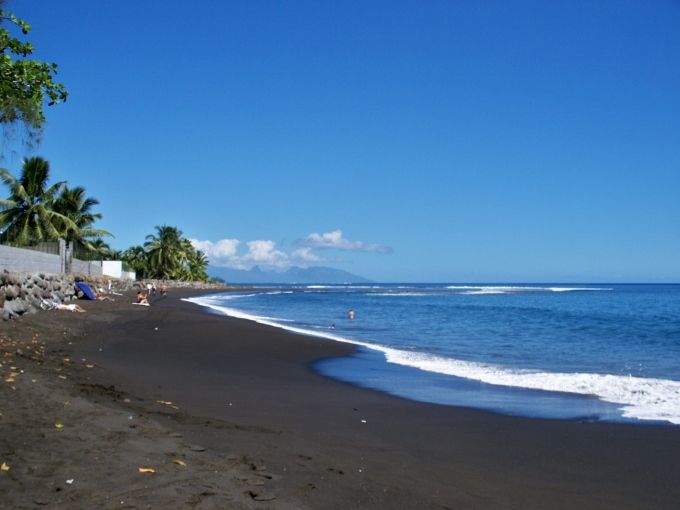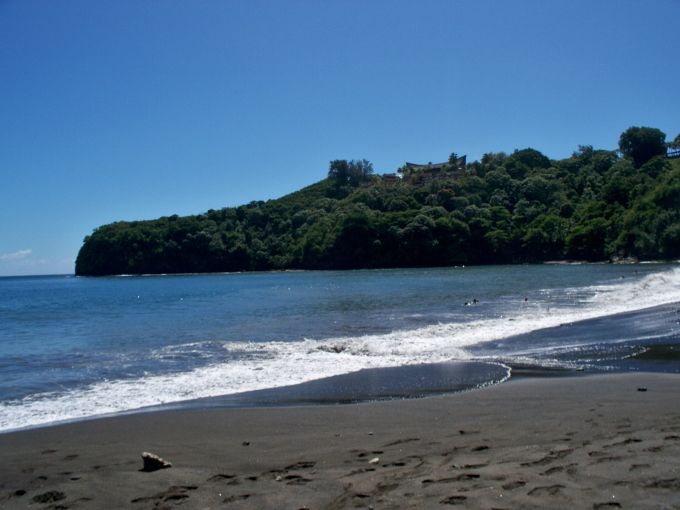 A happy couple on their first visit to Tahiti: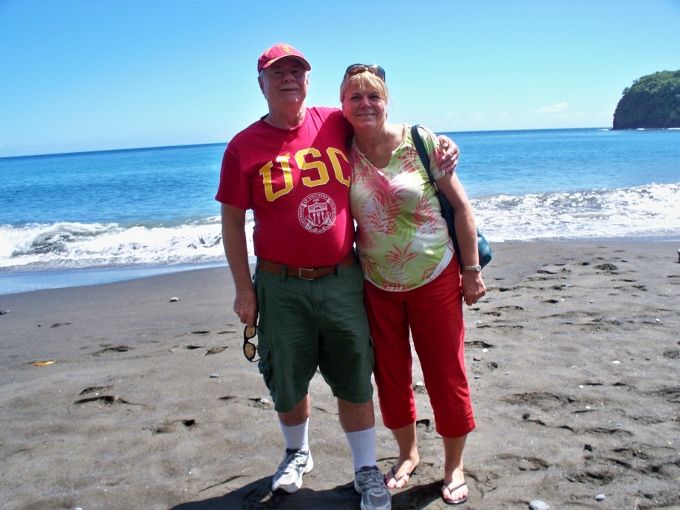 Then off to a high spot for another view of the local beaches: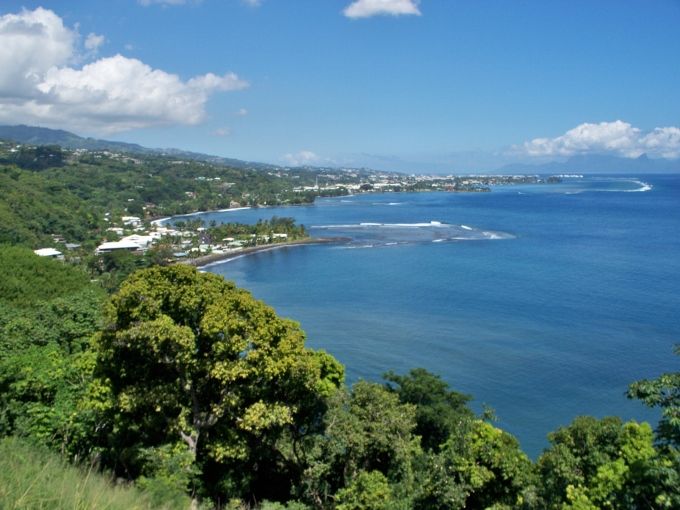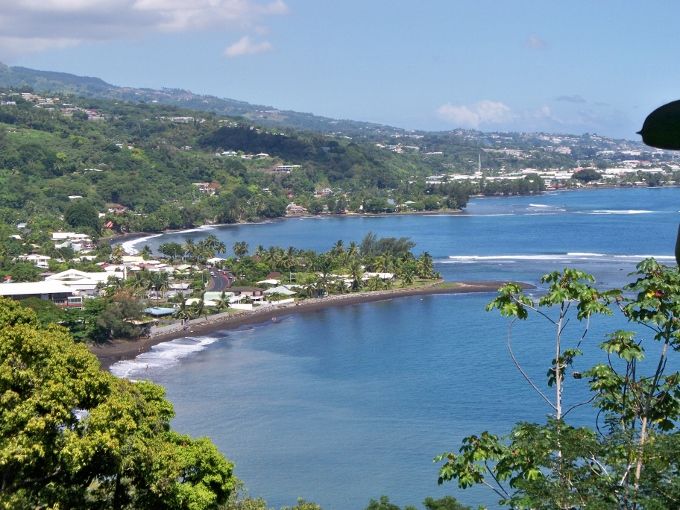 Papeete is a very large city, with an island that is not all that spectacular, closer to another concrete jungle. We were lucky to get to see the few beautiful spots on the island. I offered Elena some gas money after she returned us to our hotel; however she refused any money, how sweet? A nice farewell hug: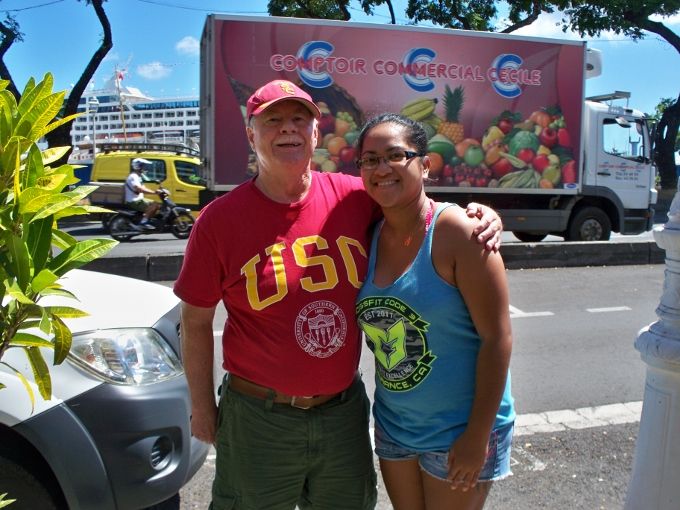 We still had some time before we could board our ship and looked to have a cocktail before lunch. The first diner we stopped at showed prices in francs. I shook my head and asked if I was reading it right? It was $20 US for a Mai Tai? The waiter said yes, a bit pricey. He looked away and then said you could go down a couple of blocks to Luce's and get them for a more reasonable price, wow, that was unreal? Sure enough they were only $12 at Luce's.
We later learned that French Polynesia was about as expensive as it gets. Hamburgers and fries in both Moorea and Bora Bora ran about $35 to $40. Most dinners were around $100 each, yikes!
We then boarded our Pacific Princess Cruise ship at 1 pm. We headed to our room, with a balcony view on level 7: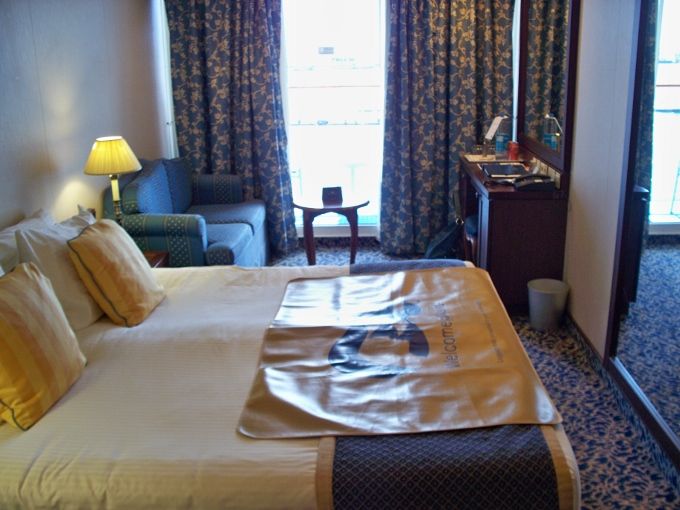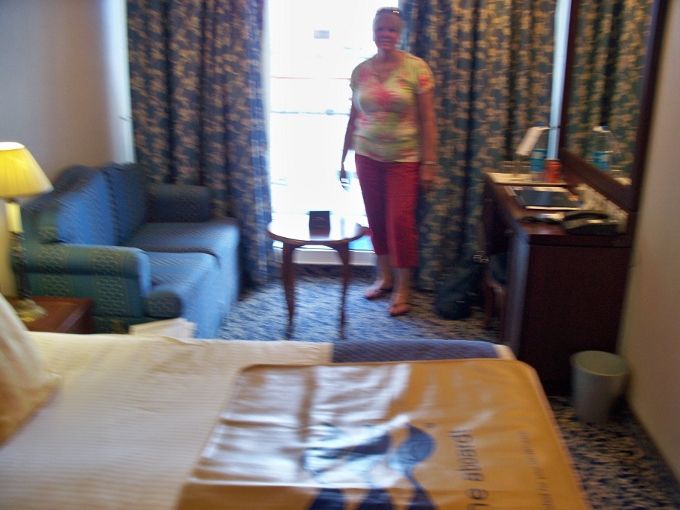 No luggage yet so we found the luncheon buffet in full progress. The food was excellent with an abundant choice of entrees, fresh white fish, BBG chicken, roast beef, pork chops and lots of other items. This included a great salad bar and plenty of deserts. We toured the ship to see where everything was, despite my peg leg walk. It was not a big ship, only 562 feet and 10 stories, with a 600 passenger capacity. This cruise had 579 passengers, with a crew of nearly 400.
We returned to our room and the luggage had arrived. Unpacked and it was time for a nap. We both took a quick rest and up for cocktails at 5pm. Today's drink of the day was a Tequila Sunrise. Yep it hit the spot!
All drinks were $7.95 unless you ordered Grey Goose or other very expensive Liquors? We headed back to the room for a quick shower and to dress up for dinner. Dress code required collared shirts and long pants for the guys, a dress or slacks for the gals.
We chose the late seating at 8pm. First seating was 5:45 pm, way too early for us, especially when you go off ship for tours and return at 4:30 and half to rush to get ready for dinner. What would happen to cocktail hour?
It was elegant dining. We were seated at a table for six. Joining us was a single gal from Germany, Gabby, with newly Weds, Kyle and Amanda from Australia. Several days later a seasoned cruiser, Mike would join us, who lived in San Diego. Both my wife Sheryl of nearly 45 years and I enjoy wine, so I purchased the Gold Wine program offered, which allowed you to order any wine up to $45 for only $28 for twelve nights, the length of our cruise. Several times I ordered wines exceeding $45.00 and you paid the difference only. I started with a rich tasting French Bordeaux, it was oh so good!
Our first night of dining was extraordinary. Appetizers were shrimp cocktails, a fruit or cheese platter or a cold consume soup. We both opted for the shrimp cocktail. Yum yum! Next up was a Caesars salad. Then I chose a cream of asparagus soup, the wife skipped this course. The main entree for me was Prime Rib; while Sheryl ordered twin petite Filet Mignon with veggies and potatoes. I had New York Cheesecake for desert, while the wife had a Cream Brule. It was awesome!
We finished dinner just before 10pm, and made the mistake to go back to the room, before proceeding to tonight's Polynesian Show at 10:30 pm. We both fell asleep and missed the show, darn!
Day 3 the Island of Moorea!
I awoke at 5am, (8 am California time) and wandered up to the promenade deck, where they had the buffets. Thank fully they had coffee for us early risers. The buffet opened at 6 Am., or you could go to the dining room for seating at 7am, while ordering off a menu. The weather was ideal at about 78 degrees and little humidity. The scenery was incredible as we coasted into the island of Moorea, docking at 7:30 am.
The wife joined me at 7am and we elected to go to sit down dining. Oh yeah they had our favorite breakfast item, Lox and Bagel, with creamed cheese, capers, onions and tomatoes, oh wow this cruise if off to a fantastic start! I also ordered a Ham, Mushroom and Cheese Omelet.
Some opening pictures of the Island: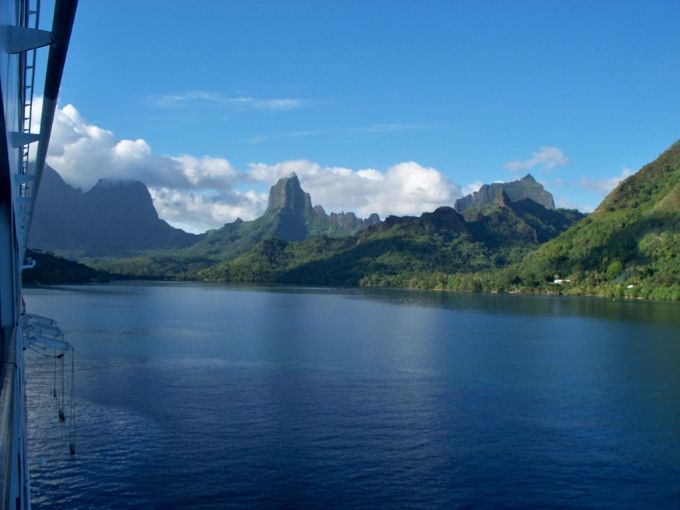 Our ship at anchor, and then the ship's tender delivering passengers to the dock: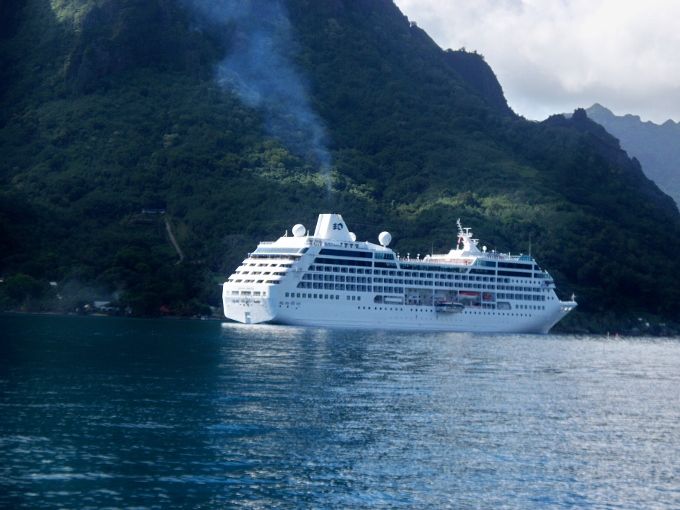 We had booked a tour where we took a boat to a private island and did some snorkeling and sun bathing, while enjoying the ride there with plenty of great sightseeing of crystal clear waters, beaches, cabins on the water, etc. Some great pictures on the way: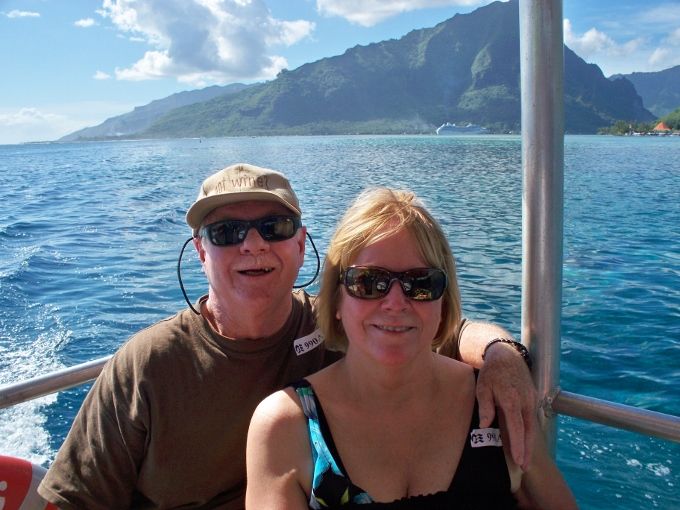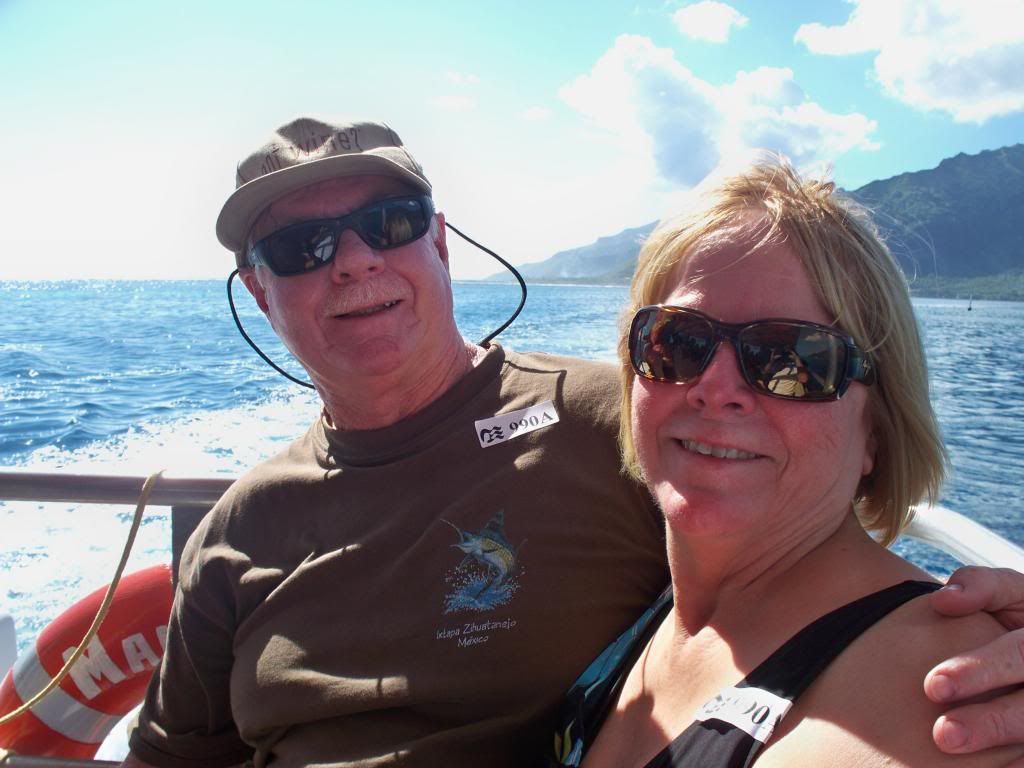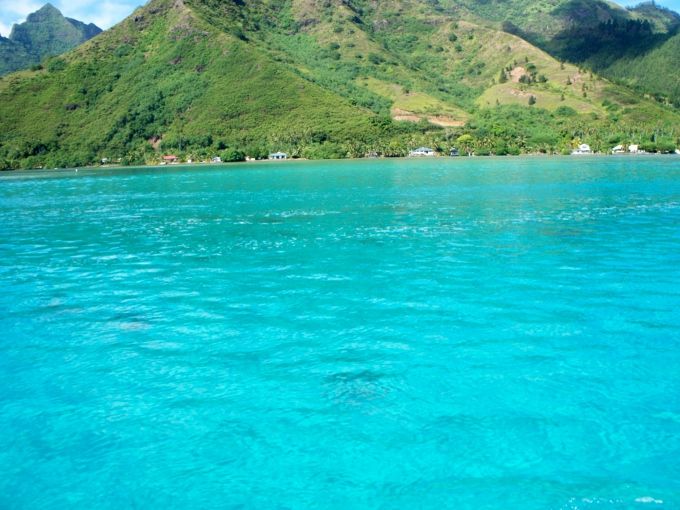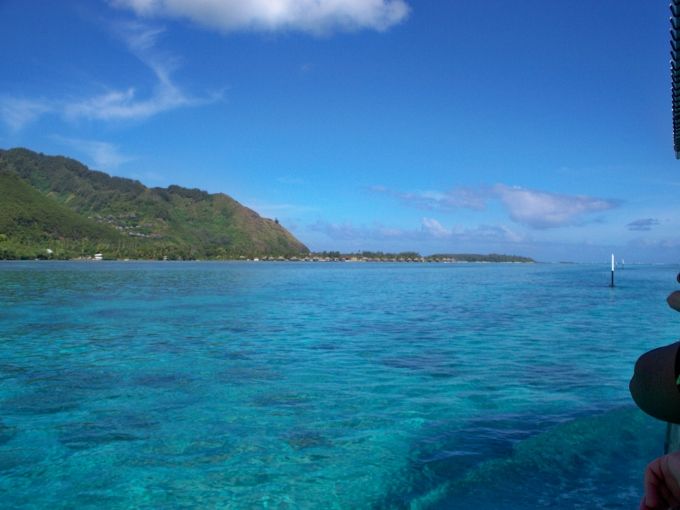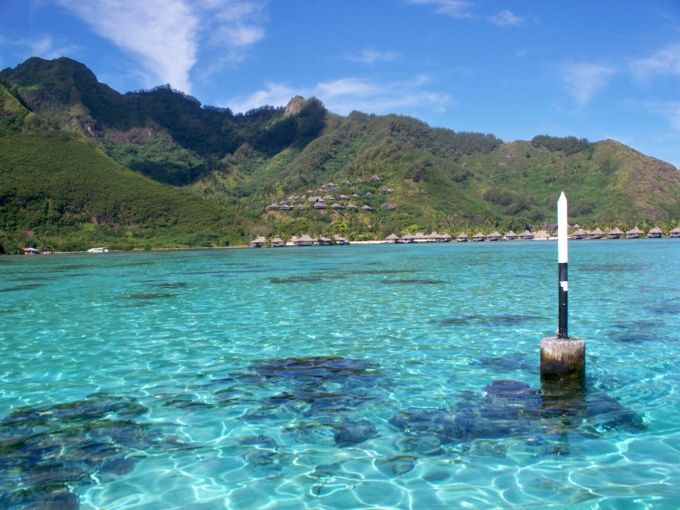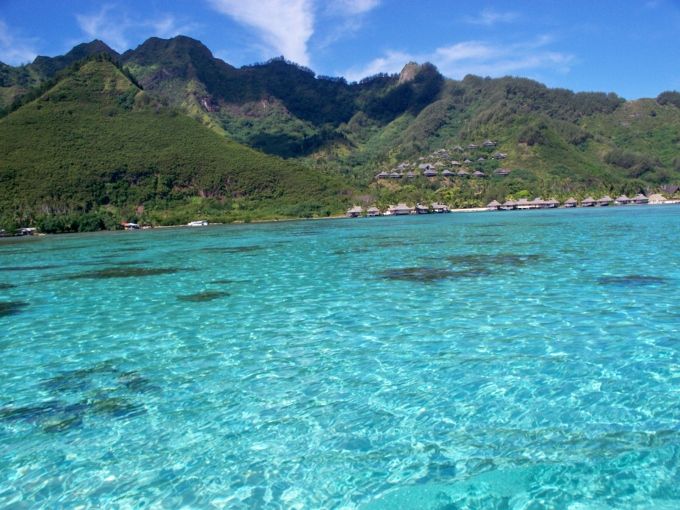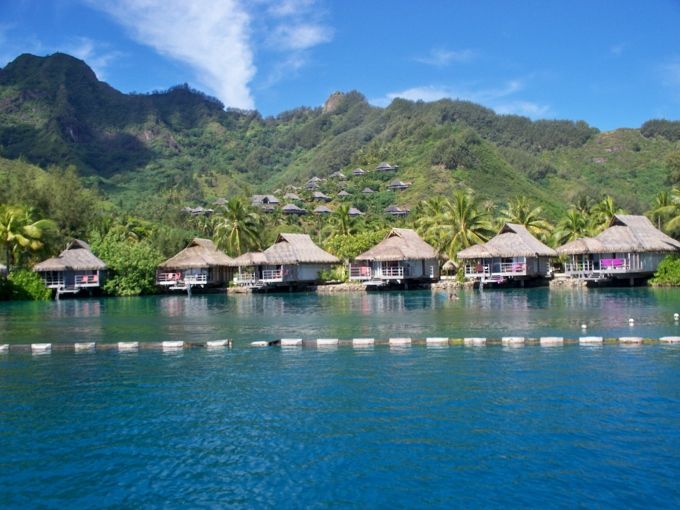 The entrance to the private island: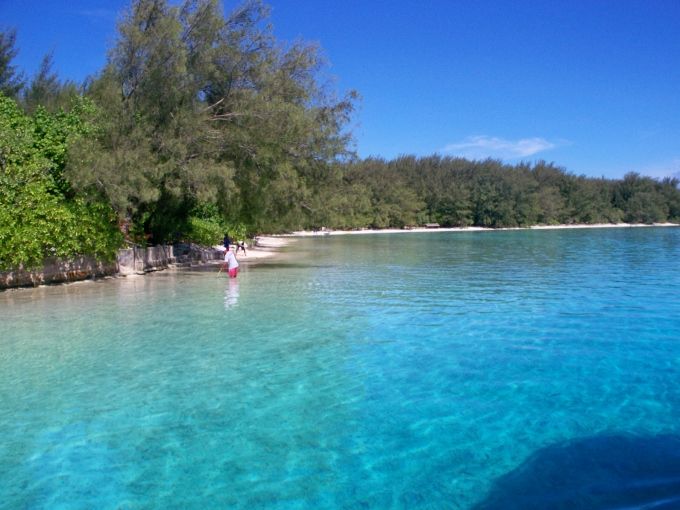 A view from the beach while we were sunbathing: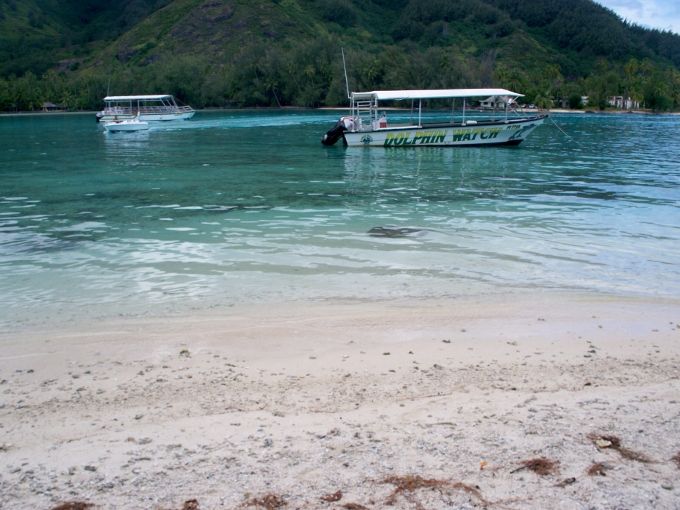 We had a great barbecue lunch, with a salad, rice, squash, chicken, pork and deep fried fish. We returned to the ship at 3:30 pm.
Showered and took a short nap before seeking afternoon cocktails. It was Mai Tai's as our choice, as the drink of the day being a water melon martini, was not to our liking?
Tonight was formal night, so we dressed up: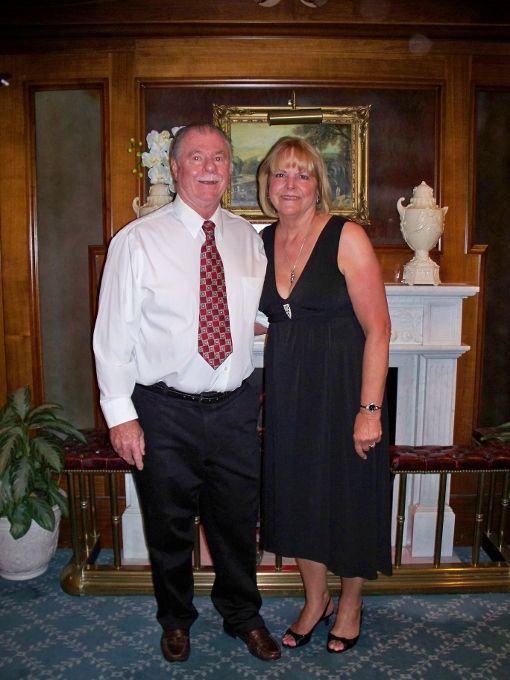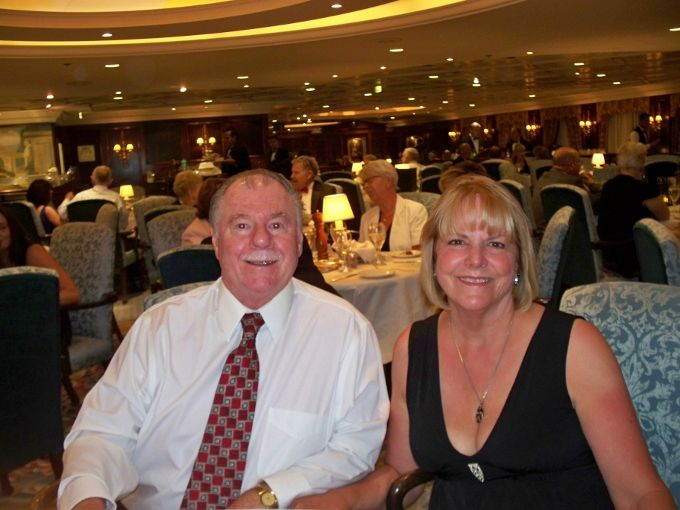 Our table group: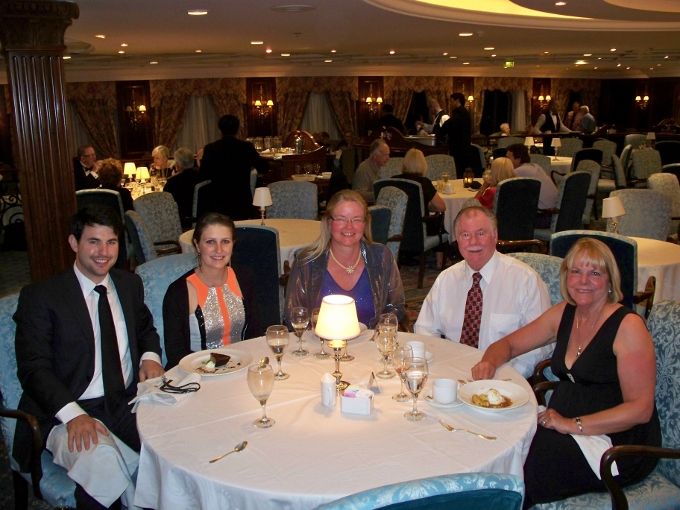 For tonight's wine I chose a fantastic Zinfandel from Spain.
Diner was again spectacular, as I chose a Scallops and Shrimp in a buttered sherry sauce for the main entree. As an appetizer they had deep fried calamari. Soup was a cream of cheese broccoli. Desert was a featured chocolate fudge brownie with vanilla ice cream and chocolate sauce. There were always other selections, with fruit and cheese platters, as well as four kinds of ice cream and sauces available, butter scotch, caramel, and chocolate. New York Cheesecake was also a regular.
We were sure to dink some coffee before the show at 10:30 to stay awake, and then we enjoyed some good singing and dancing performances from the Pacific Princess cast of 8, before retiring for the evening.
Day 3 the Island of Bora Bora!
I was up again in the wee hours as the wife slept in. I was already on my second of five books read on this cruise. As we had to join the tour group at 7:30 am we elected to do the breakfast buffet today. Eggs Benedict was a good start to go with Bacon, Sausage, and hash browns for me. The wife started with a chocolate croissant and also Eggs Benedict.
Some opening pictures of the island, so beautiful:
A small island next to the pier: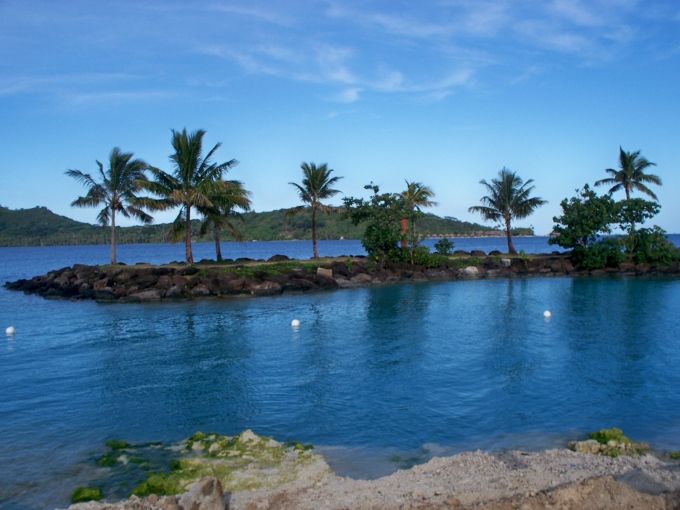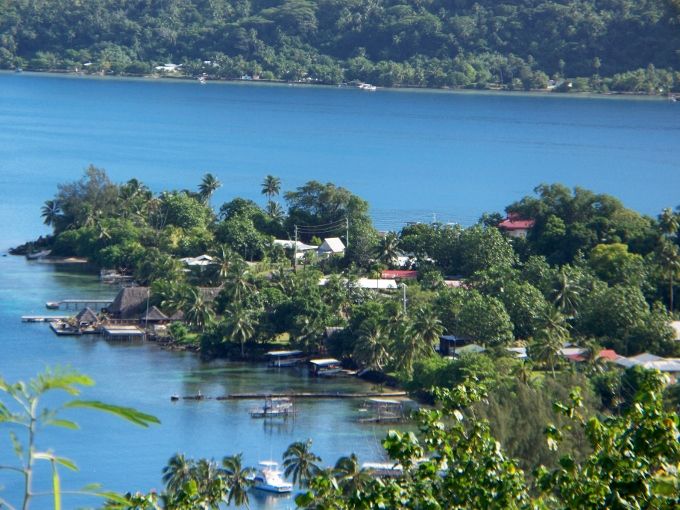 An opening view from our jeep: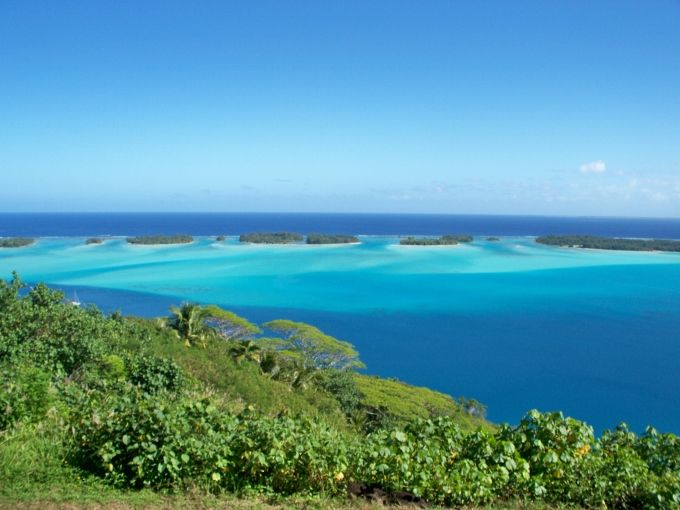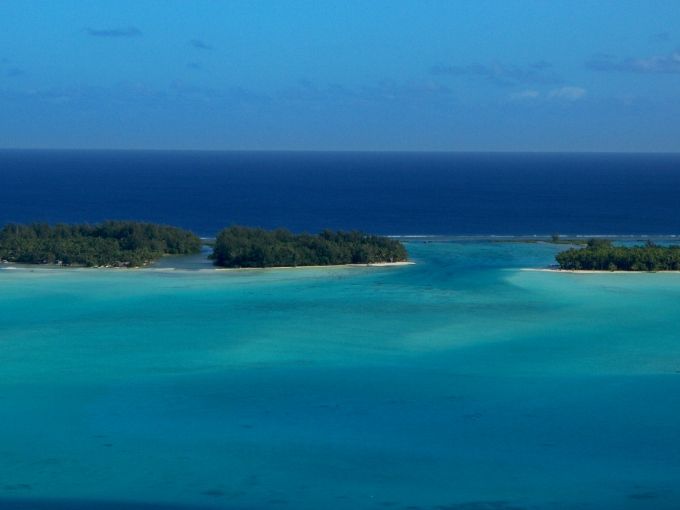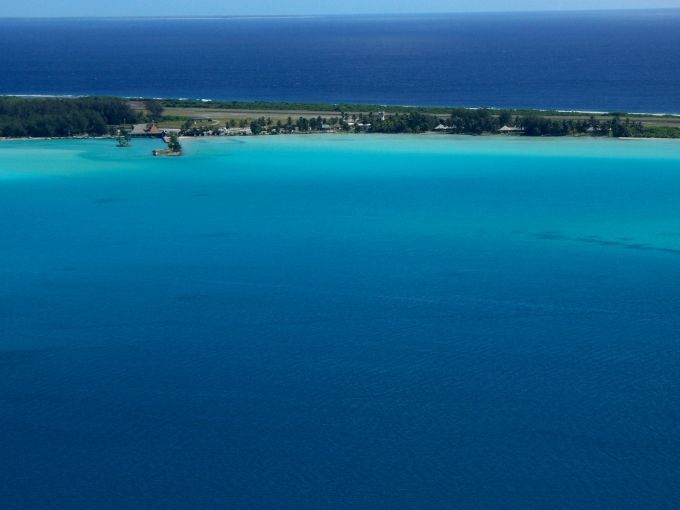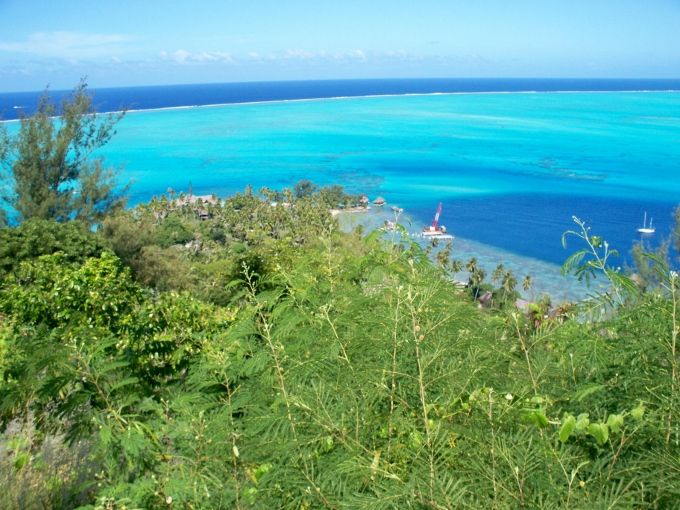 Today's tour was an around the island, (some 22 miles total) on four wheel jeeps where we would climb up some steep muddy trails to overlook the ocean coves, beaches and reefs! It was treacherous climbing, but it was worth it! Some pictures of WWII guns left on the island: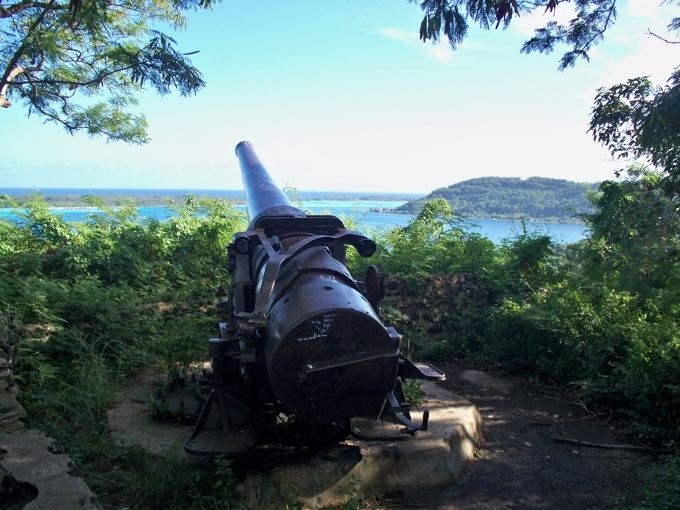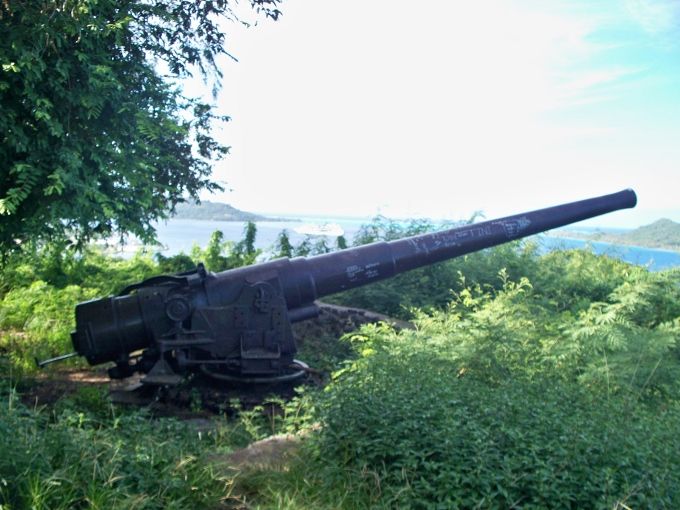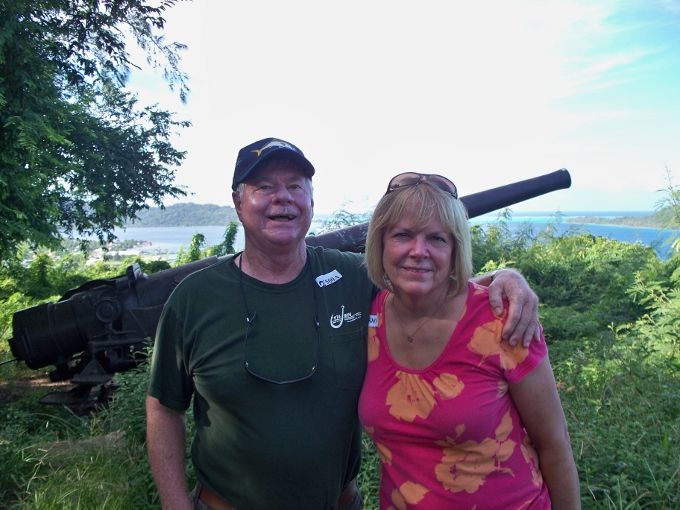 The clear waters and reefs were unbelievable in beauty: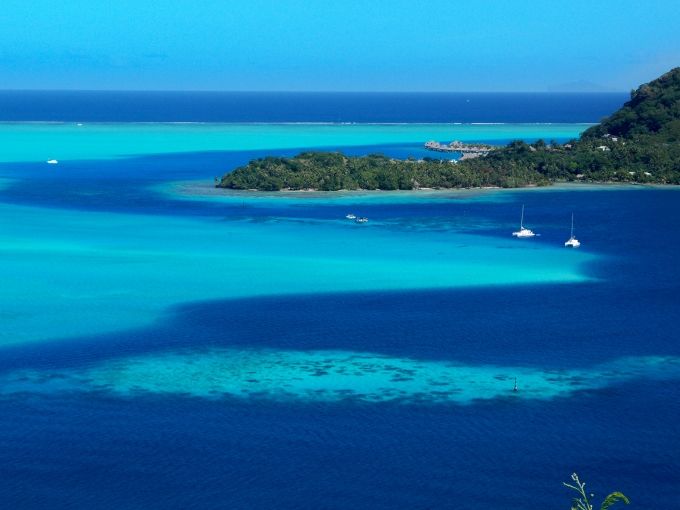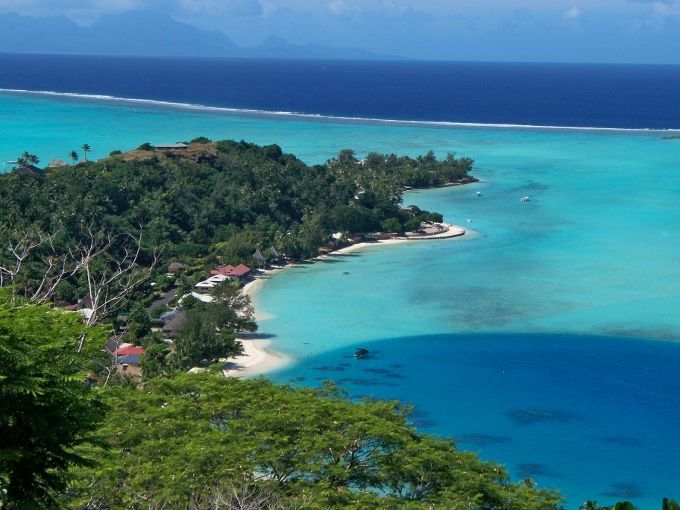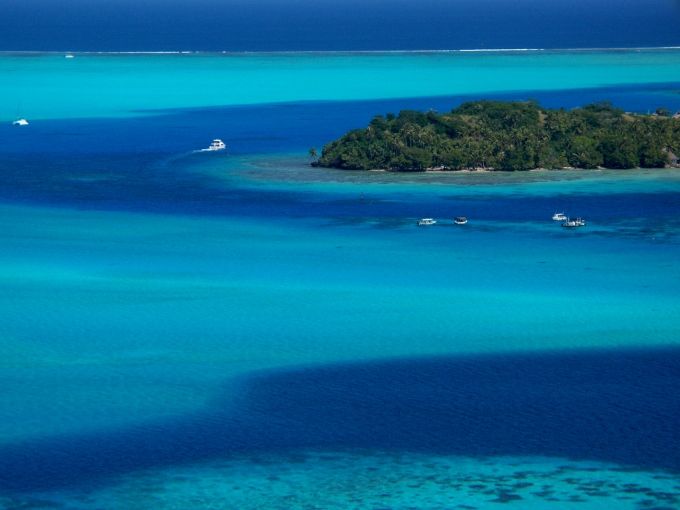 One of the largest beaches on Bora Bora: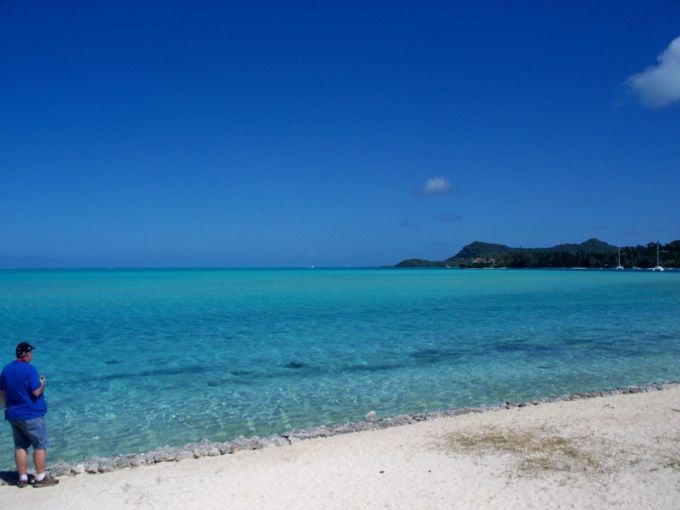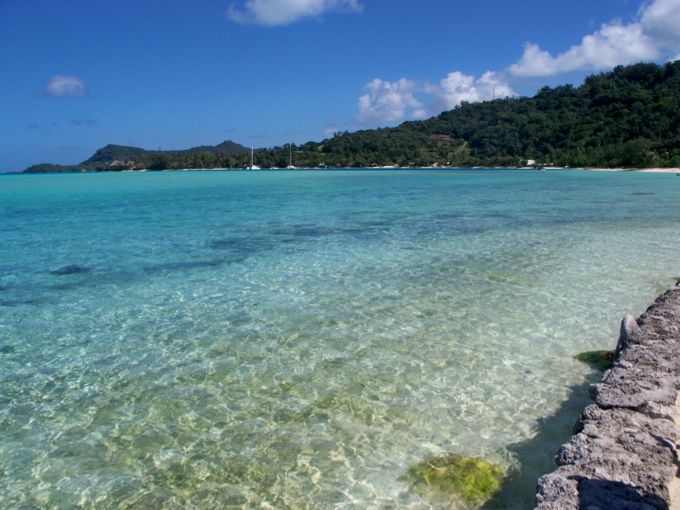 Our last stop was to the World Famous Diner and Bar
"Bloody Mary's"
. Too bad it was Sunday, as they are closed every Sunday: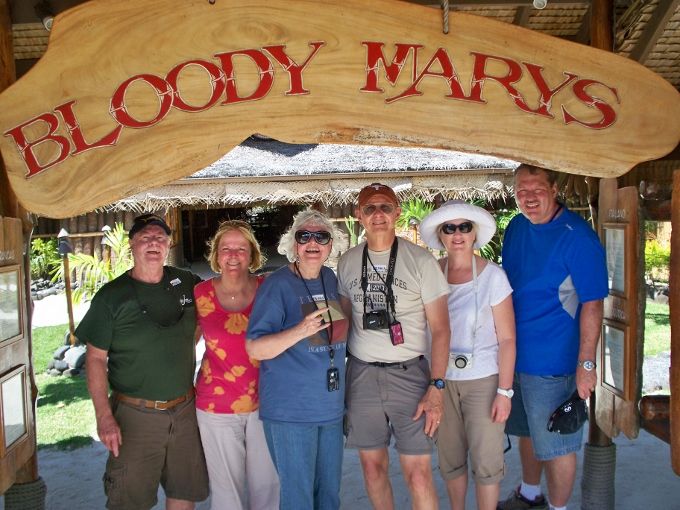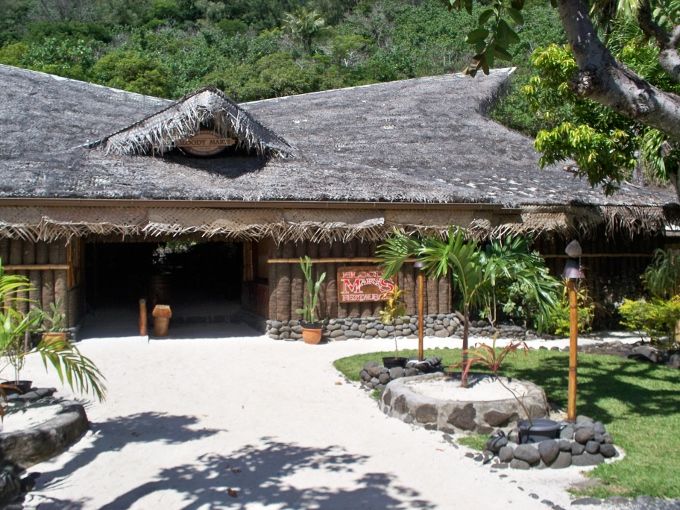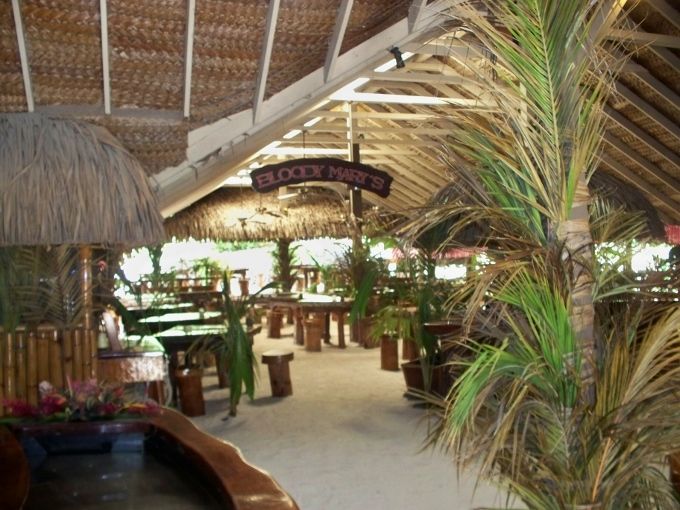 Leaving Bora Bora: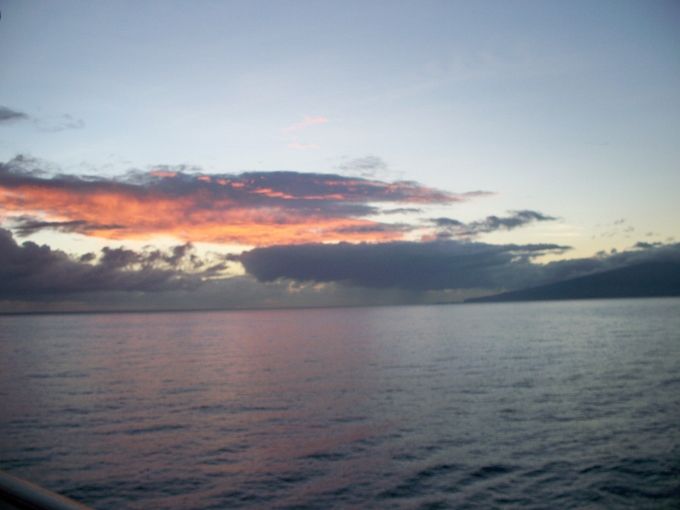 For tonight's wine I chose a fantastic Sauvignon Blanc from down under.
For appetizer's I chose Smoked Salmon with Avocado, Filet Mignon for the main entree. Soup was a cream of crab. Desert was carrot cake with vanilla ice cream and chocolate sauce.
The show tonight was a magic show.
Day 4 out to sea heading to Hawaii!
Morning coffee in the dining room:
Hook up!
Cory