by Cory Visser
Thursday Recap Report-Weekend Possibilities:
A Summary of local fishing from Santa Monica to Oceanside, including Catalina and San Clemente Islands, with fishing trips out of San Diego down to Baja, Mexico.
The
Barracuda
are back out of
Long Beach, San Pedro
and on down to
Newport Beach and Dana Point
. The best count yesterday was on the ¾ day boat
Enterprise
which landed 196 Barracuda along with plenty of Sculpin and a few Bass. Local Bass fishing is up and down, with some excellent days followed by some slow ones.
On the Offshore scene, out of San Diego, the
Yellowfin Tuna
are within one day range, under 60 miles. There remains a nice area of fish in the 80 to 90 mile range as well. A good mix of
Yellowtail
is being found on Kelp Paddies in many areas. An occasional school of big
Bluefin Tuna
to 100 pounds makes a showing usually catching any angler with light tackle off guard?
The private boater can still join the fun in Tuna fishing with the fish moving closer, although that nice school of fish at the 425 has moved on. Lots of private boaters have searched the US banks to no avail, not even very many Yellowtail on Kelp? With water temps way over 70 degrees everywhere, we should see better action on the northern banks soon? Hopefully a good herd of Dorado will begin to play!
Big Opah off the
Shogun:

Anglers Larry and Sergio show off Bluefin and Yellowfin Tuna caught off the Ocean Odyssey that returned Thursday morning, 07-10-14:
¾ day boat
El Gato
out of San Diego finds the Yellowtail and Tuna on the chew, Wednesday, 07-09-14:
Private boater Jim with a Bluefin Tuna:
The
White Seabass
fishing at the
Channel Islands
continues at a unbelievable pace, with many boats returning with three fish limits for all! Add to that action with huge
Halibut
being caught on almost all the trips.
San Clemente Island h
as been hot as of late with a good combination of Yellowtail to 40 pounds, Halibut and White Seabass!
Catalina
fishing for Yellowtail picked up a little bit with an occasional White Seabass in the mix.
Calico Bass
fishing has been steady with some Barracuda in the mix.
Daytime Bass fishing continues to improve, with some nice pockets of Calico Bass to go with the Sand Bass. The fish are getting ready to spawn and are loaded with eggs. The annual spawn should begin soon, as water temps as high as 70 degrees provides ideal conditions for spawning.
Fishing for Yellowtail at the
Coronado Islands
maintains at a steady pick of 10 to 30 fish. Private boaters have found fish at all three islands.
Private boater Brandon caught some big Yellowtail on their trip Wed.-07-09-14:
Happy young anglers with Yellowtail catch off the
Malihini
on their Monday trip, 07-07-14:
The
Thunderbird
out of
Dana Wharf
on a first day of a 2 day trip that returns Thursday, 07-10-14, caught 4 Yellowfin and 144 Yellowtail:
According to angler Jimmy Bass it was wide open on the 1/2 day boat
Clemente
for Barracuda on Weds.-07-09-14:
Angler with the jackpot Bluefin Tuna off the
Outer Limits
:
I enjoyed a great 2.5 day Holiday weekend trip aboard the
Condor
where the 24 anglers caught 114 Yellowfin Tuna and Limits (240) of Yellowtail. Some pictures:
My first tuna for 2014: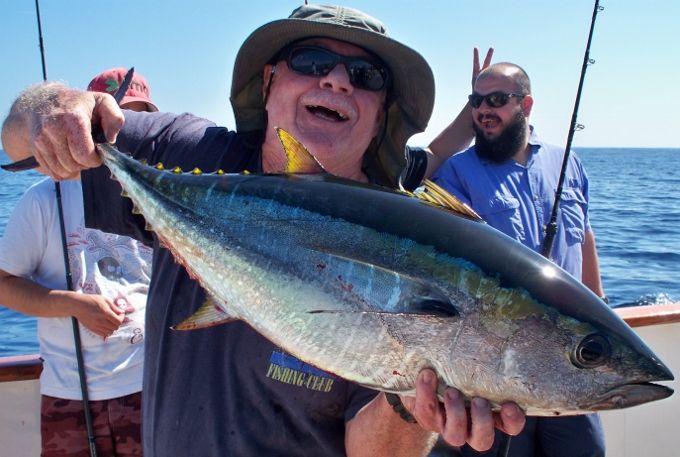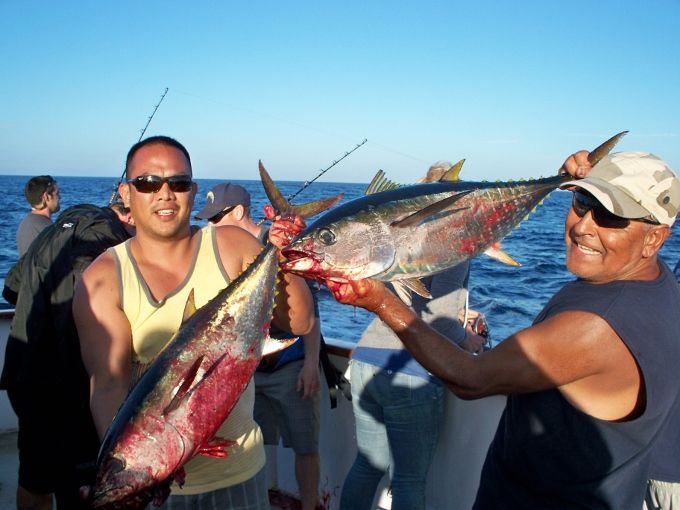 This was our trolling rotation with a five fish climax: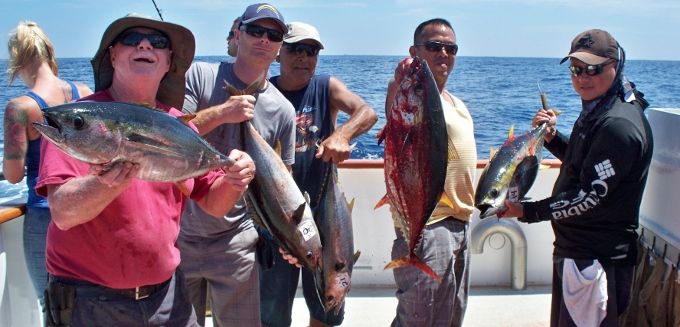 The jackpot for the day was a bait fish and was the biggest Tuna, troll fish or not, about 25 pounds: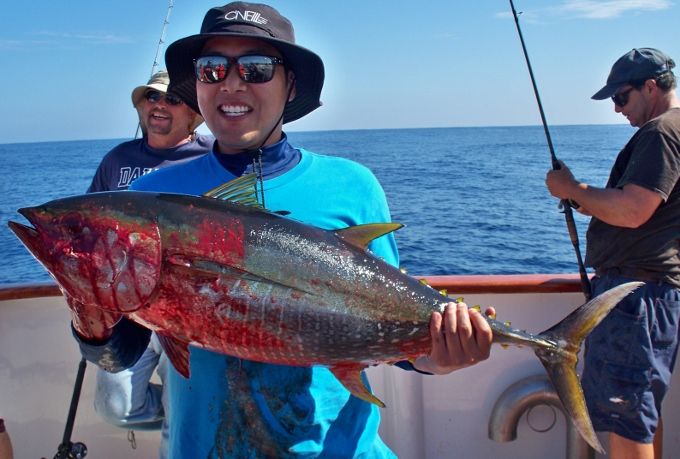 The
Searcher
returns from a successful 2.5 day trip Wed.-07-09-14:
Good fishing within 58 miles on the
Sea Adventure II
on Weds—07-09-14:
Another great day of White Seabass fishing, off the
Mirage
, Tuesday, 07-08-14:
And more big Halibut on the Mirage:
Angler Tristan lands a nice Barracuda on a twilight trip:
Pretty ladies who fish or maybe not:
Big Halibut caught by angler Shawn on the
Ultra
:
Angler Bert with White Seabass caught on the
Pacific Dawn
on Sunday, 07-06-14:
Angler John with a 41 pound Halibut caught off the Pacific Dawn on their 2 day trip that returned, Tuesday 07-08-14:
The Islands
Catalina/Santa Barbara Island!
The
Sport King
caught six Yellowtail on their trips to the island Wed.-07-09-14:
The
Fortune
gets in on a good White Seabass bite and some big Halibut over the Holiday weekend:
San Clemente Island!
Angler Shon with a 30 pound Halibut, caught Tuesday, 07-08-14 on the
Freedom
along with 14 other Halibut and 17 White Seabass:
Some more pictures from the trip on the Freedom on Weds:
Down South-San Diego and good ole Mexico!
Good Calico Bass fishing on the
Dolphin
, Tuesday, 07-08-14:
Private boater Brian with a nice Tail:
Some big Bluefin Tuna to go with the numerous Yellowfin Tuna and Yellowtail caught on the 2.5 day trip over the holiday weekend on the
Eclipse
:
The
Searcher
with a nice holiday weekend trip:
Private boater Michael with a surface Iron Yellowtail:
Captain Kelly of
K&M Sportfishing Charters
had another good catch on the Yellowtail over the weekend and added some Yellowfin Tuna:
A 297 pound Warsaw Grouper caught by angler Cullen out of Louisiana, 5th largest ever:
Wow, a 150 pound Wahoo, caught in Costa Rica:
Quotes:
Humor:
All comments and suggestions welcomed!
Weather
The weather forecast for Friday and Saturday looks to be windy with big swells! Always check the latest forecast before leaving the dock.
Hook Up,Cory