by Cory Visser
Thursday Recap Report-Weekend Possibilities:
A Summary of local fishing from Santa Monica to Oceanside, including Catalina and San Clemente Islands, with fishing trips out of San Diego down to Baja, Mexico.
So far it has been and continues to be an unbelievable season for
Tuna and Tails
, so close to shore, and everywhere in between. The
Long Beach and Newport Beach
boats have had to make longer runs to find the Tuna, yet they are still producing too. Unfortunately the Tuna are no longer in 1/2 day range up north, yet near the border the fish remain close.
In the
San Diego
area, where boats are fishing near the border, they have found numerous schools of
Yellowfin Tuna
and occasionally are running into some very large
Bluefin Tuna
to 115 pounds just north of the border.
Although a few
Dorado
are being caught on most trips, I expect a lot more Dorado will arrive later in August and remain through September?
As far as below the border goes the
Yellowfin Tuna
and
Yellowtail
fishing remains
wide open
, with sensational counts found on ¾ day boats, one day boats and longer trips! Even the extended half day pm trips on the Dolphin have produced some outstanding results.
The
Yellowtail
bite at
Catalina Island
has been really going off lately, with some Bonito being caught. However a good many Yellowtail are under five pounds and should be released to fight again next year!
A few
Bonito
are being caught in
Santa Monica Bay
as well as off San Pedro and Long Beach.
The weekend boat pressure did not put the hex on the Tuna fishing this week, although the frantic pace of easy limits turned into a full working day to fill up the sacks, with so many boats sharing the area.
I fished on the
Condor
on a 2.5 day trip that fished Sat. and Sunday. Since we could see land off and on during the trip, we were not very far offshore? How cool it is for the boat operators to not spend so much money on fuel on recent trips. We straddled the border and scratched out 101 Yellowfin Tuna on Saturday, with not one single troll fish? How weird?
Sunday was a whole different day, although Saturday and Sunday both contained Monsoonal conditions, with high humidity, off and on rain and a deep marine layer. On Sunday morning we ran across some big Bluefin Tuna. We hooked 25 and ended up catching only 8 to over 90 pounds. Too many folks were using light gear and waved goodbye to their fish shortly after hook up! Unfortunately I never got bit with the heavier gear.
We caught 35+ trolling fish on Sunday as compared to zero on Saturday? We finished off trip limits by early afternoon and again went looking for big blue, with no luck in hooking any, although we ran over several schools. I finished the trip with double US limits!
Some pictures:
Two of the Yellowfin Tuna I caught early: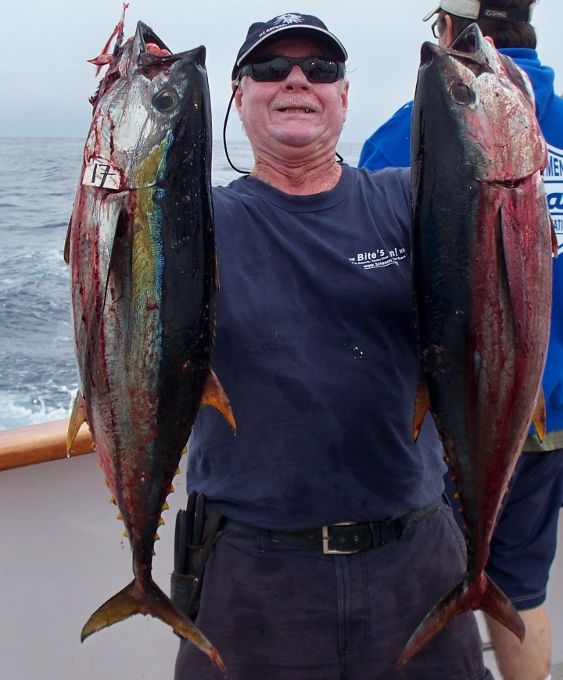 Here is "Junior", ok Cole with the jackpot winning first day Yellowfin Tuna, a little over 20 pounds: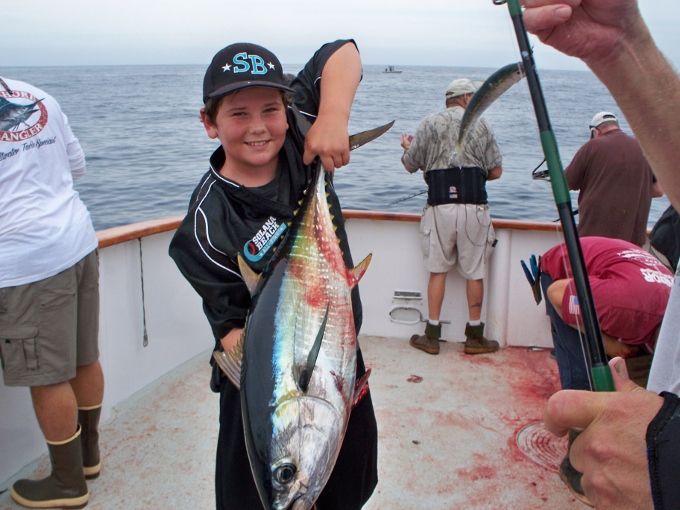 Angler Tommy with a nice Tuna: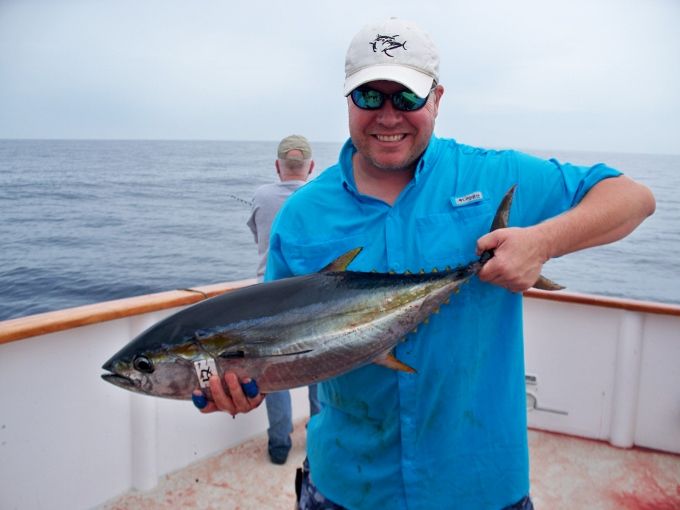 A 70 pound Bluefin Tuna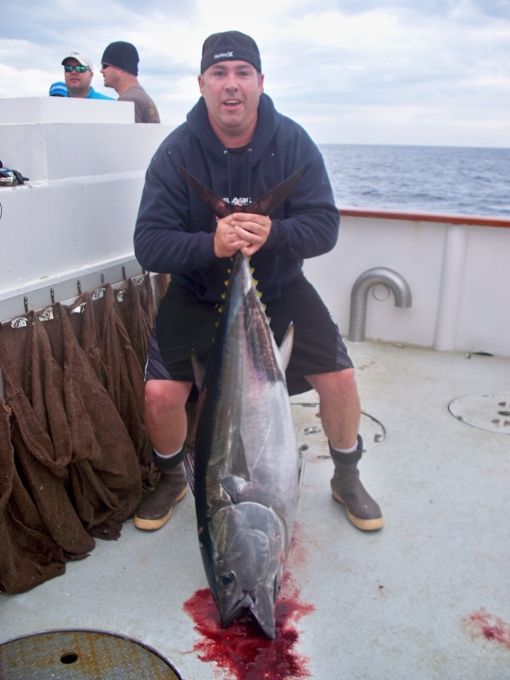 This one looked to be 90+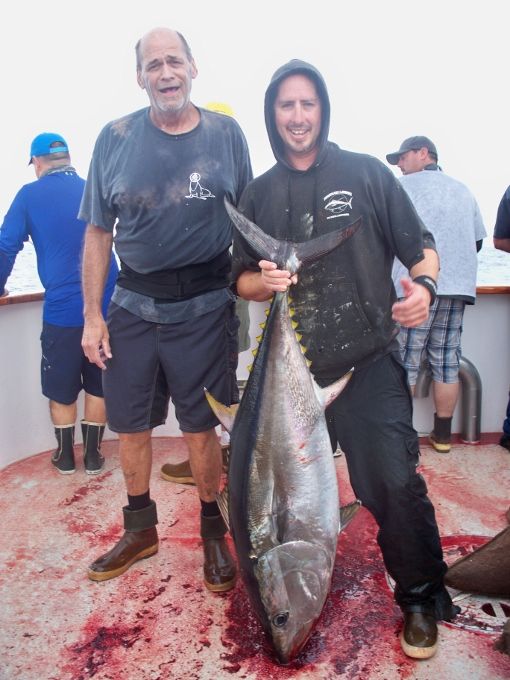 Roger with a big Bluefin Tuna: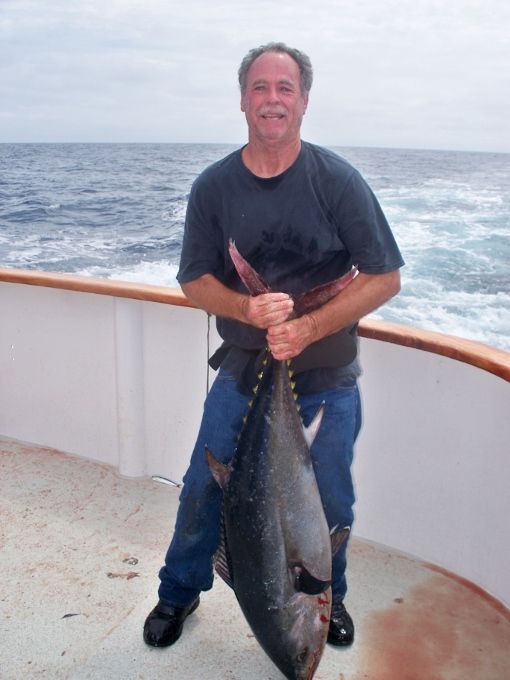 An 80 pound Bluefin Tuna caught off the Condor Tuesday, 08-04-14:
Crew Miguel with a big Bluefin on the Condor:
A few
Barracuda
being caught daily by the ½ day boats out of San Pedro and Long Beach. Bass fishing is way down right now, and the annual spawn looks to have been cancelled? A crazy year.
The
Channel Islands
boats continue to catch
White Seabass
and big
Halibut
, what a year they are having?
The
Excel
scores three
Opah
to 181 pounds on a single stop on their latest trip:
Just off
Catalina Island
a
Marlin
is hooked by angler Steve on Saturday, 08-02-14 for
Balboa Angling Club's
first tag and release of the year:
Some slug Bluefin Tuna caught off the
Fortune
, Thursday, 08-07-14:
Big Bluefin Tuna caught on the
Pacific Dawn
over the weekend:
A couple of great reports out of
Dana Wharf Landing
!
Private boater Alex and friends with a dandy Do Do and Tuna caught south of Dana Point:
25 pound Bluefin Tuna caught fishing on the
Dana Pride
:
Happy anglers with Tuna caught off the
Malihini
on their Tuesday trip, 08-05-14:
Mission Belle
scores 74 Yellowfin Tuna, Wed., 08-06-14:
Sea Adventure 80
with a 115 pound Bluefin to go with all the other 270+ Tuna caught on their recent 2.5 day trip.
Pam with a Dorado and Danny with a 40 pound Bluefin Tuna:
The
San Diego
caught 61 Yellowfin Tuna on their Thursday, 08-07-14 trip:
The
Thunderbird
out of Dana Wharf with 200 Tuna, on a three day trip that returned, 08-04-14:
The T-Bird caught 46 Yellowfin Tuna, 9 Bluefin Tuna, and 37 Yellowtail on their trip that returned Thurs.-08-07-14:
Good fishing off the
Tribute
on Monday, 08-04-14:
Great Tuna fishing on the
Freedom
:
Twilight
fishing out of Long Beach on the
Liberty
, Saturday, 08-02-14 with 27 Sand Bass and a bunch of Sculpin.
Another great day of White Seabass and Halibut fishing, off the
Mirage
, a 2 day trip that returned Tuesday, 08-05-14:
Pretty ladies who fish or maybe not:
White Seabass and Halibut still being caught on the Pacific Islander on Saturday, 08-02-14:
The Islands
Catalina/Santa Barbara Island!
The
Sport King, Pursuit, Native Sun and Victory
have all caught plenty of Yellowtail on their trips to the island this week:
The ¾ day boat
Enterprise
out of Long Beach scores 62 Yellowtail on Thursday, 08-07-14:
San Clemente Island!
No recent reports besides good Calico Bass fishing.
Down South-San Diego and good ole Mexico!
Good fishing on the
Dolphin,
Saturday, 08-02-14 and more good fishing throughout the week:
Captain Duane of
Seasons Sportfishing
puts the wood to the big Bluefin Tuna and Yellowfin:
Captain Kelly of
K&M Sportfishing Charters
found the
Tanker White Seabass
on the chew to go with another good catch on the Yellowtail and Yellowfin Tuna over the weekend and during the week:
Humor:
How the dogs beat the heat:
All comments and suggestions welcomed!
Weather
The weather forecast for Friday and Saturday looks fantastic! Always check the latest forecast before leaving the dock.
Hook Up,Cory