by Cory Visser
Thursday Recap Report-Weekend Possibilities:
For local fishing in the Santa Monica, Long Beach, Catalina and San Clemente Islands. Through:
12-29-11
Last Call to scratch that Rockfish itch, tomorrow at midnight they become no take until the season reopens on March, 1st, 2012. Looks to me like lots of anglers this week scratched that itch and found the targeted species, thus it is going to be Fish Tacos on the menu for New Years?
The Constitution ran a 1.5-day trip to Colonet Wednesday, 12-28-11 and they limited out on Big Reds and several monster Lingcod, but no Yellowtail. Some pictures:
No more news on the winter runs of Yellowtail south of the border. The previous week the Pacific Voyager ran a 2.5-day trip to Colonet over the weekend and they caught 11 Yellowtail to 28 pounds, mostly on Yo Yo Iron.
Twilight fishing:
Not recently, just wait until summer?
In Santa Monica Bay
Private boater Aren fished Wednesday, 12-28-11 with five fishing buddies out of Santa Monica at the Short Banks. All six limited out on quality rockfish. They sure know how to prepare a meal:
And catch some fish:
Both the New Del Mar and Spitfire had near limits of Sculpin and Rockfish, on their Thursday, 12-29-11 trips, with five Lingcod caught between them.
Newport Beach and Dana Point.
The ¾ day boat Sum Fun had one heck of a week Sculpin fishing, not to mention some big Sheephead and Rockfish. Some pictures:
Private boater Halibut in Laguna:
Private boater Casey with a nice Calico Bass off the city of San Clemente:
Private boater Simon fished Oceanside with friend Carl and son Otto, who caught this Halibut:
Friend Carl with a nice Halibut:
Long Beach and San Pedro
I fished with private boater Lal and his son Scott on Monday, 12-26-11 in drop dead gorgeous conditions. We had our best bite of the year in the Palos Verdes area, releasing all but a few of our 45 mixed Calico and Sand Bass to 5.5 pounds, plus 10 assorted Rockfish and a Halibut, which we kept. Lal's 5.5 pound Sand Bass: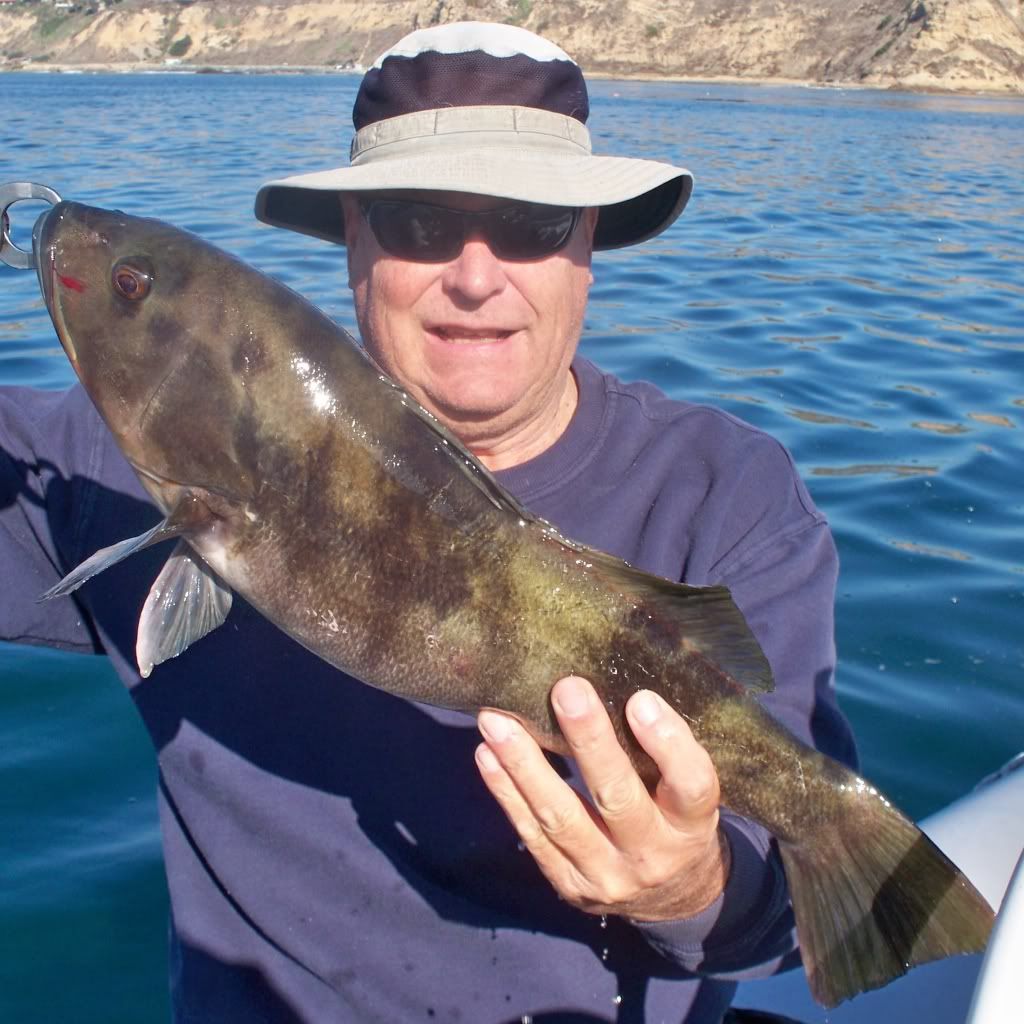 Myself with a nice Calico Bass:
Lal with his Halibut: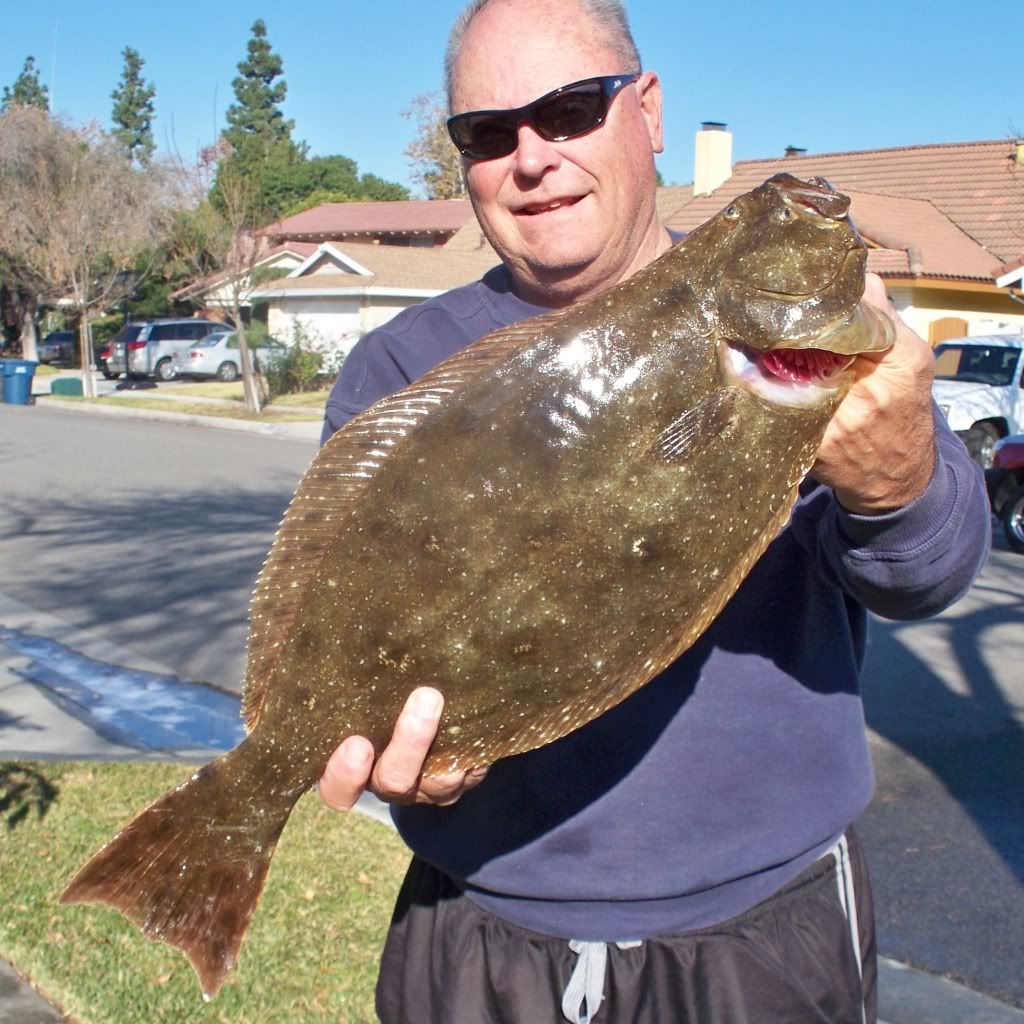 Raul catches a 24 pound Halibut off the ½ day boat City of Long Beach on the Christmas Eve trip:
Private boater Ray and friend fished the Long Beach area for some Sand Bass, Sand Dabs and a dandy Halibut on Wednesday, 12-28-11:
The ½ day boat Southern Cal had one great day of Sand Bass fishing on Saturday, Christmas Eve, on their morning trip, where 11 anglers caught 110 Sand Bass (limits).
Japan Ron sent me some photos from his 3/4 day trip on the Victory, Wednesday, 12-28-11:
Jackpot Cabezon:
Limits of Bocaccio:
More:
The Islands
Catalina/Santa Barbara Island!
Private boater Rob assisted by Captain Dave Hansen fished the Island Tuesday, 12-27-11 and had an excellent bite on the bottom grabbers at the Farnsworth Bank on the backside of the Island. The day's catch:
The Pursuit out of 22nd Street Landing is still running successful trips to the Catalina, with sensational fishing and weather on their Wednesday, 12-28-11 trip. The 45 anglers caught 1 Calico Bass, 50 Sheephead, 85 Whitefish, 90 Bocaccio (limits), 216 Rockfish, 1 Lingcod, 87 Perch and 77 Red Snapper.
Private boaters slam the Sheephead at Catalina:
San Clemente Island!
Private boater Kevin fished the Island with friends and caught lots of big Calico Bass to seven pounds, the big'n of the day:
The Freedom is running one last trip to San Clemente or San Nicolas tonight, all aboard.
Down South-San Diego and good ole Mexico!
I fished with private boater Bill on Wednesday, 12-28-11 also in drop dead gorgeous conditions. We fished the Finger Bank, Salsapuedes and along the kelp beds on the coast of Baja Mar. We had to work hard for a limit of Reds each, however, all the other species of Rockfish were on a good chew all day. Releasing all our shallow water caught fish; I released 5 and 10 pound Lingcod, to go with Calico Bass, Sugar Bass, Johnny Bass, Chocolate Rockfish and others. It was fantastic fishing and weather. Here is Bill with a big Sheephead:
Myself with a large Red:
Captain Jamie ran a Seasons charter on Monday, 12-26-11 in gorgeous weather and slammed the big Reds. Some pictures:
The Indian is running full day Rockcod trips to the Finger Bank and Points south of the border. They had limits around on Wednesday, 12-28-11, for 22 anglers.
Weather
The weather forecast for the weekend is on a roll, excellent for the Holiday extended weekend Saturday, Sunday, and Monday. Always check the latest forecast before leaving the dock.
Wishing everyone a Happy New Year and fabulous 2012!
Hook Up,
Cory