by Cory Visser
Thursday Recap Report-Weekend Possibilities:
For local fishing in the Santa Monica, Long Beach, Catalina and San Clemente Islands. Through:
01-12-12
1.5 day trips to Colonet
-The
Dominator
,
Voyager
, and
Legend
, all had successful trips over the weekend, with a few Yellowtail caught on two of the three boats. The counts included some real big Lingcod and mostly limits of Reds and other assorted Rockfish. Some pictures:
Lingcod off the Legend:
Big Reds off the Legend:
Yellowtail off the Voyager:
Big Reds off the Legend:
Yellowtail off the Dominator:
Tanner with a Yellowtail:
Sonia with a Yellowtail:
http://www.bdoutdoors.com/forums/attachments/inshore-islands-fishing-reports-southern-california/326786d1326083093t-gcla-colnett-dominator-2012-01-07_07-59-44_880.jpg




Lingcod
off the Dominator:
Big Reds off the Dominator:
And a Cow Cod:
Twilight fishing:
The Slammer out of Redondo Sportfishing ran a trip on Monday, 1-09-12, with 3 anglers catching 30 Sand Bass, 2 Sculpin, 9 Lobster, 6 Rock Crab and 1 Spider Crab .
In Santa Monica Bay
Private boater Jason fished Sunday, 1-08-12 with Vince out of Santa Monica Bay targeting local Bass, Sand Dabs and then dropped the Hoops and found some Lobster on the crawl, a great way to spend an afternoon and evening on the water! Some pictures:
Vince with a nice Sandy:
The Bug!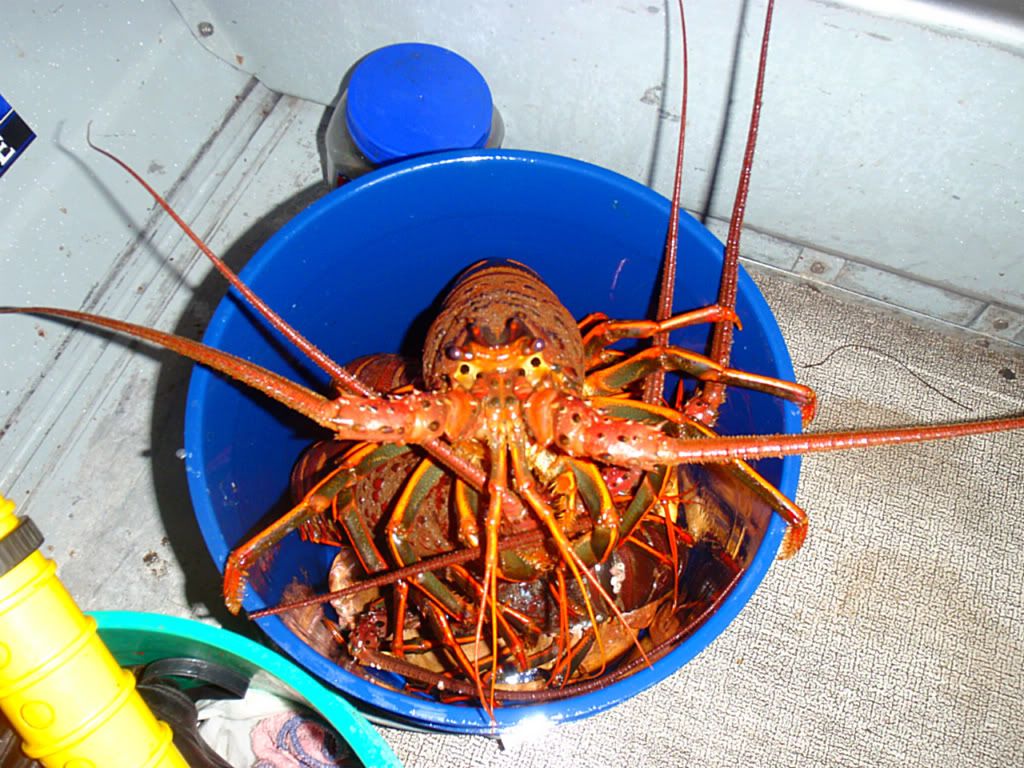 The New Del Mar and Spitfire are now concentrating on Bass and Sculpin fishing. The New Del Mar had over 100 mixed Bass and 153 Sculpin on their Thursday, 1-12-12 trip.
Newport Beach and Dana Point.
With live squid just outside the harbor, the mixed Bass have been on the chew as the ½ day boat Patriot out of Newport landing had 68 Sand Bass on their Wednesday, 01-11-12 trip with a few Sculpin. A couple of Halibut have added to the excitement.
Taking advantage of the live squid schools presence, private boater Ken and his son caught over a 100 Calico Bass to 4 pounds and three Halibut fishing the structure out of Dana Point Saturday, 01-07-11.
Long Beach and San Pedro
Private boater Dave fished with friends over the weekend and caught some nice Sand Bass and a good sized Halibut:
Private boater Gary and friends fished the Long Beach area for a couple of Halibut on Saturday, 01-07-12:
A nice haul off the ½ day boat Southern Cal, Saturday 01-08-12, Sand Bass to five pounds and a 38" Halibut:
http://fishingnetwork.net/forum4/attachment.php?attachmentid=34785&d=1326139672

I
fished with private boater Lal on Wednesday, 01-11-12 along the Palos Verde Coastline, as well as the Horseshoe and the Long Beach Wall. Although a bit nippy all day, the sun peeked through the clouds just enough to keep the major chill off. We found a steady bite on the Calico Bass to three pounds until slack tide at 9:30 am. We scratched out an equal amount of Sand Bass also to three pounds the rest of the afternoon, catching and releasing our 50th Bass at 2:30 pm, when we called it a day. We had a combination of grease calm conditions and enough breezes off and on to make a series of solid drifts amongst the structure. Some pictures:
The sky on fire: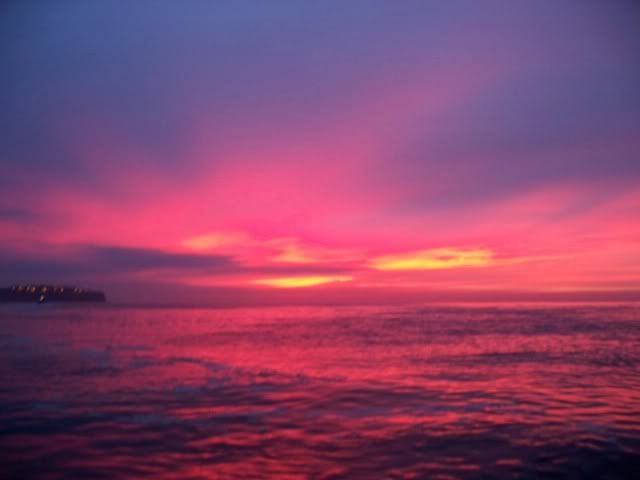 Lal with a big Calico Bass: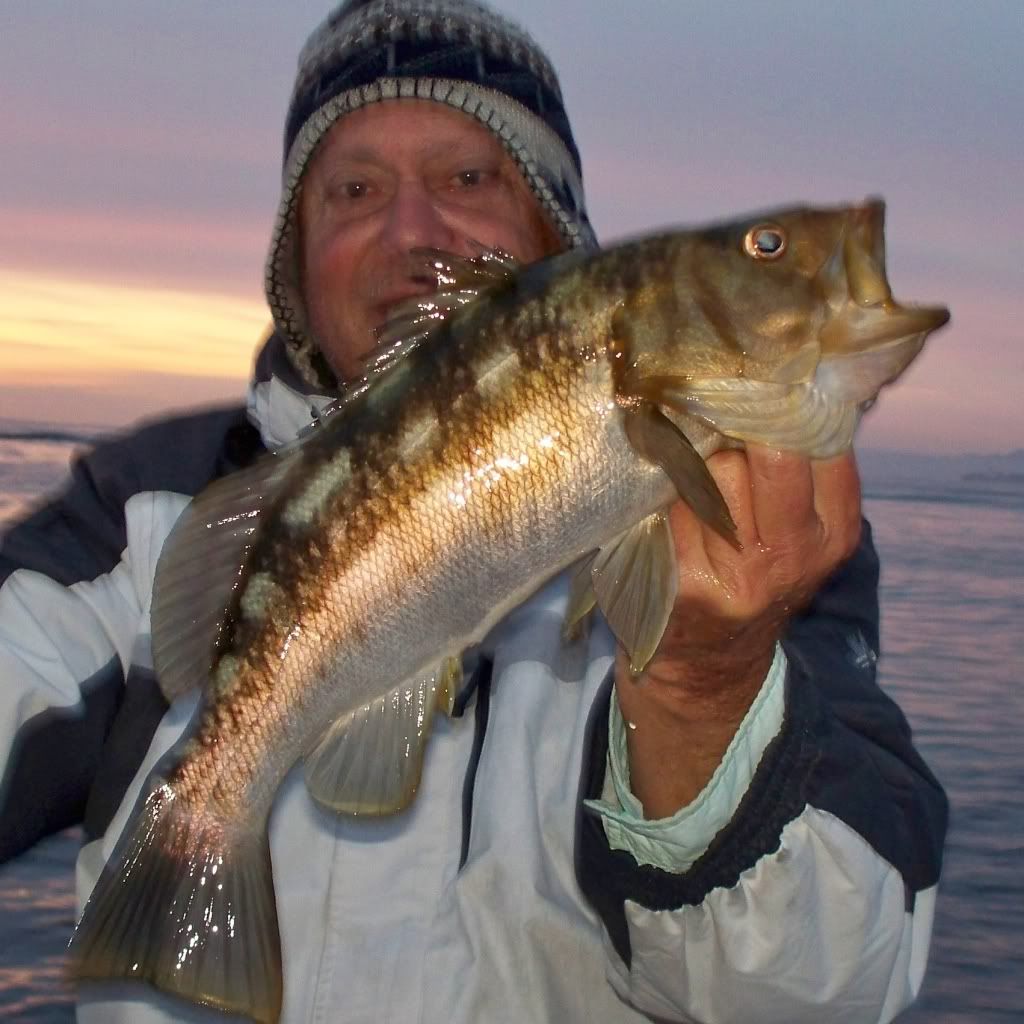 Myself with a dandy Sandy: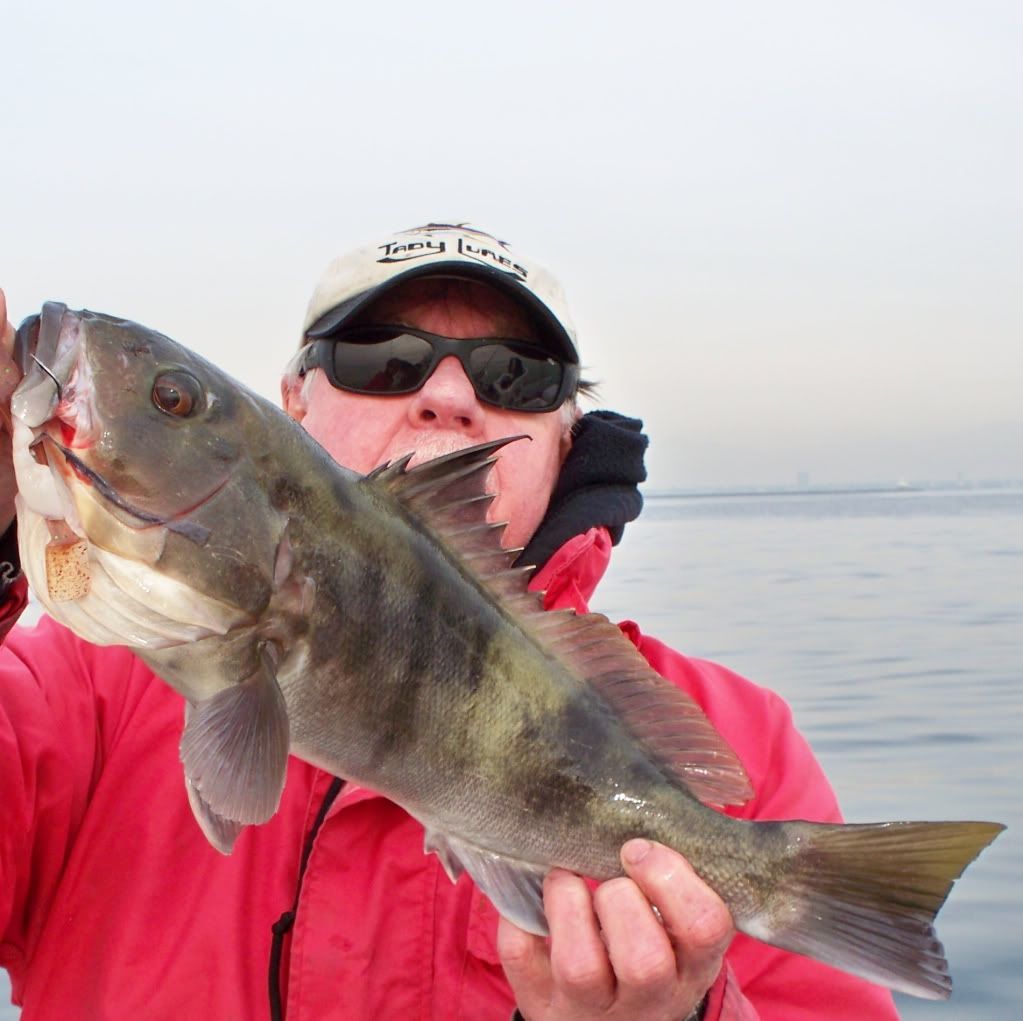 Japan Ron sent me some photos from his 3/4 day trip on the Victory, Wednesday, 1-12-12 with a light load of 8 anglers catching an assortment of Bass and Sculpin. Oh yeah and Lal and I in the Ducky:
Ron with a big Sculpin:
The Ducky:
The Islands
Catalina/Santa Barbara Island!
Private boater Bob pre fished the weekend SWBA Tournament with friend Tracy for Calico Bass at Catalina, and found some big Cabazon on the chew:
San Clemente Island!
The SWBA tournament over the weekend produced some outstanding Calico Bass fishing off the boilers and in tight to the beach, with nearly a nine pound fish taking the honors.
Down South-San Diego and good ole Mexico!
The Indian cancelled their trip on Wednesday, 01-11-12, waiting for clarity on the new Mexican Visas?
Massive schools of Squid outside Dana landing rewarded several private boaters with unreal Bass fishing during the week.
Victory fished with his son Thursday, 01-12-12 out of Las Salinas and caught a bunch of Reds and other Rockfish, plus some Calico Bass:
Weather
The weather forecast for the weekend is excellent for Saturday and little wind forecasted for Sunday morning, despite some possible rain. Always check the latest forecast before leaving the dock.
Hook Up,
Cory