by Cory Visser
Thursday Recap Report-Weekend Possibilities:
A Summary of local fishing from Santa Monica to Oceanside, including Catalina and San Clemente Islands, with fishing trips out of San Diego down to Baja, Mexico.
The offshore scene shows considerable improvement over the weekend, as the Yellowfin Tuna moved in to share the spotlight with the Bluefin Tuna. Although most of the Yellowtail being caught range from 6 to 12 pounds, a new area of Kelp Paddies holding fish were found that yielded plenty of 15 to 25 pound fish, adding to quality being caught.
Angler Zane was on a 3 day trip on the
First String
over the weekend and they found the Tuna to be big and plentiful. Some pictures:
Angler Roger was on a 2.5 day trip on the
Sea Adventure 80
over the weekend and they caught some Bluefin and Yellowfin Tuna to 48 pounds. Some pictures:
The
Aztec
, fishing on a 2.5 day trip which returned early Wednesday morning ran into some bruiser Bluefin Tuna to 80 pounds, landing 26 with lots of losses, to go with a bunch of Yellowtail.
Private boater Lal fished on a 3 day trip on the Salt Fever over the weekend and caught yellowtail, Bluefin Tuna and yellowfin Tuna to 42 pounds: Some pictures:
The San Clemente Island Yellowtail bite is consistent with a few fish to double digits on most trips to the Island. These Yellowtail are big, and are tackle busters, so bring heavier gear.
The local Sand Bass fishing has picked up, with some Calico Bass mixed in, as the Barracuda bite slowed way down, both in Santa Monica, and out of Long Beach.
The
Mardiosa
managed to catch 4 White Seabass, 60 Calico Bass, (limits), 2 Sheephead and 1 Sargo on their trip Saturday, 07-14-12.
The Yellowtail fishing at the Coronado Islands and the Rockpile continues to be good as long as the weather cooperates. I fished on the full day boat The
Pride
on Wednesday, 07-18-12 and we found the Yellowtail on the chew at the Rockpile, the big Tails are averaging 20 to 30 pounds, so use at least 30 pound line. Some pictures:
Private boater Brett found the Coastal White Seabass on the chew:
They also had a wide open bite on the Sand Bass:
Still good Sand Bass fishing on the Twilight runs, with an occasional school of Barracuda adding to the fun.
Twilight fishing:
The
Enterprise
fished on Thursday, 07-19-12, and caught 1 Barracuda and 91 Sand Bass. The
Nautilus
fished on Tuesday, 07-17-12, and caught 108 Sand Bass and 1 Sculpin. The
Monte Carlo
out of LA Harbor Landing ran a trip last night Thursday, 07-19-12, and the 9 anglers caught 61 Sand Bass.
In Santa Monica Bay
The ¾ day boat
Tradition
the Barracuda on a serious chew on Sunday, as they caught 120 to go with one Halibut. Then on their Twilight trip they caught 140 Barracuda Sunday evening, (limits). Pictures courtesy of Jackpot Jimmy:
In between Barracuda fishing some nice Calico Bass and Sheephead are being caught on the Tradition.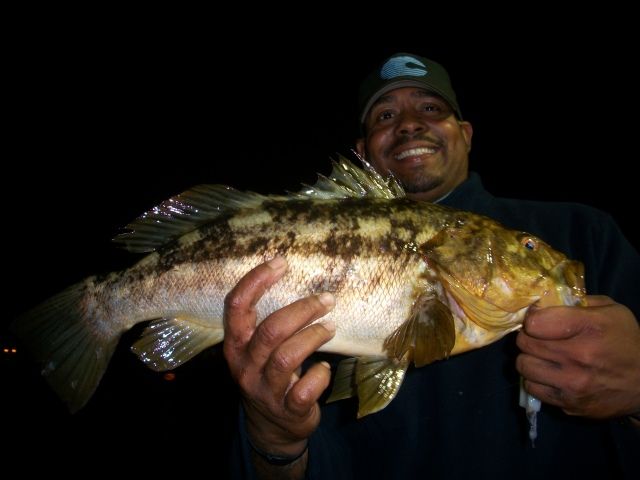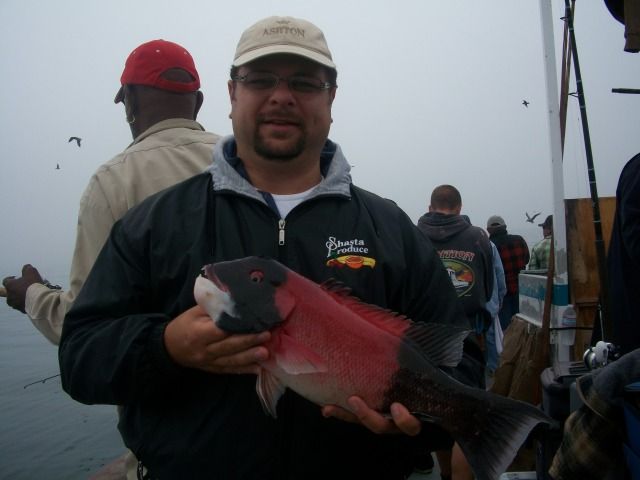 The 1/2 day boat
Redondo Special
caught 242 Barracuda fishing on Sunday, 07-15-12. The ¾ day
Spitfire
caught 200 Barracuda fishing on Sunday, while the ½ day boat New Del Mar caught 168 Barracuda.
Newport Beach and Dana Point.
Private boater Dave fished on Saturday, 07-15-12 and caught this 52 pound coastal tanker White Seabass:
Private boater Tony fished with friends and caught this 30 pound Halibut, Saturday, 07-14-12:
Long Beach and San Pedro
The great Barracuda fishing last week sort of fizzled, however there were good scores on both the daytime and Twilight runs for Sand Bass. A number of Sport boats had counts over 200 on the Sand Bass during the week and over last weekend.
The Islands
Catalina/Santa Barbara Island!
Calico Bass fishing at the Island is excellent and a few Bonito and Barracuda have shown up in the counts lately. For example the Sport King on a ¾ day trip caught 131 Calico Bass, 8 Barracuda, 12 Sheephead, 4 Whitefish, 5 Rockfish, 6 Bonito and 85 Perch on their Thursday, 07-19-12 trip to the Island.
Great fishing on the
Dreamer
on Saturday, 07-14-12 and Monday 07-16-12 for White Seabass:
Private boater Matt fished with his friends on Saturday, 07-14-12 and caught a few White Seabass to 70 pounds, wow: Pictures:
The
Pursuit
out of 22nd St. Landing, ran to the Island on Monday, 07-16-12, with 40 anglers catching 1 White Seabass, 50 Calico Bass, 44 Sheephead, 32 Whitefish, 12 Bocaccio, 94 Rockfish, 273 Perch and 80 Red Snapper.
San Clemente Island!
The San Clemente Island Yellowtail bite continues to produce huge Yellowtail to 50 pounds, and many fish are being lost, as these fish are tackle busters, so bring heavier gear. The Calico Bass fishing is heating up and there are some nice schools of Barracuda running around the Island. Also a few White Seabass are being landed daily.
Angler Odium fished the
Thunderbird
on a 2-day trip over the weekend catching a variety of fish. Some pictures:
A 20 pound Halibut caught at San Clemente Island on the second day:
A nice White Seabass caught at Catalina on the first day:
A variety of Calico Bass, Sheephead and Rockfish:
The
Fury
out of Dana Wharf fished on Sunday, 07-15-12 with 27 anglers catching 3 Yellowtail, 2 White Seabass, 1 Halibut, 172 Calico Bass, 3 Barracuda and 27 Perch.
The
Freedom
fished on Tuesday, 07-17-12 and caught 5 Yellowtail, 3 White Seabass, 141 Calico Bass 14 Barracuda, 8 Sheephead, 2 Whitefish, 1 Sculpin and 73 Perch. They caught 5 big Halibut and 5 White Seabass on yesterday's trip to the Island:
The
Toronado
out of Pierpoint Landing fished on Sunday, 07-15-12 catching 9 Yellowtail, 1 White Seabass, 164 Calico Bass, 47 Barracuda and 12 Sheephead. Some pictures:
Down South-San Diego and good ole Mexico!
Private boater Bill fished with friends at the Coronado Islands on Saturday, 07-14-12, and put the wood to these Yellowtail:
Charter Master Jamie of Seasons Sportfishing got the job done on the Yellowtail, Thursday, 07-19-12: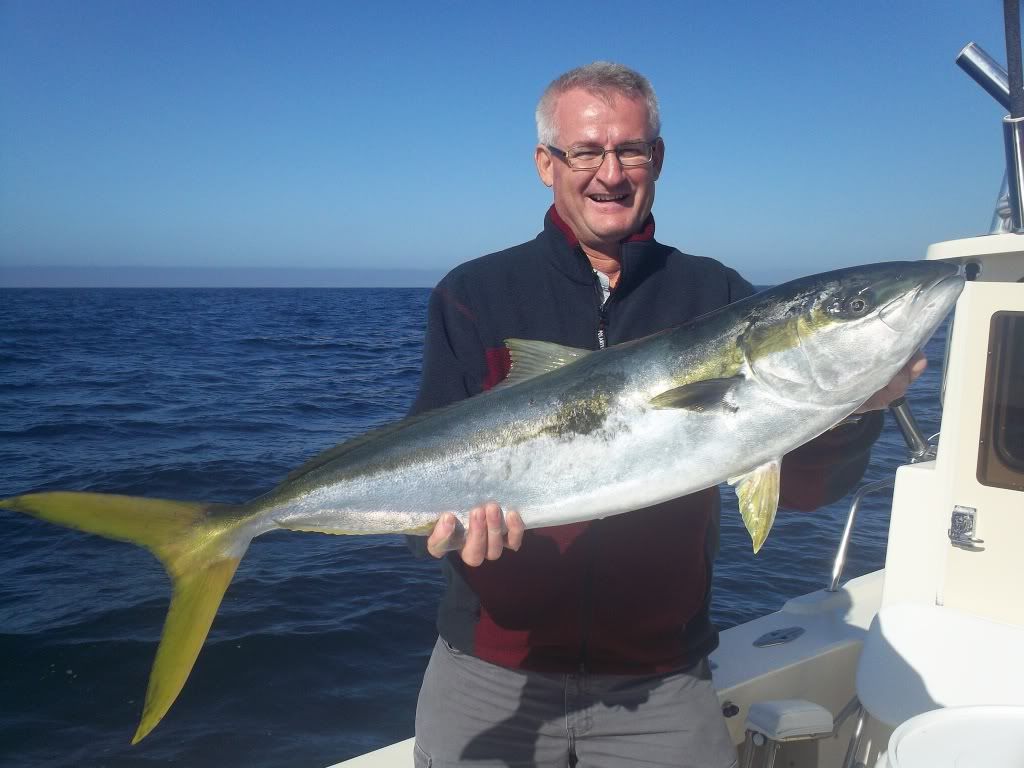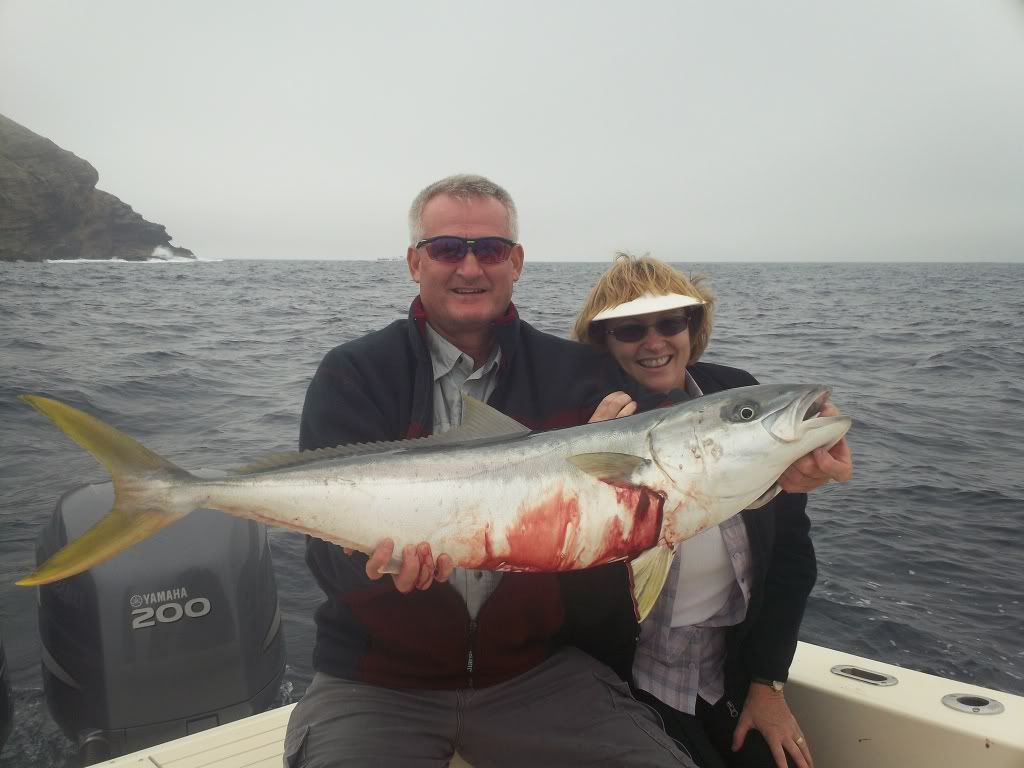 All comments and suggestions welcomed!
Weather
The weather forecast for both Saturday and Sunday locally looks to be decent, the offshore scene calls for breezy conditions most of the time. Always check the latest forecast before leaving the dock.
Hook Up,
Cory