by Cory Visser
Thursday Recap Report-Weekend Possibilities:
A Summary of local fishing from Santa Monica to Oceanside, including Catalina and San Clemente Islands, with fishing trips out of San Diego down to Baja, Mexico.
Tuna, Tuna, Tuna, Do Dos and Tails.
The weekend weather did little to help the offshore performance; however, sensational weather during the week provided excellent fishing on the Bluefin Tuna, and the bigger Yellowtail being caught off the Kelp Paddies. There are several areas holding Bluefin Tuna, one area remains below 120 miles and another between 70 and 80 miles. Some Bluefin are biting even closer to home, around 30 miles from Point Loma, where the ¾ day boats have successfully fished them.
More and more Dorado are being seen and caught, while some big scores on Yellowfin Tuna were reported in the over 100 mile areas. For a lot of us the best news was some solid fishing on 1 day trips, as many anglers cannot get multiple days off to go fishing. Although your best bet on achieving a solid catch ratio is to book a 2.5 trip, which allows the boat to fish until dark on both days, and wake up in the zone on the second day.
For example: the
First String
docked Thursday morning, returning from a 2.5 day trip that slammed both Yellowfin and Bluefin Tuna, full limits on both species for 26 anglers, 520 Tuna in all, wow!
I fished on the
Aztec
, on a 1 day trip that left Tuesday night and returned late Wednesday evening. Our count consisted of 46 Yellowtail, most in the 18 to 22 pound range, with a 30 pounder taking Jackpot. We also caught five Bluefin Tuna to 25 pounds and one Dorado. The
Aztec
did a quick turnaround and ran another 1 day trip on Thursday, catching 40 Bluefin Tuna and 1 Albacore, yep that rare Tuna, which must have been lost? Some pictures: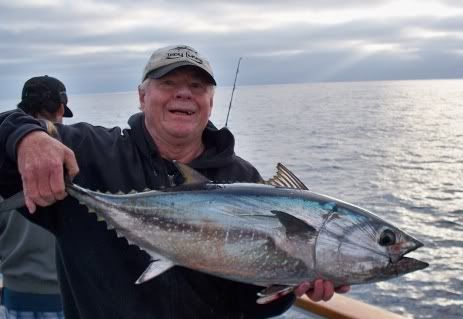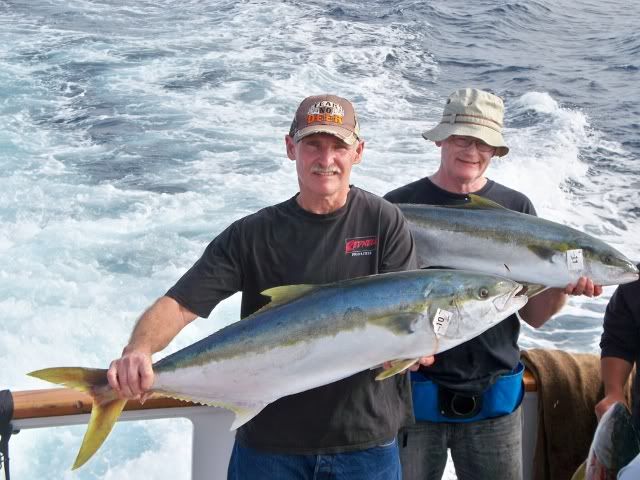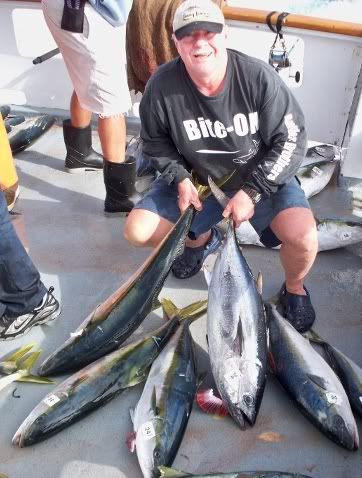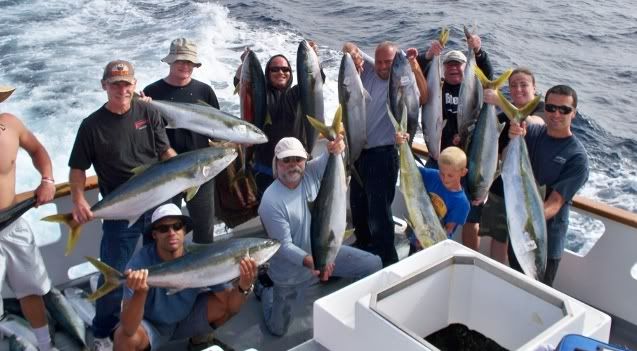 Captain Adam took a charter group out of Oceanside to fish the local banks of the 181 and 182 on 08-01-12 and they caught Yellowtail and Dorado off the Kelp Paddies:
It has been fairly quiet at San Clemente Island with a few big Yellowtail being caught on most trips, and occasionally they find a school of biting White Seabass. The same remains true for Catalina, very quiet, with decent Calico Bass fishing in both areas.
The Barracuda come, the Barracuda go. Recently they returned in a fury! On any given day the local Sand Bass and Calico Bass fishing is excellent, which depends on conditions, current, water temp, etc.
The
Mardiosa
managed to catch 3 White Seabass, 45 Calico Bass, 2 Barracuda, 2 Sheephead, 2 Black Sea Bass released and 3 Sargo on their trip Monday, 07-30-12.
Limits of Calico Bass plus some decent White Seabass were caught on the
Dreamer
, Monday, 07-30-12:
The
Dreamer
caught 8 White Seabass Friday morning, August 03, 2012, and were still fishing.
The Yellowtail fishing at the Coronado Islands was very good on Saturday, 07-28-12, and then word came down that the ¾ day boats would not be allowed to fish the Islands unless they first checked in with immigration in Ensenada, which is ludicrous. There were reports of private boaters being asked to leave the area, and most private boaters are reluctant to return until this latest mess is cleared up. No updates yet.
Generally the best Sand Bass fishing is in the evening on the Twilight runs, although lately it has been hit and miss with more Sculpin caught than Bass.
In Santa Monica Bay
Most of the boats have resorted to catching Rockfish, with scattered counts of Barracuda and Bass.
Private boater Jones fished in the bay Saturday, 07-28-12 and caught this huge Sheephead:
Newport Beach and Dana Point.
Most of the Sport Boats have found some decent Calico Bass fishing, along with Sculpin and Rockfish.
Private boater Joe fished out of Newport on Monday, 07-30-12 and caught 4 Halibut, with only one legal:
Long Beach and San Pedro
Great Barracuda fishing most of the week and good scores on the Twilight runs for Sand Bass. The Enterprise had back to back days of over 200 Barracuda on Wed. and Thur.
Private boater Lal and Japan Ron got a thrill when Lal hooked and released this 50 pound Black Seabass:
Lal with a legal Lingcod released:
The Islands
Catalina/Santa Barbara Island!
Angler TV Dan fished the
Outrider
out of 22nd St. Landing, on Tuesday, 07-31-12, and they caught some Barracuda, Calico Bass, Whitefish, Sheephead and Perch. Jackpot was this dandy Halibut: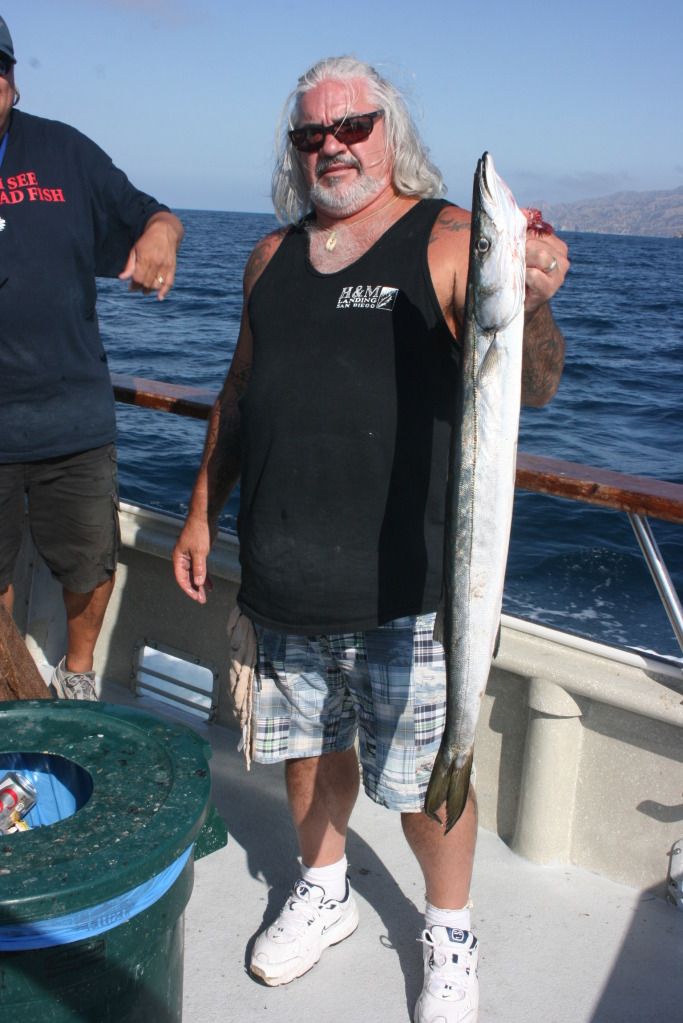 The
Freedom
still catching White Seabass at the Islands, with 15 caught on Sunday, 07-29-12:
The
Pursuit
out of 22nd St. Landing, ran to the Island on Tuesday, 07-31-12, with 19 anglers catching 150 Calico Bass, 20 Sheephead, 30 Whitefish and 150 Perch.
San Clemente Island!
Very Quiet!
Down South-San Diego and good ole Mexico!
Private boater Lee fished with friends near Ensenada offshore and caught several Yellowtail and Dorado off the Kelp Paddies, Thursday, 08-02-12. Here is a picture of a big Yellowtail and the Kill bag:
Private boater Greg fished with friends at the 425 and within 5 miles of the islands, when they found a Kelp Paddy holding Yellowtail, Tuesday, 07-31-12 and caught five including this big guy:
Private boater Mike fished with friends in the Bay, Wednesday, 08-01-12 and caught his first legal Halibut, weighing 13 pounds:
The ¾ day boat San Diego out of Seaforth Landing caught 13 Yellowtail and 15 Bluefin Tuna on their Monday, 07-30-12 trip.
Charter Master Jamie fished the Islands on Saturday, 07-28-12 and caught some dandy Yellowtail: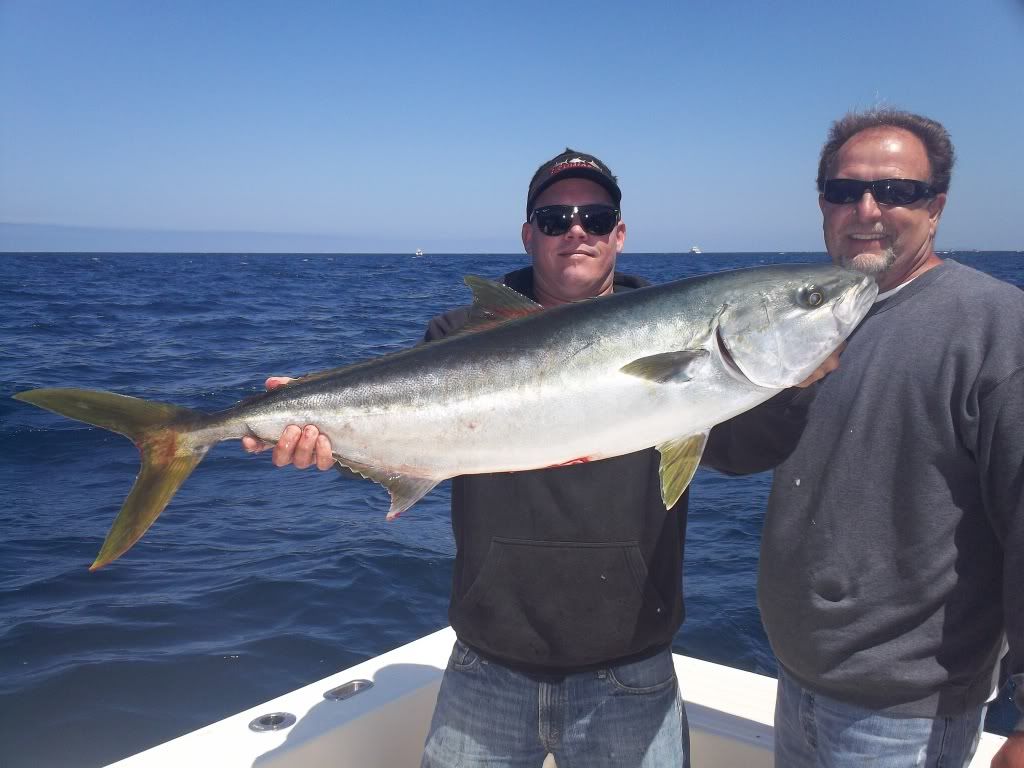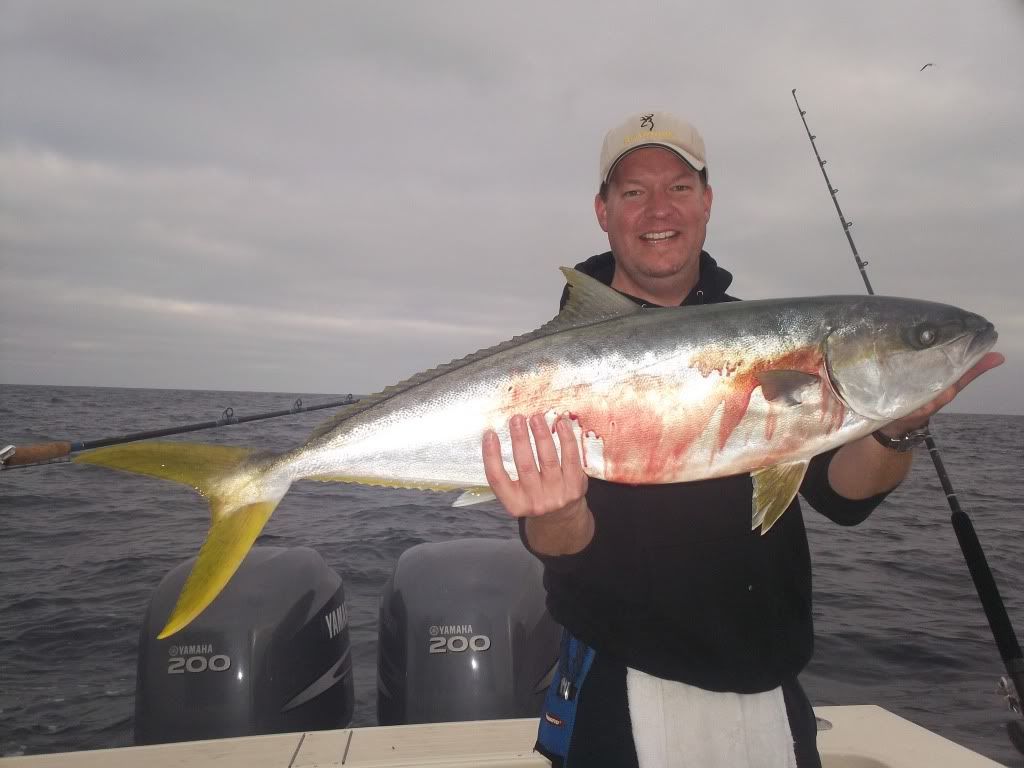 Private boater Bill fished with friends at the Coronado Islands, Saturday, 07-28-12 and caught three big Yellowtail:
Private boater Bill fished with friends at the Coronado Islands, Saturday, 07-28-12 and caught Yellowtail, then ran offshore and caught a Mako and Dorado:
Private boater Jesse fished with Dad and friends at the Coronado Islands, Sunday, 07-29-12 and caught eight big Yellowtail:
Private boater Lal fished with friends over the weekend, targeting White Seabass at La Jolla. They were skunked on the Ghosts, however, they had a by catch of a 24 pound Yellowtail and a 34 pound Halibut:
All comments and suggestions welcomed!
Weather
The weather forecast for the weekend shows an increase in wind for both Saturday and Sunday, while locally it looks to be very nice in the morning, with breezy conditions in the afternoon. Always check the latest forecast before leaving the dock.
Hook Up,
Cory