by Cory Visser
Thursday Recap Report-Weekend Possibilities:
A Summary of local fishing from Santa Monica to Oceanside, including Catalina and San Clemente Islands, with fishing trips out of San Diego down to Baja, Mexico.
Offshore Grand Slams-Yellowfin Tuna, Bluefin Tuna, Do Dos and Tails.
The weather has been sensational during the week and provided excellent opportunities for catching an Offshore Grand Slam; which is catching all four species on a single trip, usually in a single day, not all that common, yet has happened more frequently has fishing has been outstanding.
More and more Dorado (Mahi Mahi), are being caught off Kelp Paddies along with Yellowtail and the two species of Tuna. There have been some excellent trips in one day range where limits of Bluefin Tuna were caught. The area below 120 miles and on down to 150 miles has provided more opportunities for catching Yellowfin Tuna, to go with the other species being targeted.
On any given day the catch is dependent on finding the Mother Load Kelp Paddy, often only one Paddy needs to be found to fill the boat up. If the Captain and crew cannot find that magic Kelp, it can lead to a disappointing trip. Open water schools of fish are few and far between, I.E. there is a distinct lack of troll fish being caught.
On the one day trips, the
Pride
managed limits of Bluefin Tuna both Wednesday and Thursday as early as 7:30 am. They then spent the rest of the day looking for Kelp Paddies to add Dorado and Yellowtail to the scores. Some pictures:
Angler Ron hit the Jackpot, literally on the
Condor
which docked Wednesday morning, 08-08-12, returning from a 1.5 day trip that caught the offshore grand slam, Yellowfin, Bluefin Tuna, Dorado and Yellowtail. Ron won the jackpot with a big Yellowfin Tuna to go with his personal slam, congrats Ron!
I fished on the
Aztec
, on a 1.5 day trip that left Monday night and returned Wednesday morning. Our count consisted of 8 Yellowtail, most in the 18 to 22 pound range, 12 Dorado, and five Yellowfin Tuna, with a 35 pounder taking Jackpot. We stopped or trolled by over 30 Kelp Paddies with most not holding fish and never found the magic one, despite going the distance of up to 150 miles. My good luck deserted me on this trip as I caught only one small Dorado, which was released. Some pictures: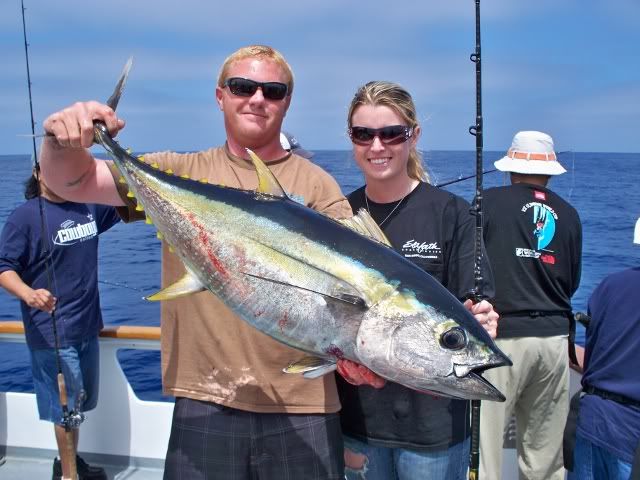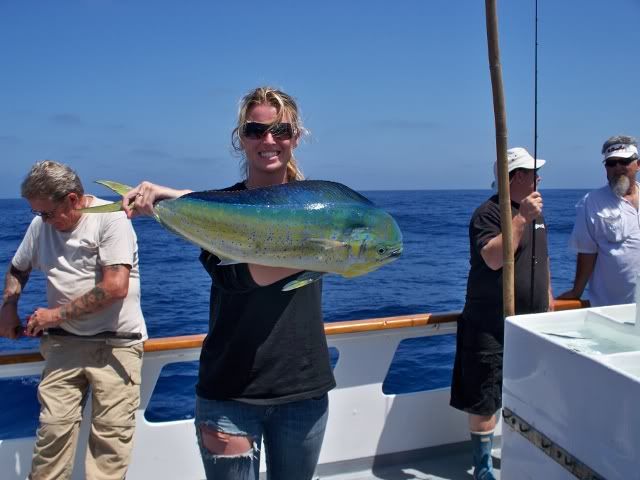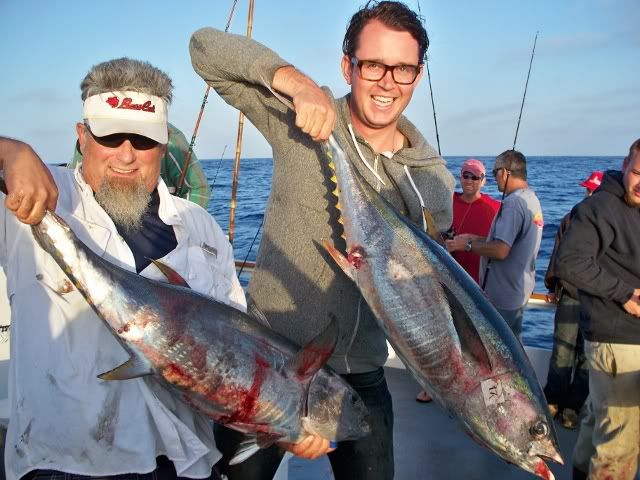 Some pictures of the
Aztec's
8-05-12 1.5 day trip where they caught over 100 Bluefin Tuna:
Jackpot picture of the 3 day
Vagabond
trip returning 08-06-12, with Yellowfin Tuna to 53 pounds:
Nice
Legend
Bluefin Tuna:
A nice Dorado caught by Bob:
Angler Mike had a great trip on the
Islander
on a 1.5 day trip that fished all day Saturday, down 140 miles, catching Yellowtail, Dorado and Tuna. Some pictures: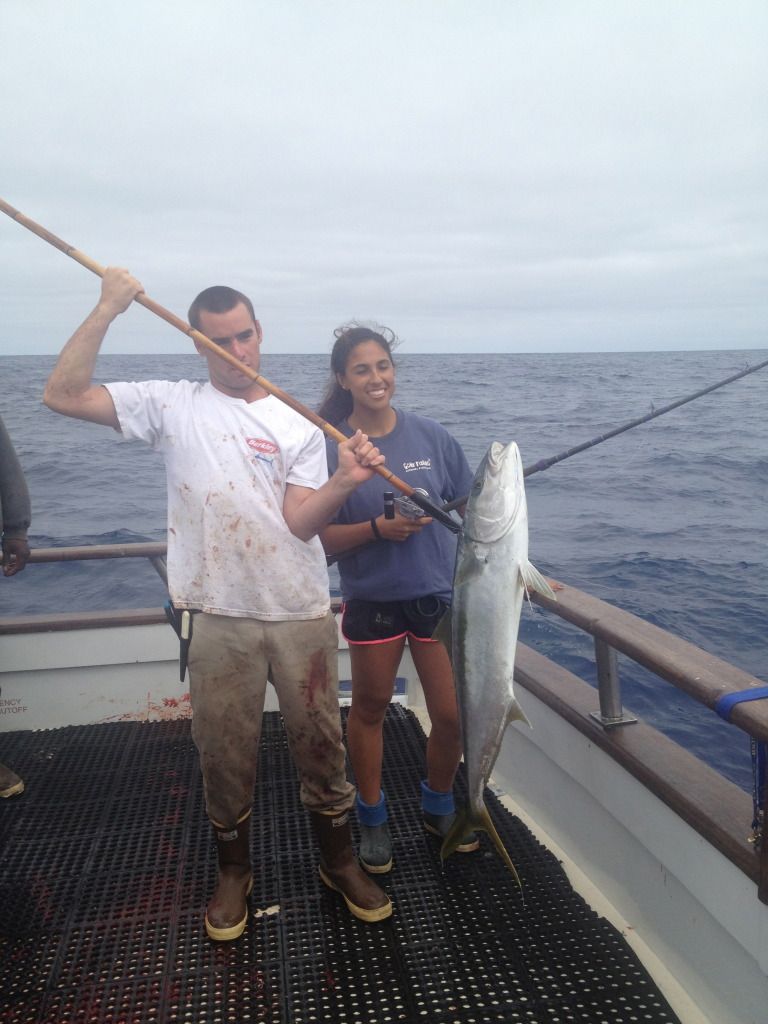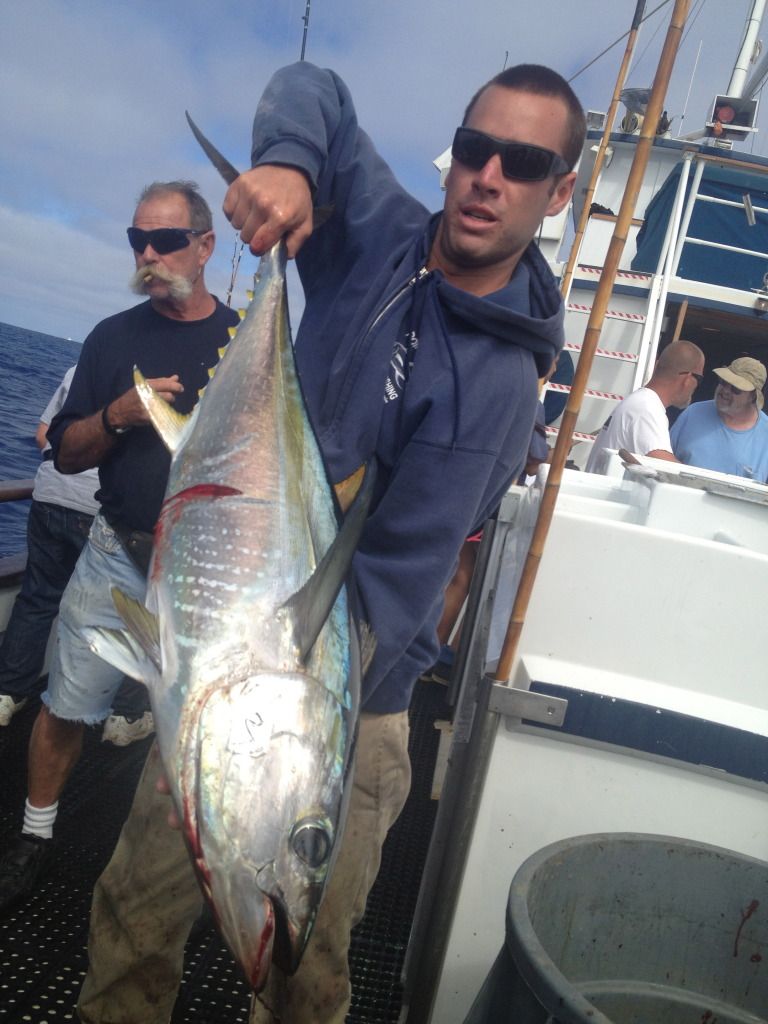 At San Clemente Island the big Yellowtail and White Seabass are showing up in the counts. Catalina remains very quiet, for this time of year.
Limits of Calico Bass plus 7 White Seabass were caught on the
Dreamer
, Saturday, 08-04-12:
Locally the Barracuda fishing is hit and miss, same for Sand Bass and Calico Bass. The ½ day boat
Southern Cal
had a great day of Sand Bass fishing on Wednesday, 08-08-12 with 124 caught to go with only one Barracuda. While on Monday, 08-06-12, the ¾ day
Victory
managed 139 Barracuda and 2 Sand Bass. Some pictures from Japan Ron:
Generally the best Sand Bass fishing is in the evening on the Twilight runs, although there have been some great Sculpin fishing too.
Twilight fishing:
The
Enterprise
fished on Monday, 08-06-12, and caught 47 Sand Bass, 1 Barracuda and 12 Sculpin. The
Monte Carlo
out of LA Harbor Landing ran a trip on Saturday, 08-04-12, and caught 42 Sand Bass and 4 Sculpin. The
Freelance
fished Tuesday evening, 08-07-12 and caught 175 Sculpin and 50 Sand Dab.
In Santa Monica Bay
The ¾ day boat
Tradition
caught their second Yellowtail of the year on their trip Saturday, 08-04-12. They found the Rockcod in the morning on a decent chew, as the Barracuda were MIA, and then had a few Bass hit the deck. The Barracuda returned on Sunday, it has been that kind of an erratic year? Pictures courtesy of Jackpot Jimmy: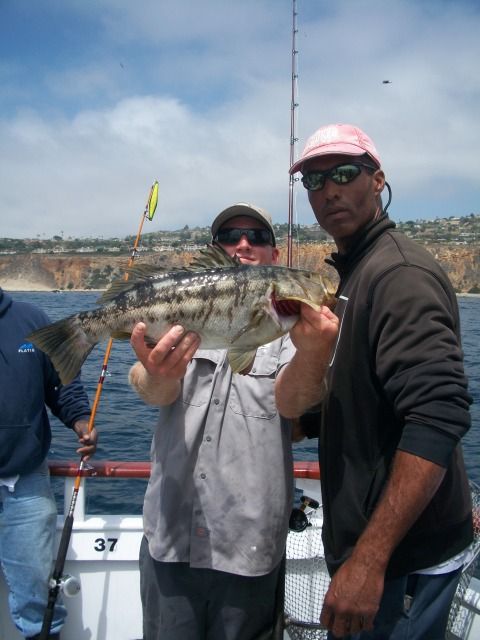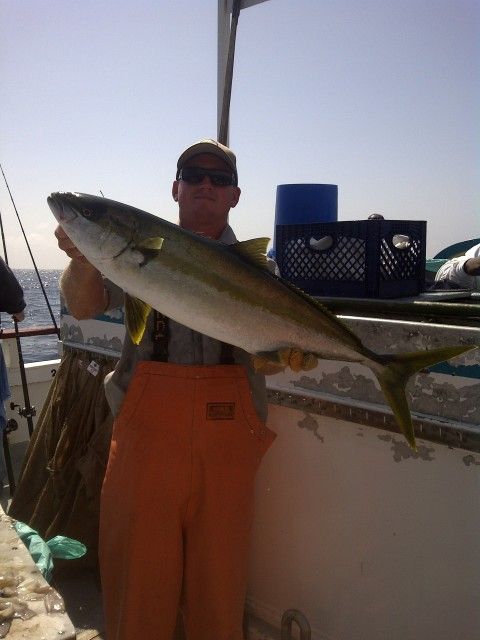 The 1/2 day boat
Redondo
found excellent Barracuda fishing on Sunday, 08-05-12, catching 12 Sand Bass and 126 Barracuda. They followed that trip up with good Calico Bass fishing on Thursday, catching 124.
Newport Beach and Dana Point.
There has been some excellent Sculpin fishing with some good scores on the Calico Bass. For example the
Patriot
caught 200 Calico Bass (limits) for the 20 anglers on their ¾ day trip, Thursday, 08-09-12.
Private boater Joe found a couple of Halibut on the chew Monday, 08-06-12: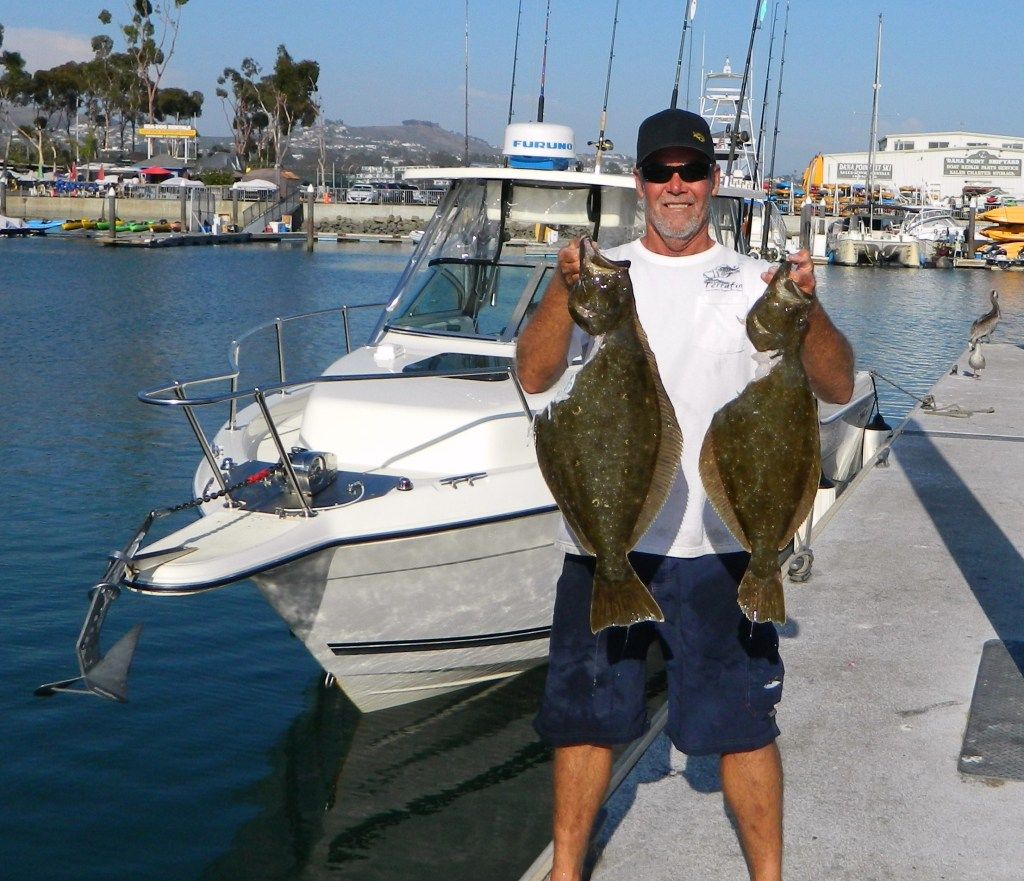 Long Beach and San Pedro
Great Barracuda fishing early in the week and good scores on the Twilight runs for Sand Bass. The
City of Long Beach
½ day boat scored some Barracuda on Wednesday, 08-08-12.
The Islands
Catalina/Santa Barbara Island!
Private boater Spiro caught this 6.5 pound Calico Bass and a 13 pound White Seabass at the Island Saturday, 08-04-12:
The
Freedom
still catching White Seabass and Yellowtail at the Islands, as they caught 3 Yellowtail, 4 White Seabass, 3 Halibut, 132 Calico Bass, 12 Barracuda, 11 Sheephead and 21 Perch on their Wednesday, 08-08-12 trip.
The
Pursuit
out of 22nd St. Landing, ran to the Island on Wednesday, 08-08-12, with 55 anglers catching 51 Calico Bass, 43 Sheephead, 25 Whitefish, 33 Rockfish, 337 Perch and 10 Sargo.
San Clemente Island!
The
Fury
out of Dana Wharf fished on Wednesday, 08-08-12 with 26 anglers catching 5 Yellowtail, 3 White Seabass, 59 Calico Bass, 10 Sheephead, 3 Whitefish and 36 Perch. Angler Tyler with Big Yellowtail caught off the Fury:
Private boater Danial fished with friends and released this estimated 100 pound Black Seabass and kept a 19 pound White Seabass at the Island Saturday, 08-04-12:
Down South-San Diego and good ole Mexico!
The Yellowtail fishing at the Coronado Islands has been very good for private boaters. The ¾ day boats are running offshore to catch Tuna and Tails as the Visa mess is still up in the air? The last few days the ¾ day boats have found limit style fishing on the Dorado with some Yellowtail being caught offshore on the kelp Paddies.
The ¾ day boat
San Diego
out of Seaforth Landing caught 6 Yellowtail and 38 Dorado on their Wednesday, 08-08-12 trip.
The
Mission Belle
headed out on Thursday, 08-09-12, and caught 8 Yellowtail and 28 Dorado (limits).
The ¾ day boat
Malahini
caught 1 Yellowtail and 18 Dorado on their trip on Tuesday, 08-07-12.
Charter Master Jamie fished Offshore during the week and caught some dandy Yellowtail and Dorado: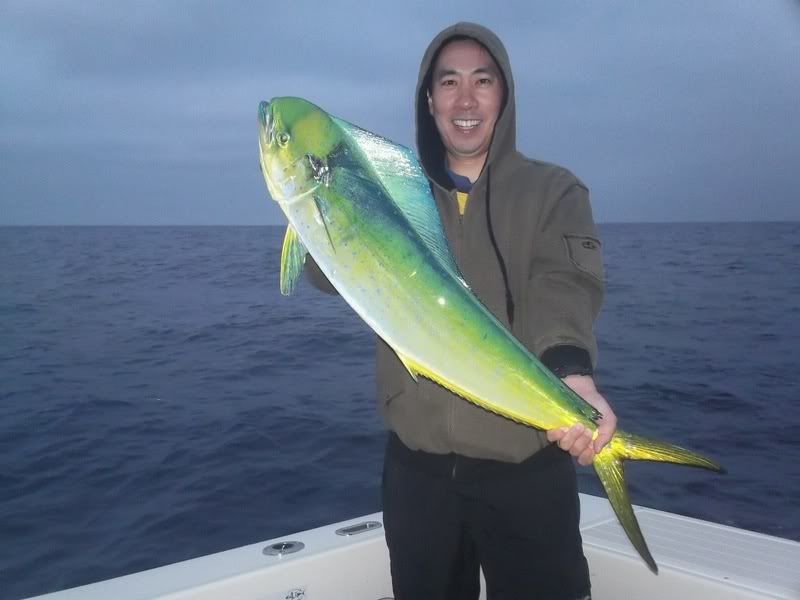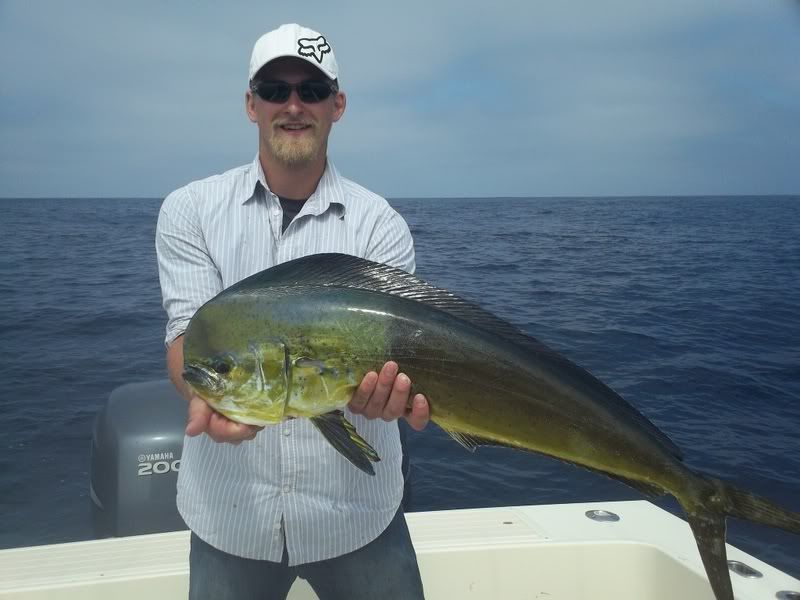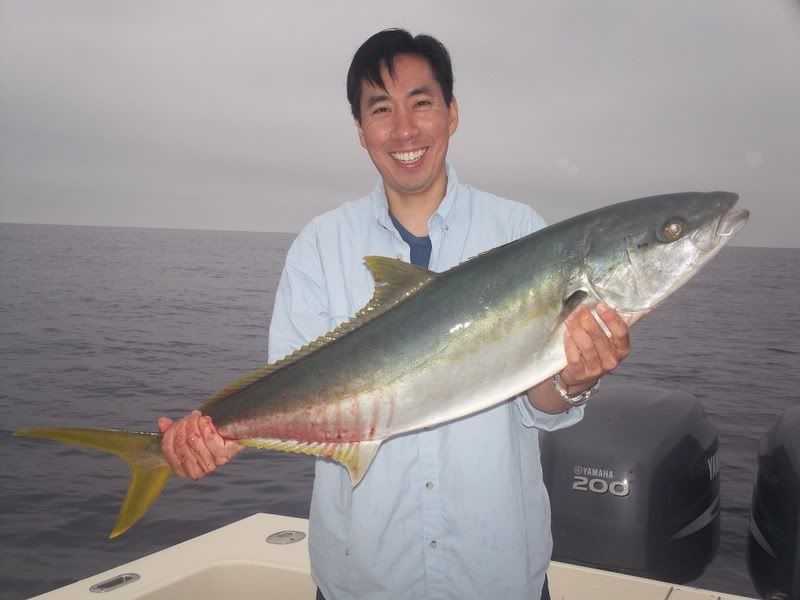 Private boater Bill fished with friends at the Coronado Islands, Saturday, 07-28-12 and caught three big Yellowtail:
Private boater Ron fished with friends over the weekend, and found outstanding fishing for both Bluefin Tuna and Yellowfin Tuna to 50 pounds, plus Yellowtail and Dorado: Some pictures:
[img] border=0>[/embed]
All comments and suggestions welcomed!
Weather
The weather forecast for both Saturday and Sunday locally looks to be very nice; the offshore scene also calls for calm conditions with under 10 knots of wind most of the time. Always check the latest forecast before leaving the dock.
Hook Up,
Cory