by Cory Visser
Thursday Recap Report-Weekend Possibilities:
A Summary of local fishing from Santa Monica to Oceanside, including Catalina and San Clemente Islands, with fishing trips out of San Diego down to Baja, Mexico.
Offshore action continues at full speed-Yellowfin Tuna, Bluefin Tuna, Do Dos and Tails. The weather has been between very good and sensational, leading to more outstanding fishing over the weekend and during the week!
Lots of Dorado (Mahi Mahi), are being seen in the very warm water up to 73 degrees in some areas. These Dorado seem to be bait shy, preferring the natural baits (sauries) to the big sardines being offered. The Yellowtail fishing on the Kelp Paddies have been off the charts in the 100+ mile range, requiring a 1.5 day trip or longer to reach.
Finding the Mother Load Kelp Paddy is still the major task to achieve a great count on the fish. The big schools of Yellowfin Tuna have been more difficult to find and the Bluefin Tuna have been found closer to the Pens located about 50 miles south of San Diego. There have been some off the charts catches of Yellowtail and Dorado on the ¾ day boats, meaning you don't have to run far to load up on the fish.
Check out this count off the ¾ day boat
Malihini
from 08-15-12, 116 Yellowtail and 80 Dorado for 40 anglers.
A Jackpot Yellowtail on the
Pride
plus some Bluefin Tuna and Dorado fishing Tuesday, 08-14-12. Some pictures: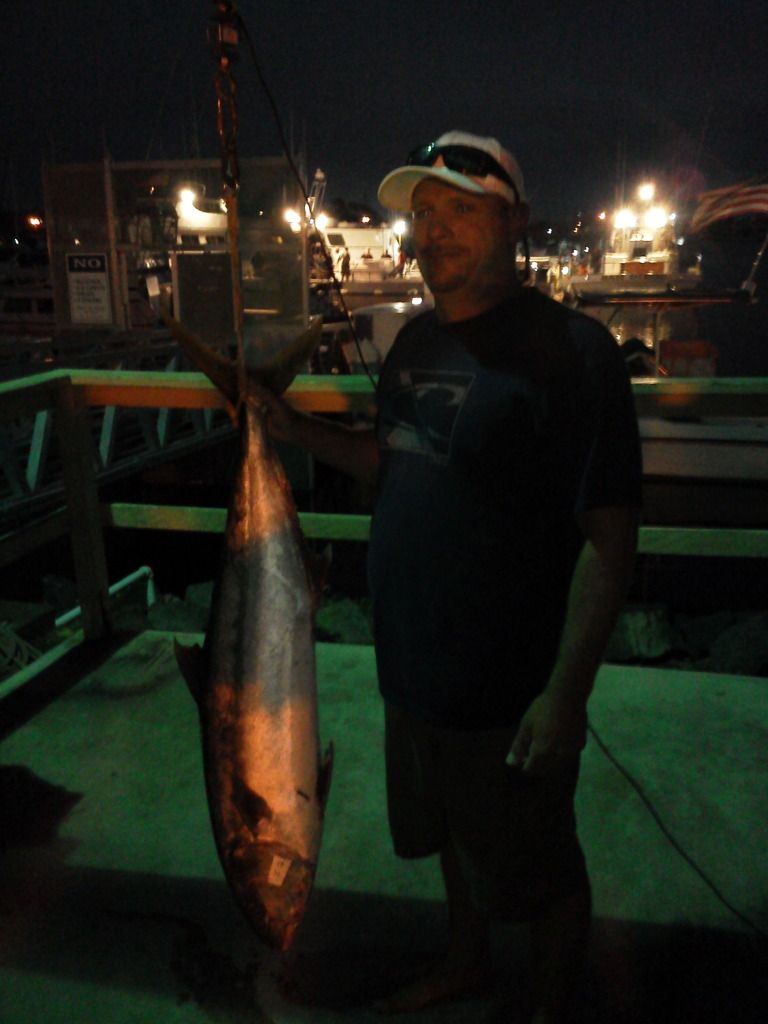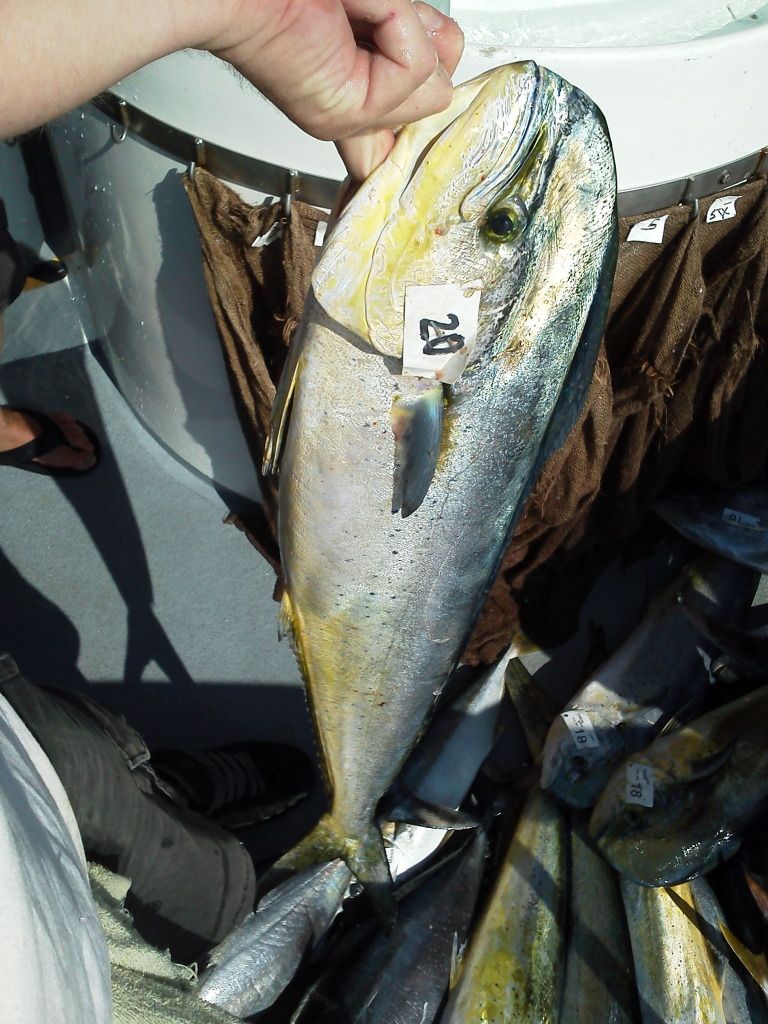 The
Aztec
, from a 2.5 day trip that returned Monday, 08-13-12 with limits of Yellowtail, 250 plus 33 Bluefin Tuna and 10 Dorado.
A rare Albacore caught on the
Ultra
trip 08-15-12, along with Yellowtail and Dorado:
A big Tail on the
Legend
:
The
Legend's
2-day trip count returning Friday, 08-17-12 was 40 Bluefin Tuna, 128 Yellowtail and 108 Dorado.
Captain Mike off the boat
Tail Walker
had a great day at the Tuna Pens south of the San Diego:
Locally the Barracuda fishing is decent, same for Sand Bass and Calico Bass. The ½ day boat
Southern Cal
had a great day of Sand Bass and Barracuda fishing on Wednesday, 08-15-12 with 46 Sand Bass and 53 Barracuda caught. While the ¾ day
Victory
managed 69 Sand Bass, 28 Barracuda and 150 Sculpin. Some pictures from Japan Ron:
Twilight fishing:
The
Enterprise
fished on Thursday, 08-16-12, and caught 82 Sand Bass and 2 Barracuda for only 13 anglers. The Freelance fished Tuesday evening, 08-14-12 and caught 20 Rockfish and 181 Sculpin.
In Santa Monica Bay
Mostly Rockfish with some decent counts on Sand Bass and a few Calico's mixed in.
Newport Beach and Dana Point
.
There has been some excellent Sculpin fishing with some good scores on the Bass. For example the Patriot caught 58 Sand Bass, 47 Rockfish and 155 Sculpin for the 31 anglers on their ¾ day trip, Thursday, 08-16-12.
Private boater Jimbo found the Halibut on the chew Tuesday, 08-14-12, catching 26 and 34 pound brutes:
Long Beach and San Pedro
There was some great Barracuda and Sand Bass fishing during the week. For example the Enterprise caught 188 Sand Bass and 83 Barracuda on Wednesday, 08-15-12.
The Islands
Catalina/Santa Barbara Island!
The
Freedom
caught 1 Yellowtail 42 Calico Bass, 12 Sheephead, 210 Perch and 1 Cabazon on their Saturday, 08-11-12 trip.
The
Sport King
had a great day at the Island on Monday, 08-13-12 catching 121 Calico Bass, 38 Sheephead, 12 Whitefish, 7 Rockfish and 129 Perch.
The Pursuit out of 22nd St. Landing, ran to the Island on Tuesday, 08-14-12, with 18 anglers catching 87 Calico Bass, 43 Barracuda, 5 Sheephead, 25 Bocaccio, 35 Rockfish and 10 Perch.
San Clemente Island!
The
Fury
out of Dana Wharf fished on Wednesday, 08-15-12 with 26 anglers catching 4 Yellowtail, 27 Calico Bass, 1 Barracuda, 9 Sheephead, 1 Whitefish and 130 Perch.
Down South-San Diego and good ole Mexico!
The Yellowtail fishing at the Coronado Islands has been very good for private boaters. The ¾ day boats are running offshore to catch Tuna and Tails as the Visa mess is still up in the air? The last few days the ¾ day boats have found limit style fishing on the Dorado with some Yellowtail being caught offshore on the kelp Paddies.
The ¾ day boat
San Diego
out of Seaforth Landing caught 10 Yellowtail and 66 Dorado on their Friday, 08-17-12 trip.
The
Mission Belle
headed out on Wednesday, 08-15-12, and caught 7 Yellowtail and 66 Dorado (limits).
Charter Master Jamie, of Seasons Sportfishing fished offshore on Monday 08-13-12 and caught some dandy Tuna, Yellowtail, Dorado and those rare fish called Albacore: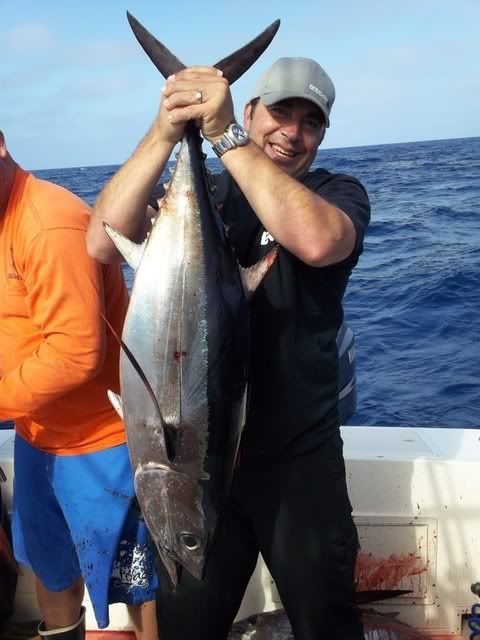 Private boater Bill fished with friends at the Coronado Islands, Saturday, 07-28-12 and caught three big Yellowtail:
Private boater Rick fished with friends at the Coronado Islands, Wednesday, 08-15-12 and caught limits of Yellowtail to 17 pounds, then after running offshore they caught a Bluefin Tuna on the troll:
Private boater Brandon fished with friends on Tuesday, 08-14-12, and found outstanding fishing at the Pens for Bluefin Tuna to 40 pounds: Some pictures:
Private boater Jesse fished with his Dad at the Coronado Islands, Sunday, 08-12-12 and they caught four big Yellowtail:
All comments and suggestions welcomed!
Weather
The weather forecast for both Saturday and Sunday looks fantastic for both the offshore and local. Always check the latest forecast before leaving the dock.
Hook Up,
Cory