by Cory Visser
Thursday Recap Report-Weekend Possibilities:
A Summary of local fishing from Santa Monica to Oceanside, including Catalina and San Clemente Islands, with fishing trips out of San Diego down to Baja, Mexico.
Despite high winds over the weekend, the Offshore action did not slow down much, as many 1.5 and 2-day or more trips enjoyed decent fishing. Obviously the winds made Kelp Paddy hopping more demanding, yet find the right one and game on.
Once again the
Bluefin Tuna
were on the chew, nothing wide open, however, some steady biting on long drifts with a few fished hooked up at all times, and an occasional surge of multiple hookups. Even more exciting is the fact that late last week and again this week a school of Bluefin were found containing lots of brutes from 60 to over 100 pounds.
The winds drove down the warm water temps with only a few areas remaining with 70+ degree water. Consequently the scores on
Yellowfin Tuna
were few and far between, although a few boats found the right school and caught limits. This was the case over the weekend, however, during the week the water calmed and warmed up with more and more decent counts on the
Yellowfin Tuna
. Although the initail run of Yellowfin Tuna consisted of a lot of bigger fish, 30 to 50 pounds, most of the recent schools contain mostly 10 to 15 pound Tuna.
Angler Don fished the
Dolphin II
on Wednesday, 09-05-12 on a one day trip and they ran over a school of huge Bluefin Tuna, catching 31 Bluefin total, many others lost, with 16 going over 60 pounds, on up to 102 pounds. Don caught Bluefin Tuna weighing 102, 95 and 86 pounds, also winning the jackpot. Some Pictures:
Do Dos and Tails
remain the target of the ¾ day and one day boats, which have been able to catch mixed fish totals nearing 100 and occasionally well over that total. This year has produced some of the best ¾ day fishing ever. One day counts generally include Bluefin Tuna in the mix with other exotics.
Angler Chris and the gals fished the
Pacific Dawn
over the weekend on a 2-day trip and limited out on Bluefin Tuna to 50 pounds before getting hammered by the winds on their second day. Some pictures: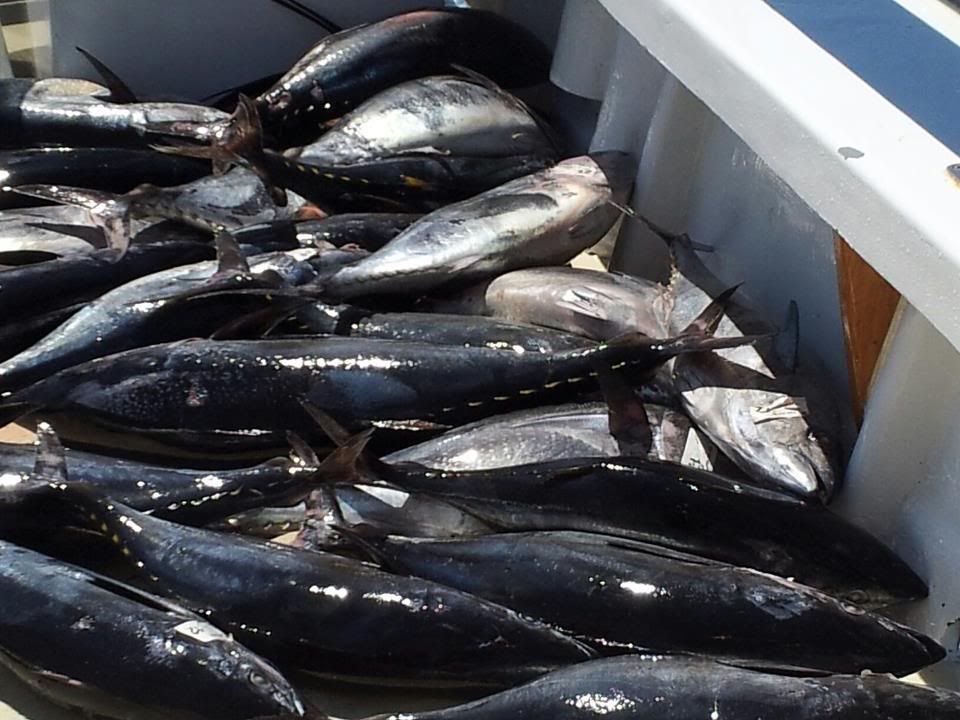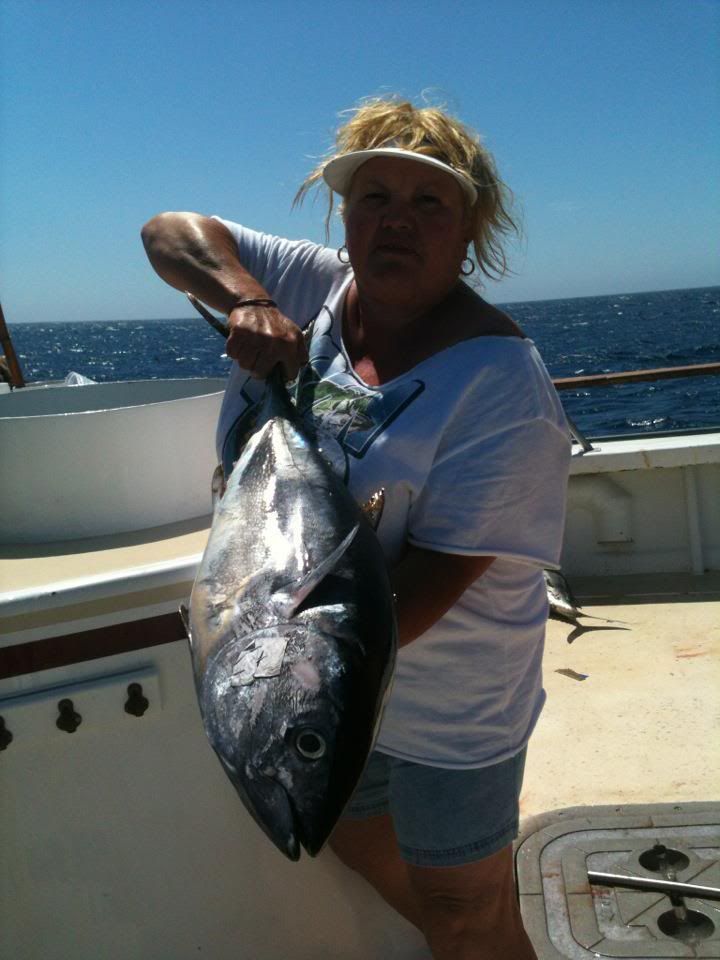 Off
Newport and Dana Point
there are a few kelp paddies that are holding fish, and if you can find one that is holding it is game on?
A great catch on the a private boat off Dana Point:
The
Toronado
out of Pierpoint Landing ran a trip on Wednesday, 09-05-12 and caught 34 Yellowfin Tuna and 134 Dorado.
Locally the targeted fishing for most ¾ day and ½ boats is mostly Sculpin and Rockfish, and when limits are reached early they go look for some Bass on the chew.
In
Santa Monica
the ½ day boat
Redondo Special
had a fantastic day on their Wednesday, 09-05-12 pm trip catching 2 Yellowtail, 100 Calico Bass (limits), 8 Sheephead, 10 Rockfish, 2 Lingcod, 15 Perch, 1 Sargo and 1 Cabazon for only 10 anglers. Also on Saturday the ¾ day six pack
Highliner
caught 6 White Seabass for 4 anglers.
Out of
Long Beach
, according to Japan Ron, the ¾ day
Victory
had a good day of fishing on Wednesday, 09-05-12, catching 150 Rockfish, 1 Lingcod (jackpot), and 90 Sculpin. Some pictures from Japan Ron:
Out of
Newport Beach
, the
Amigo
ended a 2-day trip on Monday, 09-03-12 catching 81 Yellowtail and 55 Dorado for 14 anglers.
Twilight fishing:
The
Enterprise
fished on Saturday, 09-01-12, and caught 66 Sand Bass, 1 Barracuda and 3 Sculpin for only 11 anglers. The
Freelance
fished Saturday evening, 09-01-12 and caught 240 Sculpin and 40 Sole.
The Islands
Catalina/Santa Barbara Island!
The
Sport King
had a good day at the Island on Tuesday, 09-04-12, catching 10 Yellowtail, 42 Calico Bass, 2 Whitefish, 15 Rockfish and 92 Perch.
The
Pursuit
out of 22nd St. Landing, ran to the Island on Tuesday, 09-04-12, with 20 anglers catching 9 Yellowtail, 38 Calico Bass, 1 Barracuda, 10 Sheephead, 15 Whitefish, 1 Bonito, 61 Perch and 5 Sargo.
San Clemente Island!
The
Fury
out of Dana Wharf fished a 2-day trip over the weekend returning Sunday, 09-02-12 with 27 anglers catching 45 Yellowtail, 7 Dorado, 115 Calico Bass, 1 Sheephead, 3 Whitefish, 11 Bonito and 31 Perch.
Down South-San Diego and good ole Mexico!
The ¾ day boats are running offshore to catch Tuna and Tails. The last few days the ¾ day boats have found sensational fishing on the Yellowtail and a mix of Dorado, being caught offshore on the kelp Paddies.
The ¾ day boat
San Diego
out of Seaforth Landing caught 90 Yellowtail and 4 Dorado on their Wednesday, 09-05-12 trip.
The
Mission Belle
headed out on Wednesday, 09-05-12, and caught 71 Yellowtail and 19 Dorado for only 21 anglers.
The ¾ day boat
Malahini
caught 120 Yellowtail on their trip on Tuesday, 09-04-12.
Charter Master Jamie, of
Seasons Sportfishing
fished offshore during the week and got the job done on Tuna, Yellowtail and Dorado. Some pictures:
Huge Dorado caught by private boater Brandon, who fished with friends on a 2.5 day trip near Colonet over the weekend, catching 60 Yellowfin Tuna, (limits, Limits of Yellowtail,some Calico Bass, a Bluefin Tuna and 15 Dorado for six anglers:
All comments and suggestions welcomed!
Weather
The weather forecast for both Saturday and Sunday looks to be quite breezy for the offshore runs. Always check the latest forecast before leaving the dock.
Hook Up,
Cory