by Cory Visser
Thursday Recap Report-Weekend Possibilities:
A Summary of local fishing from Santa Monica to Oceanside, including Catalina and San Clemente Islands, with fishing trips out of San Diego down to Baja, Mexico.
Just when I thought the season was about to say
Uncle
, and a call went out to the
Fat Lady
, the ocean went grease calm on Sunday and huge schools of
Yellowfin Tuna
were found by the multi day boats 120 miles south of San Diego. A few
Dorado
are still hanging around, and a lot of kelp Paddies were again loaded with the small
Yellowtail
, with some bigger models mixed in. The
Producer
found a school of
Bluefin Tuna
Saturday at the
238
some 75 miles south.
Angler Jerry with a 20 pound Bluefin Tuna:
Lots of
Albacore
are being caught up north, West of
Morro Bay
.
With the fish being found way south, you need to book at least a 1.5 day trip or longer to expect good results. The few private boater reports fished either the
1010
Trench or the
1067
Knuckle which are still holding scattered Yellowfin Tuna, or closer in the
Hidden, 302, 371 and 425
banks which are still yielding mostly Rat Yellowtail and a few Dorado, with an occasional Tuna.
Surprisingly the ¾ day boats are still doing well on the small Yellowtail, there are fish being caught between 30 and 50 miles south. The biggest problem for most boats now is finding fishermen to go fishing so late in the season. Angler Mike and son with a nice batch of Yellowtail off the ¾ day boats:
Private boater Dan with friends fished on Monday, 10-29-12 and ran all the way to the 1010 from Newport, and caught 2 Yellowfin Tuna to 25 pounds and some rat Yellowtail and a few Dorado. A picture of the Yellowfin Tuna caught on the troll.
Private boater Jim with friends fished on Sunday, 10-28-12 and ran only 45 miles south of San Diego catching 8 Dorado to 20 pounds, a 20 pound Yellowfin Tuna and all the Yellowtail you wanted. A picture of the Dorado caught:
The
Ocean Odyssey
returned Tuesday, 10-30-12 from a 1.5 day trip catching 140 Yellowfin Tuna and 140 Yellowtail, limits of each.
The
Voyager
returned Monday, 10-29-12 from a 2.5 day trip which loaded the boat with limits of Yellowfin Tuna and Yellowtail (limits) for the 16 anglers. Some pictures:
Captain Chris Randal returning from a summer of fishing in Alaska was working on the
Top Gun 80
when they found an enormous school of Yellowfin Tuna some 220 miles south of San Diego. Some pictures:
Angler Robert fished on the
Eclipse
on a 1.5 day trip that returned Monday, 0-29-12. They found the right kelp paddy some 120 miles south and it was game on for hours on the Yellowfin Tuna. Some pictures:
This week, Sergio says:
Hooked up to a big'n?
Hurricane Sandy, now who opened up the flood gates, yikes, where did he come from?
Prayers to all and a quick healing to follow!
Out of
Newport Beach
, the
Freelance
fished Monday, 10-29-12 and found the Barracuda on the chew, and also caught 16 Calico Bass, 57 Barracuda, 2 Sheephead, 1 Whitefish, 91 Perch and 31 Spanish Jack.
What, me worry?????
Wondering what to do with your old Long Range Reels?
Twilight fishing:
No boats ran an evening trip, turn out the lights the party's over.
One of my favorite events on the water:
Now just leave the surfers alone Whitey!
The Islands
Catalina/Santa Barbara Island!
The charter boat six pack Options caught these White Seabass at Catalina over the weekend:
The
Sport King
had a good day at the Island on Monday, 10-22-12 catching 54 Calico Bass, 43 Sheephead, 17 Whitefish, 5 Rockfish, 133 Perch and 6 Sargo.
The
Pursuit
out of 22nd St. Landing, ran to the Island on Thursday, 11-01-12, with 28 anglers catching 10 Calico Bass, 30 Sheephead, 25 Whitefish, 40 Bocaccio, 105 Rockfish, 263 Perch, 7 Sargo and 33 Red Snapper.
San Clemente Island!
The
Freedom
returned from a multi island 2 day trip Sunday, 10-28-12 and caught 1 Halibut, 27 Calico Bass, 122 Sheephead, 154 Whitefish, 47 Lingcod, 4 Sculpin and 1 Cabazon. Lots of Lingcod being caught before the season closes.
The
Fury
also returned from a 2 day trip Sunday, 10-28-12 and caught 3 Yellowtail, 305 Whitefish, 498 Rockfish, 1 Lingcod, 12 Sculpin and 77 Perch
Angler Scott with a nice Lingcod caught off the Fury at SCI:
Down South-San Diego and good ole Mexico!
The ¾ day boats are running offshore where they have had sensational Yellowtail and Dorado fishing, as well as a few Tuna being caught.
The ¾ day boat
San Diego
out of Seaforth Landing caught 140 Yellowtail, 2 Yellowfin Tuna and 6 Dorado on their Thursday, 11-01-12 trip.
The ¾ day boat
Mission Belle
headed out on Thursday, 11-01-12, and caught 70 Yellowtail, 5 Yellowfin Tuna and 6 Dorado.
Jaime with
Seasons Sportfishing
had a great weekend switching over to bottom critter fishing. They whacked the Lingcod and big Reds. Some pictures:
Private boater Grant tried out some of the local hard bottom spots and caught some nice Reds, Cabazon and a Wolf Eel. Some pictures:
I fished with Bill Fisher down in Salsapuedes both Sunday afternoon and all day Monday. The shallow water Rockfishing and Calico Bass fishing was as good as it gets on the plastics, with limits of fish both days. Some pictures: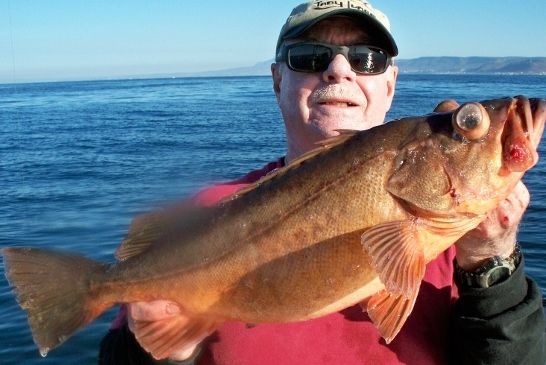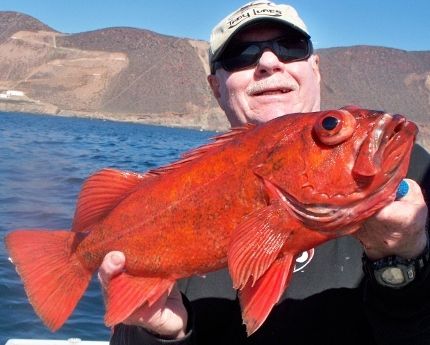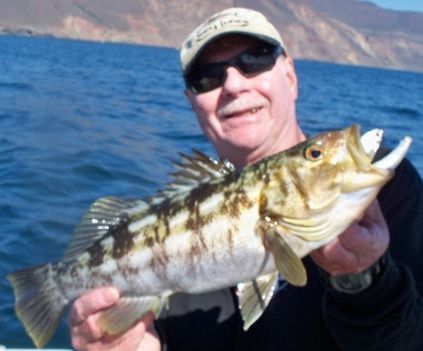 Ensenada Sportfishing
says the Tuna are still biting, come on down and fish:
[img] border=0>[/embed]
All comments and suggestions welcomed!
Weather
The weather forecast for both Saturday and Sunday looks to be quite nice. Always check the latest forecast before leaving the dock.
Hook Up,
Cory