by Cory Visser
Thursday Recap Report-Weekend Possibilities:
A Summary of local fishing from Santa Monica to Oceanside, including Catalina and San Clemente Islands, with fishing trips out of San Diego down to Baja, Mexico.
I'm hoping everyone had a wonderful Holiday Season. As we usher in the New Year, a few changes are in place. The trio of California Bass, Calico, Sand and Spotted Bay Bass, all has a new size limit of 14". In addition, a combined limit of five can only be taken. This is a very significant change from the previous limit of 10 each, with a maximum of 20 total. For anyone who has fished locally for a variety of Bass, you could not help to notice the drop in quantities available to catch, including a reduction in size being caught.
For at least the last three years, perhaps longer, the annual Sand Bass spawn in the Huntington Beach flats area has been less than stellar. For those that fish Catalina and San Clemente Island, you have found the Calico Bass population has also declined significantly, with way too many 12 to 13" fish being the primary source available. A limit of 10 Calico Bass was becoming a rare event, let alone catching very many in the 3 to 5 pound range we use to enjoy?
The
Department of Fish and Game
has listened to those reports of the decline in the Bass fisheries and took appropriate action. I compliment them for doing this. I am an avid believer in catch and release of all the species of Bass. This reduction in limits and increase in size should certainly improve the local Bass populations over time. We will see, it certainly can't hurt the Bass populations, although it may adversely affect the quantity of anglers the Sport Boats carry during the spring and summer months?
Okay, the last day of fishing for Rockfish, Lingcod, Sheephead and Whitefish has passed on Monday, 12-31-12. The season is closed for these species until March 1st. Despite less than ideal weather conditions over the weekend, a whole lot of anglers got in their last licks before the closure for two month. The fishing was darn good from Saturday thru Monday, with many great reports.
The dilemma now for the Sport Boats is finding enough interest from the fishing community to venture out to catch only Bass, Halibut, Perch, Sand Dabs and Sculpin. The first couple of days of 2013 indicated little interest, as a plethora of boats did not run due to low counts of anglers. A few boats that managed to get out, despite low crowds, did find some decent fishing for Bass and Sculpin.
This week Sergio says:
Sergio humor
I believe someone needs another lesson on launching a boat, this guy failed on his latest attempt?
Sergio thinks this will not end well, I agree, we need a bigger boat?
Just more pretty ladies that fish or not:
And Julie says:
Some of best local fishing for Bass is out of
Dana Wharf Sportfishing
. On Wednesday, 01-02-13 the ½ day boat,
Sum Fun
had 21 anglers catch 1 Halibut, 12 Calico Bass and 20 Sand Bass.
Sarah with a 41 pound Halibut caught out of
Dana Point
on the 1/2 day boat.
Nice 10 pound Halibut caught on the ½ day boat
Clemente
:
In
Santa Monica
the 3/4 day boat
Redondo Special
had a great day on their Monday, 12-31-12 trip catching 140 Rockfish (limits) for 14 anglers. The
New Del Mar
had a decent day of Lingcod and Rockcod fishing on Sunday, 12-30-12, catching 1 Sand Bass, 3 Sheephead, 42 Whitefish, 328 Rockfish and 11 Lingcod.
Angler Sergio with a big Red and Sheephead off the
Redondo Special
, last day of 2012:
Angler Jimmy Bass with a limit of Sand Bass, caught aboard the ¾ day boat
Spitfire
, on Tuesday, 1-01-13. A great way to begin the New Year Jimmy, wow you have been fishing a lot lately:
Out of
San Pedro
, the ½ day boat
Monte Carlo
had a decent trip Sunday, 12-30-12 catching 3 Sheephead, 12 Bocaccio, 98 Rockfish, 84 Perch and 7 Red Snapper. The ¾ day boat
Sea Angler
continues to spank the Sand Dabs, catching 1 Bocaccio, 49 Rockfish, 22 Sculpin, 1195 Sand Dab and 7 Red Snapper on their Monday, 12-31-12 trip.
Private boater Captain Dave Hansen holding one of the ten Bass caught by 10am, Thursday, 01-03-13.
Jackpot Lingcod and a big Red off the
Pacific Eagle
, Sunday, 12-30-12:
Saturday fishing off the
Stardust
:
Jimmy Bass fished the
Pacific Islander
, Saturday, 12-29-12 at
Santa Rosa Island
, and had a great day of fishing the big Reds, Lingcod and Whitefish, with a surprise 30 pound home guard Yellowtail landed. Pictures courtesy of Anne Currie:
Huge Cabazon:
Japan Ron fished with private boater Lal on the Rubber Ducky on Monday, 12-31-12. It was a very slow chew, with only a couple of Sculpin being caught along with 5 Sand Bass to three pounds. A few Pictures:
The Islands
Catalina/Santa Barbara Island!
The
Pursuit
out of 22nd St. Landing, ran to the Island on Sunday, 12-30-12, with 32 anglers catching 4 Sheephead, 6 Whitefish, 28 Bocaccio, 84 Rockfish, 1 Lingcod, 2 Sculpin, 76 Perch and 18 Red Snapper.
Charter Captain Dave Hansen spent the weekend at Catalina with friends and found the Hooping good and some dandy end of the year fishing for Rockfish and Sheephead:
San Clemente Island!
Angler Loking had good day aboard the
Freedom
over the weekend, catching Rockfish, Calico Bass and Sheephead to end 2012: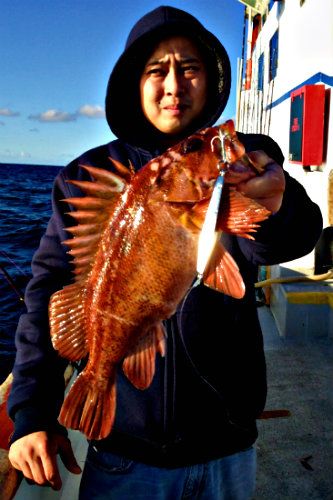 The
Voyager
visited the Island on Saturday, 12-29-12 and had a great day of fishing the Big Reds and some Lingcod. Some pictures:
Down South-San Diego and good ole Mexico!
A couple winter Yellowtail off the
Chubasco
, they lost four or five more:
One last attempt at humor:
Making good use of an abandoned vehicle?
All comments and suggestions welcomed!
Some final thoughts:
Weather
The weather forecast for Saturday is looking real calm, with a forecast for possible showers late in the day, while Sunday looks to contain some rainy conditions, with calm seas near shore and a bit breezy offshore. Always check the latest forecast before leaving the dock.
Hook Up,
Cory