by Cory Visser
Thursday Recap Report-Weekend Possibilities:
A Summary of local fishing from Santa Monica to Oceanside, including Catalina and San Clemente Islands, with fishing trips out of San Diego down to Baja, Mexico.
Amazing what a good forecast for weather does for the fishing spirit and desire to get out and catch a few. Unlike the prior week, lots of anglers gathered up their gear and went fishing this week. The ocean conditions were ideal for the better part of four days, which ran from Saturday through Tuesday. The only primary complaint I heard was for lack of current, which of course does generally affect fishing, mostly in a negative way? Almost everyone however, did not complain about how beautiful the Southern California coast can be in the winter, while back East they are under siege.
Local water temps which had reached a low of 52 degrees last week, were as high as 58 by Tuesday. Unfortunately this nice increase did not quite wake up the dormant Bass to any large degree. Yet there were some good bites at times, as you will see in some of the reports that follow. There were also a number of successful
Halibut
adventures accomplished. Of big interest down south of the border, a run of winter
Yellowtail
exploded for those anglers lucky enough to be in the right place at the right time in
Ensenada and San Quintin
.
With
Mexico
being the only option for catching Rockfish, the flat calm seas allowed a bunch of private boaters to make a run out of
San Diego
to fish the Rockpile, Coronado Islands and other points south of the border.
Meanwhile after reading this report and getting fired up to go wet a line, the weather has once again taken a turn for the worse. Rain started on Thursday, and is slated to continue all the way through Monday. Bah Humbug! I guess that's why we all must be prepared to drop everything and get out and go fishing when the conditions allow it this time of year. Enjoy!
This week Sergio says:
Sergio humor;
Just more pretty ladies that fish or not:
And Julie says:
I like this theory by Larry:
Angler Sergio putting in some serious time on the water fished the
Sea Trek
out of
Oceanside
on Wednesday, 01-23-13. They caught Sand Bass and Sculpin. Here is Sergio with some nice Sand Bass:
Some of best local fishing for Bass is out of
Dana Wharf Sportfishing
. On Sunday, 01-20-13 the ½ day boat, Sum Fun had 16 anglers catch 1 Halibut, and 1 Sand Bass. Here is a picture of the 16 pound Halibut caught Sunday by angler Mark:
I fished with private boater Brett on Saturday, 01-19-13 out of
Dana Point
. We had a slow day of fishing for the mixed Bass, Sculpin and a few Rockfish in drop dead gorgeous weather. Some pictures: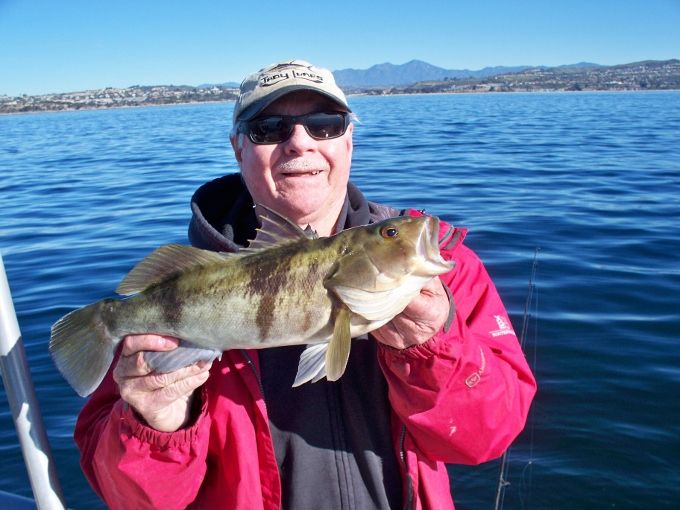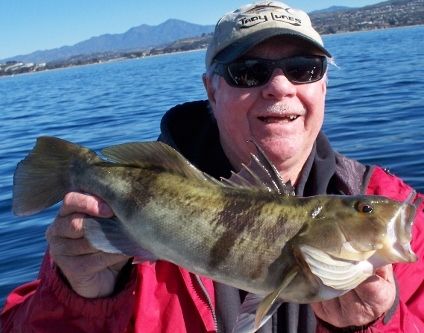 Jason with a good sized Sculpin: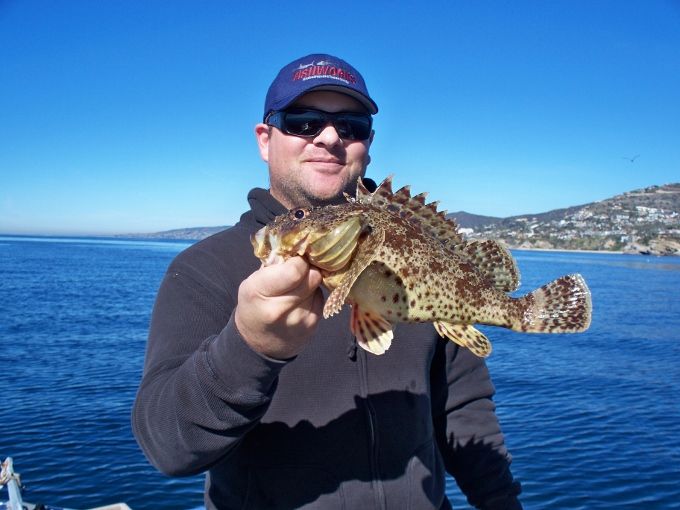 Jason also caught the biggest Calico Bass: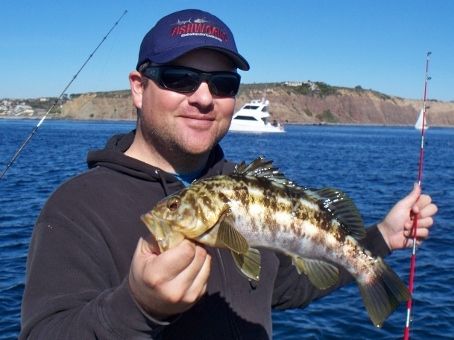 Captain Dave Hansen also fished out of Dana Point and experienced a similar slow day of fishing:
Out of
Newport Beach
angler Sergio fished with friends on the
Freelance
on the Sunday, 01-20-13 Twilight trip and caught some nice Sand Bass:
Anglers Dennis and Sergio with great Bass fishing on the
Patriot
, Tuesday, 01-22-13:
Sergio with the Jackpot 5.5 pound Sand Bass:
In
Santa Monica
the 3/4 day boat
Spitfire
had a great day on their Sunday, 1-20-13 trip catching 5 Calico Bass, 50 Sand Bass and 90 Sculpin. The
New Del Mar
had a decent day of fishing on Sunday, 1-20-13, catching 5 Calico Bass, 21 Sand Bass, 305 Sculpin and 75 Perch.
Private boater Dan caught a nice Calico Bass over the weekend:
Out of
San Pedro
, the ½ day boat
Monte Carlo
had a decent trip Wednesday, 1-23-13 catching 70 Sculpin and 35 Sand Dabs. The ¾ day boat
Sea Angler
continues to spank the Sand Dabs, catching 6500 on their Saturday, 1-19-13 trip.
Angler Dennis with a nice Bass trip:
Angler Sergio fished on the
Gail Force
on a
Twilight
combo hooping and fishing trip, Monday evening, 01-21-13. They did just ok on the Lobsters, however the fishing was very good for Sand Bass, Sculpin and Rockfish, which were all released:
The
Native Sun
out of
Long Beach
with a great second week start to their Halibut Derby as they fished Wednesday, 01-23-13, and caught five Halibut from 6.6 to 27 pounds:
Japan Ron fished with private boater Lal on the Rubber Ducky on Tuesday, 1-22-13. It was a very slow chew, with only ten mixed Bass between them, plus a few Rockfish. A few Pictures:
The Islands
Catalina/Santa Barbara Island!
No Reports!
San Clemente Island!
No Reports!
Down South-San Diego and good ole Mexico!
Captain Kelly of
K&M Sportfishing
ran a winter Cod trip out of
San Quintin
on Saturday, 1-19-13 and found the big Reds on the chew. Then fishing with the same group on Sunday, 01-20-13 Captain Juan called them into a killer winter
Yellowtail
bite on the iron at the 240 reef. Some pictures:
Captain Duane of
Seasons Sportfishing
ran a winter Cod trip on Saturday, 1-19-13 and found a good bite on the big Reds and assorted other bottom critters. Some pictures: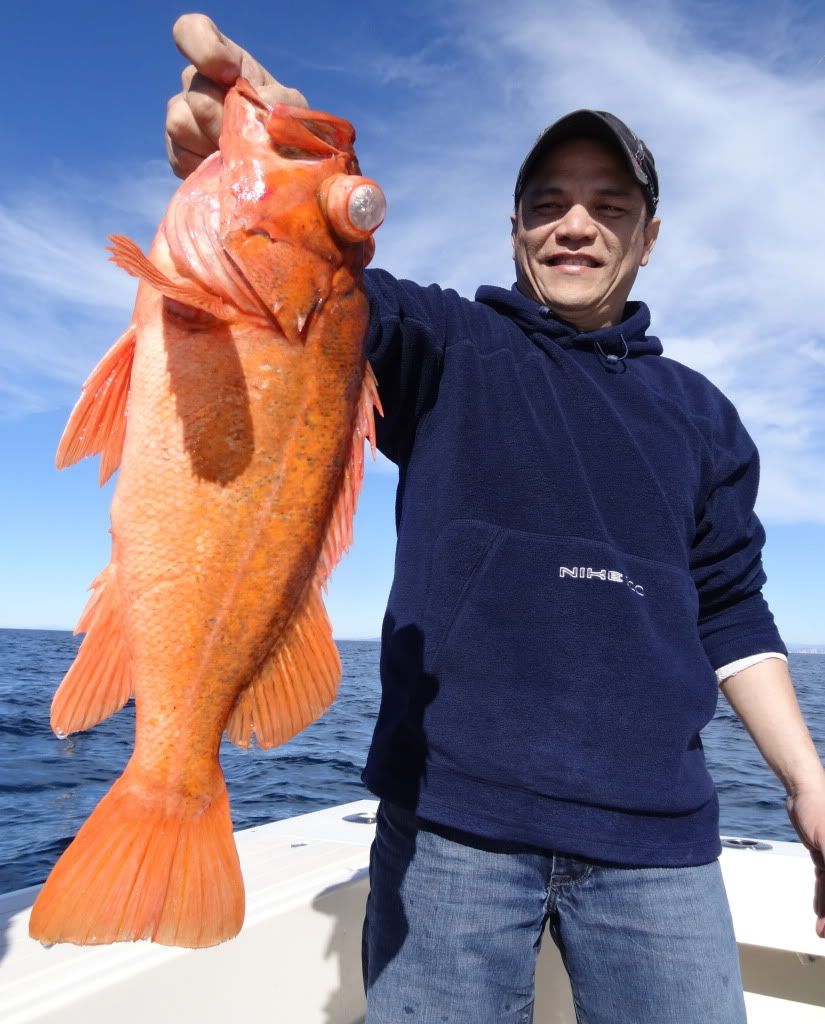 Private boater Robert fished Point Loma with a friend on Sunday, 01-20-13 and they both caught some nice Halibut:
Private boater Bill fished out of Point Loma on Sunday, 01-20-13 and caught some nice Rockfish:
Private boater Steve and his Dad allso fished out of Point Loma on Sunday, 01-20-13 and caught some nice Rockfish:
Captain Louie ran his boat out of
Ensenada
with guests, Saturday, 01-19-13 and they caught Lingcod, Rockfish and some nice winter
Yellowtail
. Some pictures:
A final thought:
How about these
Catfish
caught in a
German river
:
One last attempt at humor according to Julie:
All comments and suggestions welcomed!
Weather
The weather forecast for Saturday and Sunday looks to contain some rainy conditions, with calm seas near shore and a bit breezy offshore. Always check the latest forecast before leaving the dock.
Hook Up,
Cory