by Cory Visser
Thursday Recap Report-Weekend Possibilities:
A Summary of local fishing from Santa Monica to Oceanside, including Catalina and San Clemente Islands, with fishing trips out of San Diego down to Baja, Mexico.
The weekend weather was sensational, providing many opportunities to get out and go fishing, not so for later in the week, as rain, wind and cold weather moved in. Most private boaters took advantage of the improved local Bass and Halibut fishing, as sunny skies, and calm seas prevailed over the weekend.
Locally the Sport Boats continued their targeting of Sculpin, Sand Bass and Halibut, which was very solid. The Long Beach Halibut Tournament is in its last few weeks, and it will take a 40 pounder to win the big prize. With plenty of qualifying fish on the leader board, you can still knock a few others lower on the ladder. So get out and have some fun and possibly catch a big Halibut.
The
Yellowtail
bite down south appears to be only in
La Jolla
, has both
Ensenada and San Quintin
bites fizzled with the adverse weather and decline in water temperatures. We are all hoping for improved conditions and a re-bite soon? The calm seas allowed for some great Rockcod fishing south of the border and we now only have one week remaining to the closure in California, before we can again catch and keep Rockfish beginning next Friday, 03-01-13. Enjoy the fishing reports, some humor, and other thoughts below:
This week Sergio says:
Just more pretty ladies that fish or not:
Pretty ladies nice Bay Bass caught Sunday, 02-17-13:
And Julie says:
More fun stuff:
Ok everyone time to rotate!
Don't think even a four wheel drive will help, good idea to stay off this beach with a vehicle?
For local fishing out of
Dana Wharf Sportfishing
the ½ day boat,
Sum Fun
had 10 anglers catch 1 Calico Bass, 17 Sand Bass and 1 Sargo on their Tuesday, 02-19-13 trip, they caught three nice Halibut on their Sunday trip.
Angler with an 11.9 pound Halibut, picture provided by Jackpot Jimmy:
Another Halibut out of three caught today, off the coast:
Out of
Pierpoint Landing
the ½ day boat
Southern Cal
has been doing well on the Sand Bass catching 26 Sand Bass and 13 Sculpin on their trip Sunday, 02-17-13.
Twilight
trips out of Newport were again being scheduled by the
Freelance
out of
Davey's Locker
: Their Sunday, 02-17-13 trip was productive, as they caught 1 Calico Bass, 18 Sand Bass, 207 Sculpin and 4 Perch
In
Santa Monica
the
New Del Mar
had a decent day of mixed Bass and Sculpin fishing on Saturday, 02-16-13, catching 2 Calico Bass, 4 Sand Bass, 235 Sculpin, 35 Perch and 4 Sole. The ¾ day Spitfire had a good day on Saturday, 02-16-13 with 25 anglers catching 2 Calico Bass, 14 Sand Bass, 65 Sculpin, 20 Perch and 20 Sand Dab.
Nice Bass on his Saturday, 02-16-13 trip on the Spitfire by Jimmy Bass:
Out of
San Pedro
, the ½ day boat
San Pedro Special
had a decent trip Sunday, 02-17-13 catching 120 Sculpin (limits) and 250 Sand Dab. The ¾ day boat
Sea Angler
continues to spank the Sand Dabs, catching 5100 on their Sunday, 02-17-13 trip.
Anglers with a 29 pound and 32 pound Halibut off the
Native Sun
, out of
Long Beach
, caught Friday, 02-15-13:
This 21 pounder was caught Sat.-02-16-13:
These Halibut were caught Sunday, 02-17-13 off the Native Sun:
Brandon fished with a friend out of Long Beach and found the Sand Bass on the chew on the structure with plastics. They also took a quick spin over to Catalina and caught some Calico Bass:
Calico Bass from Catalina:
Some Sand Bass:
Japan Ron fished with private boater Lal and had a great day along the Palos Verdes coast on Monday, 02-18-13:
I went fishing with private boater John on Saturday, 02-16-13 out of San Pedro. The weather and Calico Bass fishing was sensational for this time of year! Some pictures:
Here is John with his first decent size Calico: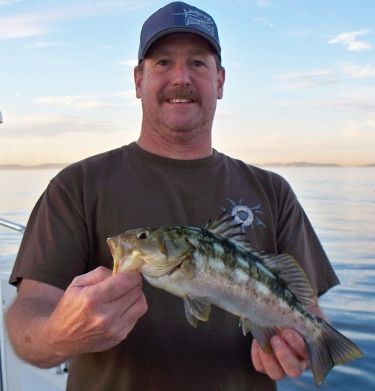 I caught his twin sister: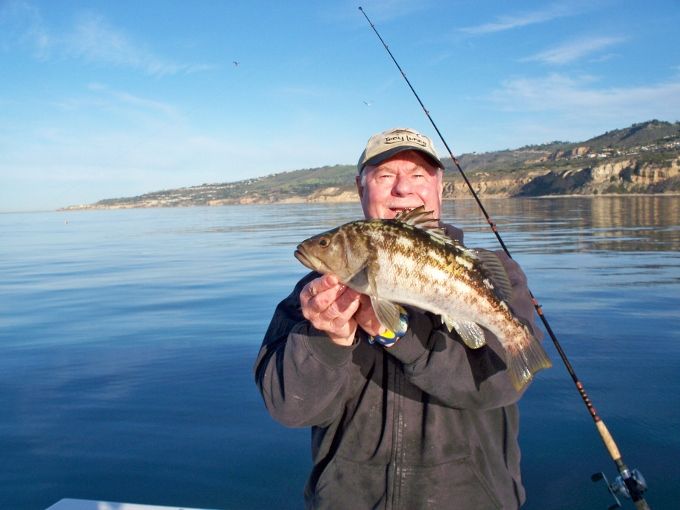 John set us back up on a similar drift; guess what, it went a different direction? Not to worry, the Calico Bass were hungry.
Some more pictures: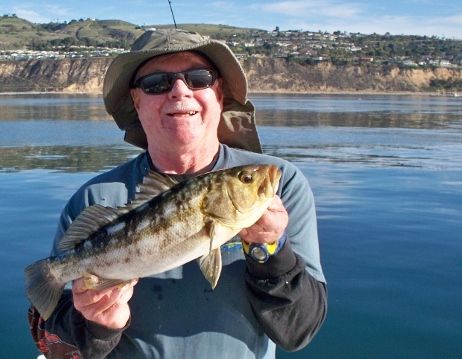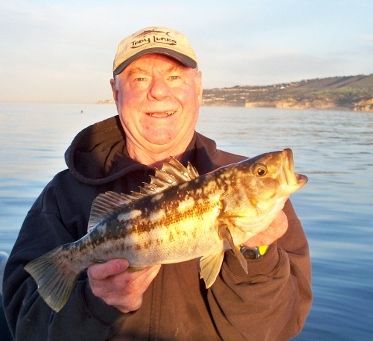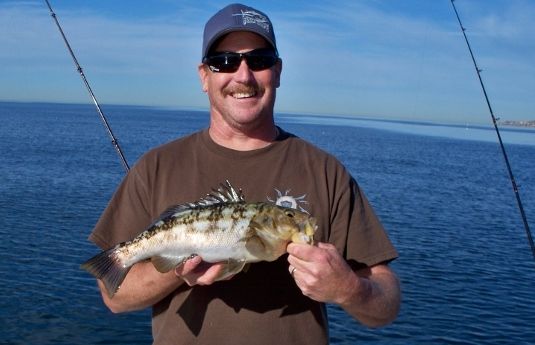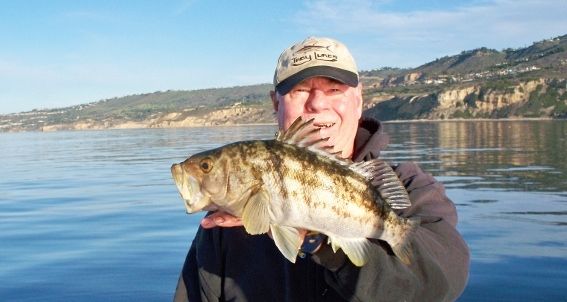 We metered bait all around us, with porpoise and birds keeping us company. The critter fishing was also in full gear as we both caught Gopher Cod, Copper Rockfish, Reds, Lingcod and Sculpin.
John with a nice Sand Bass: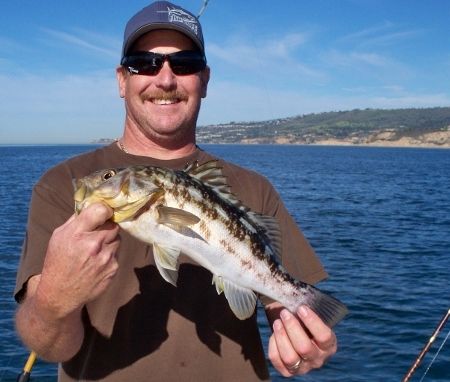 Me too:
John with another Calico Bass: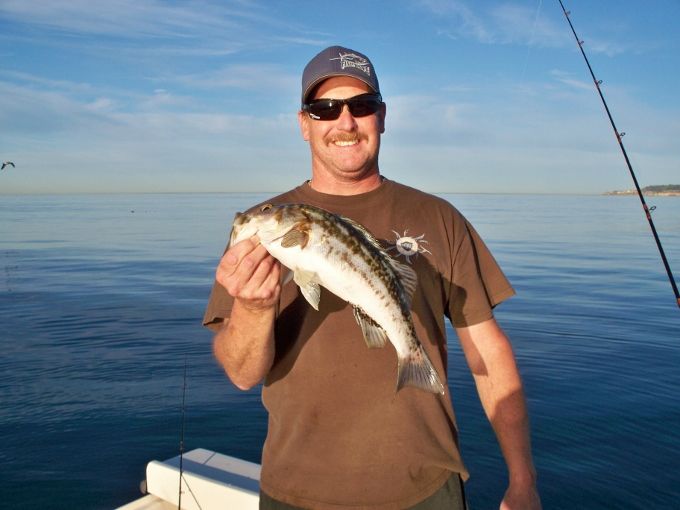 Well not to be denied: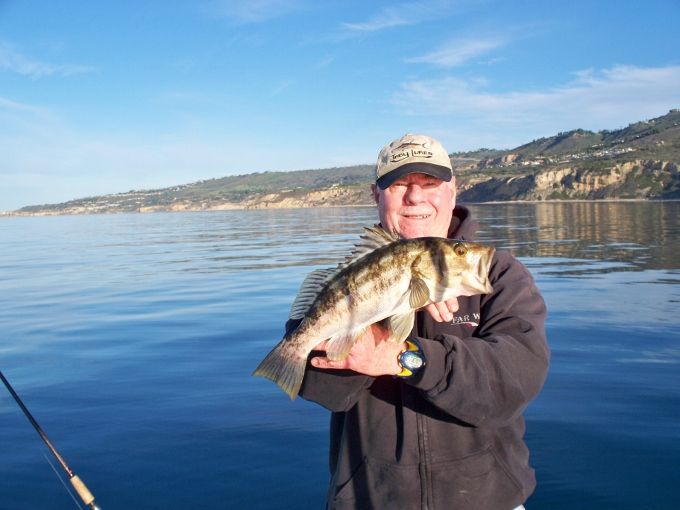 Amazingly we caught 30 Calico Bass before I caught our first Sand Bass: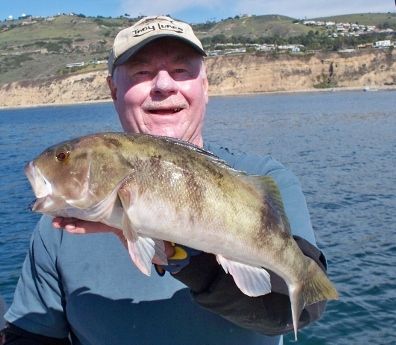 And shortly thereafter I caught another:
The weather throughout the day was sensational. We fished a variety of areas, and most yielded fish. We released almost all of our fish, keeping only one Sand Bass and one Sculpin. We caught 6 Sand Bass, 34 Calico Bass, 2 Reds, 12 Gopher Cod, 4 Sculpin, 4 Copper Rockfish, and 2 Lingcod. This was one heck of a local fishing trip, and over a 60 fish day.
Private boater Benny fished with a friend on Saturday, 02-16-13 out of Palos Verdes and caught this dandy Calico Bass:
Another big Calico Bass caught Saturday at PV:
The Islands
Catalina/Santa Barbara Island!
Private boater Brandon found the Calico Bass on the chew Saturday, 02-16-13!
San Clemente Island!
Private boaters Chris and Kenny with nice Calico Bass caught over the weekend:
Down South-San Diego and good ole Mexico!
San Diego-La Jolla
Private boater Brian with friends fished the La Jolla area on Monday and landed four Yellowtail from 25 to 30 pounds out of eight hook ups. Some pictures: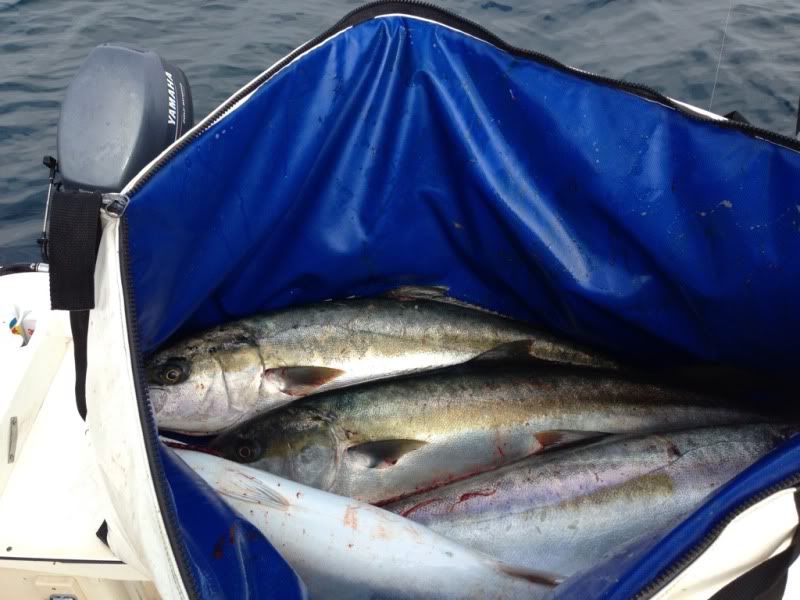 Another La Jolla Yellowtail:
Captain Duane was back at it on Seasons Sportfishing as he ran a winter Cod trips on Saturday, 2-16-13 and Sunday, 02-17-13. Some pictures: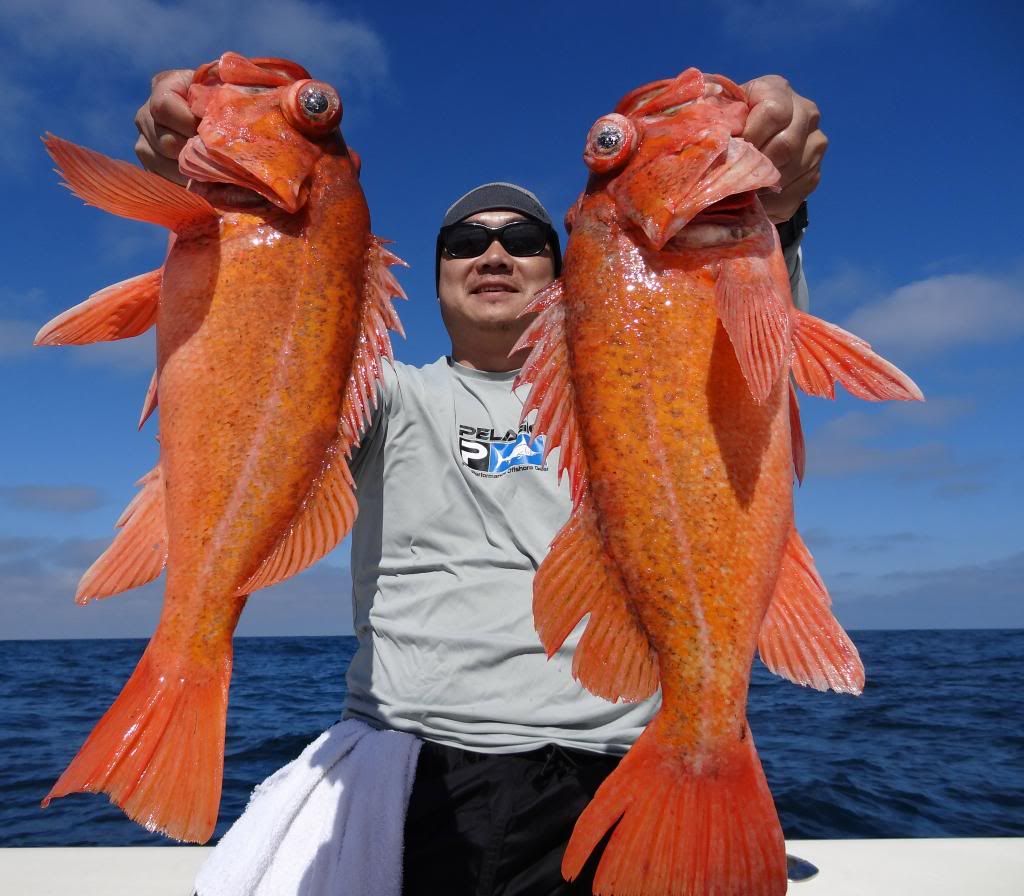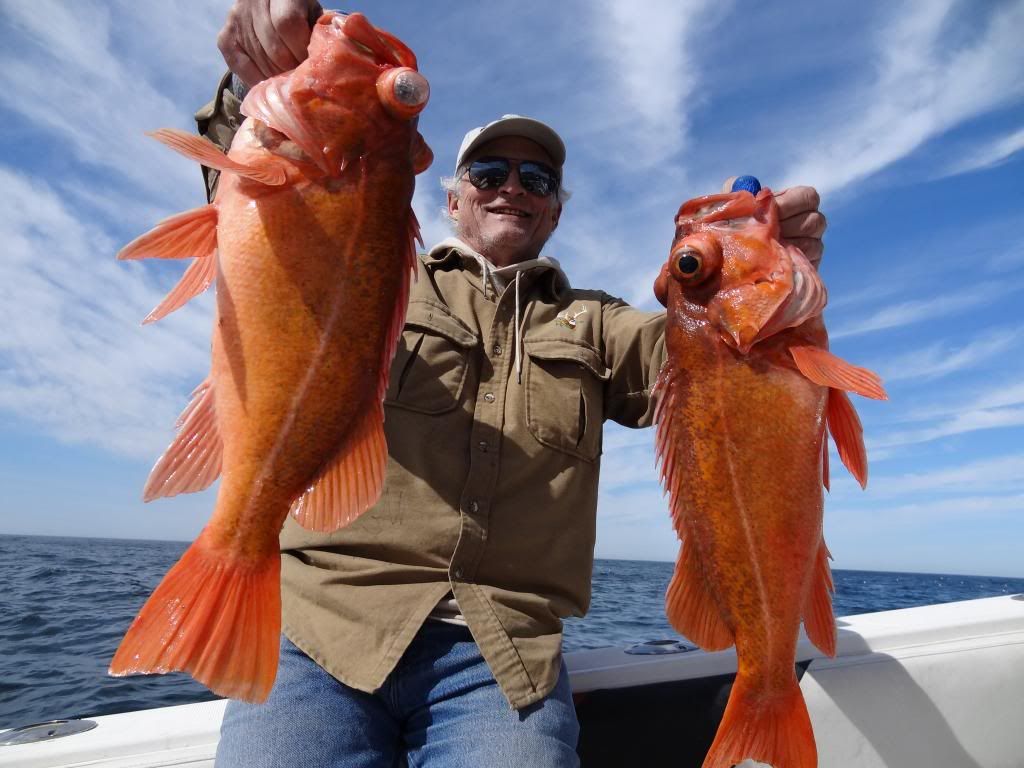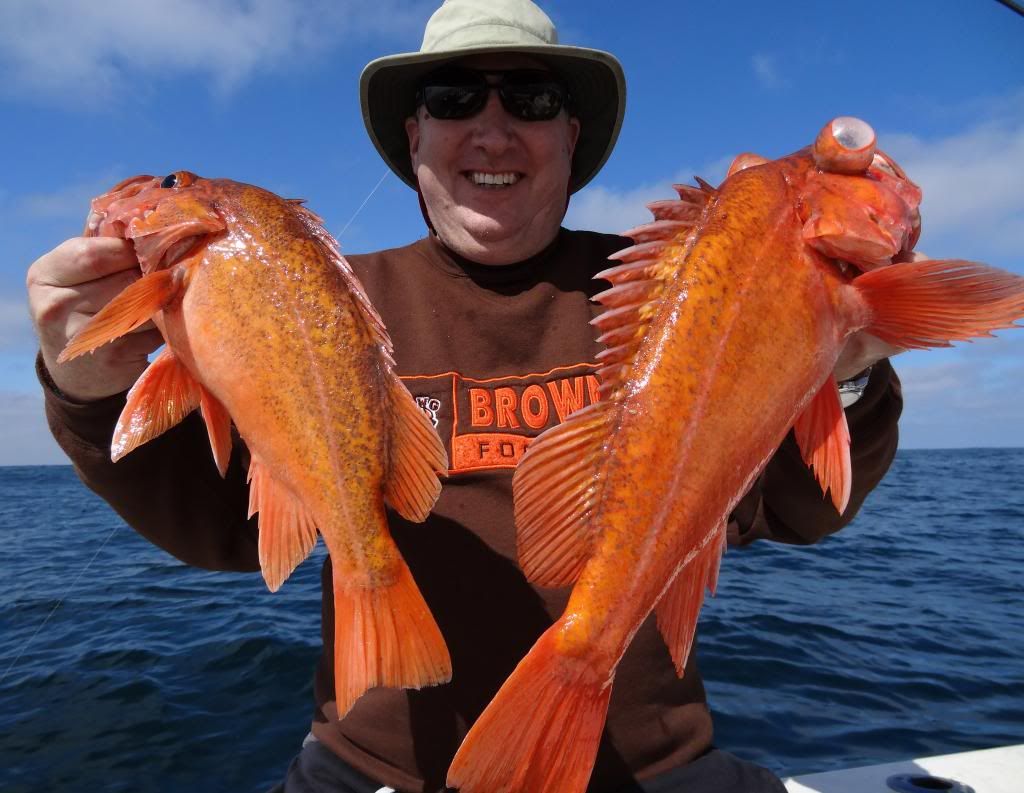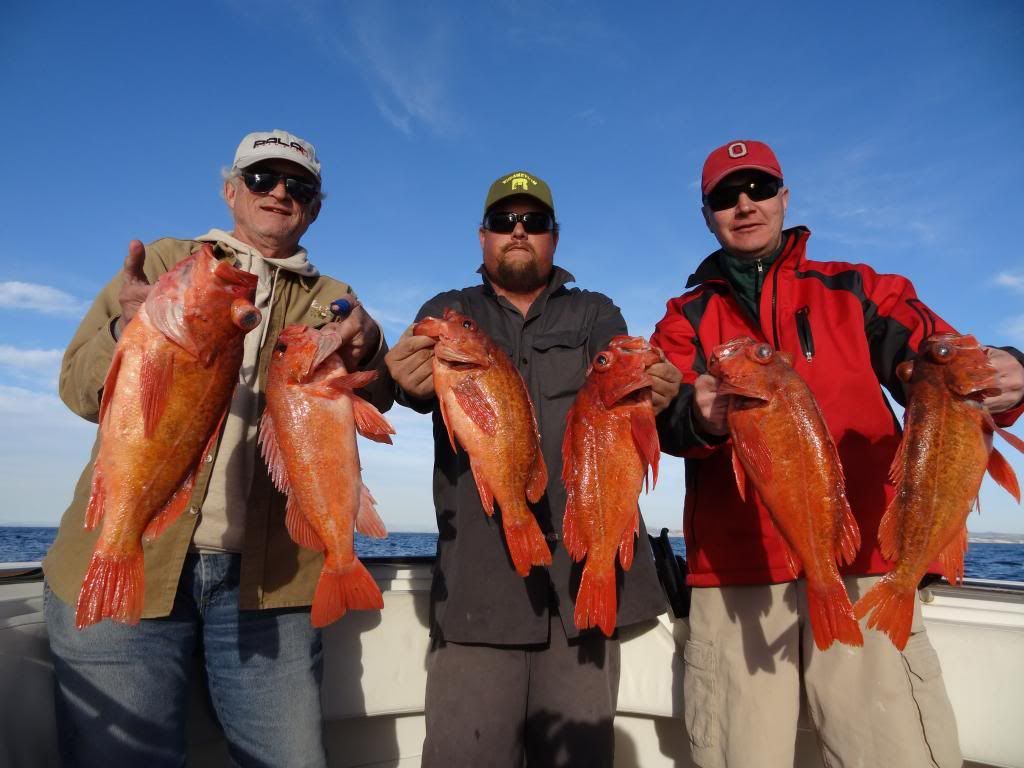 La Jolla Coastal Yellowtail
caught Monday, 02-18-13 by John with Seasons Sortfishing:
Angler fishing Monday, 02-18-13 off the ¾ day boat San Diego:
More pictures from the weekend trip off the San Diego, provided by angler Ray: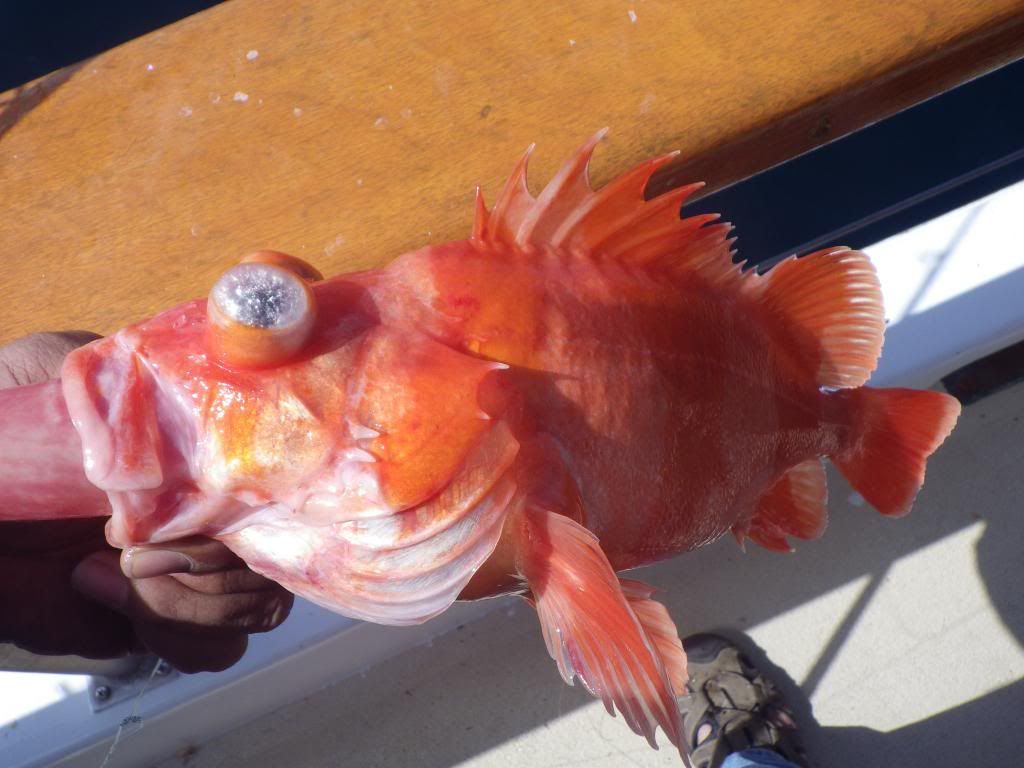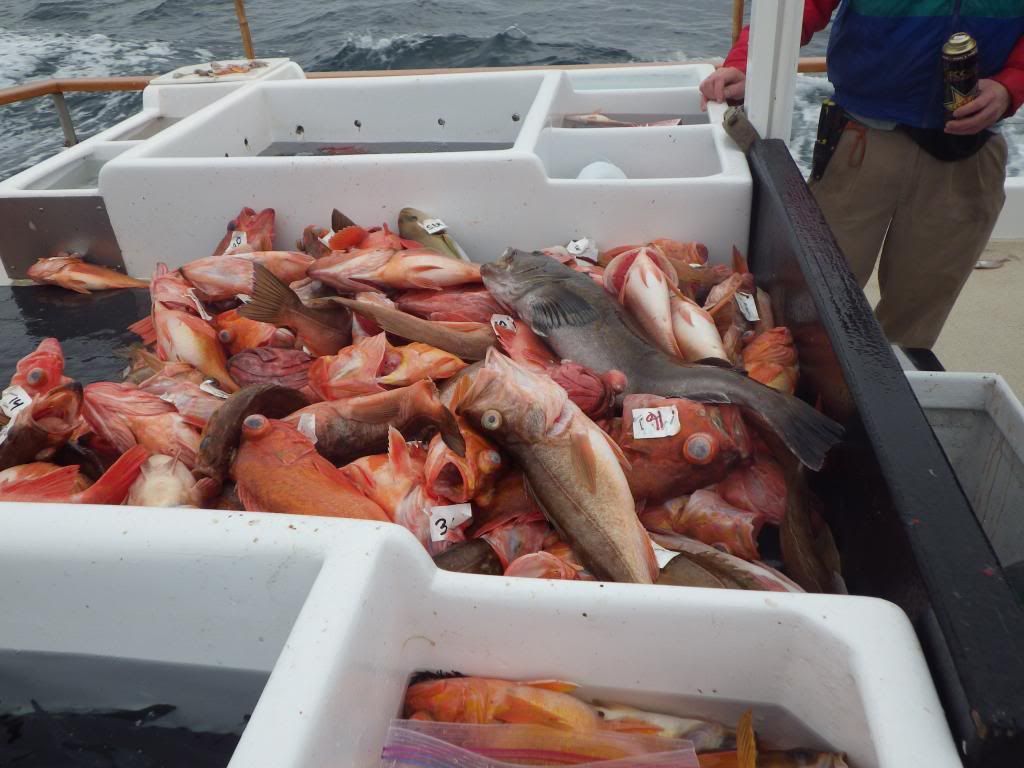 Fun fishing off the Dolphin out of San Diego:
The
Pacific Voyager
ran a 1.5 day trip over the weekend to
Colonet
and caught lots of Reds and Lingcod to go with some big Bonito to 15 pounds:
A not so common Warthog:
Humor:
Some final thoughts:
The good ole days:
All comments and suggestions welcomed!
Weather
The weather forecast for Saturday and Sunday looks to contain much better conditions. Always check the latest forecast before leaving the dock.
Hook Up,
Cory