by Cory Visser
Thursday Recap Report-Weekend Possibilities:
A Summary of local fishing from Santa Monica to Oceanside, including Catalina and San Clemente Islands, with fishing trips out of San Diego down to Baja, Mexico.
The water temps are inching up, a few days of sunshine without wind, and a little increase in the arrival of exotics is in play.
White Seabass
, also known as the
Ghosts
, made a small appearance this week. First private boater Lal found a local tanker on the reefs, which weighed in at 47 pounds. Then there was the sudden appearance of schools of White Seabass in the Channel Islands, lead to full limit fishing for several boats, albeit only for Tuesday. A White Seabass or two showed up in the Island counts for Catalina and San Clemente.
Private boater Lal fished on Sunday, 04-28-13 out of Long Beach. he found the Sand Bass bite very slow at the local reefs, however, big daddy White Seabass thought one of Lal's plastics was an ideal bait, weighed 47 pounds:
A magical rise in water temps above 60 degrees, and the fish seem to stir, their appetites improve and they forage more aggressively. This week there areas where the water temps rose to as high as 67.9 degrees. Local Bass are becoming more active, and a few signs of
Barracuda in San Diego
are hopefully heading north? Some boats drifting for Halibut are also finding better results. The
Yellowtail
are still playing hide and seek, both south of the border, and at the Islands. Look for a more steady bite soon?
Still, most of the Sport Boats primarily are concentrating on catching Rockfish, Reds and big Lingcod. A few Twilight trips have yielded good scores on Bass.
I headed down south to fish with my good friend Bill on his boat out of his slip in Las Salinas. Wednesday, 05-01-13. Our hope was to fish Todo Santos Island out of Ensenada, where reports of Yellowtail surrounding the Island were leaking out. Unfortunately a large swell combined with washing machine conditions, made the uphill 20 mile run too much for our little 18' Trophy. A couple miles of pounding changed our mind quickly.
We did find off the chart fishing for Lingcod, no matter the water depth, however the concentration was primarily in shallow waters less than 150 feet. We also found some big Reds, plenty of extinct Bocaccio, and assorted other Rockfish on the chew. It was a blast using light tackle Bass Gear and plastics to get hammered on almost every cast. We ended the day with a 100+ fish, over 50 Lings to 10 pounds, and with the majority of fish being released. Some pictures:
This was one big Red: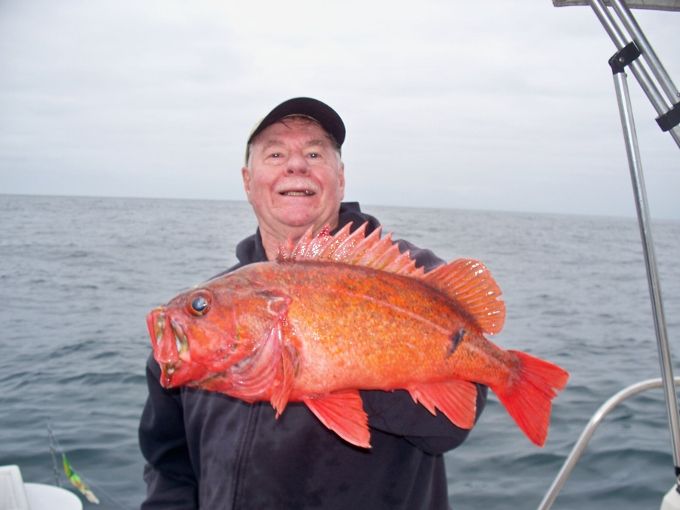 One of the many Bocaccios we caught and most were bigger than this guy: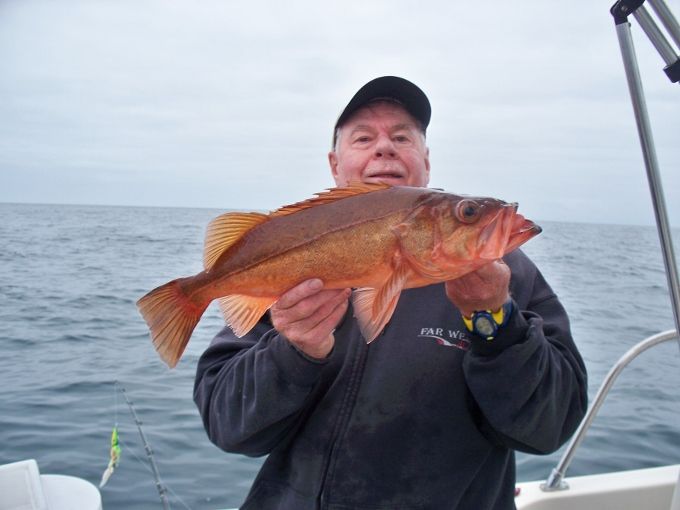 A few of the bigger Lingcod we caught: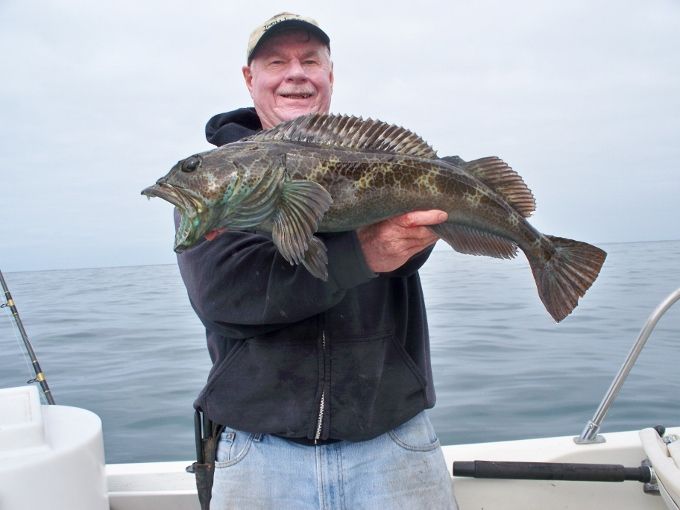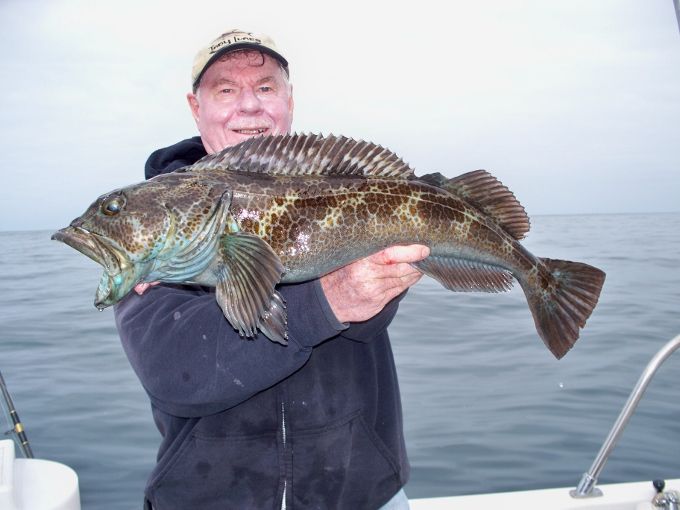 As we drifted into depths closer to the kelp beds, the Calico Bass made a showing. Both Bill and I had good hits on the plastics, and Bill also caught a few on his Crocodile lure.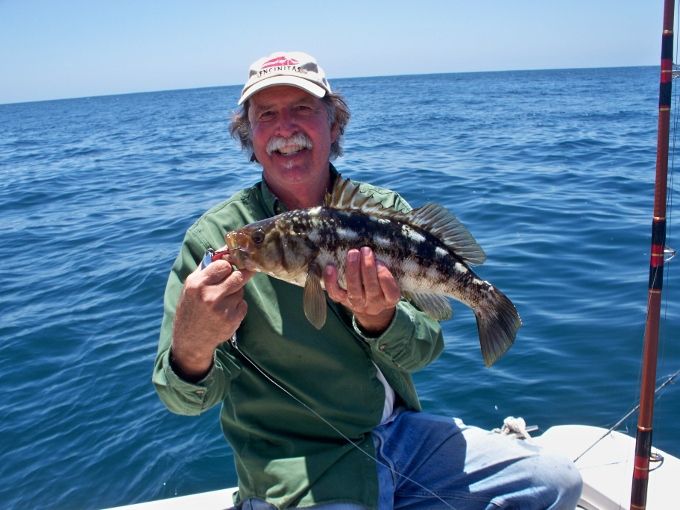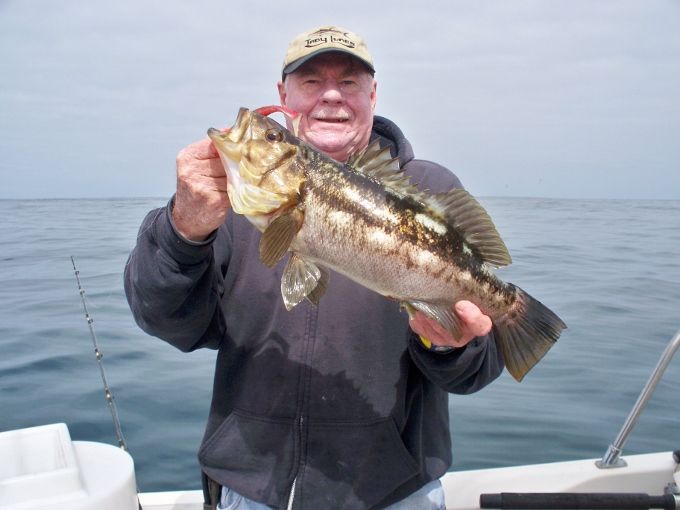 No matter where we went the Lingcod went ballistic. On a rare occasion we caught something different, other than their best competitor, Bocaccio? Here is a very colorful Cabazon I caught on the plastic: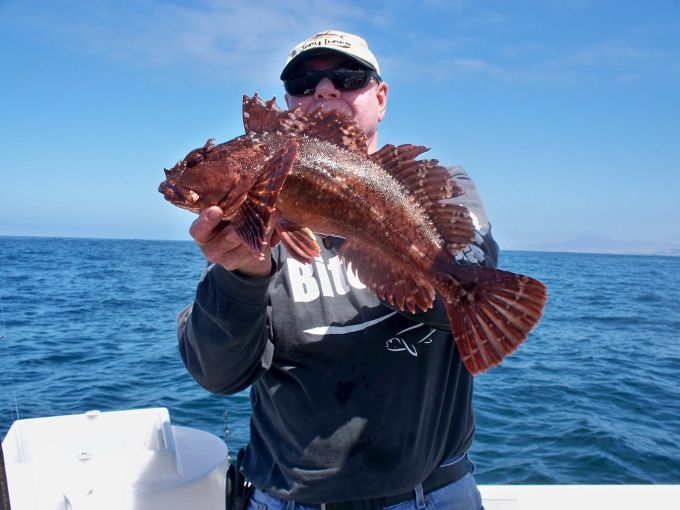 Sergio Says and I agree:
Just more pretty ladies that fish or not:
Some better Halibut fishing this week out of Dana Point. Here is private boater Duane with a big Halibut:
A 10.7 pound Halibut caught by angler Cher out of
Dana Point
Tuesday, 04-23-13:
Another private boater with a good size Calico Bass out of
San Pedro
:
Private boater Glen with a 22 pound Halibut caught in the Long Beach area Saturday, 04-20-13:
Angler Sergio and friends with some excellent
Newport Bay fishing
, Wednesday, 04-24-13:
The
Freelance
had another great
Twilight trip
on Tuesday evening, 04-24-13:
Angler Jackpot Jimmy was out on the Tortuga Saturday, 04-27-13 and the Reds were on the chew:
Charter Master Larry with a big Calico Bass:
Big Lings, Reds and Chuckles off the
Stardust
, Sunday, 04-28-13:
More fish caught off the Stardust over the weekend:
Limits of White Seabass off the
Mirage
, from Monday's Channel Island trip, 04-29-13:
Limits also on the
Aloha Spirit
:
Angler Japan Ron had a good day of fishing off the Victory on Wednesday, 05-01-13. Here is a picture of the jackpot Lingcod caught by one lucky angler:
Private boaters Kevin and Mickey with 61 and 54 pound Coastal Tanker White Seabass caught Thursday, 05-02-13:
The Islands
Catalina/Santa Barbara Island!
The
Pursuit
out of 22nd Street Landing in San Pedro found Catalina to yield a good count on a variety of Rockfish and other species on their weekend trips.
The
Freelance
has also been fishing the Island lately with good results.
San Clemente Island!
The Yellowtail bite on the
Freedom
is hit and miss, with a few fish caught on each trip, and they added a White Seabass to their count.
The
Thunderbird
out of Davey's Locker has been running to the Island frequently and slamming the Rockfish, Reds and Lingcod, with an occasional snap on the Yellowtail.
Down South-San Diego and good ole Mexico!
A couple of Yellowtail caught off the
Blackjack
out of Dana Landing in Mission Bay:
Captain Louie fished on his friend's boat and the four of them caught seven Yellowtail from 15 to 28 pounds out of Ensenada. Some pictures:
Now that's a huge Barracuda (Costa Rica):
There were 8 big Yellowtail caught off the
Mission Belle
on Wednesday, 05-01-13, while the
San Diego
caught 10 Yellowtail.
Nice Halibut caught off the
Premier
:
Yellowtail caught on the
Voyager out of San Diego
:
Private boater Brett with a Halibut caught out of San Diego, Monday, 04-29-13:
Humor:
Some final thoughts, I think they need a bigger boat?
All comments and suggestions welcomed!
Weather
The weather forecast for both Saturday and Sunday looks to be very fishable both days inshore, with breezy conditions offshore. Always check the latest forecast before leaving the dock.
Hook Up,
Cory