by Cory Visser
Thursday Recap Report-Weekend Possibilities:
A Summary of local fishing from Santa Monica to Oceanside, including Catalina and San Clemente Islands, with fishing trips out of San Diego down to Baja, Mexico.
Weekend fishing for
Offshore Yellowtail
was excellent when you found the Magic Kelp, as the
Tribute
did out of
Seaforth Landing
, with 30 anglers catching
150 Yellowtail
on its 1.5 day trip. Limits of
White Seabass
at the
Channel Islands
were not the rule, with lots of boat pressure; however, during the week there were some very good counts. Locally the
Barracuda
have arrived, yet they have also been negatively affected by boat pressure, with counts mostly under 30 for the ½ day and ¾ day boats. A few local Yellowtail are being caught in the Horseshoe Kelp area.
Other exciting offshore news was received from the
Shogun
on their 8 day trip. They found
Bluefin Tuna
to over 100 pounds some 175 miles south of Point Loma. There is a good patch of favorable water out there, which will allow for the Tuna to make their way further north, hopefully soon!
The
Enterprise
did catch 71
Barracuda
on yesterday's ¾ day run. Sand Bass fishing locally is also picking up.
The Yellowtail bit at
Catalina
over the weekend and during the week, however, for the most part, the White Seabass pulled a no show. The
Coronado Islands
have yielded consistent counts of 10 to 30 on the Yellowtail throughout the week. I went fishing with new friend Jeff and we managed to catch a few Yellowtail on Wednesday, 06-05-13 at South Kelp Ridge, below the Coronado Islands. A couple of pictures: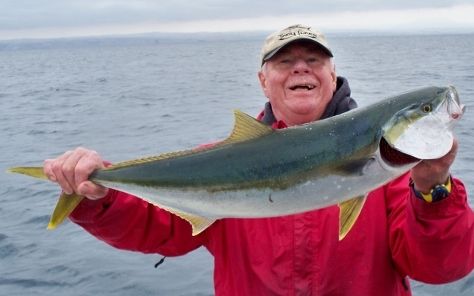 The prospects for near shore Kelp Paddy Yellowtail remained disappointing this week. Coastal Tanker White Seabass and some schoolies keep us encouraged for better action to come.
La Jolla
had a quick break out for Yellowtail over the weekend, as the
New Seaforth
caught 48 Yellowtail on their half day run Sunday. The counts quickly faded when lots of boat pressure was applied.
The Halibut bite remains impressive for those few that fish for them. The Sport Boats have found a more frequent healthy bite on both Calico and Sand Bass. Twilight trips are being scheduled more frequently, with some night time fishing for Barracuda to go with both Sand and Calico Bass.
Private boater Eric fished with friend Jay for some local Tankers, Sunday 06-02-13. The big boys didn't show, however they both caught nice school sized White Seabass to 22 pounds:
Twilight fishing awesome off the
Native Sun
from angler Sergio, Sunday, 06-02-13:
Ensenada
remains decent for fishing for Yellowtail, including reports of good Barracuda fishing.
Just more pretty ladies that fish or not:
Enormous Halibut off the
Freelance
over the weekend:
Nice day of fishing off the
Monte Carlo
, out of
San Pedro
, Thursday, 06-06-13, with 140 Sand Bass on their AM half day run and 100 Sand Bass on their PM run.
Private boater Jonathan and friend Stephen with a great day of Lingcod fishing out of Marina Del Rey Sunday, 06-02-13:
Angler Hayden on the
Speed Twin
, Monday, 06-03-13:
Angler Samantha also off the Speed Twin with a huge Halibut, the biggest of two caught by her:
The Islands
Catalina/Santa Barbara Island!
Yellowtail go on the chew on the
Gail Force
, Sunday, 06-02-13:
More Pic's off the Gail Force:
Charter Master Jamie running the new 34' Parker of
Seasons Sportfishing
found a few Yellowtail and a couple of White Seabass on the chew on Saturday, 06-01-13. Here is angler Hakaveli with his successful catch:
Yellows off the
Fury
on Monday's trip, 06-03-13:
Yellowtail on the Fortune:
The
Mardiosa
fished the Island Sunday, 06-02-13 and they caught limits of White Seabass.
The
Pursuit
out of
22nd Street Landing in San Pedro
found 40 Yellowtail and 10 Barracuda on the chew at Catalina on their Thursday, 06-06-13trip. Anglers Sergio and Ron with their catch:
San Clemente Island!
The
Freedom
caught 13 Yellowtail, 25 Calico Bass, 2 Sand Bass, 2 Sheephead, and 15 Rockfish on their Thursday trip that returned 06-06-13.
The
Thunderbird
out of
Davey's Locker
had a great day yesterday, Thursday, 06-06-13 as they caught 62 Yellowtail, 24 Calico Bass, 11 Barracuda, 6 Sheephead and 1 Sargo.
Down South-San Diego and good ole Mexico!
Private boater Vartan with a 30 pound Yellowtail caught off La Jolla Monday, 06-03-13:
Nice Halibut caught by angler Ben off the
Dolphin
, Monday, 06-03-13:
Another 32 pound Halibut caught by private boater Anthony in the San Diego Bay:
Charter Master Duane of
Seasons Sportfishing
found the big Yellowtail on the chew on Saturday, 06-01-13. They fished the Coronado Islands and other south of the border areas. Some pictures: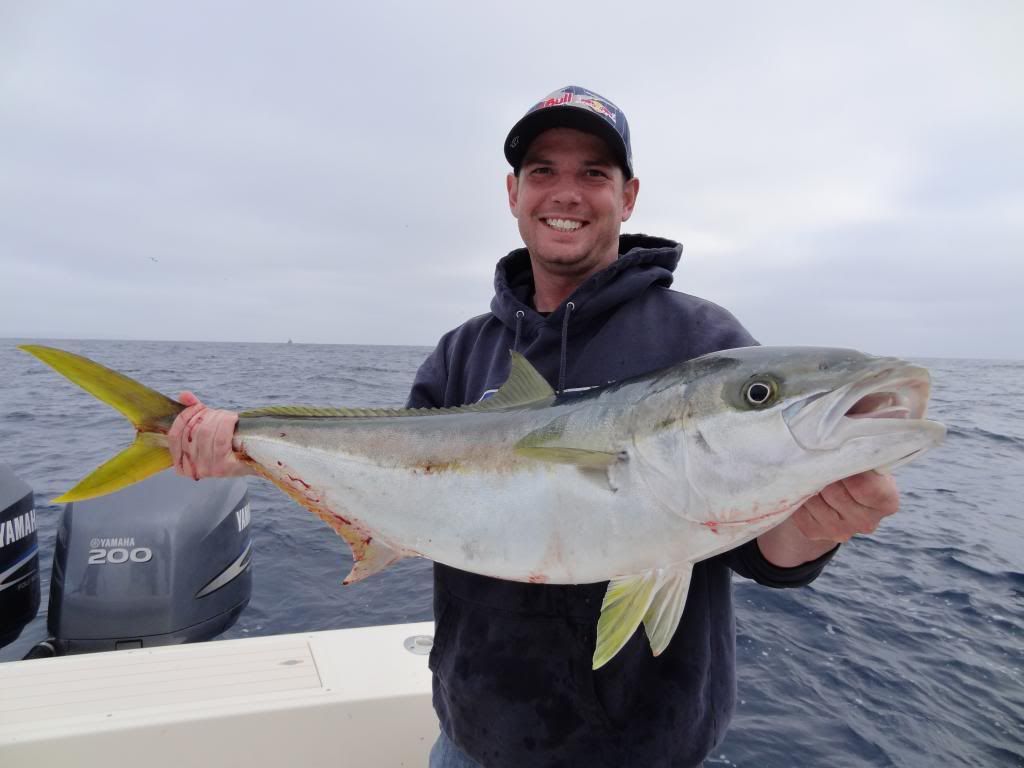 Angler with a 35 pound Yellowtail of the
Mission Belle
on Tuesday:
All comments and suggestions welcomed!
Weather
The weather forecast for Saturday and Sunday looks to be very calm both inshore and offshore, also with smaller swells. Always check the latest forecast before leaving the dock.
Hook Up,
Cory