by Cory Visser
Thursday Recap Report-Weekend Possibilities:
A Summary of local fishing from Santa Monica to Oceanside, including Catalina and San Clemente Islands, with fishing trips out of San Diego down to Baja, Mexico.
Offshore
Yellowtail
fishing below the border continues to be excellent with limits the rule. Most of these trips are 1.5 day or longer, which allows for dawn to dusk fishing. Then after finding limits of Yellowtail, they can search for the
Bluefin Tuna
. The schools of Bluefin are few and far between and early in the year are on a finicky bite pattern. Everyone needs to bring 40 and 50 pound on their trips as these fish have up to and over 100 pounds, and are averaging 40 to 60 pounds.
Limits of
White Seabass
at the
Channel Islands
were not a common occurrence this week; however, there were some good catches. For example the
Mirage
had limits of White Seabass on their Wed., 06-12-13 trip. Big
Halibut
are hanging out with the Seabass and the fish are being up caught to 50 pounds.
Locally the
Barracuda
have been hit and miss and are certainly negatively affected by boat pressure, with some counts up to 70 for the ½ day and ¾ day boats. An occasional local Yellowtail bite has been on both at the Horseshoe Kelp and just outside the Long Beach Harbor from 1 mile to the 6 mile green buoy. Look for working birds and be sure to bring live squid.
The annual migration of
Sand Bass
has begun, as the ¾ day boat
Patriot
caught both limits of Sand Bass and Sculpin on yesterday's trip, Thursday, 06-13-13. The
Enterprise
caught over 100 Sand Bass and 100 Sculpin on yesterday's ¾ day run.
The Yellowtail bite at
Catalina
over the weekend and during the week has been good with counts on the
Pursuit
over 50 Yellowtail. If you're in the right place at the right time, the White Seabass are biting. The Island has been yielding some huge Halibut on the squid grounds and on some of the beaches on both sides of the Island.
San Clemente Island
has had some great fishing for both Yellowtail and White Seabass this week.
The
Coronado Islands
have yielded very inconsistent counts of none, 1 and 10 to 30 on the Yellowtail throughout the week. The last few days the bite has been off.
I did not see any reports on the
Coastal Tanker White Seabass
biting this week. I'm sure this fishing will make another appearance soon. Erratic water temperatures could be the cause?
La Jolla
had a quick break out for Yellowtail last week, then the counts quickly faded when lots of boat pressure was applied.
More and more
Twilight
trips are being scheduled, with some night time fishing for Barracuda to go with both excellent Sand and Calico Bass fishing
The
Bluefin Tuna
are getting closer. Here is a nice Bluefin off the
Pacific Voyager
over the weekend:
https://fbcdn-sphotos-c-a.akamaihd.net/hphotos-ak


A
nice 15 pound Halibut caught off the ½ day boat
Sum Fun
, Monday, 06-10-13:
Twilight fishing awesome off the
Enterprise
, Sunday, 06-09-13:
Another great Twilight trip on the
Nautilus
out of Newport, Sunday, 06-09-13:
Japan Ron fished on the Victory Wed.-06-12-13 and caught some Barracuda, Sculpin Bass. Here is the jackpot weigh in:
Private boater Lal fished with friend Japan Ron on Friday, 06-07-13 and they found the big Sand Bass on the chew in Newport Reef and other coastal areas. Some pictures:
Ensenada
reports were scarce this week.
Just more pretty ladies that fish or not:
Nice day of fishing off the
Monte Carlo
, out of San Pedro, Tuesday, 06-12-13, with 76 Sand Bass on their AM half day run.
Anglers off the
Aloha Spirit
with limits of White Seabass caught Sunday, 06-09-13:
Nice Halibut off the
Spirit
on Sunday's trip:
The
Mirage
scores on the White Seabass, Tuesday, 06-11-13:
Some pictures from their Sunday, 06-09-13 trip:
Nice 20 pound Halibut on the
Speed Twin
, Sunday, 06-09-13:
Jackpot Lingcod off the Speed Twin:
The Islands
Catalina/Santa Barbara Island!
I fished Catalina on Sat.-06-08-13 with private boater Lal. We caught lots of nice Calico Bass, a decent size Sheephead and a few other critters, but no exotics. Got a call from new friend Jeff who found the White Seabass on his trip with his girlfriend on Mon-06-10-13 and said let's go get some more. I was all in! Figuring I just had to break out of my slump at Catalina this day would be the ticket. Holy Moses it was a day to remember, probably top five all time, certainly my best ever at any Island! I caught 27 and 30 pound Halibut, released a 100 pound Black Seabass, I also caught a 25 pound White Seabass, the Ghost, curse over, and two 12 pound Yellowtail. Jeff caught a White Seabass and a Yellowtail. We also released over 40 Calico Bass and 20 Barracuda. Some pictures: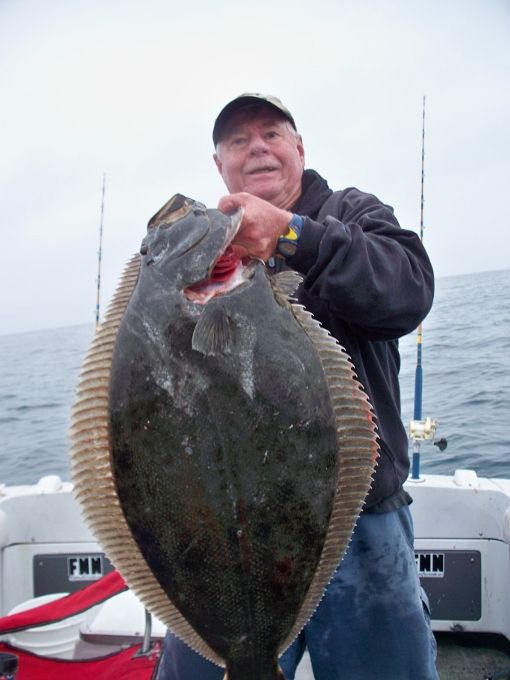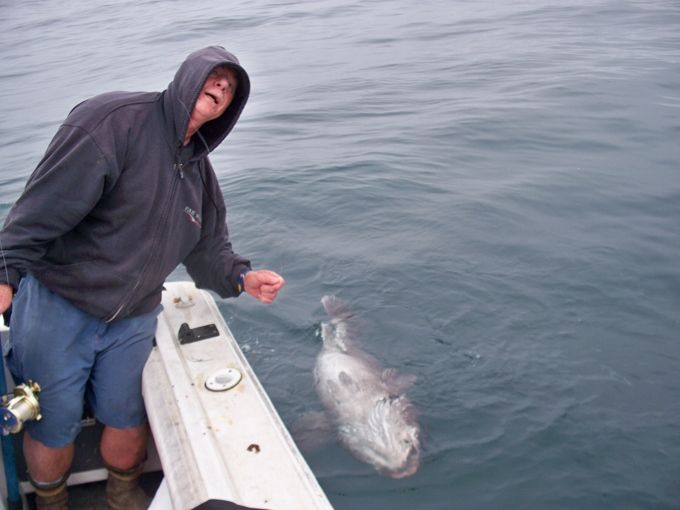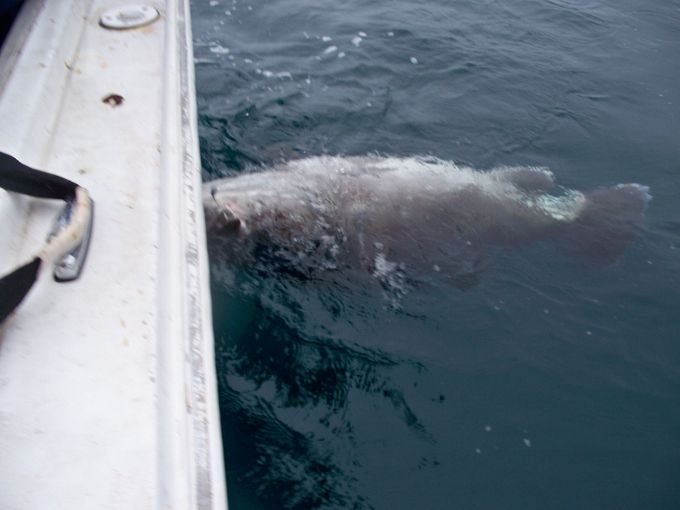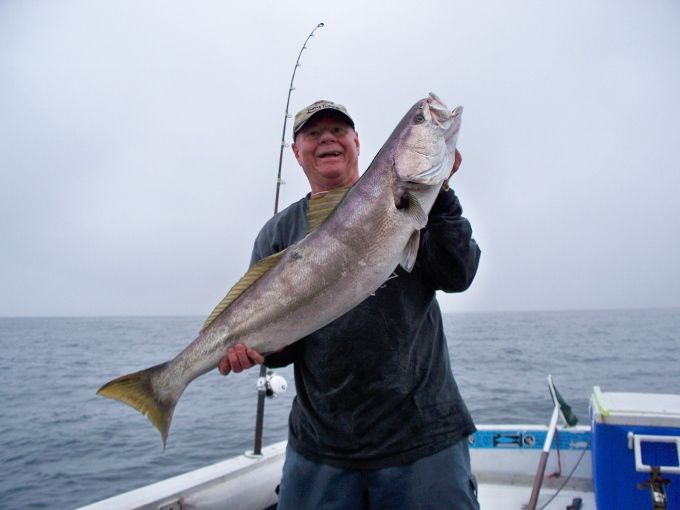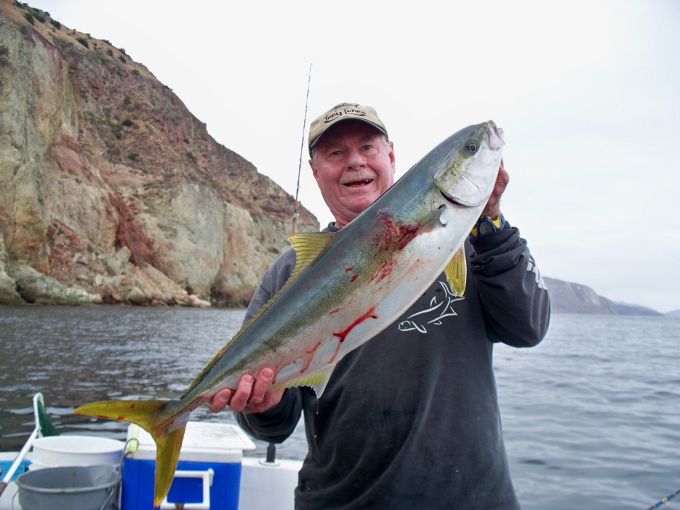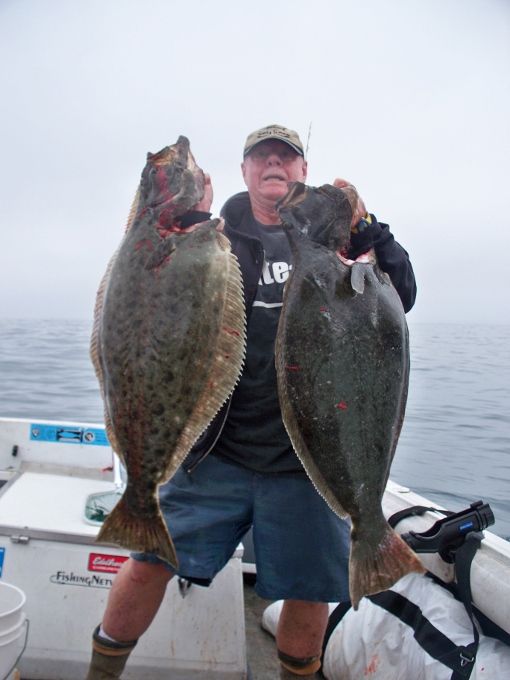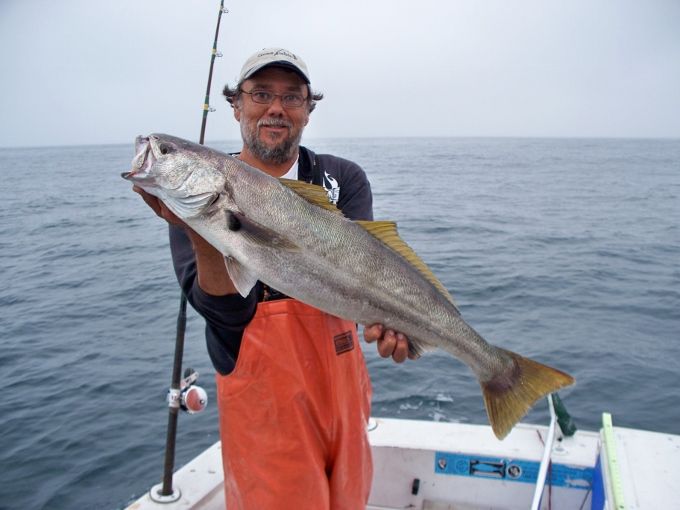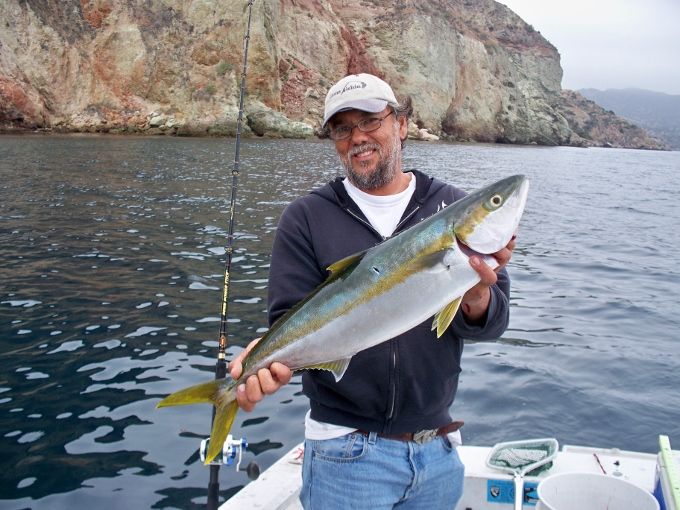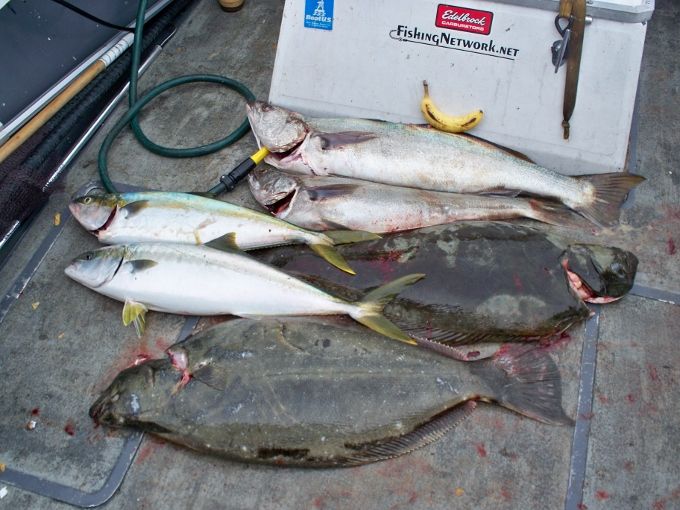 Charter Master Jamie running the new 34' Parker of
Seasons Sportfishing
found a few Halibut and limits of White Seabass on the chew on Saturday, 06-08-13. Some pictures: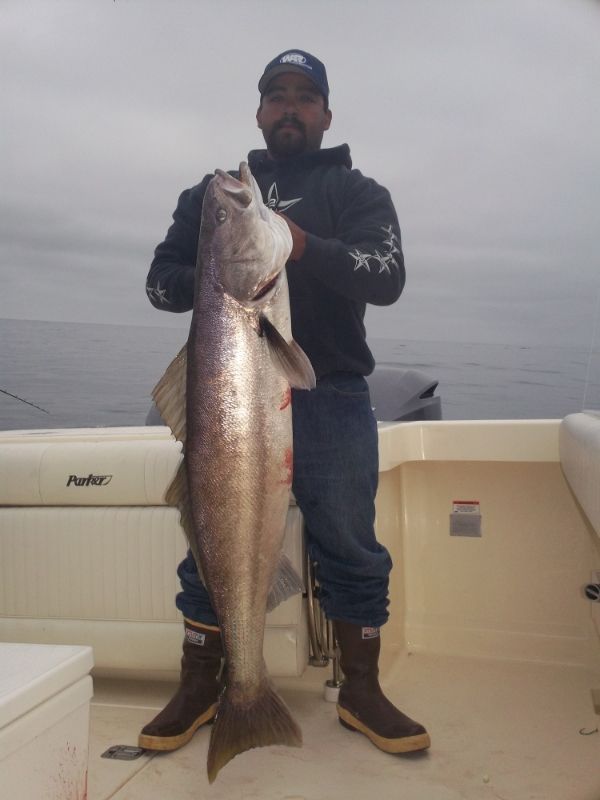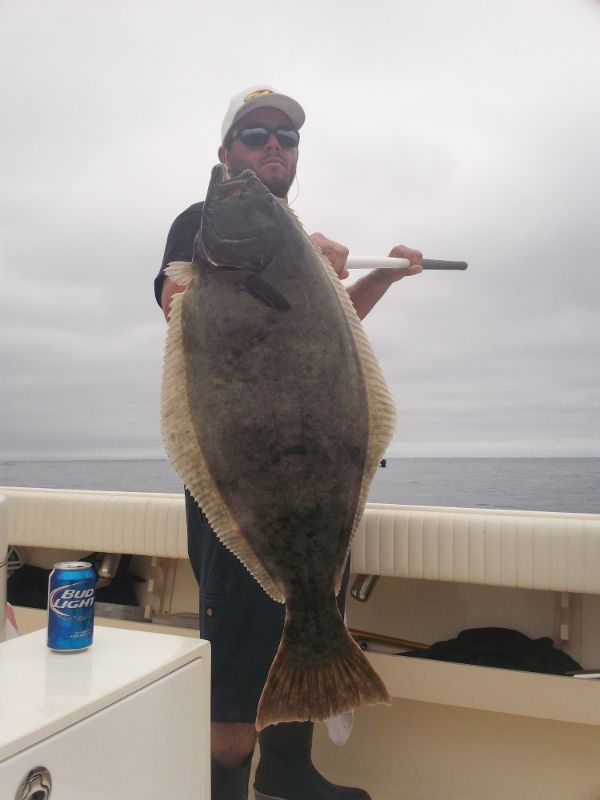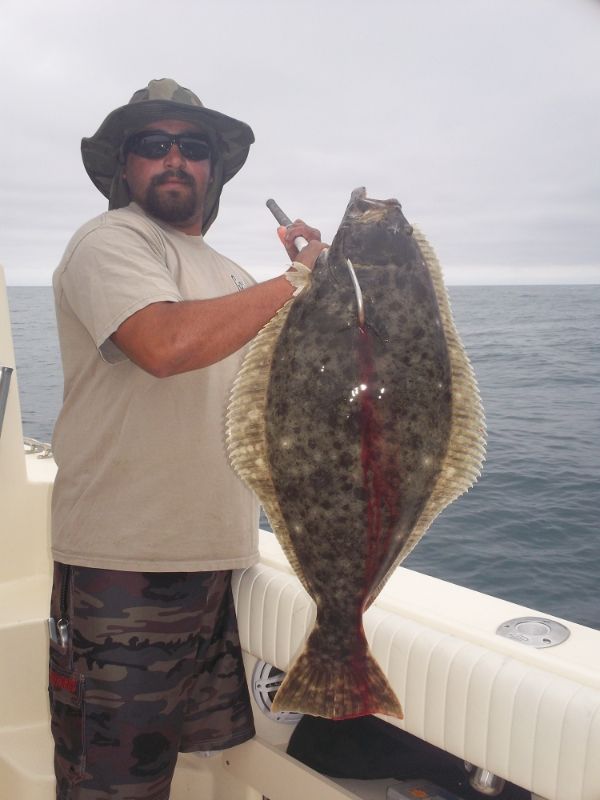 Angler Sergio and friends with Barracuda and Yellowtail on the
Freelance
, Sunday, 06-09-13:
The
Mardiosa
fished the Island Friday/Saturday, 06-08-13 and they caught three White Seabass, a nice Halibut and all Calico Bass you wanted. Here is angler Eddie and friend with White Seabass: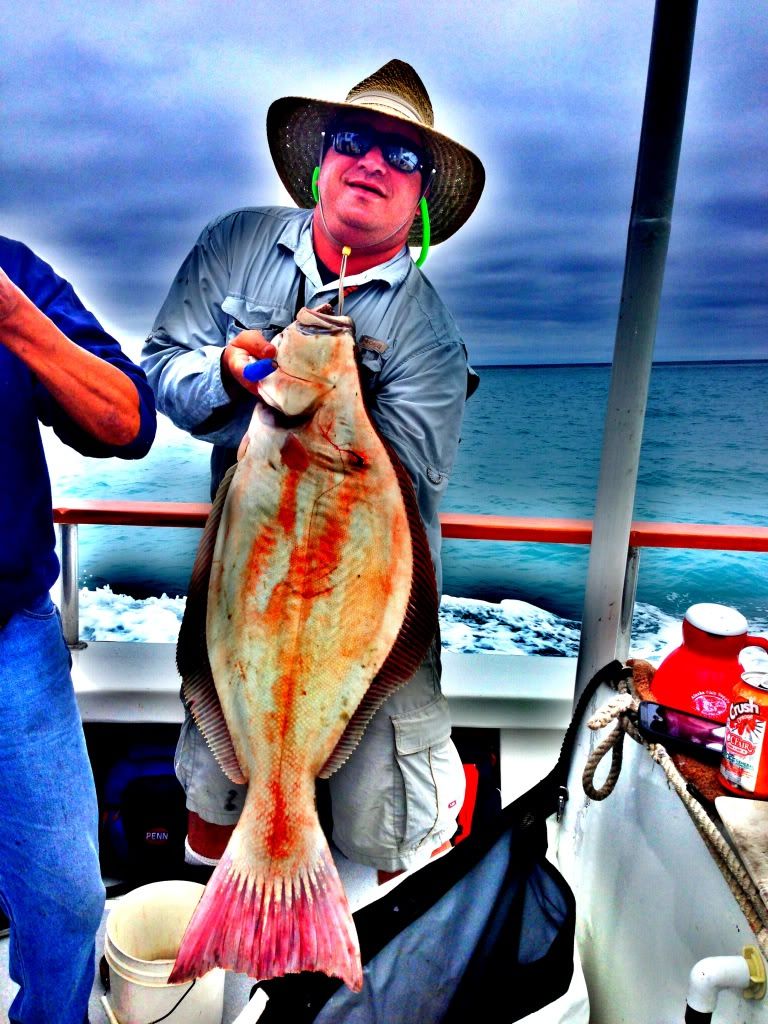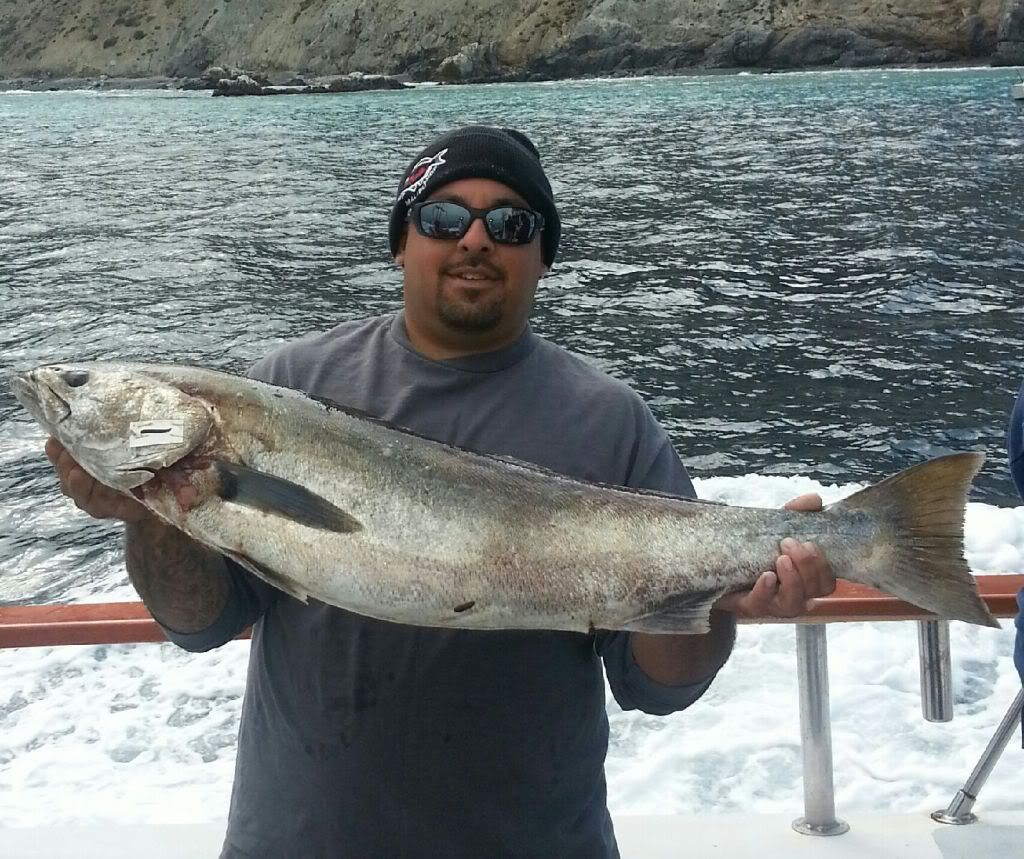 Private boaters Frank, Kenny and Bobby found the Calico Bass on the chew at the Island, Sunday, 06-09-13. Catching numerous fish to over nine pounds:
The
Pursuit out of 22nd Street Landing
in San Pedro found 56 Yellowtail and 10 Barracuda on the chew a Catalina on their Tuesday, 06-11-13trip.
San Clemente Island!
The
Freedom
caught 12 White Seabass and 8 big Halibut to go with 25 Calico Bass, 2 Sand Bass, 2 Sheephead, and 15 Rockfish on their Wednesday trip that returned 06-12-13.
The
Thunderbird out of Davey's Locker
had a great day yesterday, Wednesday, 06-12-13 as they caught 11 Yellowtail and 5 White Seabass to go with 24 Calico Bass, 11 Barracuda, 3 Halibut and 1 Sargo.
The
First String
had a very successful trip to the Island Sunday, 06-09-13, where they caught 8 White Seabass to 30 pounds and a 33 pound Yellowtail.
White Seabass and Yellowtail off the
Fortune
, Saturday/Sunday, 06-09-13:
Down South-San Diego and good ole Mexico!
Private boater Mike with a Yellowtail caught off La Jolla Monday, 06-10-13:
Nice yellowtail caught off the
San Diego
, Sunday, 06-09-13:
First offshore trip on the newly re-furbished
Chief
, which returned from a 2.5 day trip Sunday, 06-09-13:
Charter Master Duane of
Seasons Sportfishing
found the big Yellowtail on the chew on Sunday, 06-09-13.
They fished the Coronado Islands and other south of the border areas. Some pictures: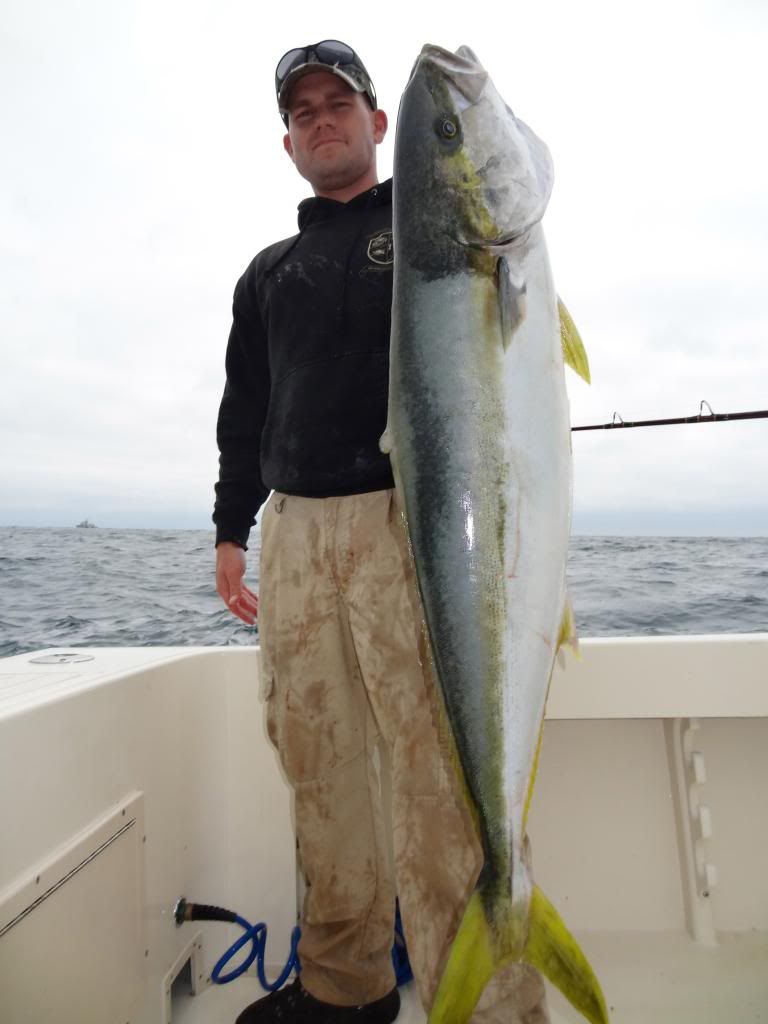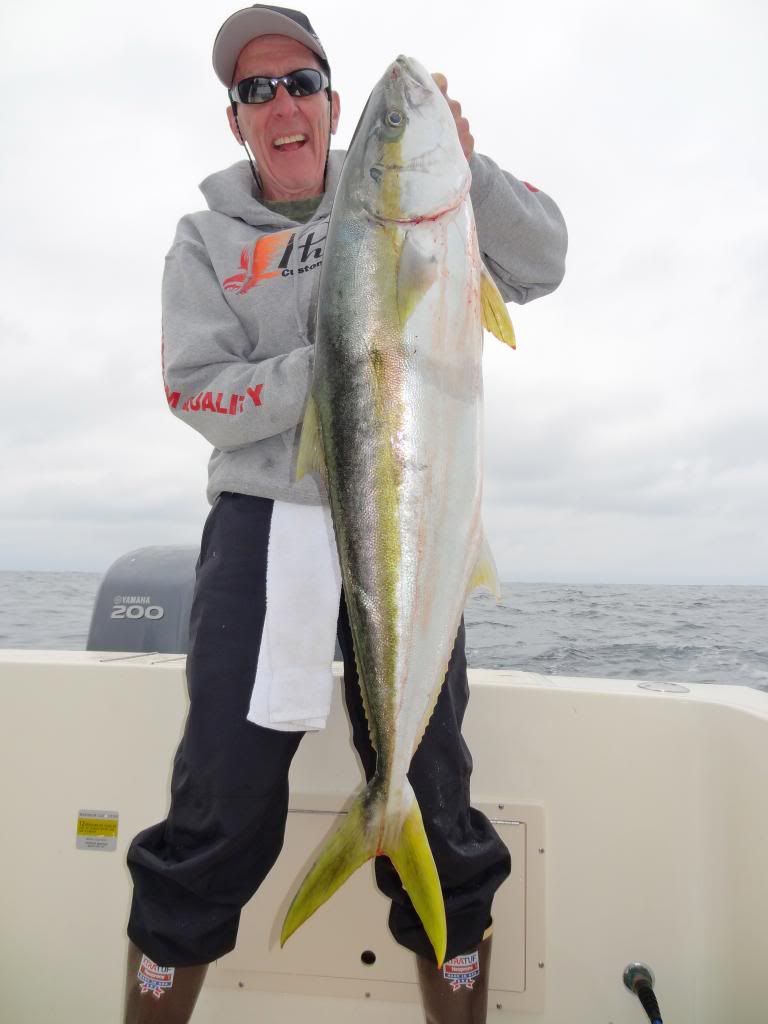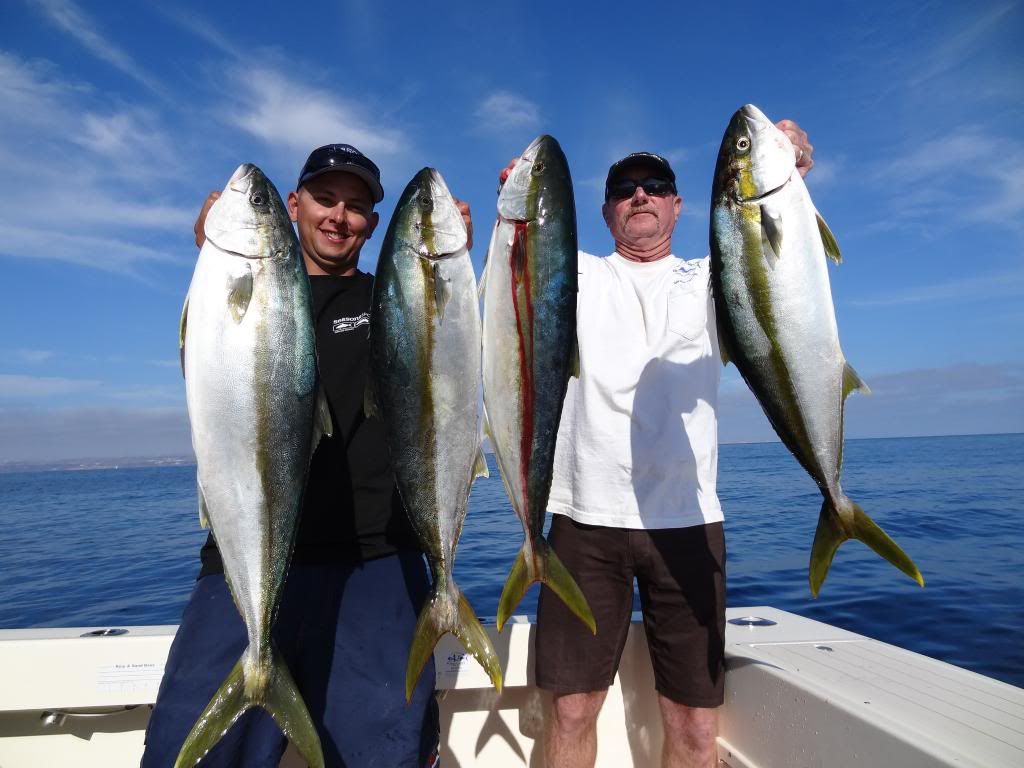 Angler Ed with a 55 pound Bluefin Tuna caught off the Old Glory on Saturday, 06-08-13:
Another big Bluefin Tuna on the
Pacific Queen
!
Captain Kelly took a charter out fishing on Tuesday, 06-11-13 out of
San Quintin
, and found a Yellowtail and big Calico Bass on the chew: Some pictures:
Amen:
All comments and suggestions welcomed!
Weather
The weather forecast for Saturday and Sunday looks to be very fishy both inshore and offshore. Always check the latest forecast before leaving the dock.
Hook Up,
Cory