by Cory Visser
Thursday Recap Report-Weekend Possibilities:
A Summary of local fishing from Santa Monica to Oceanside, including Catalina and San Clemente Islands, with fishing trips out of San Diego down to Baja, Mexico.
After a slower weekend of fishing
Offshore
the fishing improved with some flat calm seas later in the week. A few more
Dorado
and
Yellowfin Tuna
have been mixed in the counts, while the
Bluefin Tuna
bite has also improved, with Tuna averaging 30 to 40 pounds and an occasional fish to 87 pounds. The Kelp Paddy
Yellowtail
fishing which took a nose dive on the weekend, then returned to mostly limit fishing mid-week. Still almost all these fish are being caught well over 100 miles from San Diego, necessitating you at least fish on a 1.5 day trip or longer. So far this year the private boater is shut out of the offshore fishing scene due to the distance needed to travel to the zone?
The
Channel Islands
continues to kick out
White Seabass
and huge
Halibut
on selected trips.
San Clemente Island
yielded a 58 pound Yellowtail off the Thunderbird on Thursday, 07-11-13.
The Yellowtail being caught at
Catalina
, has slipped some with most boats catching under 10. Very few reports of any White Seabass are being caught. The Calico Bass fishing is outstanding at the Island, and a good mix of Barracuda is also available for action as the
Pursuit
caught 200 on their Wednesday, 07-10-13 trip.
Locally the Sand Bass and Barracuda have been mixed together, allowing the ½ day and ¾ day boats to catch limits on both on selected days. Every now and then a local Yellowtail is being caught in the Horseshoe Kelp area.
The
Coronado Islands
has for the most part been inactive.
Ensenada
remains relatively quiet as well.
Bluefin Tuna to 87 pounds off the
Vagabond
:
Some Bluefin Tuna caught off the
Condor
on their 1.5 day trip that returned Sunday, 07-07-13:
Angler Harry with pictures off the
Apollo
that returned Saturday, 07-06-13:
Angler Sergio and friends on a Twilight trip on the
Enterprise
, Saturday, 07-06-13:
Limits of Barracuda on the
Native Sun's
Twilight trip, 07-05-13:
Coastal Tanker White Seabass
has been off and on, with many single fish being caught.
Private boater Darren fished Friday night and caught this Slug Coastal Tanker, 07-05-13:
Angler Aaron holding a nine pound Sand Bass caught on Saturday, 07-06-13:
Private boater Lal and I took advanatage of a wide open Barracuda and mixed Bass bite on Saturday, 07-06-13. We spent most of the morning catching and releasing 30 Calico and Sand Bass to five pounds. Then after a slow period of fishing the Horseshoe Kelp area we were on our way home when we came upon a massive school of breaking fish under an enormous flock of diving birds. We enjoyed the next three hours throwing plastics and getting bit on almost every cast, not knowing whether we would hook a Barracuda, Sand or Calico Bass. We finshed the day with 20 Calico Bass, 40+ Sand Bass and 40+ Barracuda, for a rare two man 100 fish day. Some pictures:
A five pound Sand Bass, and what a nice way to start off the day.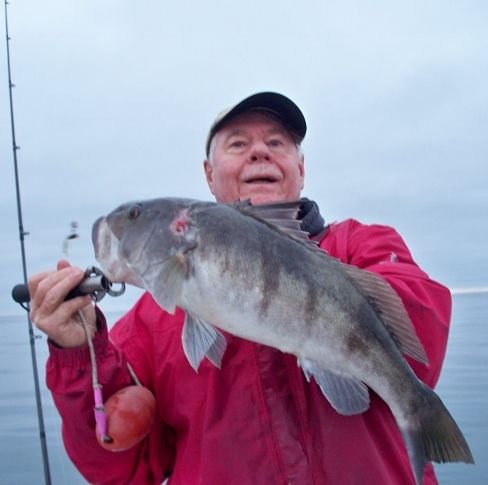 I drop back down and get bit hard again, more violent head shakes, and some screaming drag. This time I reel up a 4.5 pound Sand Bass, wow that was fun!
Lal with a nice Sand Bass: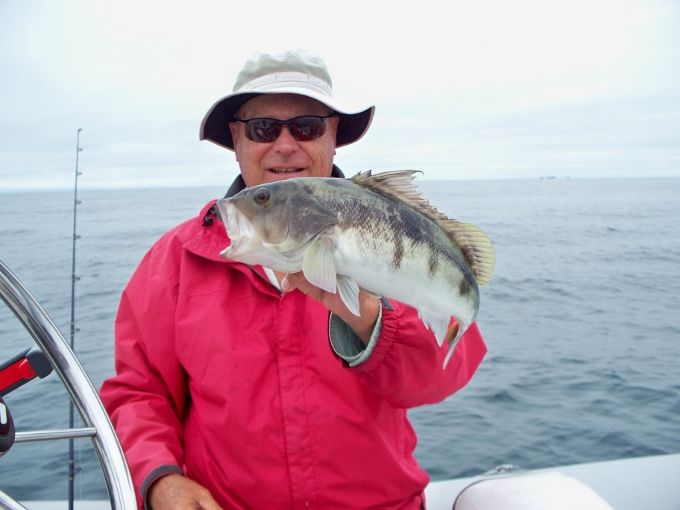 Myself with another decent Sand Bass: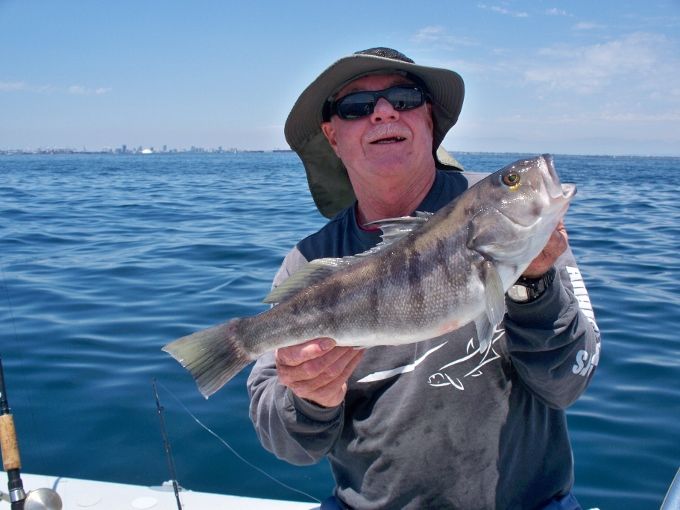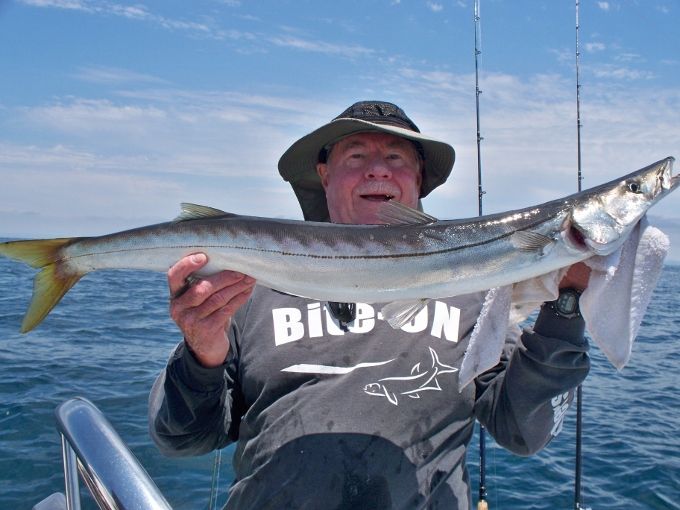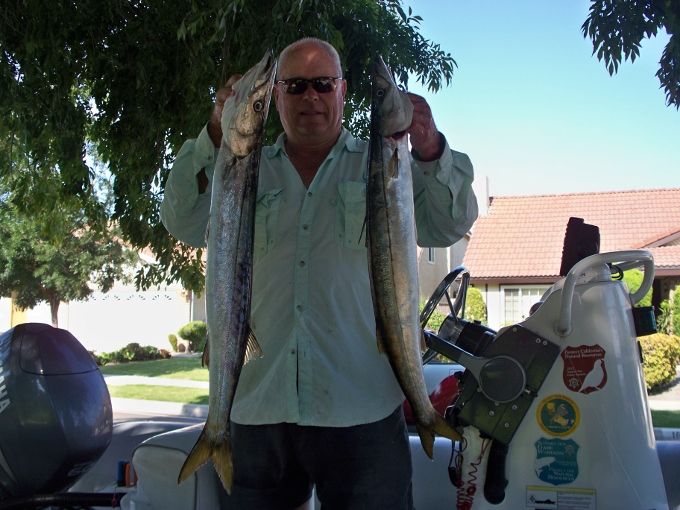 Just more pretty ladies that fish or not:
A 46 pound Halibut caught off the
Fury
, Sunday, 07-07-13:
This one weighed 41 pounds:
It was a Halibut kind of day on the Fury, Friday, 07-05-13:
Angler Julie caught this Lingcod off the
Speed Twin
Sunday, 07-07-13:
Another picture off the Speed Twin:
Angler Ray with a nice White Seabass off the Aloha Spirit, Thursday, 07-11-13:
14 White Seabass were caught off the
Pacific Dawn
on Tuesday, 07-09-13:
Recent White Seabass and Halibut scores aboard the
Mirage
:
Enormous White Fish on the Mirage:
Angler Jimmy on the
Stardust
, Thursday, 07-11-13:
The Islands
Catalina/Santa Barbara Island!
Big Calico Bass off the
Gail Force
on Saturday's trip, 07-06-13:
And Yellowtail:
I fished Wed.-07-10-13 with private boater Jeff at Catalina. We found the fishing slow, catching and releasing 25 Calico Bass and a few Sheephead. We never saw any Yellowtail or White Seabass, our targeted species. I did lose a mystery fish that took some serious drag on my 50 pound outfit, before coming unbuttoned at grey light.
Private boater Tyrone and friends slay the White Seabass Monday, 07-08-13:
San Clemente Island!
Angler Heather with a White Seabass caught from the
Ultra's
Weekend trip, 07-07-13 trip:
Fortune
gets on the White Seabass Sunday, 07-07-13:
Angler Lily with a big White:
Down South-San Diego and good ole Mexico!
Nice Dorado off the
Tribute
over the weekend:
A 37 pound Yellowtail off the Tribute that returned Wednesday, 07-10-13:
Fun fishing on the
Pride
, which found the White Seabass on the chew on Monday, 07-08-13:
Nice Yellowtail on the
Producer
, Sunday 07-07-13!
And a Bluefin Tuna:
And a early season Dorado:
Colorful Dorado caught on the
Prowler
returning from a 1.5 day trip, Sunday, July 07, 2013:
Private boater Harry with his friend Lynn slays the Sand Bass on Tuesday, 07-09-13:
Quote of the day:
My kind of Dog:
All comments and suggestions welcomed!
Weather
The weather forecast for Saturday looks to be very calm both inshore and offshore, while Sunday will bring some breezy conditions. Always check the latest forecast before leaving the dock.
Hook Up,
Cory