by Cory Visser
Thursday Recap Report-Weekend Possibilities:
A Summary of local fishing from Santa Monica to Oceanside, including Catalina and San Clemente Islands, with fishing trips out of San Diego down to Baja, Mexico.
Can you say
Jumbo
? That's the best description you can give to the
Offshore Bluefin Tuna
fishing right now. With many Tuna averaging 35 to 50 pounds, the loss ratio rises immensely when the 70 to 124 pounders move in. The catch counts do not look all that spectacular with 20 to 40 Bluefin being caught on most 1.5 day trips. However, the loss ratio is extreme, as most anglers are not prepared for the big boys. Everyone has to resist the urge to drop down in line size when not getting bit by picky Tuna, yet as soon as you do a 75 pounder grabs your 25 to 30 pound outfit and turns your reel into a screaming Meany!
There are Bluefin in one day range, although the counts for these trips are mostly disappointing, under 20 in most cases, down to under 10 in many cases. The best fishing can be found on 2.5 to 3.5 day trips in the area 160 to 200 miles south of Point Loma. Unfortunately if you have not made a reservation to go this Holiday weekend, you are SOL as all boats are sold out.
Angler Brett with a 124 pound Bluefin Tuna off the
New LoAnn
:
Trips to the
Cortez Bank
, have not improved much with water temps falling with all the wind
The bite continued to be excellent for
Yellowtail
with many Kelp Paddies holding fish. The size of the Yellowtail remained predominately rats in the 5 to 10 pound range, with an occasional 20 pounder mixed in. What looked to be an ever improving bite on the
Dorado,
quickly succumbed to the falling water temps and the windy conditions? Given this scenario the hoped for late season run of
Yellowfin Tuna
is in serious trouble, although things could change oh so quickly, all we need is a good push from a southern tropical storm? This last one didn't get the job done, although there is another right behind it.
More sightings of
Marlin
lately has provided some exciting moments for those trolling for Tuna.
The
Coronado Islands
are still holding a fair amount of Yellowtail for those few that make the attempt to fish for them. Over the weekend and early in the week the water had rolled, however, things improved by mid-week with some Yellowtail counts in the 30's.
The ¾ day boats out of San Diego that have ventured offshore, have found mixed results for Bluefin, Yellowtail and Dorado.
The
Fortune
scores well on a weekend trip:
Winners from the
Make a Wish Tournament
in San Diego over the weekend: The Boat Reel EZE won high boat and grand prize, catching 9 Bluefin Tuna, several Dorado and Yellowtail. Pictures courtesy of Harry Okuda.
Junior division winner:
Lady angler Maggie with first place in the women's division, a 39 pound Bluefin Tuna:
Angler Curt with an
Opah
off the
Daiwa Pacific
:
Yikes a big Shark (Mako?) shot and killed near Mother's Beach just across from Davie's Launch Ramp in Long Beach:
Some excellent Lingcod fishing Sunday,08-25-13 on the
Stardust:
Nice Bluefin off the
Tribute
:
Pretty Ladies that fish or maybe not:
The
Channel Islands
continues to produce a smattering of
White Seabass
to go with excellent Halibut fishing and good Rockfishing. The
Mirage
managed to catch 16 White Seabass on their midweek trip.
San Clemente Island
has yielded an occasional Yellowtail,the
Thunderbird
caught 34 Yellowtail Saturday, while the
Freedom
caught six on their Sunday trip, with lots of Rockfish, Whitefish and Sheephead to go with some Calico Bass.
Not much in the way of Yellowtail are being caught at
Catalina
a few here and there on any given day, filled in with Calico Bass, Sheephead, Whitefish and Rockfish.
Private boater Steve Ross fished in
Ensenada
on Tuesday, 08-27-13 catching four nice Yellowtail and a couple of Barracuda at the Island, while a few Bluefin Tuna and Dorado are being caught offshore.
Locally the
Sand Bass and Calico Bass
fishing continues to be real slow for this time of year, and the Barracuda bite has completely died! Sadly most boats have returned to Sculpin and Rockcod fishing!
Angler Ron fished on the 3/4 day boat Victory on Wednesday, 08-28-13 and they had some great Rockcod fishing. Some pictures:
Day time Bass fishing is at an all-time summer low, yet
Twilight
fishing for Sand Bass is a different story. The
Freelance
fishing Thursday evening, 08-29-13 caught 46 Sand Bass and 2 Sculpin.
A very nice Sand Bass off the
Native Sun's
Twilight trip Saturday, 08-24-13:
Angler Sergio and friends with a nice evening on the
Freelance
, Monday, 08-26-13:
I knew Lingcod had big heads but this is ridiculous out of Oceanside:
The Islands
Catalina/Santa Barbara Island!
Private boater Kevin fishing for Calico Bass found a wide open bite on the Halibut:
San Clemente Island!
The Thunderbird gets the job done on the Yellowtail on Saturday, 08-24-13, catching 34.
The Freedom is still finding a few Yellowtail at the Island, although they have been heading to the Cortez bank lately.
Down South-San Diego and good ole Mexico!
Angler
James and friends fished on the
Pacific Voyager
on a 3.5 day trip running as far as 200 miles south of Point Loma to find the big Bluefin Tuna to 100+ pounds. Here are some pictures:
James PB 90 pound BFT
Private boater Brandon with a Big Halibut caught locally out of San Diego:
And more Halibut:
And they did get a big local Yellowtail:
Private boater John with a nice Halibut:
Captain Duane of
Seasons Sportfishing
keeps getting the job done over the weekend:
A nice Yellowtail caught Saturday, 08-24-13:
Angler Sergio and friends with an 80 pound Bluefin Tuna caught off the
Ocean Odyssey
:
A big Halibut off the
Dolphin
, Monday, 08-26-13:
The big boys are biting at
Cedros Island
, here is a 63 pound Yellowtail:
I went fishing with private boater Bill out of Las Salinas on Wednesday, 08-28-13 and we slammed the Lingcod, Copper Rockfish, a few Reds, Sand Bass and lots of Chocolate Rockfish most released. Some pictures: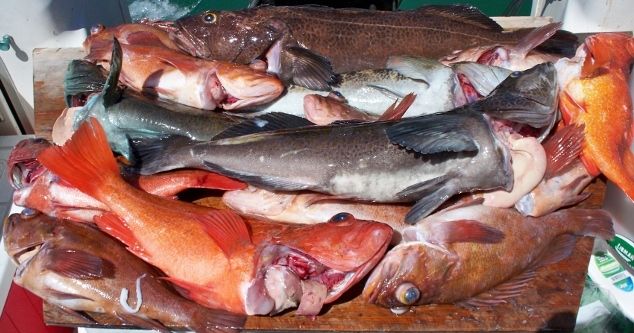 Check out this Tiger Rockfish caught in Washington:
A 280 pound Halibut caught Wednesday in Alaska aboard the MV Legend:
Quote of the day, something to think about:
All comments and suggestions welcomed!
Weather
The weather forecast for Saturday, Sunday and Labor Day looks to be excellent and very fishable. Always check the latest forecast before leaving the dock.
Hook Up,
Cory